Shredded Beef, Black Bean and Quinoa Stuffed Poblanos
In the family I grew up in, birthdays were synonymous with a Tex-Mex feast.
Whether it was at home or our family's favorite Mexican restaurant, I can't remember a time when we didn't have Tex-Mex for birthday dinners.
It has been many years since I've celebrated a birthday in Houston, Texas, but this year's birthday brought the blessing of having my sister nearby.
Allie and I decided to create our own Tex-Mex feast with a heavy side of nostalgia.
It made turning 31 just a little bit better.
Though I think I am in the beginnings of denial regarding my age.
I've already accidentally told people that I just turned 30.
Accidental or subconsciously on purpose?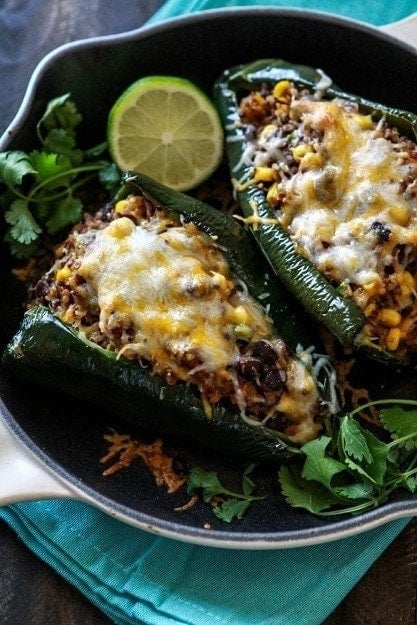 I have always wanted try my hand at making Chile Rellenos at home.
With two busy kids underfoot and a super health-conscious sister, I decided that fried foods were probably best left for another day.
Instead we opted to roast some poblanos and stuff them with a shredded beef, black bean, and quinoa mixture.
It was a great idea, because they tasted awesome and were far easier to prepare than it would have been to attempt frying peppers with two kids running around the house.
You could easily leave out the beef and increase the beens and add extra vegetables for a vegetarian option.
I think diced zucchini and fire roasted tomatoes would probably make great additions.
We rounded out the Shredded Beef, Black Bean and Quinoa Stuffed Poblanos with some enchiladas, recipe to come later), chips and a tomato, corn and avocado salad.
And of course, with a birthday cupcakes are a must.
We had Coconut Lime Cupcakes (Logan and Madeline's favorite recipe to help with that weekend).
It was a day well spent in the kitchen!
More Recipes for a Mexican Feast:
What birthday traditions do you have in your family?
Shredded Beef, Black Bean and Quinoa Stuffed Poblanos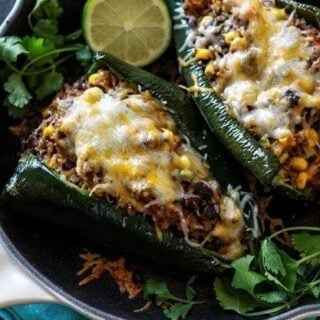 Ingredients:
For the Shredded Beef
1 recipe Shredded Tex-Mex Crock-Pot Chicken (subbing your preferred cut of beef roast)
2 tablespoons tomato paste
For the Filling:
1/2 cup quinoa
1 can Bush's Brand Black Beans
1 cup frozen corn
2 tablespoons chopped cilantro
1/4 cup of your favorite salsa - I used homemade roasted salsa verde
salt, pepper, cumin, and chili powder - to taste
4 - 6 poblano peppers, depending on the size
Shredded Mexican Cheese Blend
Directions:
For the Filling:

Prepare the shredded beef according to the directions of the Shredded Tex-Mex Crock-Pot Chicken - substitute your preferred cut of beef roast, trimmed of excess fat and adding the tomato paste. This can be done a day in advance and refrigerated, or longer if you store the shredded, cooked beef in the freezer.
Cook the quinoa according to package instructions. After cooking, combine the shredded beef, beans, corn, cilantro, salsa verde, and seasonings. Set aside.
For the Peppers:

Preheat the oven to 375 degrees F. Wash and dry the peppers. Coat all sides with olive oil and place on a greased baking sheet or in a greased oven save cast iron skillet.
Place the peppers in the oven with the rack in the second position from the top. Turn the broiler on and broil, turning every few minutes, until the peppers are browned and blistered on all sides.
Remove from the oven, let cool. When cool enough to handle, slice the peppers in half lengthwise and remove the sides.
Fill each pepper half with 1/4 - 1/2 cup of filling, depending on the size of the pepper. Top with a sprinkling of Mexican cheese blend. Return the peppers to the baking pan, cheese side up, and bake at 375 degrees F until the cheese is melted.
Garnish, if desired, with additional cilantro, chopped onion, and/or lime wedges.
Notes:
Substitute Mexican seasoned ground beef or chicken or Shredded Tex-Mex Crock-Pot Chicken if you prefer.
To freeze these, prepare up to the assembly stage. Then, place in a freezer safe gallon sized zip top bag. Remove as much air as possible without smashing them, seal, and place flat in the freezer. To bake, remove from the oven and thaw in the fridge, then bake like normal.
Disclosure: I'm proud to continue my relationship as a compensated Bush's Beans brand ambassador. All opinions expressed are my own.