Strawberry Lime Agua Fresca
We've never allowed our children to drink a lot of soda at home. Every so often we'll make homemade root beer floats, but pop is mainly reserved as a special treat when dining out.
Ice water and milk are our beverage mainstays, but occasionally we'll make a pitcher of homemade lemonade or a carafe of this strawberry lime agua fresca for a delicious, fruity change of pace.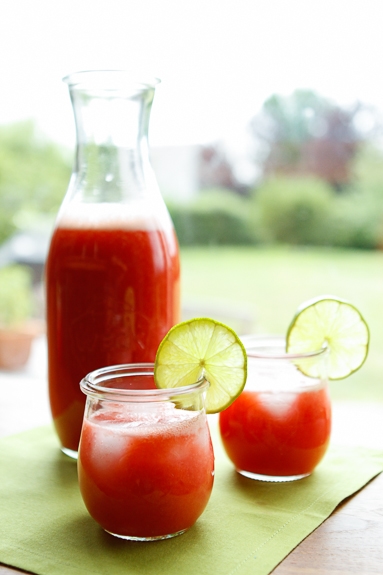 Written by: Tara Kuczykowski of Unsophisticook
If you're not already familiar with it, agua fresca is Spanish for "fresh waters" and is most often a blend of fruit, sugar and water, served over ice. While agua fresca can be endlessly customized with your favorite fruits, herbs, and even edible flowers, our family fave is this simple combination of strawberry and lime.
Simply puree a container of very fresh strawberries in the blender, and then push them through a fine mesh strainer to remove most of the seeds. I've found that pouring some of the water through the strainer will help push out the rest of the puree easily.
Mix the strawberry puree with fresh squeezed lime juice, water, and the sweetener of your choice. We prefer to use my double strength simple syrup to sweeten the mixture because it mixes in easily and thoroughly without any leftover crystals, but you might also choose honey or agave nectar to sweeten.
Refrigerate for up to four days — but I highly doubt it will last that long!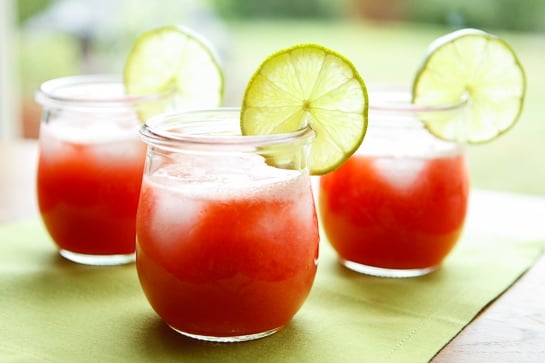 A light and refreshing strawberry lime agua fresca tastes great on a hot summer day!
If you're looking for some other summer beverage ideas, try Katie's Sparkling Watermelon Limeade or Sparkling Pineapple Mint Juice. Or for a more adult drink, try these Best Ever Strawberry Daiquiris.
What other flavors would you combine in an agua fresca?
Strawberry Lime Agua Fresca
Yield: 5 cups
Prep Time:10 minutes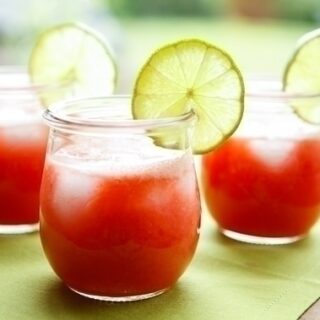 Ingredients:
Directions:
Hull and puree the strawberries, and then pass the puree through a fine mesh strainer to remove the seeds. Pouring some of the water through the last of the puree will help push everything through.
Place the puree, water, lime juice and simple syrup in a blender and blend until frothy.
Serve very cold over ice.