Strawberry Agua Fresca tastes great on a hot summer day! Refreshing Mexican Strawberry Water is fresh and fruity; the perfect drink recipe for Cinco de Mayo. Learn what Agua Fresca is, how easy it is to make, and what to serve with this easy summer drink.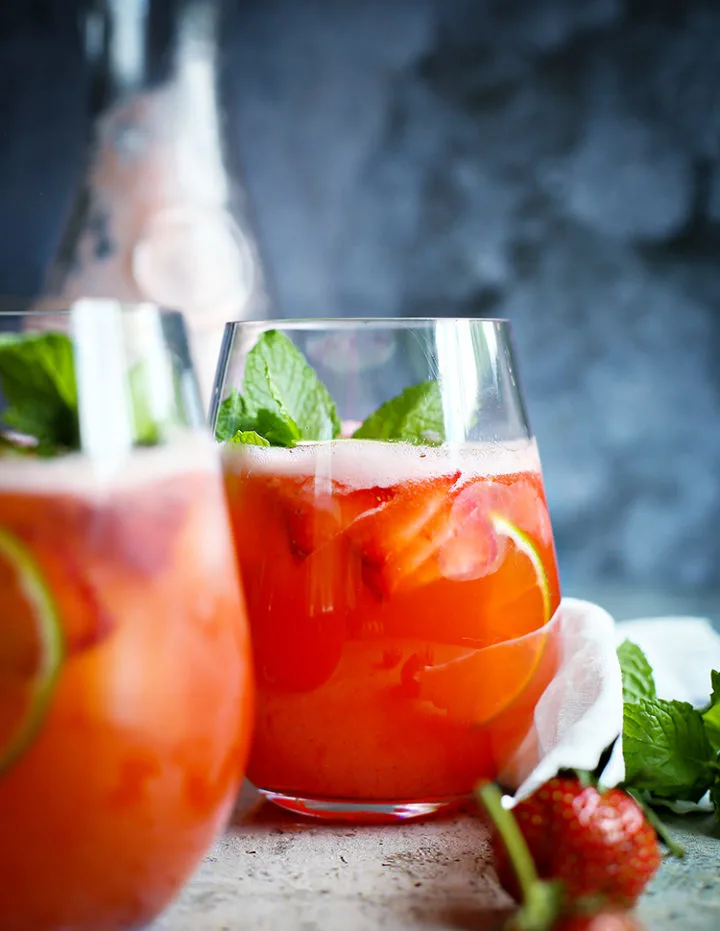 Creating this Recipe for Strawberry Agua Fresca
We've rarely allowed our children to drink a lot of soda at home.
Every so often we'll make homemade root beer floats, but pop is mainly reserved as a special treat when dining out or when they have a party with friends over.
Ice water and milk are our beverage mainstays, but occasionally we'll make a pitcher of homemade lemonade or a carafe of this easy recipe for Strawberry Agua Fresca for a delicious, fruity change of pace. I love that homemade agua fresca has less sugar that juices bought at the grocery store.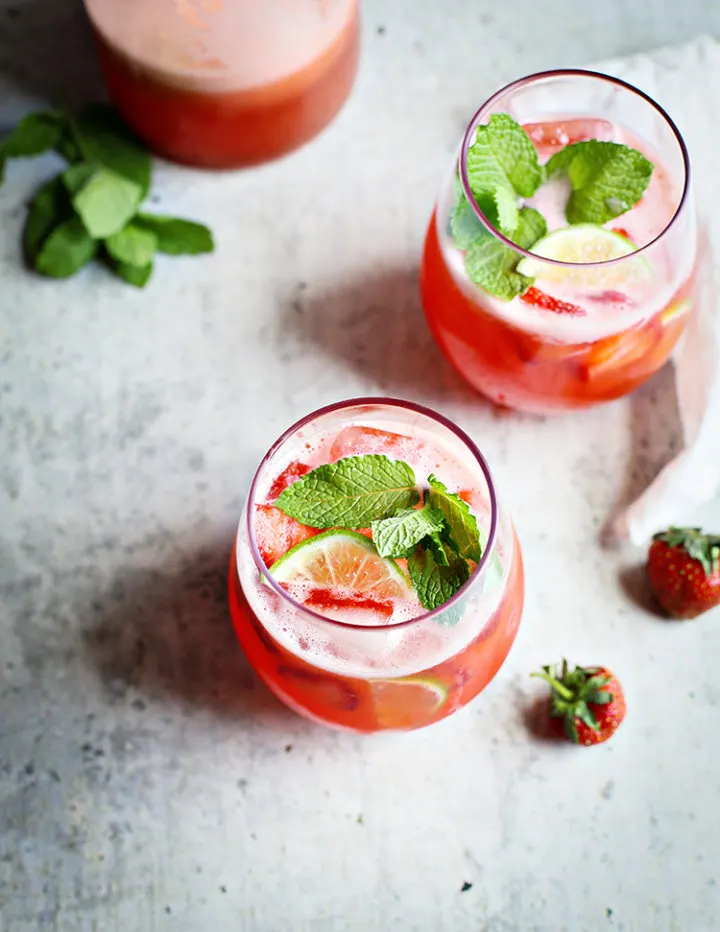 What is Agua Fresca?
If you're not already familiar with it, agua fresca is Spanish for "fresh waters" and is most often a blend of fruit, sugar and water, served over ice.
If you've ever visited Mexico or Central America, you've likely seen how popular this fruit water is.
When we went to Mexico with our kids for summer vacation, we purchased several glasses of this popular drink from street vendors. It was incredibly refreshing on a hot day, and a great alternative to soda when the kids wanted something special to drink!
While agua fresca can be endlessly customized with your favorite fruits, herbs, and even edible flowers, our family favorite version of this refreshing drink is the simple combination of strawberry and lime.
It is a super fun drink to serve on Taco Tuesday nights if you want to make the meal a little more special.
This post may include affiliate links. As an Amazon Associate and member of other affiliate programs, I earn a small commission from qualifying purchases.
Tools Needed to Make Strawberry Agua Fresca
Here are the simple tools that will be useful when preparing a batch of agua fresca: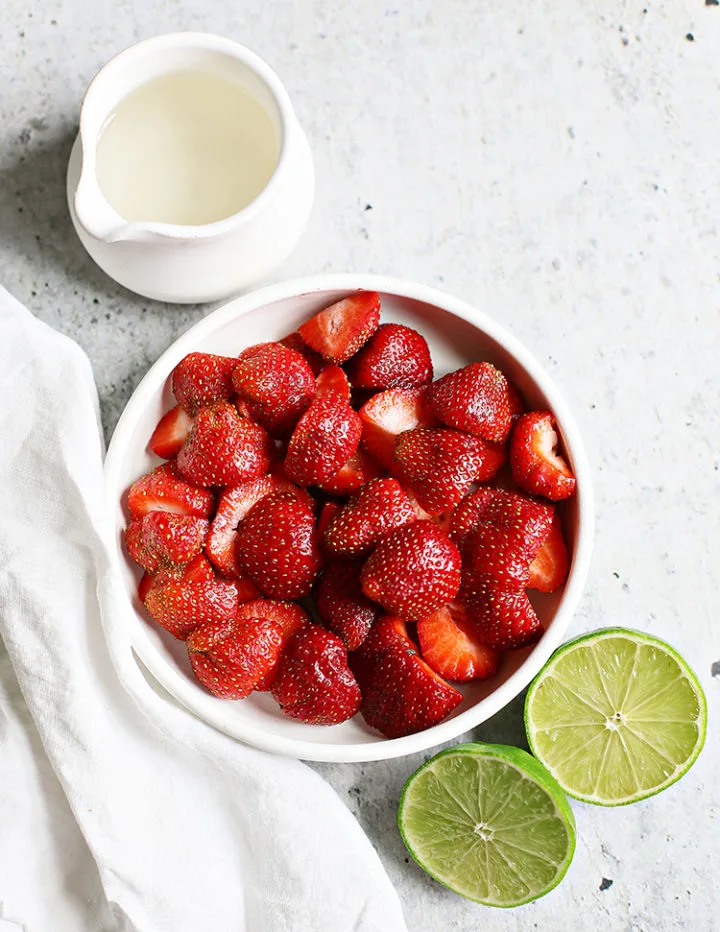 What is in Strawberry Agua Fresca
This delicious recipe for Strawberry Agua Fresca only has 4 simple ingredients in it! To prepare a batch of this Mexican Strawberry Water, you'll need the following items:
Fresh Strawberries
Cold Water
Fresh Squeezed Lime Juice
Sugar
Ice Cubes, for serving
For the complete ingredient list and detailed instructions, scroll to the bottom of this post for the FREE printable recipe card.
How to Garnish Strawberry Agua Fresca
To serve this refreshing summer drink recipe, serve it in a glass with plenty of ice. Here are a few ideas to garnish your glass for a pretty presentation:
Fresh Strawberry Slices
A sprig of Fresh Mint
A sprig of Fresh Basil
Lime Wedge
Hibiscus Flowers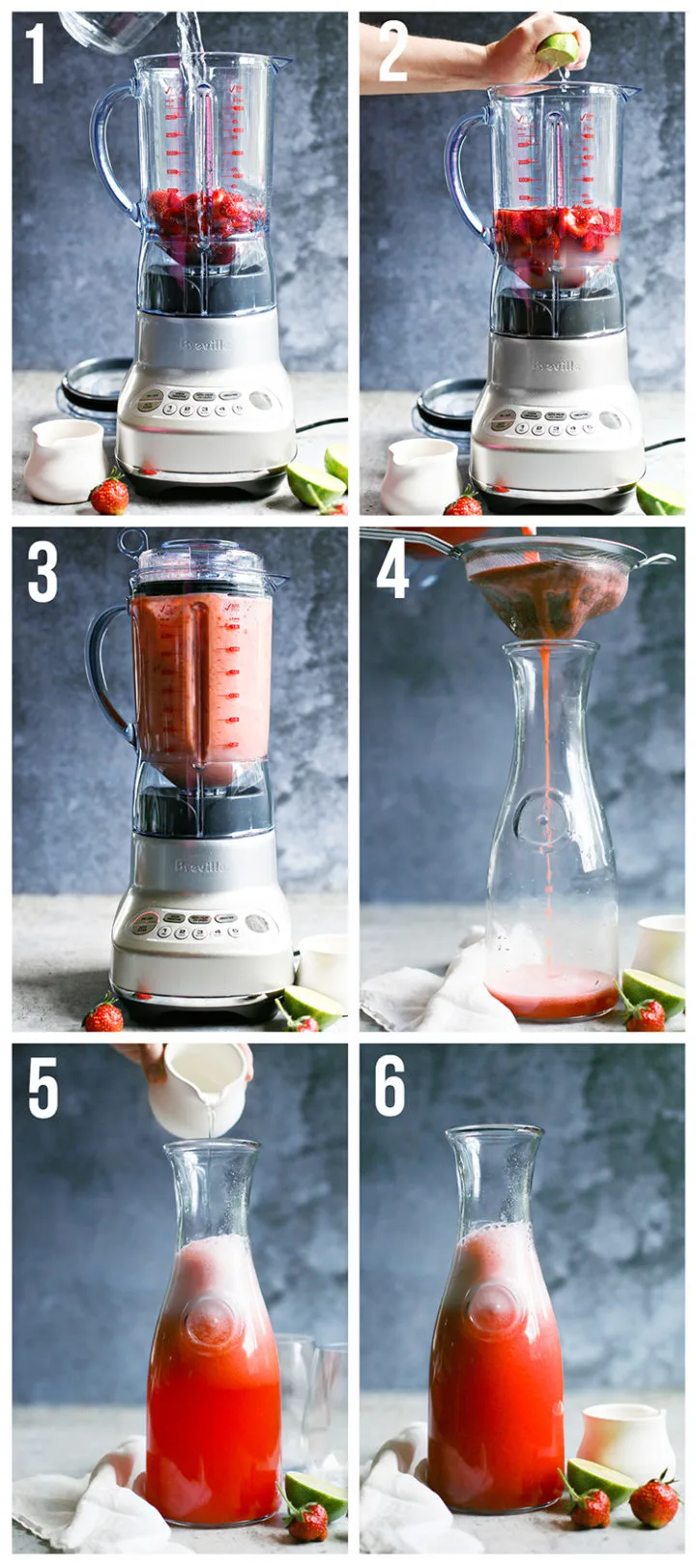 How to Make this Strawberry Agua Fresca Recipe
Simply puree a container of very fresh strawberries in the blender, and then push them through a fine mesh strainer to remove most of the seeds.
I've found that pouring some of the water through the strainer will help push out the rest of the puree easily.
Mix the strawberry puree with fresh squeezed lime juice, water, and the sweetener of your choice.
We prefer to use simple syrup to sweeten the mixture because it mixes in easily and thoroughly without any leftover crystals, but you might also choose honey or agave nectar to sweeten.
Serve in a glass over ice and garnish with fresh strawberries, limes slices, or a mint sprig.
The above is simply a quick summary of this recipe. Check out the full recipe in the free printable recipe card at the bottom of this post for all the detailed instructions.
Tips for Making Homemade Agua Fresca
Is this your first time preparing Mexican Strawberry Water? Here are my tips to get the best results when preparing this refreshing drink.
Make sure the sugar dissolves completely when preparing the simple syrup, otherwise you won't get uniform sweetness and can result in a gritty texture.
Try decreasing the amount of sugar in the simple syrup if 1 cup sugar per cup of water is too sweet for you. You can easily adjust the amount of sugar in the simple syrup according to your preferences, use less simple syrup, or leave it out all together. The sweetness of the fruit might be enough for you!
Want to use a different type of sweetener? Just choose one that had a mild flavor and can be substituted 1:1 with sugar when making the simple syrup. Agave nectar and monkfruit sweetener are good choices.
Use fresh ingredients for best results. You'll get so much more flavor in your fruit water when using fresh, ripe strawberries and fresh lime juice from juicy, fresh limes. Strawberries should be at peak ripeness for fully developed flavor and sweetness.
If you prefer more lime flavor in your strawberry agua fresca, just add extra lime juice, or add some lime zest when preparing your simple syrup.
Use cool water when preparing this agua fresca recipe, and don't add ice directly to the pitcher as this would dilute the entire batch. Instead, add ice to individual glasses just before serving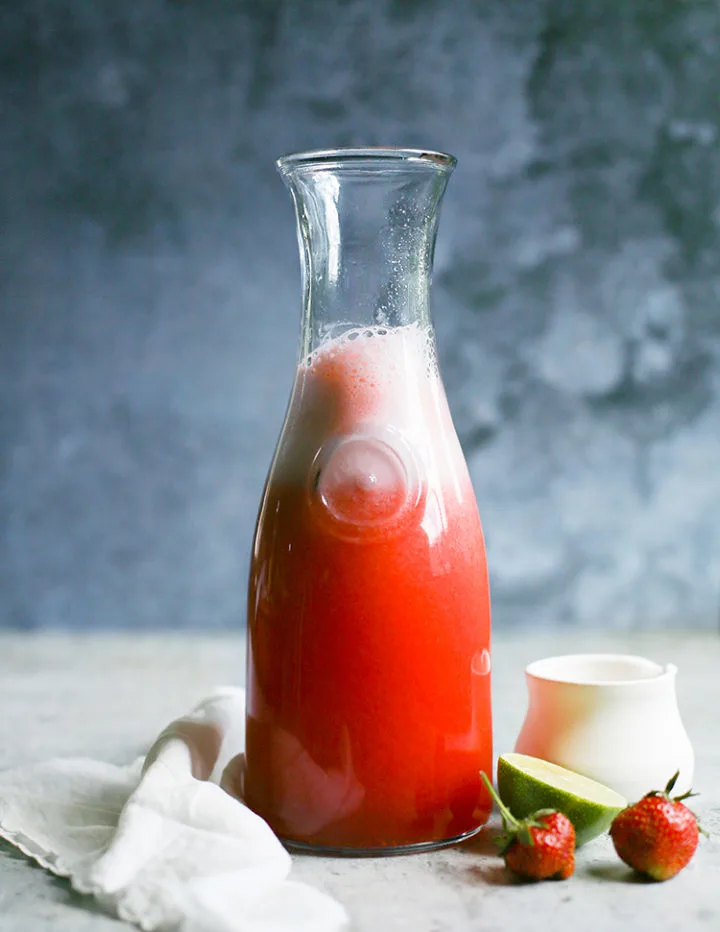 What Other Flavor Homemade Aguas Frescas Could I Make?
There are a lot of different combinations of flavors that you can use to make these delicious flavored waters. Feel free to try your favorite fruits and experiment with different fruits!
Raspberries or Black berries are good substitute options for Strawberries in
Lemons or Meyer Lemons could be substituted in place of the squeeze of lime.
Pineapple is another great fruit to use when making this delicious drink.
For melon flavors, try substituting watermelon, cantaloupe, or honeydew melon in place of the strawberries.
Experiment with using some coconut water in place of the water. This is especially good if you use pineapple for the fruit!
Some people like to add cucumbers to their agua frescas. They're a great option if you prefer your agua fresca less sweet.
How to Adapt this Agua Fresca Recipe
If you want to try one of the different types of fruit mentioned above, simply make sure you use 1 pound of fruit for every 4 cups of water. Sweeten according to your personal preference and add 1/4 cup of lemon or lime juice.
Just remember that whatever fruit you puree, you'll need to strain to remove any seeds or excess pulp.
How Long Does Agua Fresca Last?
This simple recipe for Strawberry Agua Fresca will last up to 4 days stored chilled in the refrigerator, however it rarely lasts that long in our house! Leftovers will need to be stirred or shaken (if your pitcher has a lid) before serving as some of the fruit may settle at the bottom.
I haven't ever tried it, but you could likely freeze extra if you're concerned about finishing it in time.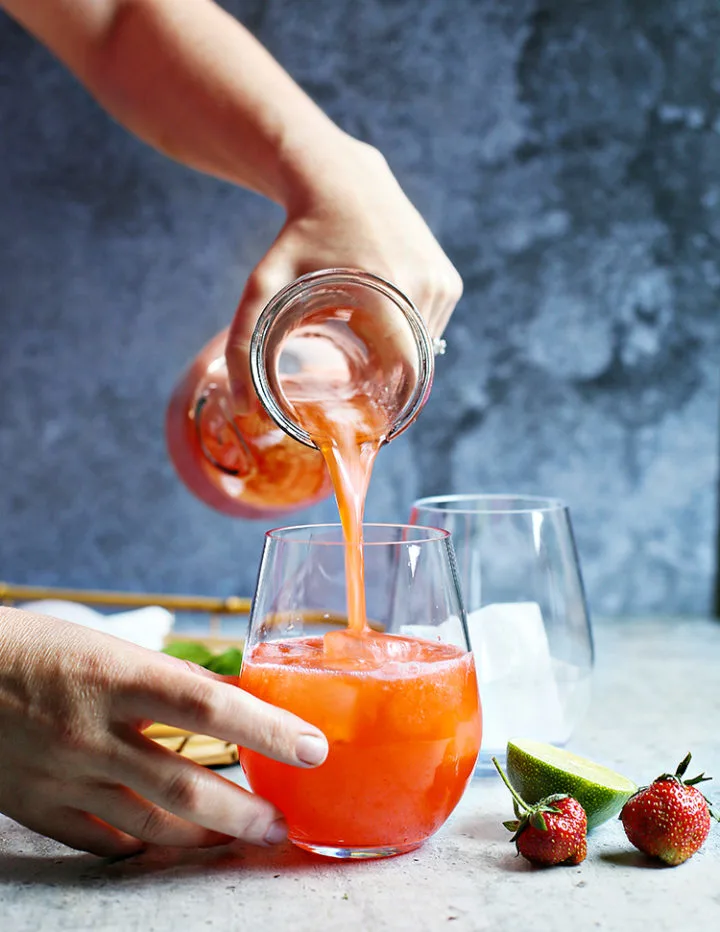 What to Serve with Strawberry Agua Fresca
This recipe for Strawberry Agua Fresca would so fun to serve for a Cinco de Mayo party. It goes great with so many different Mexican recipes, but here are a few of our favorites to try:
We love enchiladas! Our two favorite recipes are these Chicken, Black Bean, and Spinach Enchiladas and Chicken Enchiladas with Chile Gravy Enchilada Sauce. P.S. Make an extra pan and freeze your enchiladas next time you make them!
Tacos and Fajitas are also a huge hit to serve with Agua Fresca! Try any of these recipes: Shredded Pork Tacos, Chicken Tacos with Grilled Corn and Tomato Salsa, or Flank Steak Fajitas.
For vegetarian options, these Crispy Black Bean Tacos with Slaw, Vegetarian Fajitas, or Sweet Potato and Black Bean Tacos would all be great main dish options to serve with Strawberry Agua Fresca.
For side dishes we love Cilantro Lime Broccoli Slaw, Basic Guacamole that only takes 5 minutes to make, and Roasted Poblano Cilantro Quinoa.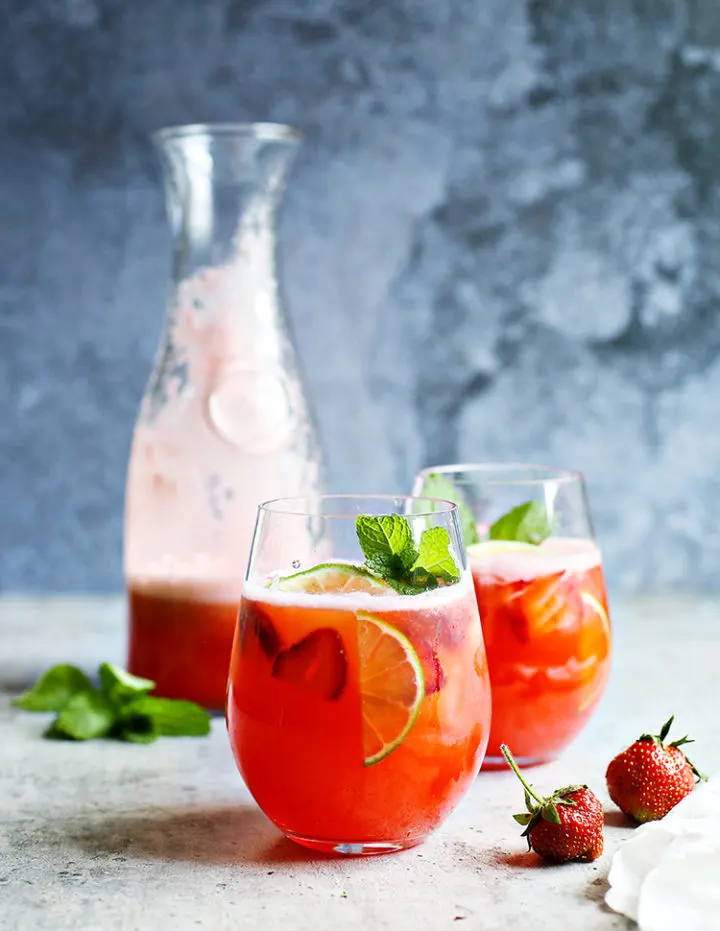 Try this Easy Strawberry Agua Fresca Recipe!
Next time you're looking for a refreshing fruit drink made from fresh produce, give this recipe for strawberry agua fresca a try! Did you think this Mexican strawberry water was the perfect summertime drink? Leave a comment below and give it a review for others to see what you thought of homemade agua fresca.
On Instagram? Share your photo and tag me with @goodlifeeats and #goodlifeeatsrecipes. I'd love to see your photo of this strawberry agua fresca!
More Recipes for Fruity Drink
Looking for more fun, summery drink ideas? Here are a few of our favorites!
This Pineapple Cooler is so refreshing on a hot summer day and tastes great with your favorite taco recipe! Perfect if you're looking for some fun non-alcoholic drinks for summer!
Nothing says summertime like an ice cold glass of Fresh Strawberry Lemonade! It is so easy to make and the perfect way to use ripe strawberries during strawberry season.
This Raspberry Mango Sangria combines all the cheery and colorful tastes of summer into one beautiful drink with fresh fruit; it's fresh, crisp and refreshing.
Homemade Watermelon Mint Lemonade is a fun take on the traditional homemade lemonade recipe with delicious flavors — and it couldn't be more summery with its gorgeous bright pink color!
Get Delicious Recipes Via Email
Did you love this Strawberry Agua Fresca Recipe? Sign up for Good Life Eats Email Updates and never miss another update!
What other flavors would you combine in an agua fresca?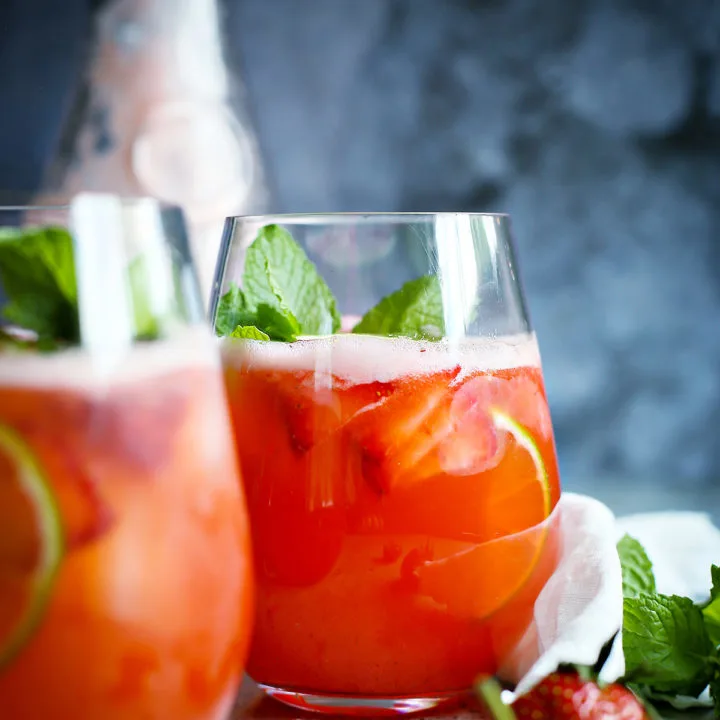 Strawberry Lime Agua Fresca
Total Time:
1 hour
10 minutes
Ingredients
Strawberry Agua Fresca
1-lb. fresh, ripe strawberries
4 cups water
1/4 cup fresh squeezed lime juice
2-4 tablespoons Simple Syrup, according to your preference
Simple Syrup
4 tablespoons Water
4 tablespoons Sugar, Agave, Monkfruit Sweetener
Optional Garnishes
Fresh Strawberries
A sprig of Fresh Mint
A sprig of Fresh Basil
Lime Slices
Instructions
Making the Simple Syrup
Combine the water and sweetener in a small saucepan. Bring to a simmer over medium heat.
Then, turn the heat off, stir, and let cool to room temperature.
To Make the Strawberry Agua Fresca
Remove the stems and hull the strawberries.
Then, add the strawberries, 3 cups of the water, and lime juice to a blender and puree on high speed until no chunks remain.
Pass the puree through a fine mesh strainer set atop a large pitcher to remove the seeds.
Pouring the remaining 1 cup of water through the last of the puree will help push everything through.
Discard the strained seeds.
Add any remaining water to the large pitcher containing the strained strawberry mixture. Stir until combined.
Taste for sweetness, and add simple syrup if desired.
Serve very cold over ice. Garnish with one of the suggested optional garnishes if desired.
Notes
How Long Does Agua Fresca Last?
This simple recipe for Strawberry Agua Fresca will last up to 4 days stored chilled in the refrigerator, however it rarely lasts that long in our house!
I haven't ever tried it, but you could likely freeze extra if you're concerned about finishing it in time.
Recommended Products
As an Amazon Associate and member of other affiliate programs, I earn from qualifying purchases.
Nutrition Information
Yield

6
Serving Size

1
Amount Per Serving
Calories

39
Total Fat

0g
Saturated Fat

0g
Trans Fat

0g
Unsaturated Fat

0g
Cholesterol

0mg
Sodium

7mg
Carbohydrates

10g
Fiber

2g
Sugar

7g
Protein

1g
GoodLifeEats.com offers recipe nutritional information as a courtesy. This provided information is an estimate only. This information comes from online calculators. Although GoodLifeEats.com makes every effort to provide accurate information, these figures are only estimates.
This recipe and photos were originally created by Tara Kuczykowski of Unsophisticook. The post has been edited to include additional information and clarity.