This beautiful and colorful Fresh Strawberry Galette with Almond Crust emphasizes the sweet juiciness of the strawberries without much added sugar.
It is the perfect spring and summer dessert!
Just outside the front door of my very first childhood home was a patch of strawberries.
I don't remember much else about that house, but it holds a special place in my memory because it was the beginning of my love affair with strawberries.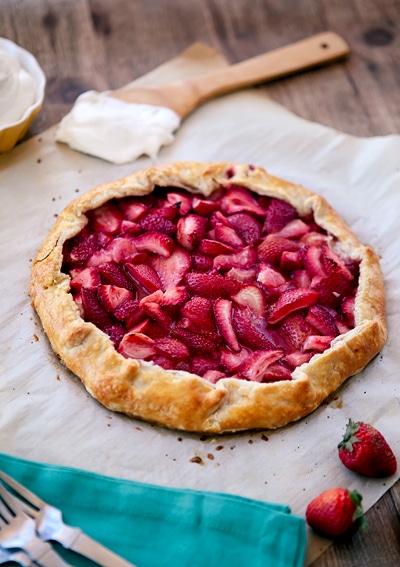 For me, strawberries mark the beginning of summer.
It's time for warmer days, late nights, pool parties, picnics, and I've got a basket full of fresh strawberries here to get it all started!
Hardly anything tastes better than a fresh, juicy strawberry in the early days of summer.
The kids and I can, and often do, eat flats of fresh strawberries plain, plucking off the stems as we dig in.
This week I let my strawberry obsession get the best of me and I have far more strawberries waiting for me in the fridge than can be eaten in one sitting.
I've been trying to come up with recipes that would showcase the strawberries' naturally delicious flavor and I finally met with success.
This Fresh Strawberry Galette emphasizes the sweet juiciness of the strawberries without much added sugar.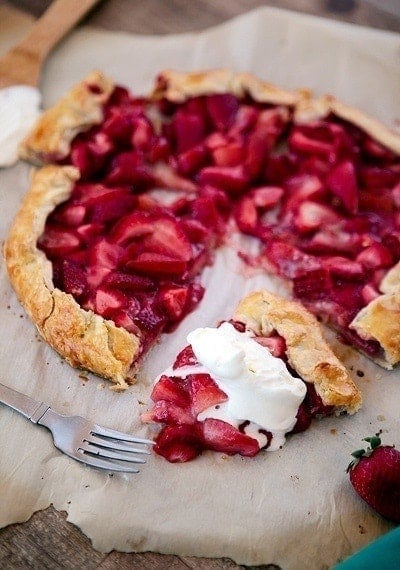 I like my galette served with a big dollop of lightly sweetened, freshly whipped cream, but this galette can be dressed up a number of ways.
This tastes so good with chocolate or caramel sauce drizzled over the top, or with a bit of chopped fresh mint sprinkled on top of each slice just before serving
I'm looking forward to all the fresh produce that will be making an appearance at the markets here this summer, especially the peaches and blueberries.
The strawberries, however, are still my favorite and this recipe is the best way I can think of to usher in a new season.
What is your favorite way to eat strawberries?
More Strawberry Recipes:
Did you love this post?
Sign up for Good Life Eats email updates and never miss another update!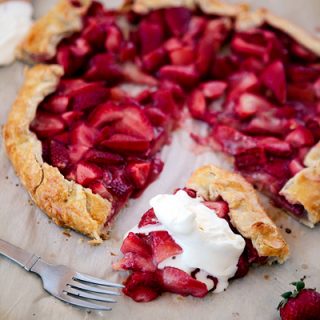 Fresh Strawberry Galette
Dough Chill Time :
20 minutes
Total Time:
1 hour
10 minutes
This Fresh Strawberry Galette with Almond Crust emphasizes the sweet juiciness of the strawberries without much added sugar.
Ingredients
For the Crust:
1 1/4 cup unbleached white flour
1/4 teaspoon salt
8 tablespoons frozen, unsalted butter, cut into small pieces
1/4 cup plain Greek yogurt
1/4 cup ice cold water
2 teaspoons lemon juice
For the Filling:
3 1/2 cups fresh strawberries, washed, hulled, and sliced
1/2 cup ground almonds
1 tablespoon flour
1/4 cup sugar, plus more for dusting
For the Glaze:
1 egg yolk
1 teaspoon water
Instructions
To prepare crust, combine flour and salt in the bowl of a food processor.
Pulse twice to combine.
Add butter and pulse until mixture resembles coarse meal.
Transfer mixture to a large bowl.
In a smaller bowl, whisk together yogurt, water, and lemon juice.
Pour over flour mixture and use hands or a wooden spoon to form dough into a ball.
Wrap in plastic and store in freezer for 20 minutes.
To prepare filling, whisk together almond meal, flour, and 1/4 cup sugar in a small bowl.
To assemble galette, preheat oven to 400 degrees Fahrenheit.
Line a baking sheet with parchment paper and set aside.
On a well floured surface, roll the chilled dough into a 12-inch circle, trimming edges until smooth.
Transfer dough to lined baking sheet.
Leaving a 2-inch border, spread the almond meal mixture evenly over dough.
Arrange strawberries over the mixture and dust with sugar.
Fold over the edges of dough, pleating to make it fit.
Whisk together egg yolk and water.
Brush over the crust and bake for 30 minutes or until crust is puffy and golden brown.
Recommended Products
As an Amazon Associate and member of other affiliate programs, I earn from qualifying purchases.
Nutrition Information
Yield

12
Serving Size

1
Amount Per Serving
Calories

192
Total Fat

11g
Saturated Fat

5g
Trans Fat

0g
Unsaturated Fat

6g
Cholesterol

36mg
Sodium

78mg
Carbohydrates

20g
Fiber

2g
Sugar

7g
Protein

4g