Creamy vanilla frozen yogurt is swirled with sweet and tangy balsamic roasted strawberries and rhubarb. The perfect springtime dessert! This recipe for No Churn Vanilla Frozen Yogurt with Balsamic Roasted Strawberry Rhubarb is created in partnership with noosa and La Sportiva.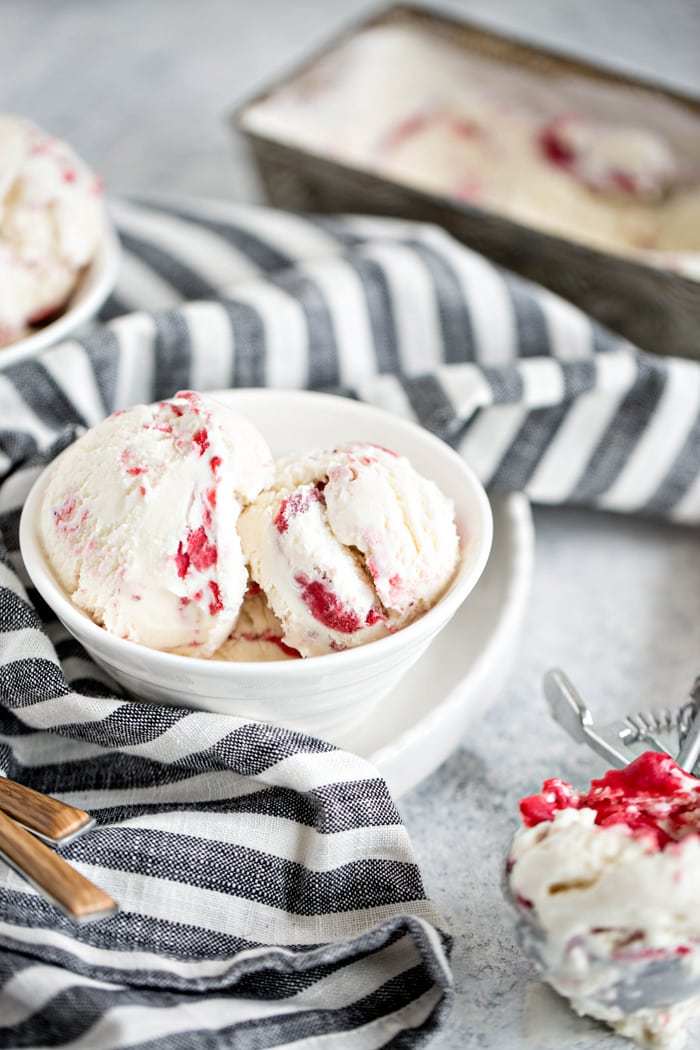 Creating this Recipe for No Churn Vanilla Frozen Yogurt
Madeline has been asking and asking me to make some kind of homemade ice cream lately. I thought that my partnership with noosa and La Sportiva for Earth Day was the perfect opportunity to test out a homemade frozen yogurt recipe using noosa's yoghurt!
I decided on a No Churn Vanilla Frozen Yogurt with Balsamic Roasted Strawberry Rhubarb because strawberries and rhubarb are in season right now and as a nod to one of my favorite noosa yoghurt flavors.
noosa yogurt is one of our absolute favorites and we but it all the time! We love the taste, the thickness and all the different flavor choices.
I also REALLY love that noosa is a local Colorado brand and that they incorporate Earth friendly practices in their company values, like reusing and recycling, being bee-friendly, and reclaiming 100% of their water to use for crop irrigation.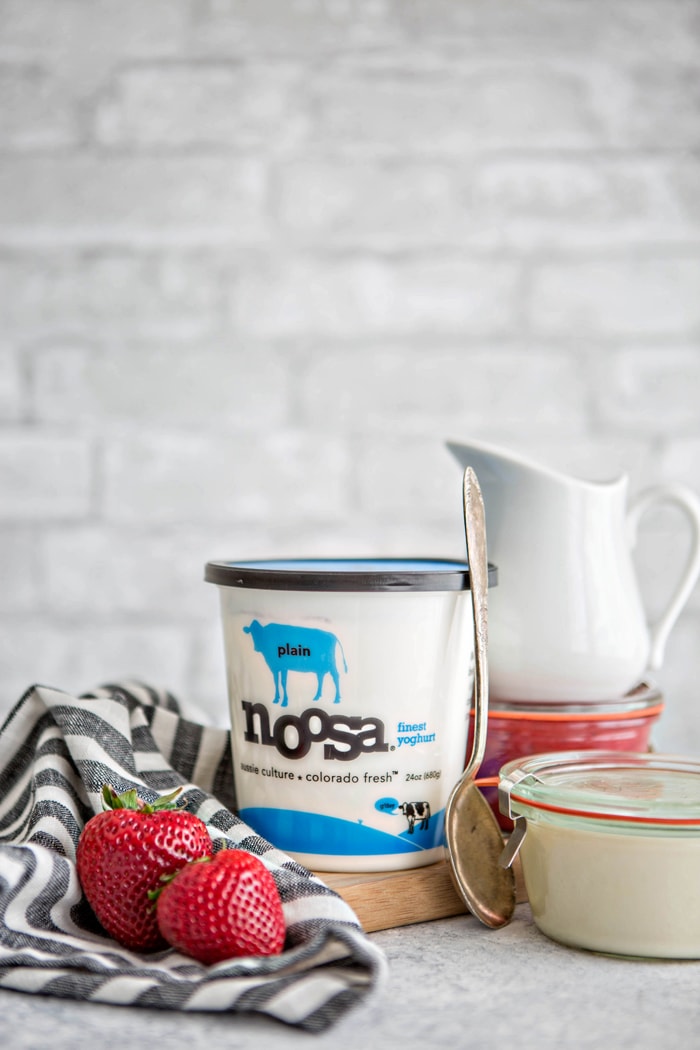 Ingredients for No Churn Vanilla Frozen Yogurt
First, you'll want to make the Balsamic Roasted Strawberry Rhubarb for the fruit swirl in this No Churn Vanilla Frozen Yogurt. You'll need these ingredients:
Strawberries
Rhubarb
Sugar
Balsamic Vinegar
Salt
Then, you'll need these ingredients to make the base for the No Churn Vanilla Frozen Yogurt:
Plain Yoghurt
Sweetened Condensed Milk
Vanilla Extract
Heavy Cream
How to Make No Churn Vanilla Frozen Yogurt with Strawberry Rhubarb Swirl
So, this No Churn Vanilla Frozen Yogurt with Balsamic Roasted Strawberry Rhubarb was really fun to make. And it was INCREDIBLY easy.
First, I chopped up some strawberries and rhubarb and roasted them with balsamic vinegar, vanilla extract, sugar, and a little salt. After they roasted and cooled I pureed the fruit together until it was thick, kind of like jam, and chilled it in the fridge.
This no churn frozen yogurt comes together amazingly quick. In one bowl, whip the cream until stiff peaks form. In another bowl combine sweetened condensed milk, noosa plain yogurt, and vanilla extract.
Then, stir the two together. You use less energy to create this frozen yogurt than you would with traditional ice cream – there is no making a custard over a hot stove or running and electric ice cream maker.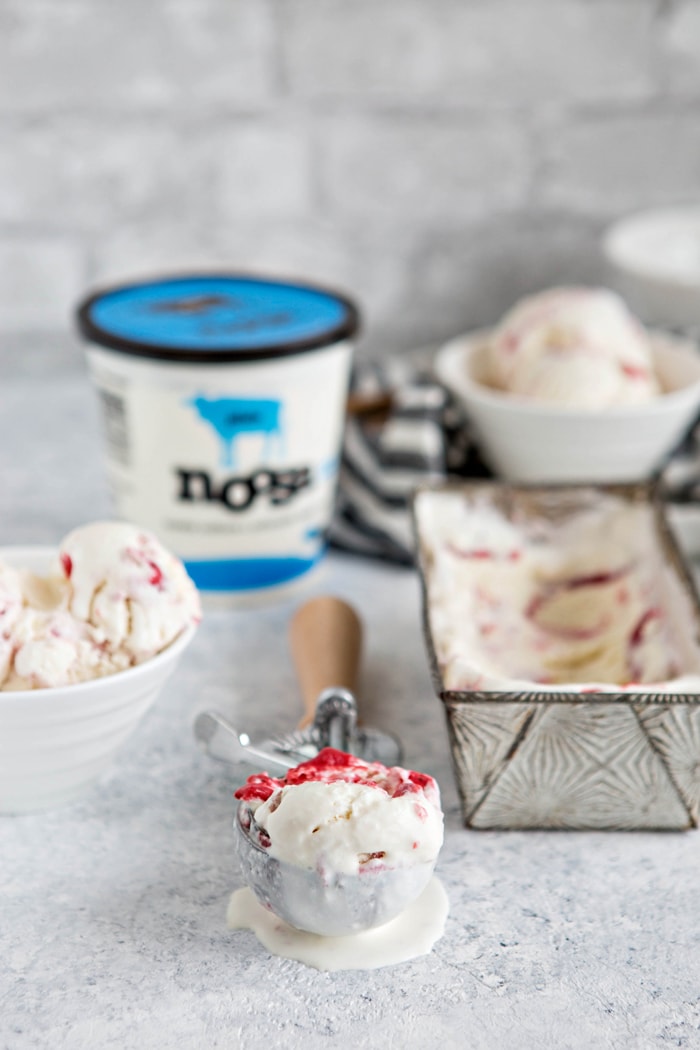 In whatever container you choose to freeze your frozen yogurt in, layer frozen yogurt with big dollops of the fruit puree. Then, freeze. I loved that this No Churn Vanilla Frozen Yogurt with Balsamic Roasted Strawberry Rhubarb stayed nice and creamy in the freezer, even a couple days later.
Simple Ways to Celebrate Earth Day in the Kitchen
With Earth Day happening this Sunday, I thought I'd share a few simple tips to be more Earth friendly in your kitchen and with your cooking. Even small and simple changes can make a big impact on our environment and in supporting brands that work hard to use environmentally friendly production methods and a responsible use of our natural resources. Plus, often times these practices will keep a little extra cash in your wallet.
Cook In Season
Seasonal fruits and vegetables offer the highest nutritional value and typically cost less.
Strawberries are cheaper and better tasting in the spring because the weather is just right to grow quality strawberries in abundance, and prices reflect that. Out-of-season produce is expensive and deficient in flavor and nutrients.
Check out my Spring Produce Guide and my Fall Produce Guide to find recipes that fit each season.
Visit your local farmer's market to shop locally, or grow your own vegetables and herbs. We don't have a garden right now in our new house, but I make a point to plant herbs in pots on our porch because I use them and buy them a lot in the summer. Growing them myself provides a larger supply that replenishes itself, and it costs less money and creates less waste. Every time I buy them I have another plastic container to recycle or throw away.
Make a Weekly Meal Plan
Making a meal plan each week is a great way to reduce food waste in your kitchen. Plus, by making a plan you can eliminate extra, unnecessary trips to the grocery store (gas, pollution, time…all waste) if you know what you'll be eating all week when you do your shopping trip.
How many times have I made multiple trips to the store during the week when I haven't been diligent about doing smart planning and shopping? Too many times.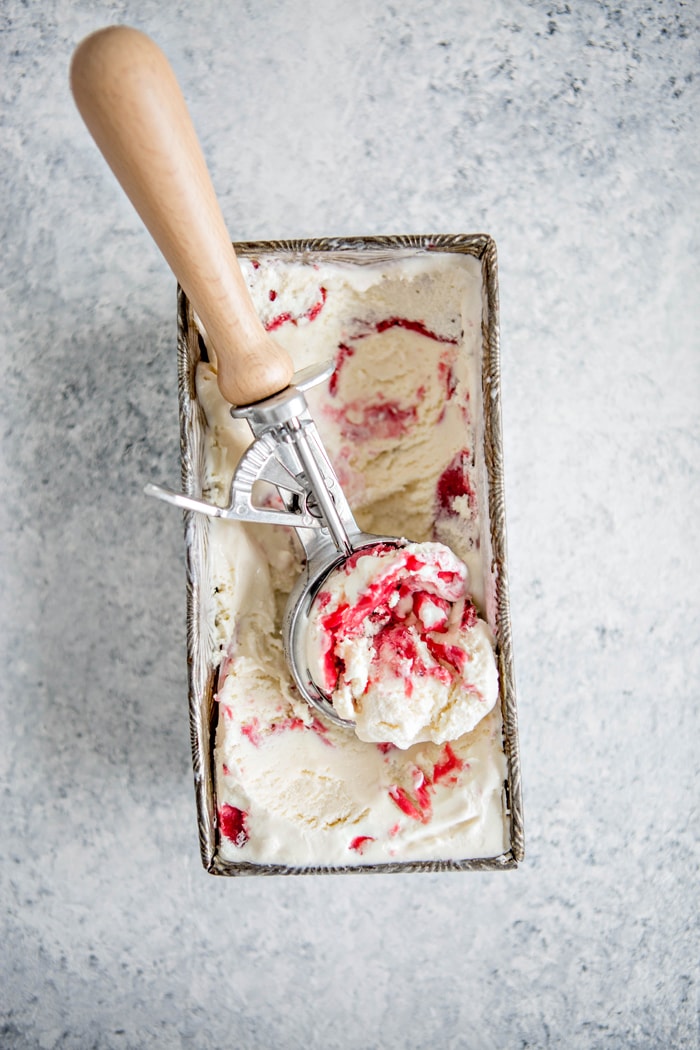 When I make a meal plan and shop according to that plan, we end up wasting so much less food each week. We cook what we buy and we eat what we make.
"…[I]n wealthy countries, especially in the United States and Canada, around 40 percent of wasted food is thrown out by consumers. (source)
"According to the United States Department of Agriculture, which tracks food loss, dairy products account for the largest share of food wasted, about $91 billion." (source)
Tip: If you have cream and noosa yoghurt that you need to use up, or you're worried it might not get eaten in time you should make this recipe for No Churn Vanilla Frozen Yogurt with Balsamic Roasted Strawberry Rhubarb. It will store in the freezer to give you a few extra days to eat it up before it spoils.
Use Leftovers
We don't usually have much food waste when it comes to leftovers because I actually love to eat them for lunch the next day. Madeline and Kayden love to pack leftovers in their school lunch too. But, leftovers can often be a hot topic and I know some people really don't like to eat them.
Bonus: noosa 8 ounce yoghurt containers work really well for storing individual serving sizes of leftovers if you like to pack last night's dinner in tomorrow's lunch!
If you don't like eating the same meal multiple days in a row, freeze extra portions or repurpose your leftovers into new meals. Have bread that got a little too dry before it was eaten? Make these Easy Homemade Croutons rather than tossing it.
Reducing Water Waste in the Kitchen
Water is a pretty integral part of food preparation, and it is something we use, and often waste, a lot of. Check out some of these Tips for Using Less Water When Cooking.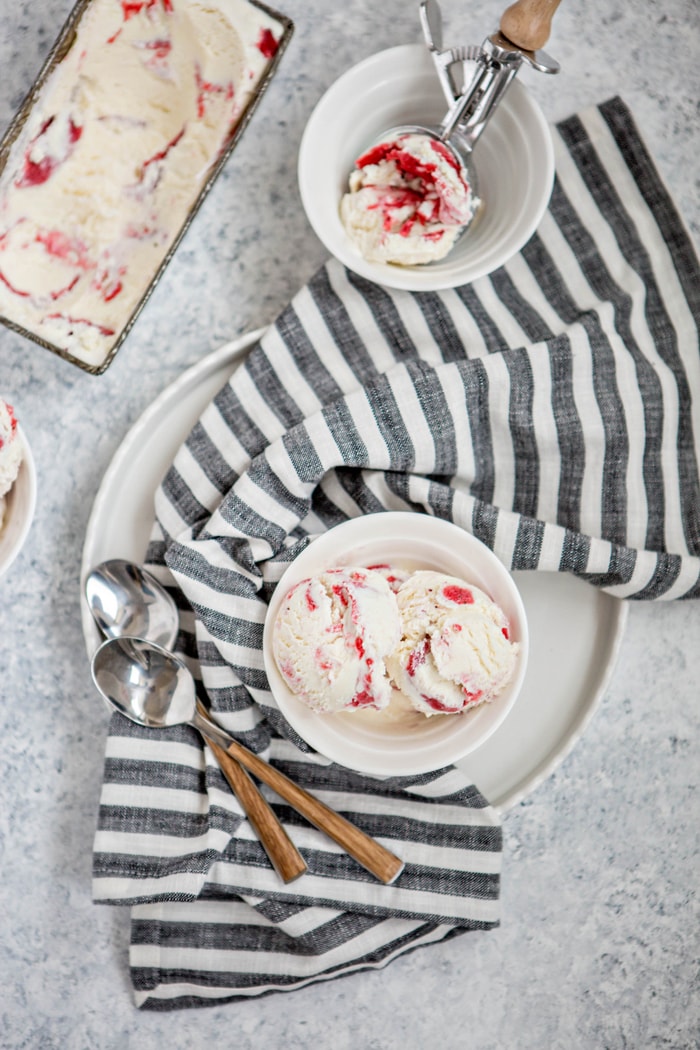 Ditch Single Use Drink Containers
We've spent the extra money to invest in reusable water bottles for everyone in the family. This is great for the kids during sports season and for Kevin during his work day. Rather than throwing away single use plastic water bottles, we can wash and reuse.
You can also use reusable water bottles for other drinks besides water. Kevin likes to drink unsweetened iced tea. Rather than buying individual bottles of this all the time, we can make a large pitcher and he can fill a bottle up with it in the morning to take to work with him.
Conserve or Reduce Energy Usage
When boiling water, keep the lid on so the water boils faster and reduces energy usage. If you're baking or roasting in the oven, minimize the number of times that you open the oven door – you can lose 25 degrees F of heat each time you open the door.
When it is cold in your kitchen, crack the oven when you're done using it so you can let the excess heat into the kitchen. Save money and reduce electricity usage by swapping your lightbulbs out to LEDs.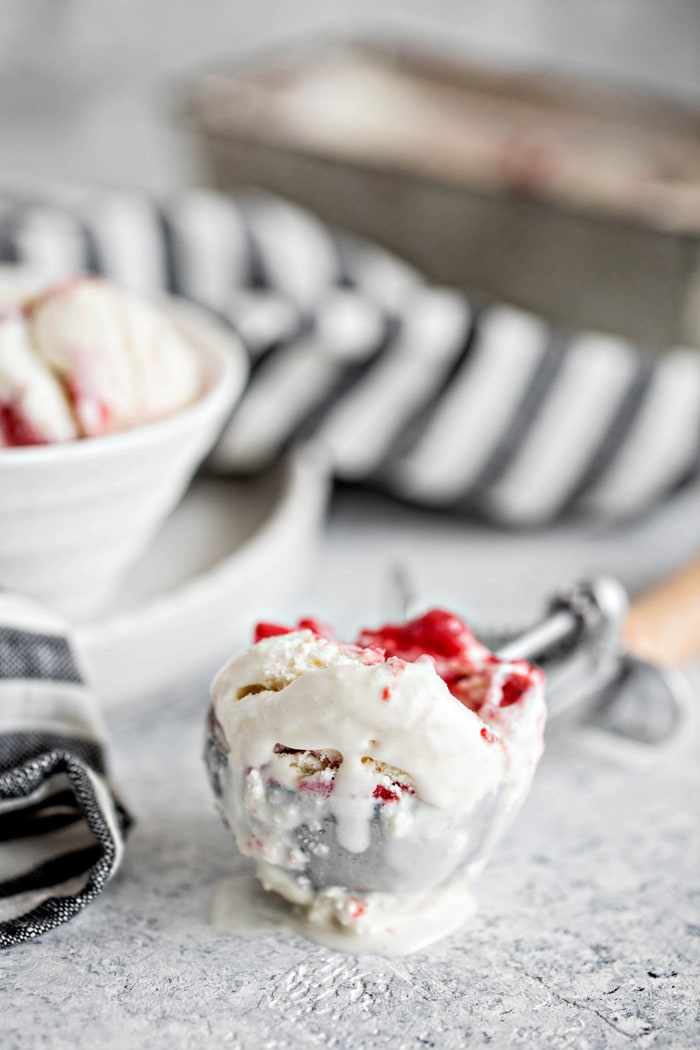 More Homemade No Churn Ice Cream Recipes
Looking for more ideas for homemade no churn ice cream recipes? Here are a few of our favorites:
No Churn Pumpkin Spice Ice Cream is swirled with layers of Pumpkin Caramel and Crunchy Gingersnaps for the perfect fall ice cream recipe!
You'll never believe that this decadent Toasted Coconut Chocolate Chunk Ice Cream is non-dairy! Toasted coconut and dark chocolate chunks are mixed in to a completely dairy-free coconut ice cream base.
In this recipe for No Churn Brownie Chunk Ice Cream with Vanilla Bourbon Caramel, creamy vanilla no churn ice cream is layered with chewy brownie chunks and swirled with sweet and salty vanilla bourbon caramel sauce.
Try this recipe for No Churn Blueberry Cheesecake Ice Cream – a delicious, no-churn, low-fuss recipe. No ice cream maker required!
Don't see what you're looking for here? You can always head over to check out the recipe index to look for more recipes.
Get More Recipes via Email
Did you love this recipe? Sign up to receive Good Life Eats Email Updates and never miss another recipe!

Have you ever made no churn frozen yogurt or ice cream?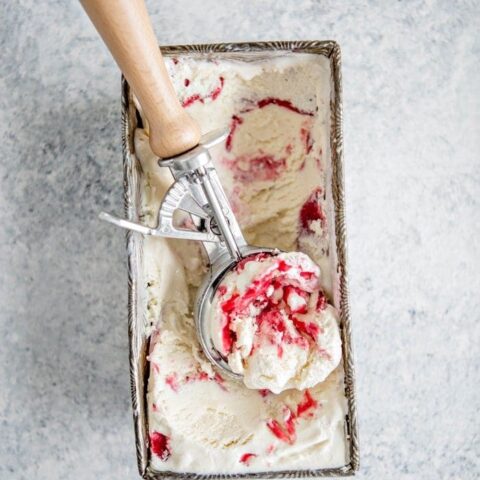 No Churn Vanilla Frozen Yogurt with Balsamic Roasted Strawberry Rhubarb
Total Time:
6 hours
45 minutes
Creamy vanilla frozen yogurt is swirled with sweet and tangy balsamic roasted strawberries and rhubarb. The perfect springtime dessert!
Ingredients
Roasted Balsamic Strawberry Rhubarb
8 ounces hulled Strawberries, halved
8 ounces chopped Rhubarb
2 tablespoons Sugar
2 1/4 teaspoons Balsamic Vinegar
Pinch of Salt
No Churn Vanilla Frozen Yogurt
1 1/4 cup noosa Plain Yoghurt
1 - 14 ounce can Sweetened Condensed Milk
2 teaspoons Vanilla Extract
1 cup Heavy Cream
Instructions
Roasted Balsamic Strawberry Rhubarb
Preheat the oven to 350 degrees F. Line a baking pan with parchment paper.
In a medium bowl, combine the strawberries, rhubarb, sugar, balsamic vinegar, and salt.
Roast the fruit in the preheated oven for 35 - 40 minutes. Then, let cool to room temperature.
Scoop the fruit and any accumulated juices from the pan into a small food chopper and puree until smooth and thick like jam. Chill in the refrigerator until completely cool
No Churn Vanilla Frozen Yogurt
Chill the mixing bowl for the whipping cream and beaters in the freezer until very cold.
In another medium bowl, combine the noosa yoghurt, sweetened condensed milk, and vanilla extract. Mix until combined.
Remove the mixing bowl and beaters from the freezer. Beat the cream on medium-high until stiff peaks form, about 3 minutes.
Add the whipped cream to the yoghurt mixture and gently fold together until well combined. A spatula works well for this.
Layering the Frozen Yogurt
A bread pan works really well for freezing the frozen yogurt. Add a few large dollops of the strawberry rhubarb puree to the bottom of the pan. Then, add a layer of frozen yogurt over top. Repeat, making several layers, until all of the frozen yogurt mixture is used. You can use as much or as little of the strawberry rhubarb mixture as you like.
Freeze until firm, about 5 - 6 hours.
Notes
For best results, the cream, noosa yoghurt, and sweetened condensed milk should be very cold. Keep everything refrigerated until just before preparing.
Recommended Products
As an Amazon Associate and member of other affiliate programs, I earn from qualifying purchases.
Nutrition Information
Yield

10
Serving Size

1
Amount Per Serving
Calories

296
Total Fat

14g
Saturated Fat

9g
Trans Fat

0g
Unsaturated Fat

4g
Cholesterol

47mg
Sodium

109mg
Carbohydrates

37g
Fiber

1g
Sugar

36g
Protein

7g
GoodLifeEats.com offers recipe nutritional information as a courtesy and is an estimate only. This information comes from online calculators. Although GoodLifeEats.com makes every effort to provide accurate information, these figures are only estimates.
This recipe was created in partnership with noosa and La Sportiva to celebrate Earth Day 2018. I have been compensated for my time creating this recipe for Vanilla Frozen Yogurt with Balsamic Roasted Strawberry Rhubarb, however all of the contained opinions are my own.