Got leftover chicken? Don't toss it! Check out these 5 different ways to repurpose your chicken leftovers and 40 great chicken leftover recipes ideas to turn that leftover chicken into something completely new – and completely delicious!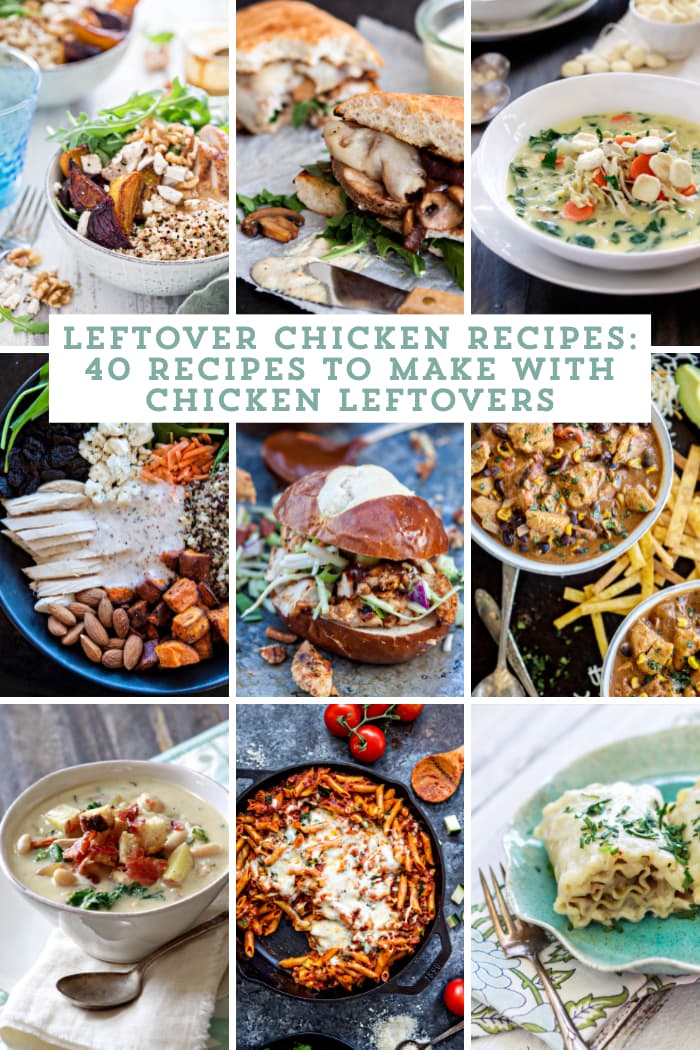 Leftovers can often be a hot topic. Some people swear by them. Love them. Others can't stand leftovers.
Most days I love them, but I fall in the camp of can't stand them when leftovers last more than a day or two beyond the original night.
Leftovers have saved me on many a busy night, whether we have a lot going on after school, have had simply too much fun on a gorgeous summer afternoon to bother with cooking dinner, or when the chef in charge (me!) is under the weather.
What do you do when you're on day 3 or 4 of leftovers and you are absolutely so over that original meal?
Don't throw the food away!
The answer – instead of throwing away perfectly good food, repurpose your leftovers! Turn something old into something new.
Chicken is probably our most common dinner theme around here lately.
All of the kids eat it, chicken is easy to make, versatile, and inexpensive. But who wants to eat the same chicken 4 nights in a row?

Here are some great ways to repurpose leftover chicken to help you be more mindful about your leftovers and decrease your food waste.
One thing that is important to note: If you are unable to consume the leftovers within 3-4 days, you will need to freeze it for a later use, so it does not go to waste.
How to Use Up Leftover Chicken
Wondering what to do with all those chicken leftovers that you have in your fridge? There are so many options for easy leftover chicken recipes that taste great! Check out these 5 different recipe types, with 40 total recipes for leftover chicken.
More Chicken Recipe Ideas
Still looking for more recipes to make with your chicken leftovers? Check out the Recipe Index or Ingredient Index and browse all of the chicken recipe archives! There are chicken recipes, chicken tenderloin recipes, and chicken thigh recipes that you can use for inspiration when it comes to dealing with leftover chicken.
How do you handle leftovers in your house so you don't waste perfectly good food?
Did you love this post?
Sign up for Good Life Eats email updates and never miss another update!