In a couple of days you will have made it through Thanksgiving, but you'll likely have a ton of leftover Turkey to deal with.
Maybe you'll be wondering what to make with leftover turkey.
Or how to freeze leftover turkey.
Or maybe you'll need instructions for making homemade turkey stock.
No worries.
I've got you covered!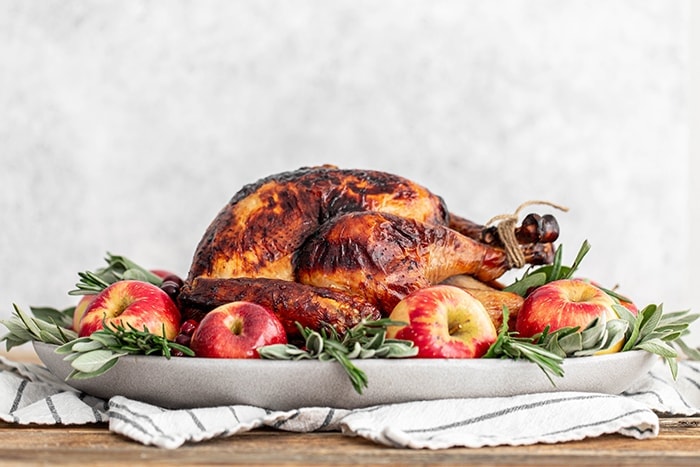 How to Store Leftover Turkey
When scouting the deal for Thanksgiving groceries, consider purchasing a turkey larger than you actually need when the deal is right.
You can get many meals out of leftover turkey meat to stretch out and already good bargain.
If you are unable to consume the leftovers within 3-4 days – or maybe you just need a break from eating turkey – you will need to freeze it for a later use so it does not go to waste.
Tips for Freezing Leftover Turkey:
Package it within a timely matter – From the time you remove it from the oven, you have around two hours to serve and refrigerate or freeze the leftover turkey before multiplying bacteria becomes a concern.
I like quart sized freezer quality Ziploc bags for packaging my leftover turkey. Remove all of the air from your bags – that's what causes freezer burn and no one wants that. Check out Jessica's quick tip for sealing food without air in freezer bags.
Label and date the packages. Include the amount of meat contained in the bag for easy recipe reference.
Use frozen turkey within 2 – 4 months for best quality.
Homemade Turkey Stock
Don't throw out that turkey carcass!
Making homemade turkey stock is relatively simple after your Thanksgiving Feast, even if it does feel like one more thing to worry about.
But I'm telling you, homemade broth is so worth the work (really it is not that much work at all! It mostly sits on the stove and simmers all day).
It tastes absolutely delicious and rich. You have complete control of what's in it — that means no MSG and lots of flavor — when you make it yourself.
I definitely recommend making your own stock and post-Thanksgiving is the perfect time to do so.
Hint: Brined turkeys make especially amazing stock because you get all of that extra flavor from the brine infused into the stock.
Head over to my tutorial on How to Make Easy Homemade Turkey Stock.
I detail everything you need to do to make turkey stock as well as tips for storing your delicious homemade stock after you've made it.
The stock storage tips especially come in handy if you've purchased a really large turkey and will be making more stock than what you'd use for a single batch of soup.
If that's the case, then YAY.
Because you'll be enjoying homemade stock from your leftover turkey carcass for more than just one pot of Turkey Noodle Vegetable Soup.
Leftover Turkey Recipes
I love Thanksgiving. I love delicious, brined and roasted turkey.
But a day or two past Thanksgiving dinner and I'm totally over eating sides of turkey and gravy for dinner.
If that sounds at all familiar, you might want to try some of these tasty leftover turkey recipes to change things up a bit. After all, there is absolutely no reason to get rid of perfectly good meat.
You might as well use it!
You don't necessarily need a "turkey" recipe though.
Turkey is an easy substitute for chicken in many recipes.
Here are a few of my favorite picks for using up leftover turkey after Thanksgiving.
Turkey for Lunch
Turkey Soups
Turkey for Dinner
What do you like to do with your Thanksgiving leftovers?