Recipes for Leftover Turkey: Reducing Thanksgiving Waste
Thanksgiving is next week!
Can you believe it?
Have you planned in advance so you can enjoy a Stress-Free Turkey Day?
I hope so!
This is the time of year where we tend to go all out on our meals.
It's a holiday and we're with family after all.
But that doesn't mean we can't be conscientious about getting the most for our money.
Thanksgiving is a time full of lots of food and unfortunately, with that much food on the table there is also much that can go to waste.
Here are a few tips to help you be mindful about your Holiday table this Thanksgiving.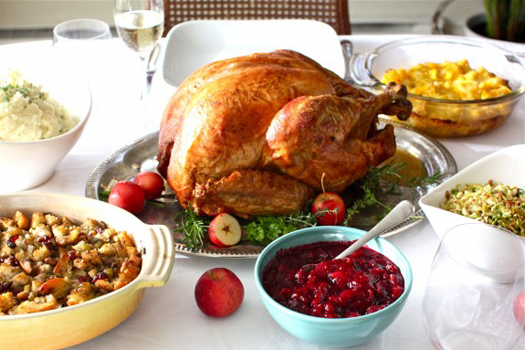 photo via How to Roast a Turkey (The Simple Way), by Aimee of Simple Bites
Be Mindful of your Eating
Don't take more than you really need.
Rather than filling your plate with a full portion of every dish on the table (and more food that you can comfortably eat), start off by taking a small helping of the dishes that you'd like to eat.
If you're still hungry, or have room for a little bit more of that favorite side dish of you're go ahead and go back for seconds.
Plates that are filled more than they should be often result uneaten food that is later chucked down the garbage disposal, not to mention upset stomachs.
Let's face it: that's wasteful – and a teensy bit rude too if you're a guest at someone else's table.
What to do with Thanksgiving Leftovers
When scouting the deal for Thanksgiving groceries, consider purchasing a turkey larger than you actually need when the deal is right.
You can get many meals out of leftover turkey meat to stretch out and already good bargain.
If you are unable to consume the leftovers within 3-4 days, you will need to freeze it for a later use so it does not go to waste.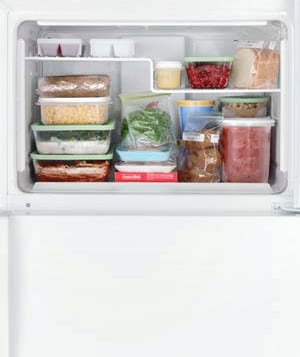 photo via Real Simple
Tips for Freezing Leftover Turkey:
Package it within a timely matter
From the time you remove it from the oven, you have around two hours to serve and refrigerate or freeze the leftover turkey before multiplying bacteria becomes a concern.
I like quart sized freezer quality Ziploc bags for packaging my leftover turkey.
Remove all of the air from your bags – that's what causes freezer burn and no one wants that.
Check out Jessica's quick tip for sealing food without air in freezer bags.
Label and date the packages.
Include the amount of meat contained in the bag for easy recipe reference.
Use frozen turkey within 2 – 4 months for best quality.
Recipes for Leftover Turkey
Turkey is an easy substitute for chicken in many recipes.
Here are a few of my favorite picks for using up leftover turkey after Thanksgiving.
Last year we made this Sweet and Spicy Turkey Curry Soup with our leftover turkey. It was a big hit!
My mom always made Chicken Tetrazzini with turkey after Thanksgiving.
When you're tired of "Thanksgiving" food, try Turkey Subs with Artichoke and Sun Dried Tomato.
Roasted Chicken, Apricot, and Brie Panini sounds fancy, don't you think?
This Curried Chicken Salad with Watercress is great with turkey for a post-Thanksgiving lunch.
You definitely can't go wrong with a Turkey Pot Pie with Buttermilk Biscuit Crust
These recipes for Cream of Turkey and Wild Rice Soup and Turkey Shepherd's Pie look fantastic.
Don't forget to use the carcass to make a batch of Homemade Turkey Stock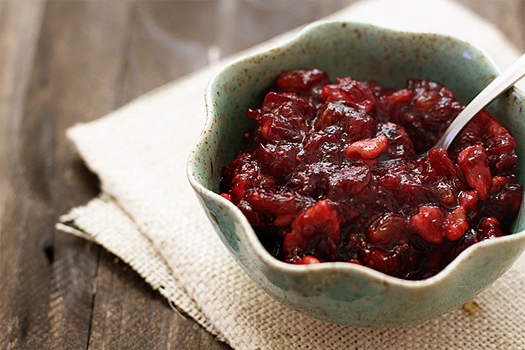 Recipes for Leftover Cranberry Sauce
Cranberry Sauce and Relishes are pretty darn good on their own just slathered onto a hot, buttery roll.
But, here are a few fun recipes you can make using any leftover cranberry sauce after your Thanksgiving celebrations.

This post is part of the Eat Well, Spend Less series where, along with other bloggers, I bring you suggestions for how you can eat delicious, tasty meals without wrecking your grocery budget.
This month we're discussing how to celebrate Thanksgiving on a budget.
Be sure to check out what the other ladies are sharing this week or browse their archives:
How do you make Thanksgiving fit your budget?