This post has lots of tips for reducing Thanksgiving waste, information on how long it is safe to eat Thanksgiving leftovers, how to properly store and freeze leftover Turkey and Ham, and how to donate Thanksgiving leftovers.
You'll also find a great selection of recipes that can be made using your leftover Thanksgiving Turkey, Ham, and Cranberry Sauce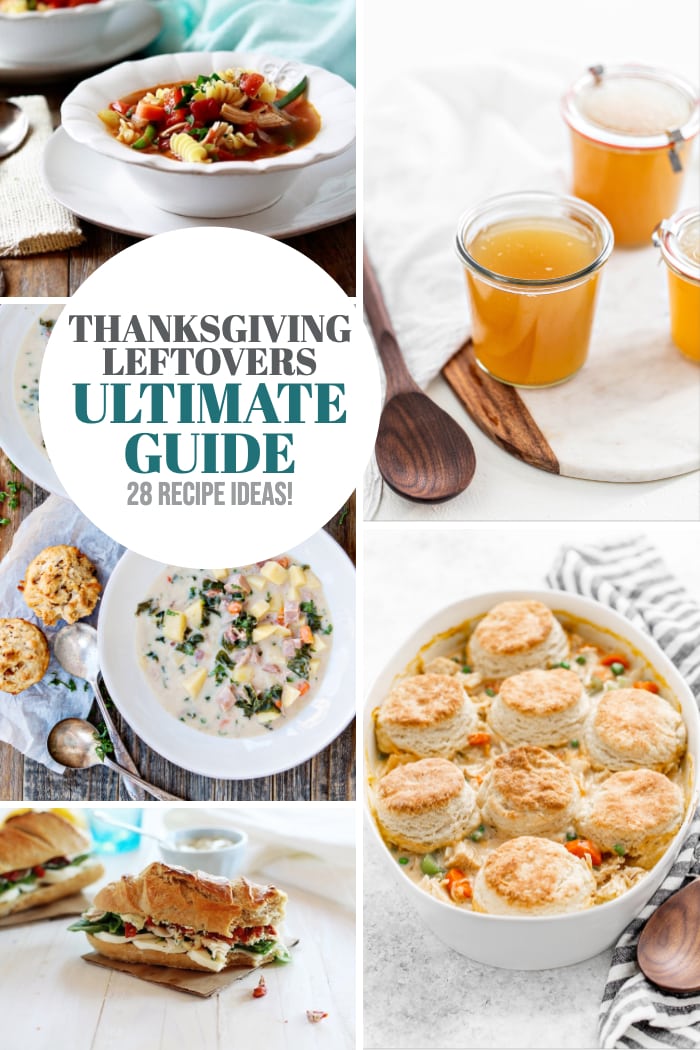 This is the time of year where we tend to go all out on our meals. It's a holiday and we're with family after all. But that doesn't mean we can't be conscientious about getting the most for our money.
Thanksgiving is a time full of lots of food and unfortunately, with that much food on the table there is also much that can go to waste.
When scouting the deal for Thanksgiving groceries, consider purchasing a turkey larger than you actually need when the deal is right. You can get many meals out of leftover turkey meat to stretch out and already good bargain.
Also, consider purchasing an extra turkey for later after Thanksgiving, when prices are incredibly low. You can cook a turkey any time of the year. We love this Smoked Turkey all year long!
Here are a few tips to help you be mindful about your Holiday table this Thanksgiving.
What to do with Thanksgiving Leftovers
Send Thanksgiving leftovers home with friends and family.
Host a Thanksgiving Leftovers party and invite neighbors and friends to bring their leftovers for all to share. You might find some really fun new recipes this way!
Freeze what you can't eat and eat it later.
Create a new recipe using leftover Turkey to enjoy something different.
Donate your Thanksgiving leftovers or unused ingredients.
Can You Donate Thanksgiving Leftovers?
Some food pantries may take your Thanksgiving leftovers. Check the Food Bank Listings to find a food bank near you; you can use the website to search by state or zip code. Give them a call ahead of time and ask them if they only accept canned and packaged items or if they are willing to accept Thanksgiving leftovers.
Homeless shelters and other non-profit charities in your area might also accept donations of this kind. It is always best to call ahead before arriving with the food.
If you have a regular homeless person you pass on your commute to work or near shops or other areas you frequent, you might consider packaging up some of your leftovers to offer them.
If you choose to donate Thanksgiving Leftovers, it is very important that they be donated as soon as possible so that they are fresh. Never donate leftovers that have been sitting in your refrigerator for days as this could compromise someone's health.
Donating Ingredients During the Holiday Season
Here is some other guidance regarding what to donate to Food Banks during the holiday season. This is great, especially if you have leftover ingredients (such as canned pumpkin or yams, canned green beans, etc) that you did not use for your meal and don't need to keep in your pantry.
For fresh produce donations, check out Ample Harvest, a non-profit that helps connect you with a food pantries that accept fresh produce donations.
How Long is It Safe to Eat Thanksgiving Leftovers?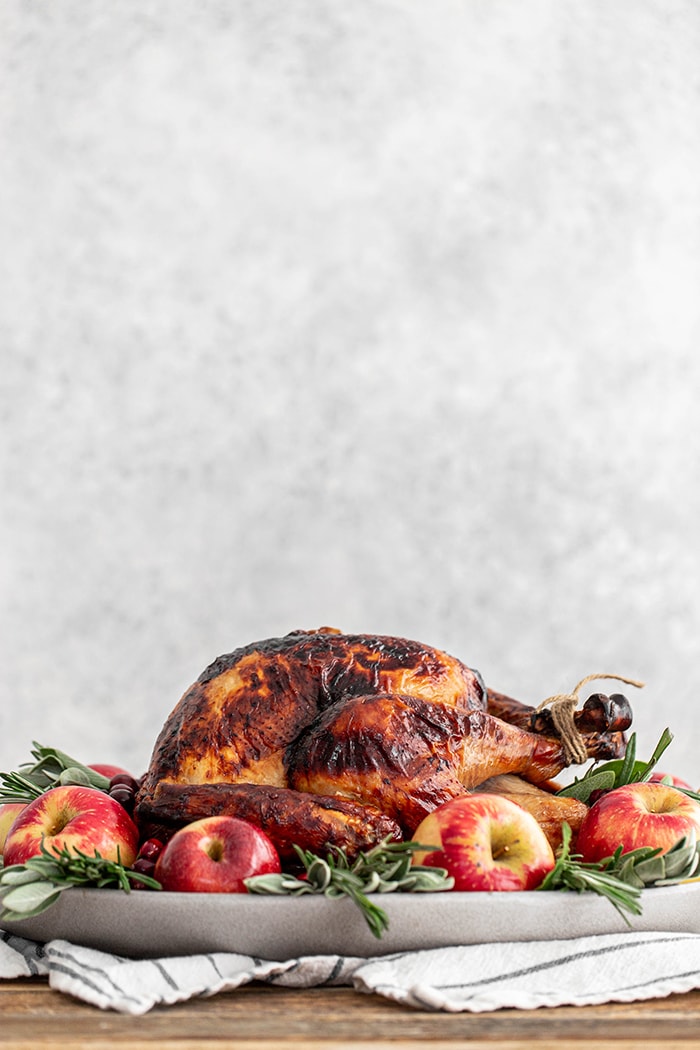 How long you can keep your leftovers after Thanksgiving depends on a few things: what is the item, did it sit out at room temperature for longer than 2 hours before being stored, and was it stored properly?
Thanksgiving Leftovers Storage Guide
Leftover Turkey: 3-4 days refrigerated, 2-4 months frozen
Leftover Ham: 3-4 days refrigerated, 2-4 months frozen
Leftover Mashed Potatoes: 3-5 days refrigerated, 4-6 months frozen
Leftover Stuffing: 3-5 days refrigerated, 2-4 months frozen
Leftover Sweet Potatoes: 3-5 days refrigerated, 2-4 months frozen
Leftover Green Beans: 3-5 days refrigerated, 2-4 months frozen
Leftover Cranberry Sauce: 7-10 days refrigerated, 2-4 months frozen
Some items may actually "last" longer in the freezer than the above listed time, but these are the optimal storage lengths so that the food still tastes fresh and hasn't had too much risk of drying out.
When Should You Throw Out Thanksgiving Leftovers?
In general, most of your Thanksgiving leftovers will be perfectly safe for around 3 – 5 days when stored in the refrigerator, some a little longer.
You will want to throw away any Thanksgiving leftovers after around the 7 day mark, or any time before that if the items start to smell funny or bad, have discolored, or if they sat out for longer than 2 hours at room temperature.
Leftovers that have sat out longer than 2 hours are room temperature are much more at risk for bacterial growth, which could then lead to food poisoning.
How Can You Tell if Turkey Has Gone Bad?
Signs of turkey spoilage include:
discoloration or dull or "off" appearance
texture changes (such as feeling slimy)
bad smell.
Usually your sense of smell is a really good indicator if the turkey is spoiled or not. Spoiled and bad smelling turkey will often trigger the gag reflex – a sure sign that the turkey has gone bad.
Do not taste the turkey first to decide if it has gone bad. If your turkey has indeed spoiled, you could get sick from eating spoiled turkey. When in doubt, throw it out!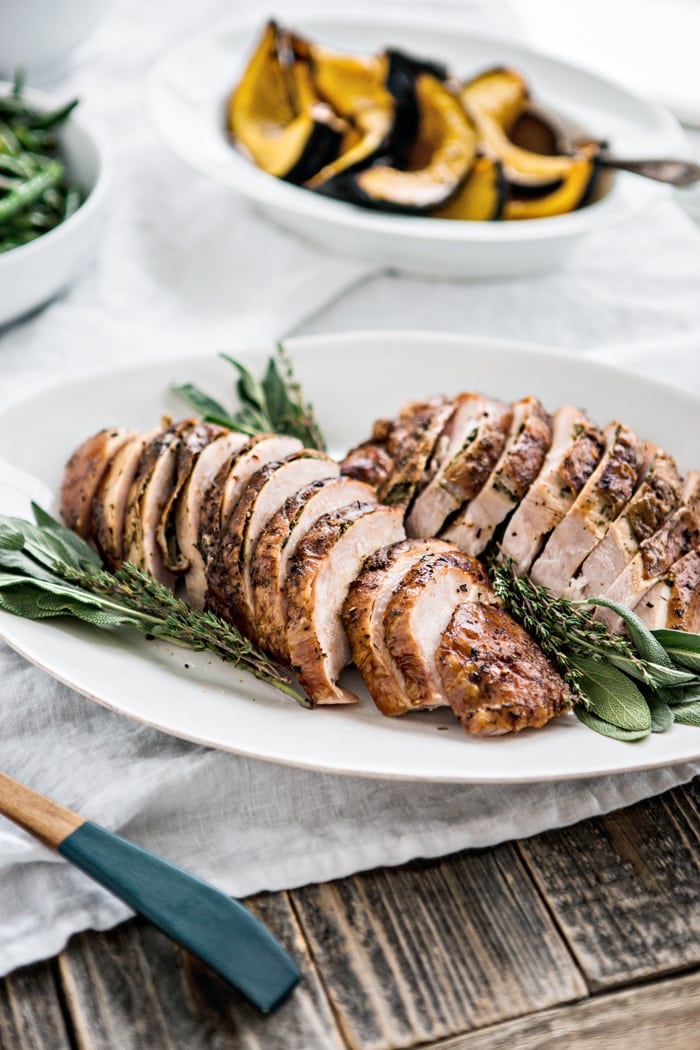 Tips for Freezing Leftover Turkey:
If you are unable to consume the leftovers within 3-4 days, you will need to freeze it for a later use so it does not go to waste.
Package it within a timely matter
From the time you remove it from the oven, you have around two hours to serve and refrigerate or freeze the leftover turkey before multiplying bacteria becomes a concern. I like quart sized freezer quality Ziploc bags for packaging my leftover turkey.
Remove all of the air from your bags – that's what causes freezer burn and no one wants that. Check out Jessica's quick tip for sealing food without air in freezer bags.
Label and date the packages.
Include the amount of meat contained in the bag for easy recipe reference.
How Long Does Leftover Frozen Turkey Last
When you store leftover turkey in the freezer it will stay good for a long time as long as the freezer is kept at optimal temperatures and there are no power outages that would cause the turkey to thaw or partially thaw.
However, for best results you will want to use up any leftover frozen turkey within 2 – 4 months for best quality. After that time, the flavor of the turkey can degrade, it can become freezer burnt, or simply just dry out.
Can You Freeze Leftover Ham?
Yes, cooked ham freezes well! If you have leftover ham after your meal, slice it up and wrap it in aluminum foil. Store the foil-wrapped ham packets in a freezer bag and freeze. Make sure you remove as much air as possible from the bag.
The reason that I like to wrap the ham in foil first, is because it makes it easy to take a little out at a time to thaw for sandwiches, soups, and more, but you can also freeze it without the foil as long as your use airtight bags or containers.
I recommend following the same safety guidelines for frozen leftover turkey when you freeze ham.
How to Avoid Waste on Thanksgiving
Don't take more than you really need.
Start with smaller portions and go back for seconds if you're still hungry.
Package leftovers properly.
Create new recipes out of leftovers if you're tired of eating Thanksgiving food.
Freeze what you can't eat within the allotted safe to eat thanksgiving leftovers period.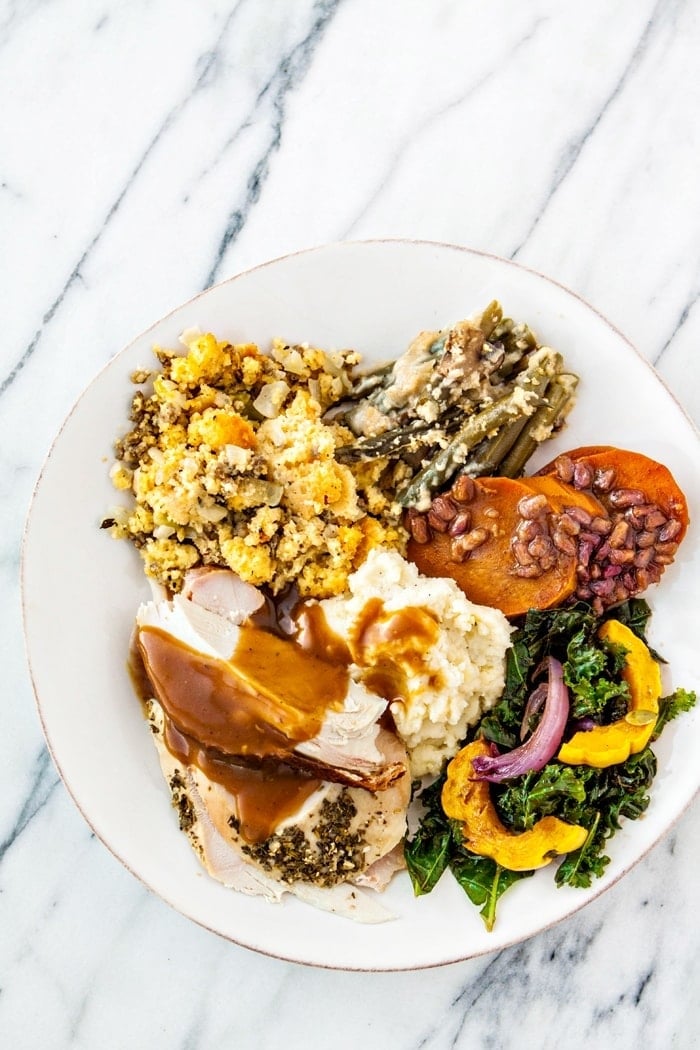 Be Mindful of your Eating on Thanksgiving
Rather than filling your plate with a full portion of every dish on the table (and more food that you can comfortably eat), start off by taking a small helping of the dishes that you'd like to eat.
If you're still hungry, or have room for a little bit more of that favorite side dish of you're go ahead and go back for seconds.
Plates that are filled more than they should be often result uneaten food that is later chucked down the garbage disposal, not to mention upset stomachs.
Let's face it: that's wasteful – and a teensy bit rude too if you're a guest at someone else's table.
What to Make with Thanksgiving Leftovers
Thanksgiving often yields a lot of leftovers! Here are some great ideas to use leftover turkey and leftover cranberry sauce.
What do you do with Thanksgiving leftovers?
Did you love this post?
Sign up for Good Life Eats email updates and never miss another update!