This Chicken Chili Verde has tons of flavor and a surprising amount of good for you ingredients. It features chunks of tender chicken, tomatillos, peppers, and cannellini beans in a thick chili verde base.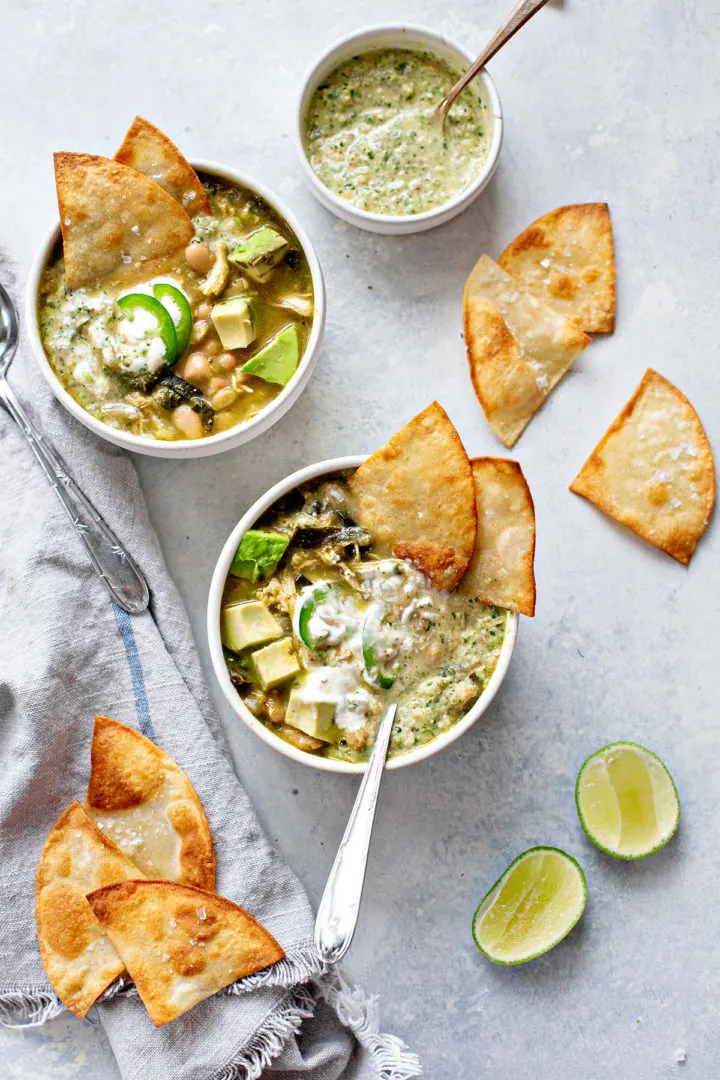 Making this Chicken Chili Verde
I have found that chili is usually a good recipe to have in my back pocket on busy days because it isn't very difficult to make and I most always have all the ingredients on hand.
As much as I like the traditional chili recipe, it is always good to mix things up. We love this recipe for White Bean Chicken Chili Verde.
This post was originally sponsored by Bush's Beans. I was compensated for my time, but all opinions are my own.
It's no secret that I love black bean recipes. I even shared my Top 5 Black Bean Recipes of the moment a while back (though some of those may be subject to change at this point after trying so many new recipes).
In the past year I have really tried to incorporate different varieties of beans to our menu.
I love the Chickpea and Chicken Curry Soup I recently posted. I don't usually use chickpeas very often, unless I'm making a batch of hummus, so it was fun to experiment with them in a new way.
I'm also using white beans a lot more often in recipes like this White Bean Chicken Chili Verde.
And Kidney beans have made a few more appearances than usual. Recently we liked this Dirty Rice with Kidney Beans and Andouille Sausage (I'll be making this again this week).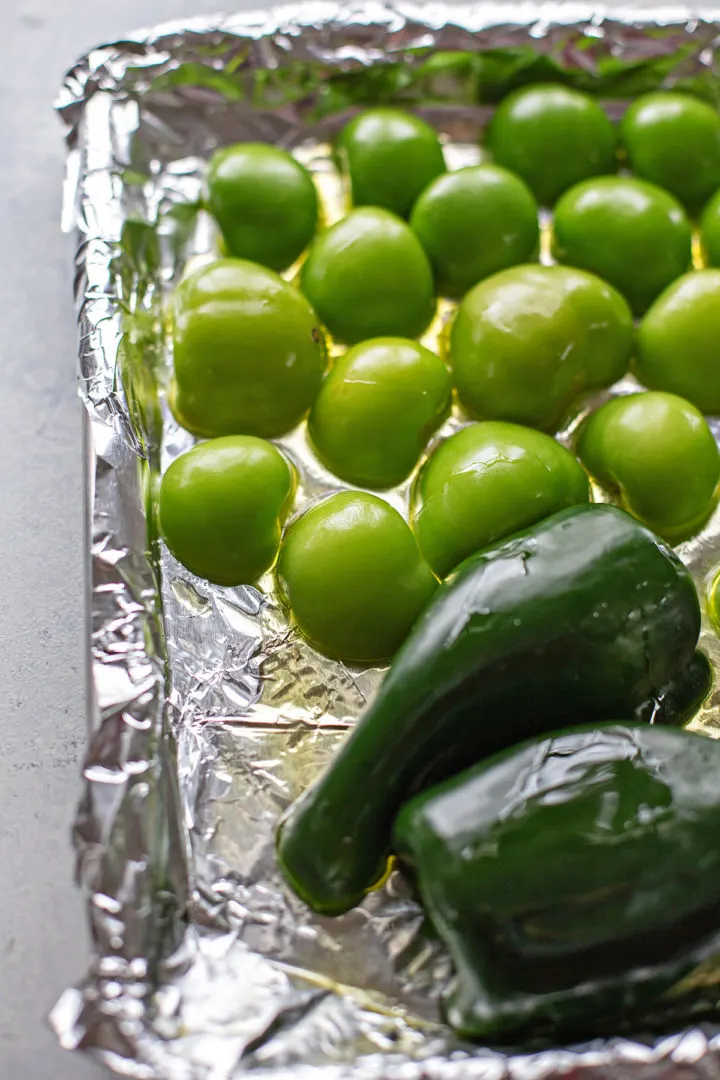 This post may include affiliate links. As an Amazon Associate and member of other affiliate programs, I earn a small commission from qualifying purchases.
What I Love About this Chicken Chili Verde
I really appreciate how full this recipe is of good-for-you ingredients that also taste great! I love adding recipes to our rotation that are absolutely delicious but really good for our bodies too.
This White Bean Chicken Chile Verde is easily one of our favorite soup recipes to mix things up in the winter. Served with a side of whole-grain with flax tortilla chips and topped with some diced avocado it was a filling and satisfying meal.
Helpful Kitchen Tools for this Recipe
Baking Sheet – to roast the tomatillos and peppers on
Immersion Blender, Food Processor, or Regular Blender – to blend the roasted tomatillos and peppers.
Large Pot – to cook this green chili recipe.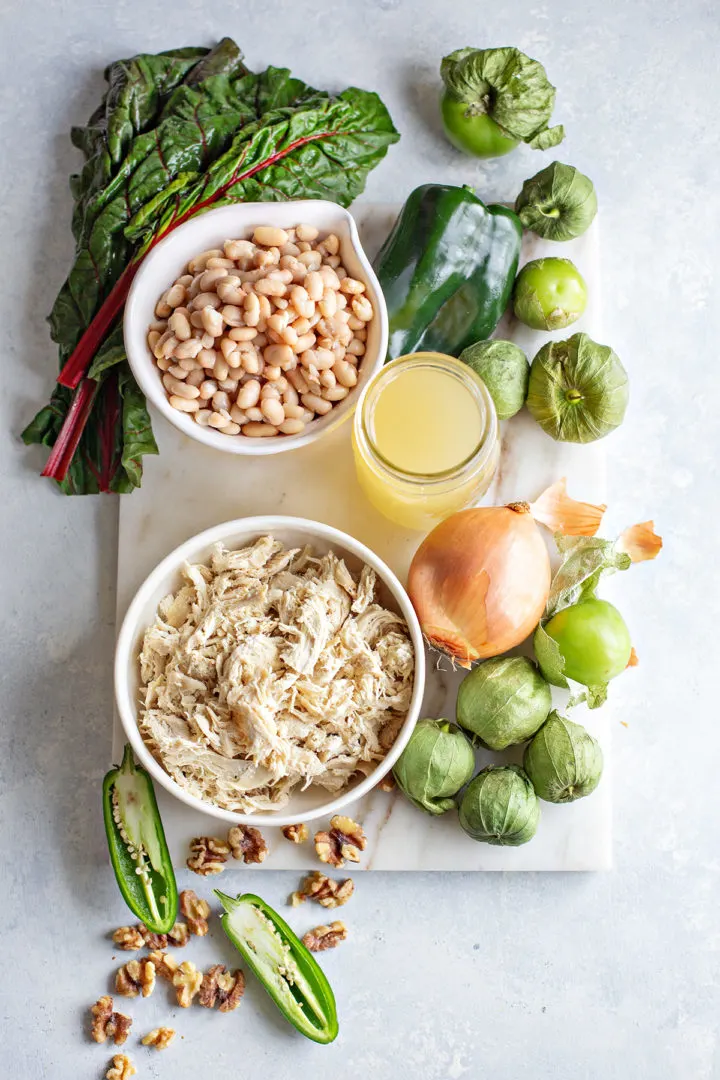 Ingredients in this Chicken Chili Verde
This might not be your typical easy chicken chili recipe; the ingredient list and directions look long, but this chicken verde chili is one of my favorite recipes. Here's what you'll need to make it:
For the Verde Chicken Chili
Tomatillos
Poblano Peppers
Olive Oil
Yellow Onion
Fresh Garlic
Dried Oregano
Ground Cumin
Chili Powder
Chicken Broth, Bone Broth, or Chicken Stock
Cannellini Beans (white beans)
Chicken
Swiss Chard
Salt
Black Pepper
For the Cilantro Pesto
Fresh Cilantro
Jalapeño
Walnuts
Olive Oil
Fresh Lime Juice
For the complete ingredient list and detailed instructions for this chicken chile verde, scroll to the bottom of this post for the FREE printable recipe card.
What Type of Chicken Should I Use?
You can use whatever cut of chicken you like best: Boneless, Skinless Chicken Breast or Boneless Skinless Chicken Thighs work great. Or if you're in a hurry, you can use a rotisserie chicken.
I like to use my recipe for Shredded Tex-Mex Chicken to cook the chicken for this soup. For convenience later, store shredded chicken in the freezer in 1 or 2 cup portions to have on hand for a busy day.
Ingredient Substitutions
Beans – Great northern beans will work great if you can't find cannellini. If you can't find any type of small white bean, try subbing pinto beans or black beans.
Swiss Chard – I recommend substituting with fresh baby spinach if you can't find swiss chard. You'll want a mild green rather than something with a strong taste (like kale).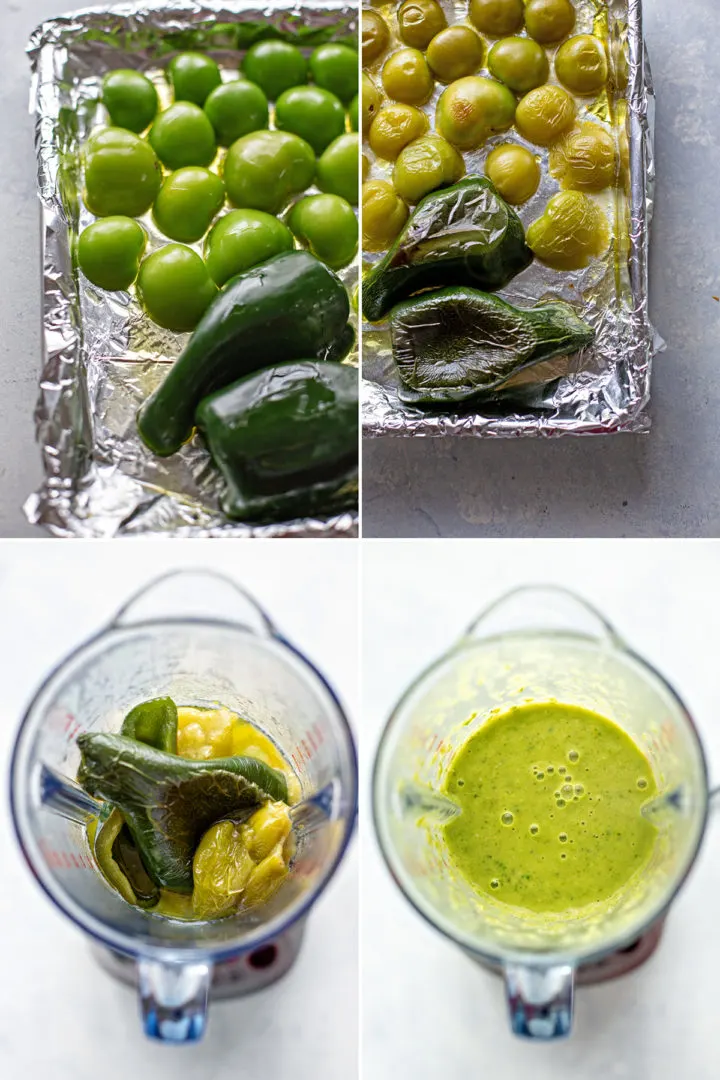 How to Make this Chicken Chili Verde
You can find the full recipe with the detailed instructions and a free printable recipe card for your records at the bottom of this post. But, here's a quick overview of how you'll prepare this white chicken chili verde:
Roast the Peppers and Tomatillos
First you'll roast the peppers and tomatillos in the oven on a foil lined baking sheet. Once they're blistered, transfer them to a food processor and puree until smooth.

Make the Chili Verde
Then, in a large cast iron pot, sautee the onion, garlic, and spices. After that, add in the tomatillo mixture and bring to a simmer over medium-low heat.
Next, add the broth, beans, and chicken. Simmer for 20 minutes while you prepare the cilantro pesto. After simmering, stir in the chopped swiss chard and season with salt and pepper.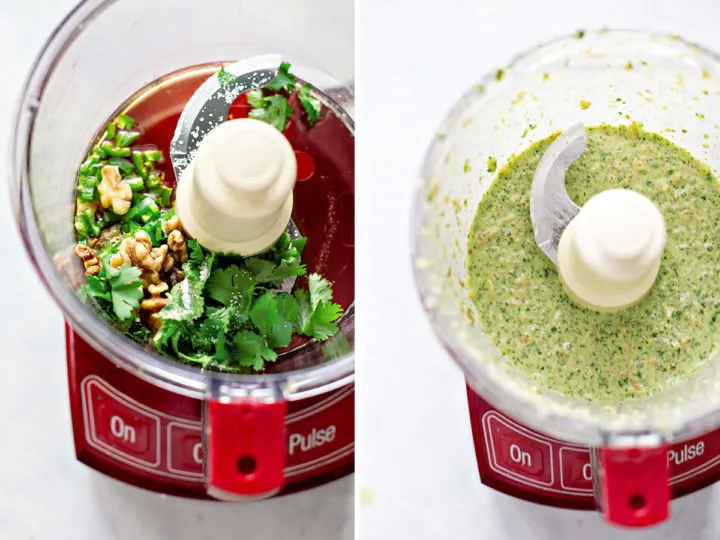 Make the Cilantro Pesto to Serve with the Chicken Chili Verde
What Is the Best Way to Cook the Chicken for this Recipe?
Here are a few ways to cook the chicken:
Cook in Slow Cooker or Instant Pot and shred it.
Cut into bite sized pieces and brown in the pot before adding the other ingredients.
Use chicken off of a rotisserie chicken.
I don't recommend adding raw chicken directly to the soup, however. You won't get as flavorful or tender chicken when cooked that way in my opinion.
How to Shred Chicken: Learn 3 different easy methods for shredding chicken, how long shredded chicken lasts, and how to freeze shredded chicken.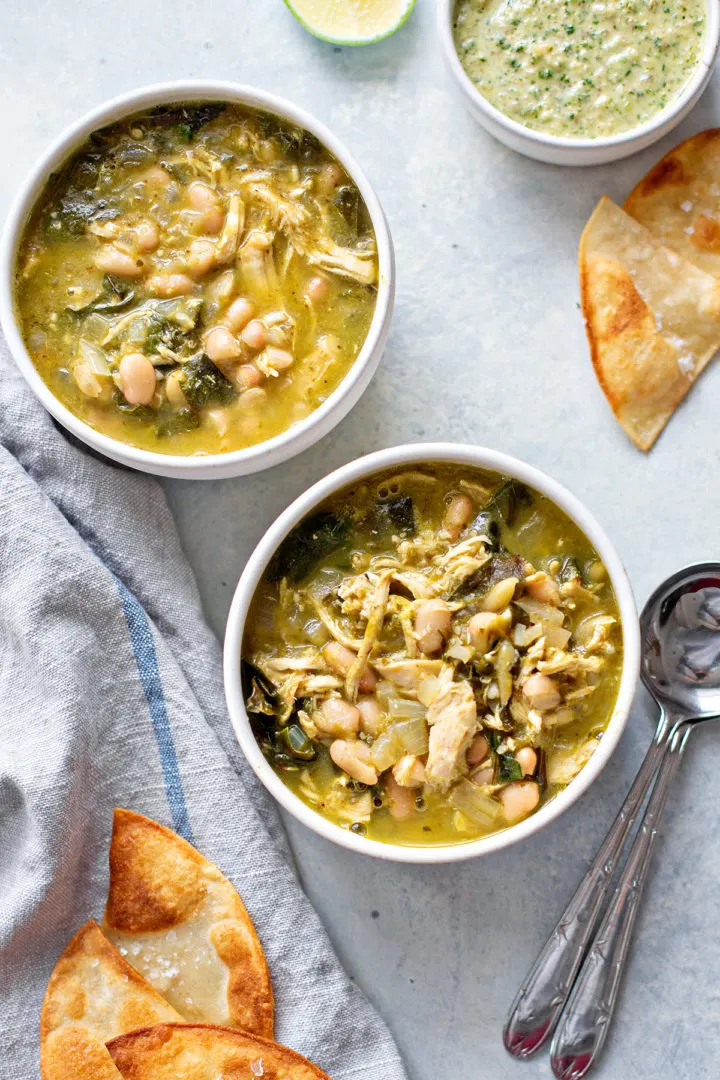 Can I Prepare this Recipe with My Instant Pot?
Yes, you can do that! You can cook the chicken in the instant pot, remove it and then use the instant pot again to cook the soup.
If you'd like to make an instant pot chicken chili verde, here's how I would recommend doing so:
Make the green sauce as the recipe instructs.
Add the green sauce, seasonings and chicken broth to the instant pot. Puree with an immersion blender.
Then add the chicken to the instant pot.
Cook on high pressure for 5 minutes. Let the pressure slow release.
While the chicken verde chili cooks, prepare the cilantro pesto.
Remove the lid after all the pressure has released, stir in the cannellini beans and the swiss chard.
Taste and add extra salt and pepper if desired. Serve with cilantro pesto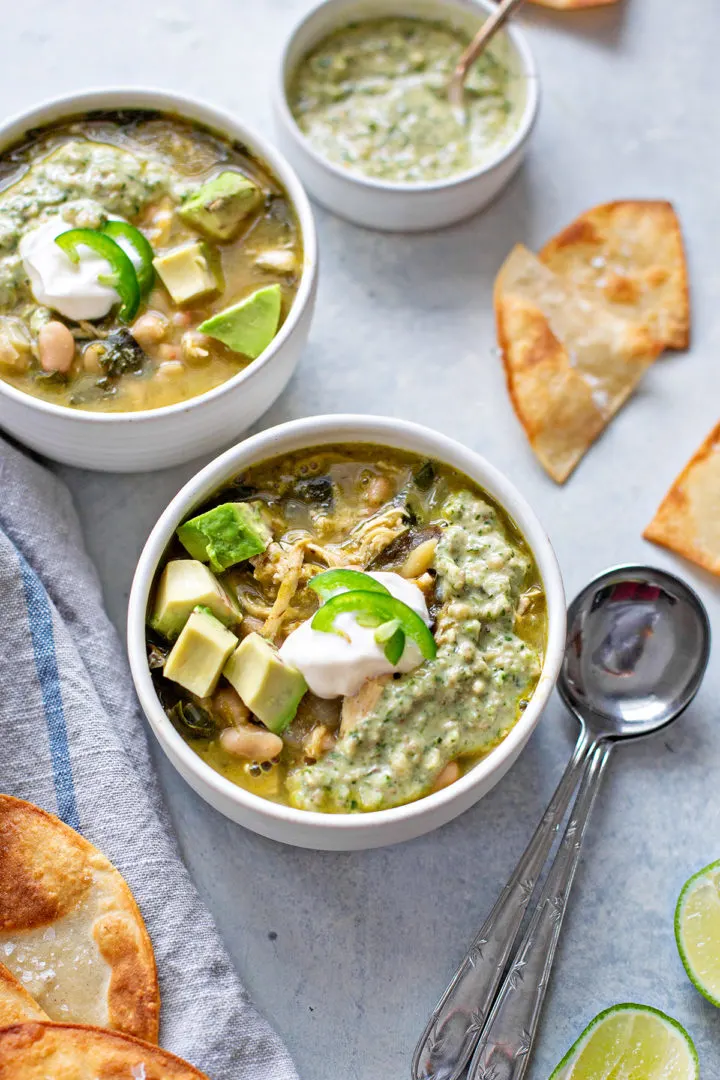 Chicken Chili Verde Toppings
The cilantro pesto is delicious on top of this chicken chili. If you don't care for that (or want to serve a variety of options here are some of our favorite toppings to serve alongside a bowl of this green chicken chili:
Sour Cream
Avocado
Tortilla Chips
Garnish with lime wedges
Cheddar Cheese, Pepper Jack Cheese, or Monterrey Jack Cheese
How Should I Store Leftover Chicken Chili Verde?
Leftovers should be stored in an airtight container in either the refrigerator or the freezer.
Refrigerated, this verde chili will last for about 3-5 days when stored properly.
In the freezer, it will be good for around 6 months. I like to make a big batch of chili verde with chicken so I have plenty in the freezer for later.
For more information on how to freeze this verde chicken chili, check out this tutorial on How to Freeze Soup; the instructions will be the same.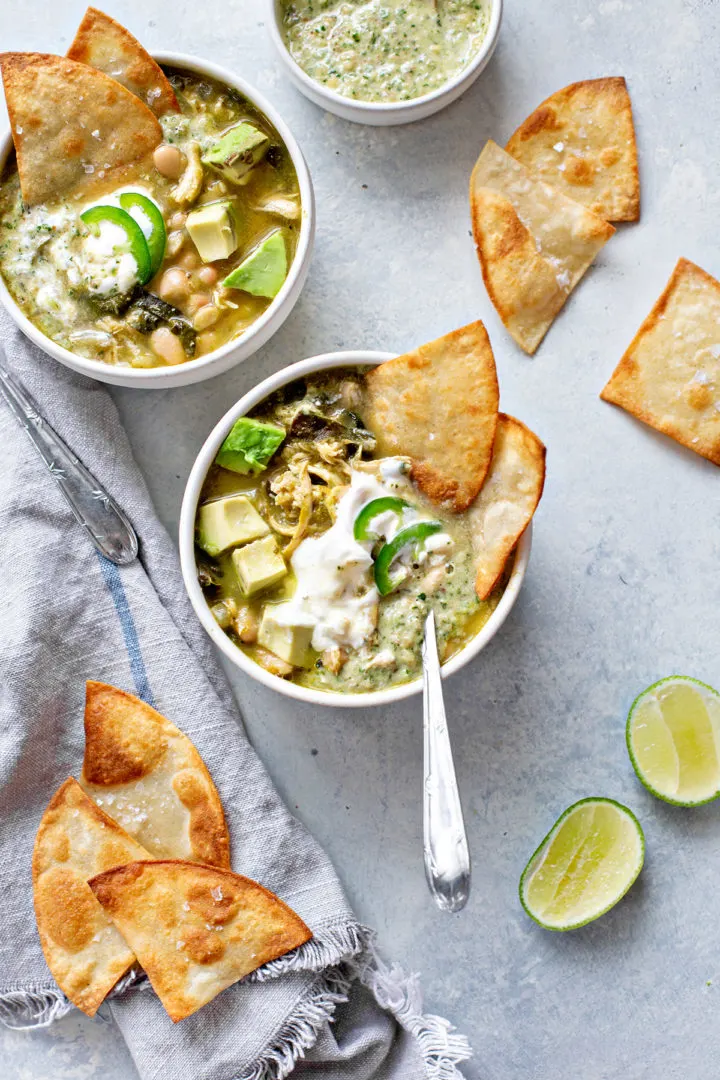 Try this Chicken Chili Verde!
Next time you're looking for a unique chicken chili to make for dinner, give this Chicken Chili Verde recipe a try! Did the whole family love it? Leave a comment below and give it a review for others to see what you thought of this chicken recipe.
On Instagram? Share your photo and tag me with @goodlifeeats and #goodlifeeatsrecipes. I'd love to see your photo of this chicken chili verde!
More Easy Chili Recipes:
Roasted butternut squash, roasted corn, and fire roasted tomatoes pair with black beans in this hearty, 7-ingredient meatless Roasted Butternut Squash Black Bean Chili.
Pumpkin and Turkey Black Bean Chili is a great fall chili recipe with tons of flavor. Even better, it's super easy to make!
This Beefy Kidney Bean Chili is a classic chili recipe, super easy to prepare and the perfect chili recipe for loaded baked potatoes or chili dogs.
Black beans, sweet potatoes, fire roasted salsa, and poblanos pair with black beans in this hearty, easy meatless Sweet Potato Black Bean Chili.
We've combined two of our recent dinner time favorites – Chicken Enchiladas and Chili – into this new recipe for Cheesy Chicken Enchilada Chili.
Don't see what you're looking for here? You can always head over to check out the recipe index to look for more recipes.
Get More Easy Recipe Ideas
Love this recipe for Salsa Verde Chicken Chili? Sign up for Good Life Eats Email Updates and never miss another recipe!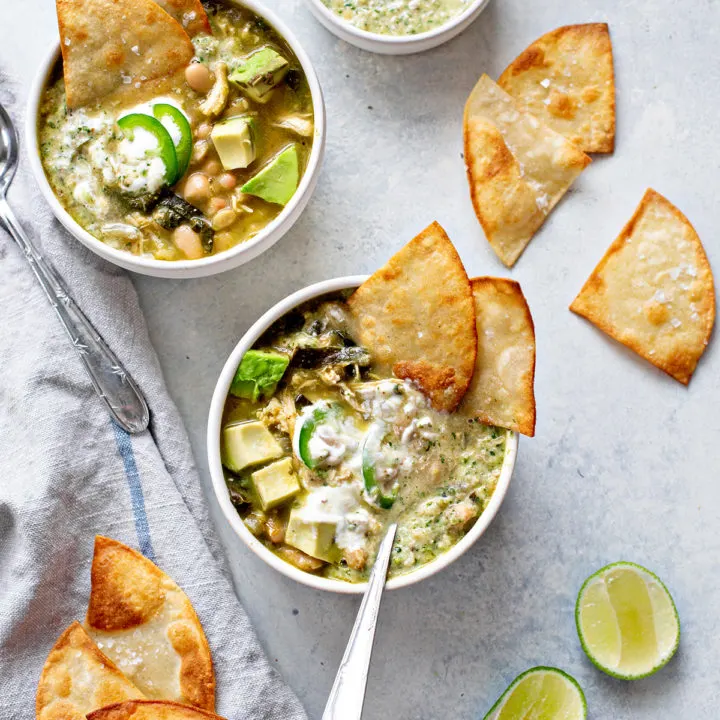 Chicken Chili Verde with White Beans
This Chicken Chili Verde has tons of flavor and a surprising amount of good for you ingredients. It features chunks of tender chicken, tomatillos, peppers, and cannellini beans in a thick chili verde base.
Ingredients
White Bean Chicken Chile Verde
1 pound Fresh Tomatillos
1/2 pound Poblano Peppers
1 tablespoon Olive Oil, plus extra for tomatillos and chiles
1 large Yellow Onion, diced
4 cloves Garlic, minced
1 1/4 teaspoons Oregano
1 1/2 teaspoon Ground Cumin
1/4 teaspoon Chili Powder
3 cups Chicken Stock
30 ounces canned Cannellini beans,
2 cups Cooked Chicken
4 cups Swiss Chard, chopped, stems removed
1 - 2 teaspoons Salt, according to taste
1/4 teaspoon Black Pepper
Cilantro-Lime Pesto
1 bunch Cilantro, stems removed
1 tablespoon minced Jalapeño, seeds and ribbing removed
1/4 cup Walnuts
2 cloves Garlic
2 ounces Olive Oil
2 Limes, juiced
Salt and Pepper, to taste
Instructions
For the White Bean Chicken Chile Verde:
Preheat oven to 425 degrees F. Line a large baking or cookie sheet with foil. Set aside.
Remove skins from tomatillos. Wash, dry, and cut in half. Place cut side down on foil-lined baking sheet.
Wash and cut poblanos in half, remove ribbing, seeds, and stems. Place cut side down (skins facing up) on the baking sheet.
Drizzle the tomatillos and poblanos with olive oil. Roast at 425 degrees F until tomatillos are soft and the chiles are blistered.
Add cooked tomatillos and poblanos to a food processor or blender and puree until smooth. Set aside.
Heat the 2 teaspoons of olive oil in a large dutch oven or stockpot. Add the onion and saute until golden and tender, about 5 minutes.
Add the garlic, oregano, cumin, and chili powder. Saute for an additional 3 minutes.
Stir the tomatillo mixture, cook over medium-low heat (lowering heat if sputtering occurs) for 10 minutes, until thickened.
Stir in the broth, beans (with liquid) and shredded chicken. Continue to simmer for an additional 20 minutes.
Stir in the chopped chard, season to taste with salt and pepper, and simmer for 5-10 more minutes, until chard is tender.
Serve topped with cilantro lime pesto, sour cream, tortilla chips, and diced avocado.
For the Cilantro-Lime Pesto
Add all ingredients to a food processor and blend until smooth. Season to taste with salt and pepper, if desired.
Recommended Products
As an Amazon Associate and member of other affiliate programs, I earn from qualifying purchases.
Nutrition Information
Yield

8
Serving Size

1
Amount Per Serving
Calories

374
Total Fat

15g
Saturated Fat

2g
Trans Fat

0g
Unsaturated Fat

11g
Cholesterol

32mg
Carbohydrates

40g
Fiber

10g
Sugar

7g
Protein

25g
GoodLifeEats.com offers recipe nutritional information as a courtesy and is an estimate only. This information comes from online calculators. Although GoodLifeEats.com makes every effort to provide accurate information, these figures are only estimates.