This salted caramel budino recipe is such an easy Italian dessert! It features a cookie crust that's topped with vanilla pudding and then a layer of homemade caramel sauce.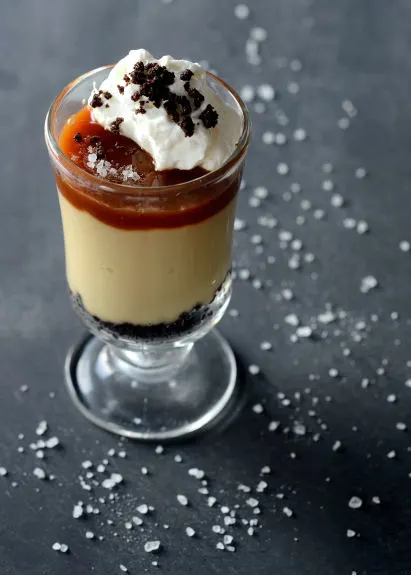 Click HERE to save this recipe for Salted Caramel Budino!
Salted Caramel Budino Recipe
Bu-di-no \ boo 'dee no \ — Italian for custard or pudding.
As my sister told me about the fabulous Budino she had sampled at a local restaurant, I knew I needed to recreate it at home. The smooth, creamy pudding or custard paired with salted caramel she described sounded so enticing.
I was not at all disappointed with my homemade version of this delectable Italian treat. Well, that's a bit of an understatement.
The flavors in these pudding parfaits were absolutely amazing: rich custard accented by chocolate cookie crumbles; the meeting of salty and sweet in the caramel. Oh, it was heavenly.
I must admit that the caramel sauce that pairs with this custard was a bit of a failure at first. The recipe, I'm sure, was not to blame. But I have never been good at judging when sugar is "dark amber," so my first attempt at the sauce was rather watery.
The method of soaking the vanilla beans in the cream was brilliant, however. So I made my trusty caramel recipe instead, with the addition of the vanilla beans in the cream. I loved the flecks of vanilla seeds in the sauce – so pretty!
Since this recipe made many more budini than my husband and I could eat by ourselves, we served it to our family. It was a huge success. My older sister, who was sick with a nasty cold, particularly enjoyed it.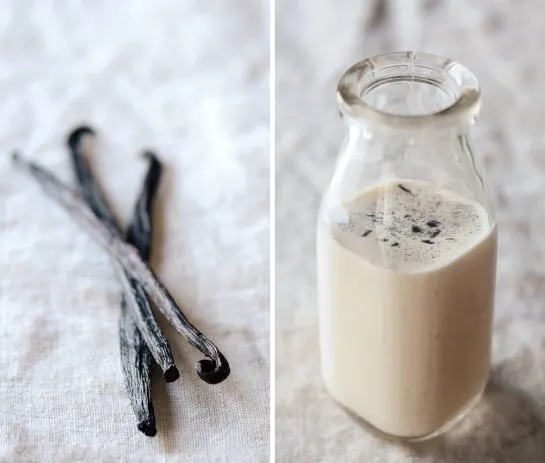 Click HERE to save this recipe for Salted Caramel Budino!
Salted Caramel Budino Ingredients
To make this Italian caramel pudding parfait, you'll need:
Chocolate wafer cookies
Butter
Sea salt
Whole milk
Cornstarch
Dark brown sugar
Water
Egg yolks
Vanilla extract
Granulated sugar
Heavy cream
Vanilla bean
Whipping cream
How to Make Salted Caramel Budino
These caramel pudding parfaits take a little time to assemble, but the prep work is fairly straightforward. Here's how you make caramel budino:
Prep the wafer cookie crust, then divide the mixture between eight 8-ounce glasses or jars.
Make the caramel pudding, then divide it between the jars.
Set the budino in fridge to chill (this will take 3 to 5 hours).
While the budino chills, make the salted caramel sauce.
Pour the caramel sauce over the chilled budino, then sprinkle with sea salt.
Top with whipped cream and additional wafer cookie crumbs, if desired.
Can I Prep This in Advance?
You can make the pudding a day in advance and keep it in the fridge until you're ready to make the salted caramel pudding parfaits.
Can I Use Store-Bought Caramel Sauce?
Technically, yes. But I highly recommend making your own for the best flavor. It's not as scary as it sounds, promise!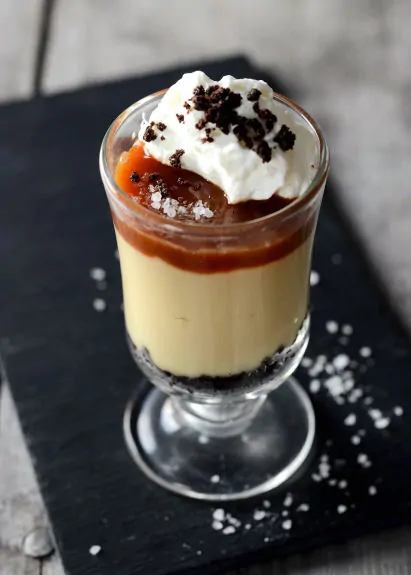 Click HERE to save this recipe for Salted Caramel Budino!
Tips for Making Budino
You must use the exact ingredients listed in this recipe, otherwise your budino might not set up properly. Real butter and whole milk are crucial ingredients in this caramel pudding parfait recipe!
You're welcome to use either pure vanilla extract or a splash of dark rum in the pudding. Both add a richness to the pudding that's hard to beat.
Personally, I don't think you need to sweeten the whipped cream much. The pudding and cookie crust are both quite sweet as is.
More Dessert Recipes:
Love homemade pudding? Try making this Pumpkin Pudding the next time a craving hits.
These Dark Chocolate Almond Molten Lava Cake Sundaes are another special occasion treat I like to make.
Want a dessert that's a little easier? Make these Raspberry Almond Angel Food Cake Parfaits when you need a quick dessert recipe.
These Easy Chocolate Brownies are one of the most popular recipes on my site. I think you'll really enjoy them!
For something a little different, make a batch of Almond Butter Cookies. Similar to peanut butter cookies, but just different enough to stand out.
Love this recipe for Salted Caramel Budino? Sign up for Good Life Eats email updates and never miss another recipe!
What salty/sweet pairings do you enjoy?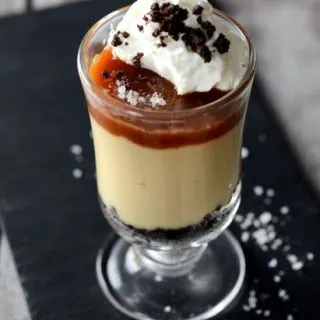 Salted Caramel Budino
Total Time:
3 hours
50 minutes
This salted caramel budino recipe is such an easy Italian dessert! It features a cookie crust that's topped with vanilla pudding and then a layer of homemade caramel sauce.
Ingredients
For the Cookie Crust:
1 cup finely crushed chocolate wafer cookie crumbs (such as Nabisco Chocolate Wafters or World Table Chocolate Cookie Thins), about 20 cookies
2 tablespoons butter, melted
1/8 teaspoon sea salt
For the Budino:
3 cups whole milk, divided
1/4 cup cornstarch
3/4 cup packed dark brown sugar
3/4 cup water
5 large egg yolks
3 tablespoons butter, softened
2 teaspoons vanilla extract or dark rum
1 teaspoon coarse sea salt
For the Salted Caramel Sauce:
1 cup granulated sugar
6 tablespoons butter, cut into pieces
1/2 cup heavy cream
1/2 vanilla bean, split lengthwise
1/8-1/4 teaspoon coarse sea salt
For the Toppings:
Extra coarse sea salt
Whipping cream
Instructions
For the Cookie Crust:
In a small bowl, mix together the cookie crumbs, butter and salt. Set aside 2 tablespoons of the mixture in a covered bowl and refrigerate.
Press 2 tablespoons of the crumbs into the bottoms of each of eight 8-ounce containers (you can use mason jars or whatever other pretty containers you have on hand).
For the Budino:
In a small bowl, whisk together 1/2 cup of the milk and the cornstarch until smooth. Set aside.
In a small saucepan over medium heat, heat the remaining milk just until simmering. Set aside.
To make the caramel, stir the sugar and water together in a heavy saucepan set over medium heat until all the sugar dissolves.
Increase heat to high and cook without stirring until an instant read thermometer reads between 210-215 degrees F.
Have ready a large, heat-proof pitcher. Place the egg yolks in a large heat-proof bowl and whisk. Gradually whisk in the hot milk; add the cornstarch mixture. Slowly whisk in the caramel.
Return custard to saucepan. Cook over medium heat, whisking constantly, until it thickens and an instant-read thermometer registers 175 degrees F, about 3-5 minutes.
Remove from heat. Whisk in the butter, vanilla and salt. Pour into the heat-proof pitcher.
Pour 1/2 cup of the budino into each of the prepared jars. Cover with plastic wrap and chill until set, about 3-5 hours.
For the Salted Caramel Sauce:
Place the cream into a small pitcher and scrape in the vanilla seeds and the pod. Set aside.
Place the sugar in medium heavy bottomed saucepan. Cook over medium heat, stirring vigorously with a wooden spoon the whole time.
Once the sugar has completely melted, add the butter pieces, one at a time. Whisk until the butter has completely melted before adding another piece.
Wait for about 3 seconds, then add the vanilla cream slowly. Whisk until nice and smooth. Add the salt and whisk to combine. Strain into a heat proof bowl and let cool slightly.
Spoon 2 tablespoons of the caramel sauce over each chilled budino. Sprinkle with a little coarse sea salt.
Top with lightly sweetened whipped cream and the reserved cookie crumbles. Enjoy!
Nutrition Information
Yield

8
Serving Size

1
Amount Per Serving
Calories

951
Total Fat

51g
Saturated Fat

24g
Trans Fat

1g
Unsaturated Fat

23g
Cholesterol

212mg
Sodium

1014mg
Carbohydrates

112g
Fiber

2g
Sugar

78g
Protein

13g
GoodLifeEats.com offers recipe nutritional information as a courtesy and is an estimate only. This information comes from online calculators. Although GoodLifeEats.com makes every effort to provide accurate information, these figures are only estimates.
Tag @goodlifeeats and include the hashtag #goodlifeeatsrecipes so I can see what you're cooking up in YOUR kitchen!
Click HERE to save this recipe for Salted Caramel Budino!