In this Cheesecake Mousse, lemony cheesecake like mousse is layered with lemon curd and fresh strawberries for a delightful dessert! You'll be amazed at how simple this springtime dessert is to prepare!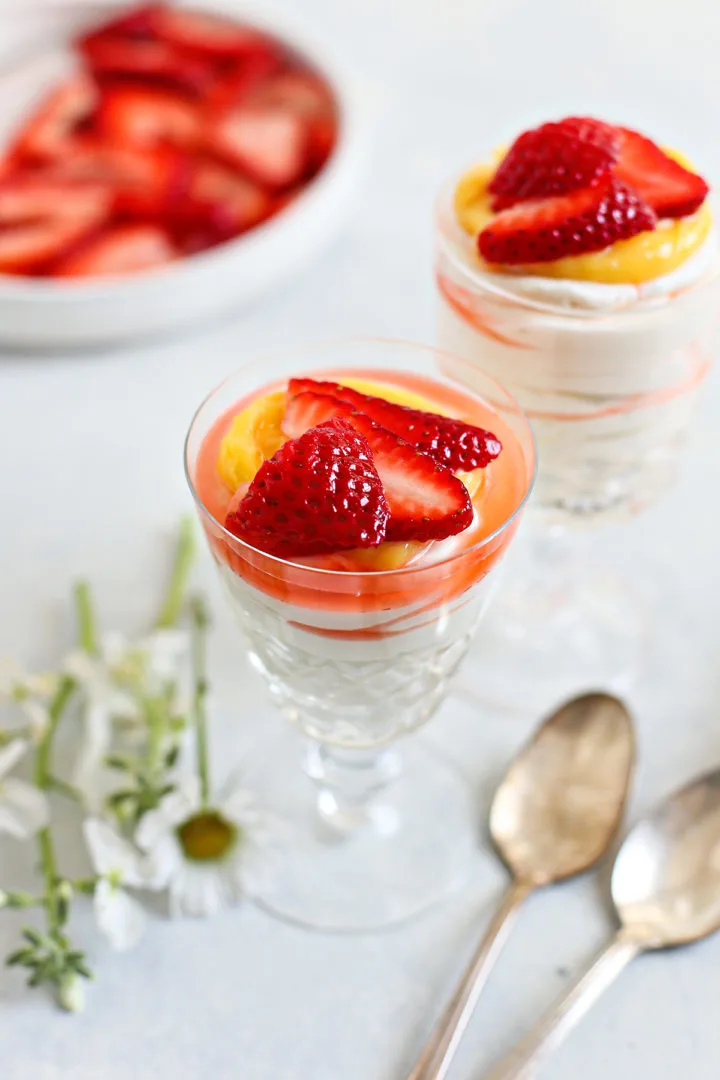 Making this Cheesecake Mousse
I love chocolate, don't get me wrong, but for me it has a time and a place.
And that time and place is usually not during the warmer months when so many deliciously sweet berries are available. What I crave most often are springy, fruity desserts.
This time of year is perfect for getting my fix.
We have made this Cheesecake Mousse with Lemon Curd and Strawberries a few times recently. Once for our Easter dessert, and again (minus the lemon curd) with a group of second graders at Logan's school during "Mentor Day."
I had the opportunity to share a little bit about food blogging with a group of second graders (Logan included) in the morning and another in the afternoon after lunch.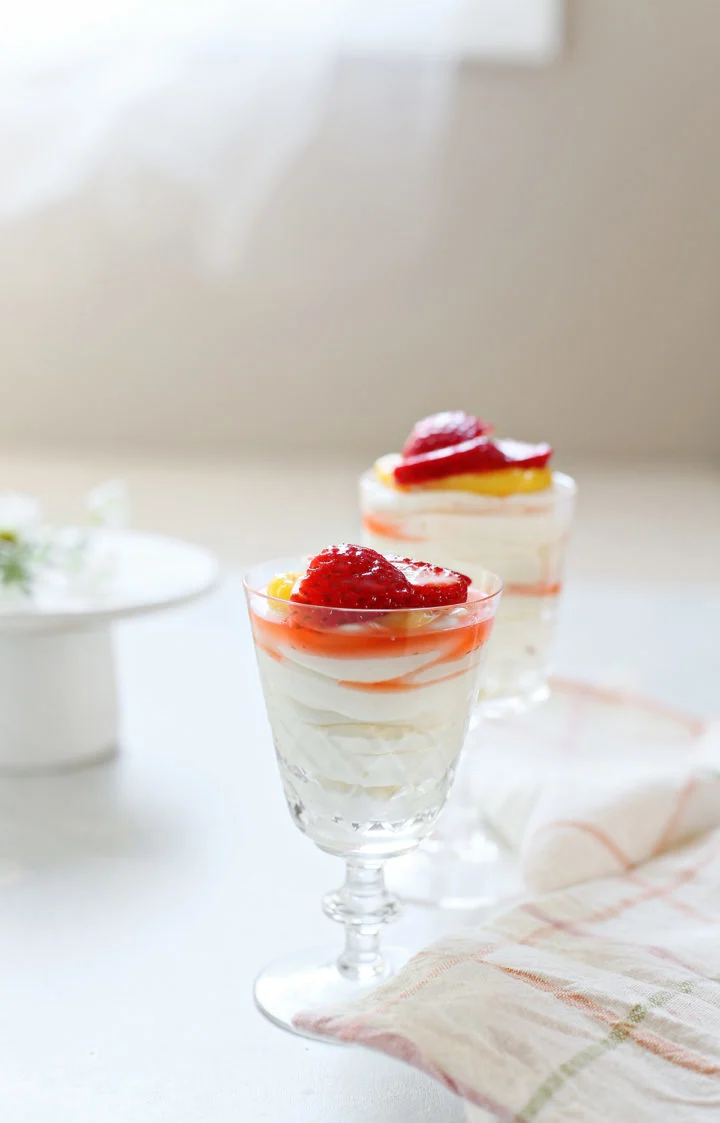 A Simple Dessert Recipe
As part of our lesson we prepared a batch of Cheesecake Mousse topped with strawberries together. I was so impressed with how well they did.
I wrote out the recipe on colored card stock, then cut everything all into strips. Their first task was to figure out what order the strips went in and glue them onto a poster board so we would have the correct instructions to prepare our recipe.
Their favorite part was using the electric mixer to make the cheesecake mousse – shocker, right?
It was quite exciting in the teacher's lounge that day. Everyone loved the dessert and was so excited to be able to make it at home.
I promised them that I would get the recipe up on the blog before the year was over so I could email it to the teachers and they could all send it home with the students.
Thank you to all the second graders in my group for learning all about food blogging as a career and playing in the kitchen with me! I had a great time with you!
This post may include affiliate links. As an Amazon Associate and member of other affiliate programs, I earn a small commission from qualifying purchases.
Tools Needed to Make Cheesecake Mousse
You'll find these kitchen tools helpful when preparing this recipe. Here's what I recommend having on hand before getting started:
Measuring Cups and Spoons – to measure the ingredients in the recipe.
Citrus Juicer – for juicing fresh lemons to use in the cheesecake lemon mousse and the lemon curd.
Microplane Zester – to grate the lemon zest.
Saucepan – to make the lemon curd in, if you're using homemade for this recipe.
Wire Whisk – for whisking the lemon curd.
Small Bowl – to combine the strawberries with the sugar and lemon juice.
Mixing Bowl – to prepare the cheesecake mousse recipe in.
Electric Mixer – a hand mixer is helpful for beating the ingredients for the cheesecake mousse.
Spatula – to fold the whipped cream into the cream cheese mixture.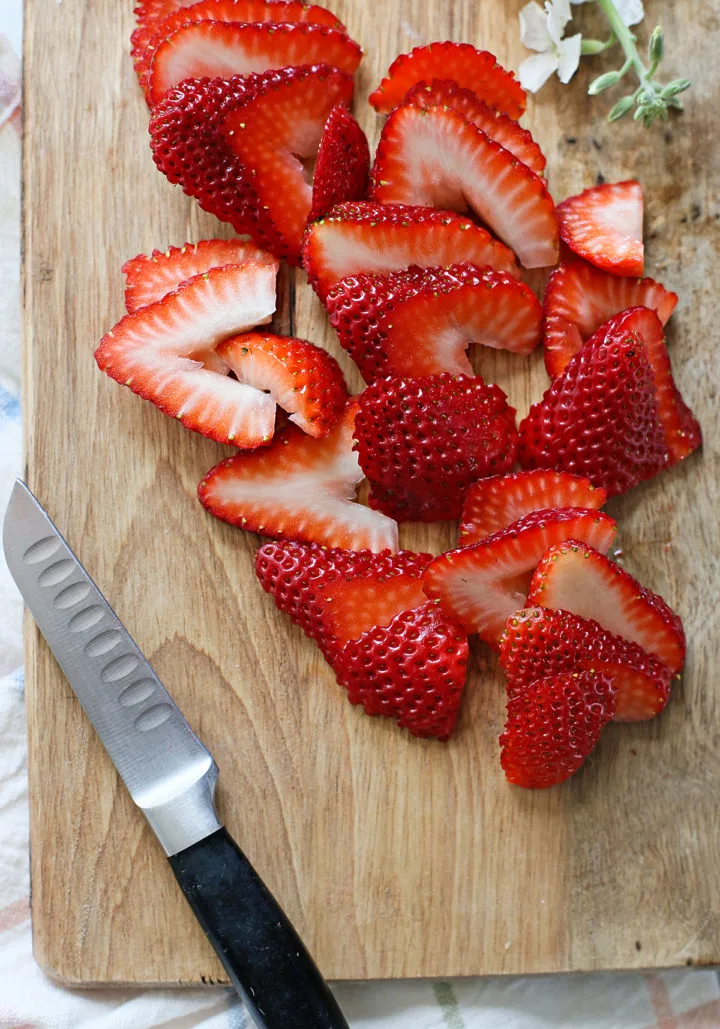 What's in this Cheesecake Mousse?
This tangy dessert takes just a few basic ingredients to prepare. Here's a quick overview of what you'll need:
For the Cheesecake Filling:
Heavy Cream
Vanilla Extract
Cream Cheese
Powdered Sugar
Lemon Juice
For the Fruit:
Fresh Strawberries
Granulated Sugar
For the Lemon Curd:
I like to make my homemade lemon curd recipe, but you can purchase store bought lemon curd on Amazon or at the grocery store if you'd like.
Lemon Juice
Lemon Zest
Granulated Sugar
Egg Yolks
Butter
For the complete ingredient list and detailed instructions to make this lemon curd and strawberry cheesecake mousse recipe, scroll to the bottom of this post for the FREE printable recipe card.

How to Make Cheesecake Mousse
Here's a quick summary of how to make this simple cheesecake mousse. Check out the full recipe in the free printable recipe card at the bottom of this post for all the detailed instructions.
First you'll beat the heavy whipping cream until soft peaks form. Then, add vanilla and whip until stiff peaks.
In another bowl, beat the cream cheese. After that, mix in the powdered sugar and lemon juice until creamy in texture.
Then, fold the cream cheese mixture into the whipped cream, and chill the mixture.
Meanwhile, combine strawberries with sugar and lemon juice, then let sit for 30 minutes.
To assemble the cheesecake mousse dessert, divide the cheesecake mousse between dessert glasses, top with lemon curd and strawberries.
Cheesecake Mousse FAQs
Got questions about how to make this lemon cheesecake mousse? Here are the answers to a few commonly asked questions. Feel free to leave any other questions in the comments on this post and I'll respond with answers.
Can I Use a Different Fruit?
Sure; any fresh berries will do! For something other than strawberries, I personally like raspberries the best.
Can I Make this Without the Lemon Curd?
My group of second graders was a little crunched for time based on the schedule for the day, so we prepared this without the lemon curd. I am happy to say it is plenty tasty without the lemon curd, and it is even easier to prepare!
If you have a little bit of extra time the lemon curd does take it to the next level.
I suggest preparing the lemon curd in advance and chilling it in an airtight container, or purchasing a small jar for this recipe.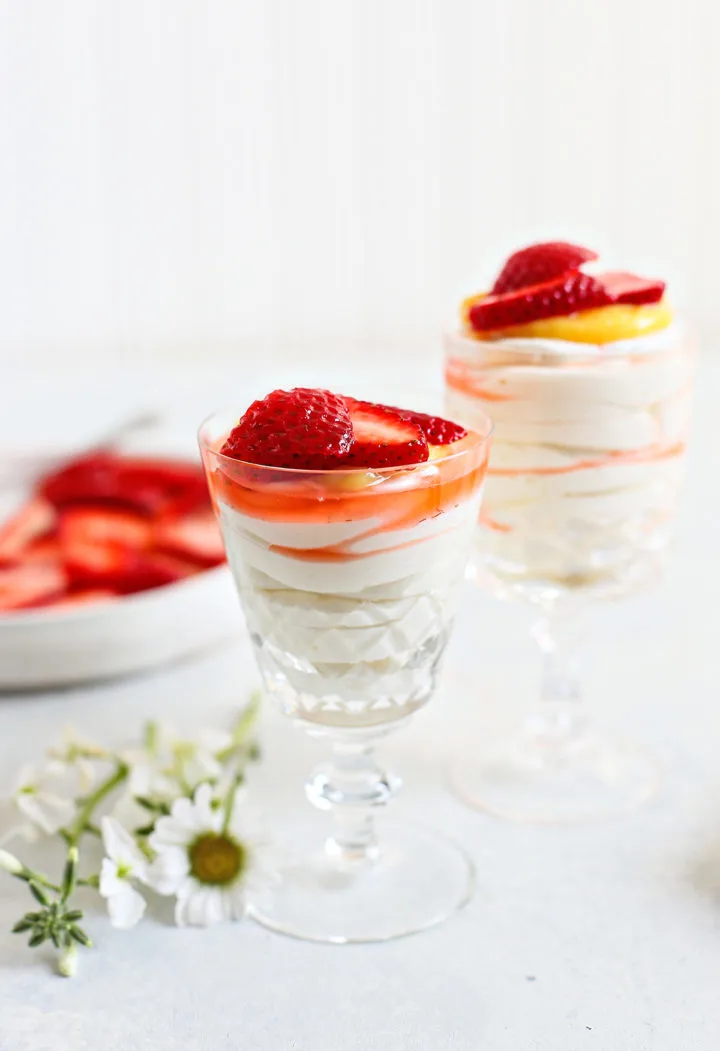 What Should I Serve this Dessert In?
I like to serve it in individual servings; a clear dish looks best because it is so colorful. You could use coupe glasses, martini glasses, wine glasses, small mason jars, or glass dessert dishes.
Try Making Cheesecake Mousse at Home!
Next time you're looking for an easy dessert with simple ingredients, give this recipe for lemon cheesecake mousse a try!
Did you think it was the perfect dessert for springtime? Leave a comment below and give it a review for others to see what you thought of this easy recipe.
On Instagram? Share your photo and tag me with @goodlifeeats and #goodlifeeatsrecipes. I'd love to see your photo of this delicious dessert!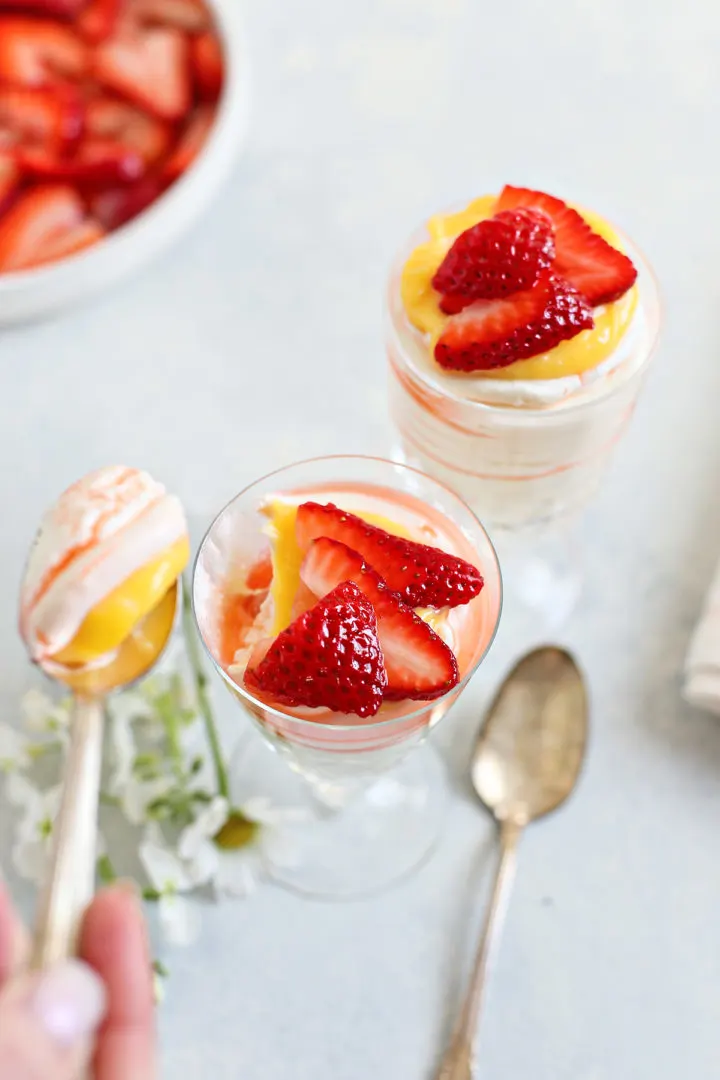 More of our Favorite Desserts for Spring
Need a simple yet elegant no bake recipe for summer gatherings? Make this Strawberry Lemon Tart!
This beautiful and colorful Fresh Strawberry Galette emphasizes the sweet juiciness of the strawberries without much added sugar. Strawberry Galette is the perfect spring dessert!
Lemon Curd Pavlova is topped with fresh raspberries. You can make lots of mini pavlovas and serve them individually, or make one large pavlova as an elegant dessert centerpiece.
In this Vanilla Bean Panna Cotta recipe, it is flavored with vanilla and a hint of lemon and topped with fresh strawberry rhubarb compote.
Making homemade Strawberry Gelato is easier than you might think! Plus, it's a great way to preserve fresh summer strawberries for weeks to come. You'll love how easy this delicious gelato recipe is to prepare!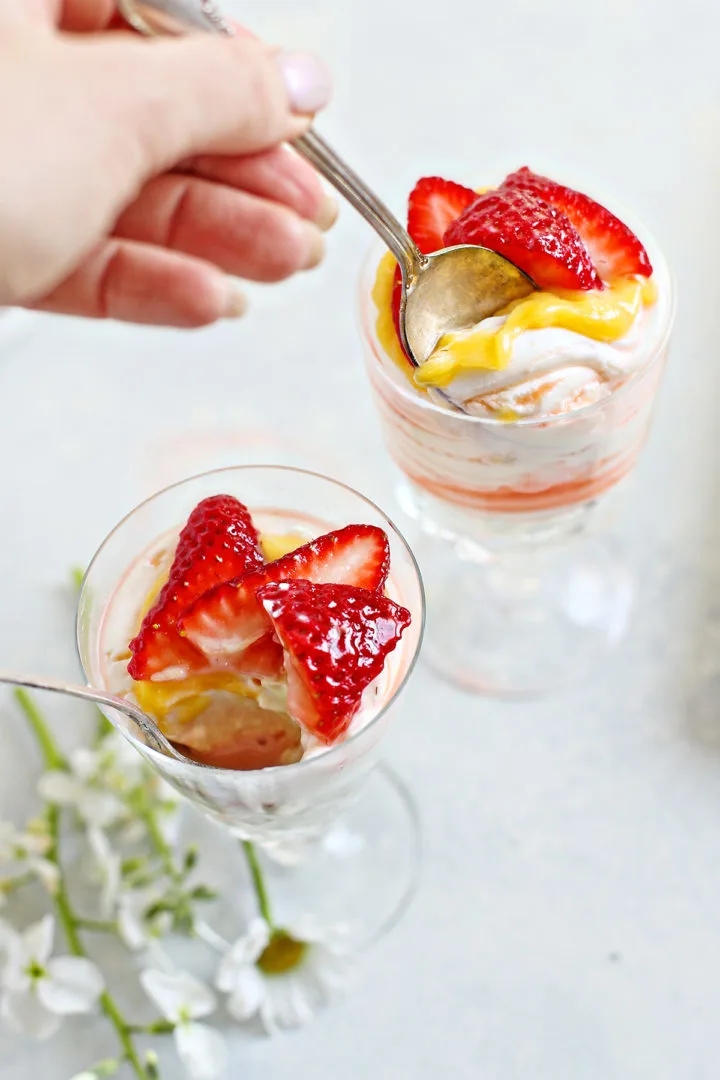 Get More Delicious Recipes via Email
Did you love this recipe for Cheesecake Mousse with Lemon Curd and Strawberries? Sign up for Good Life Eats Email Updates and get great recipe ideas delivered straight to your inbox!
What is your favorite easy springtime dessert?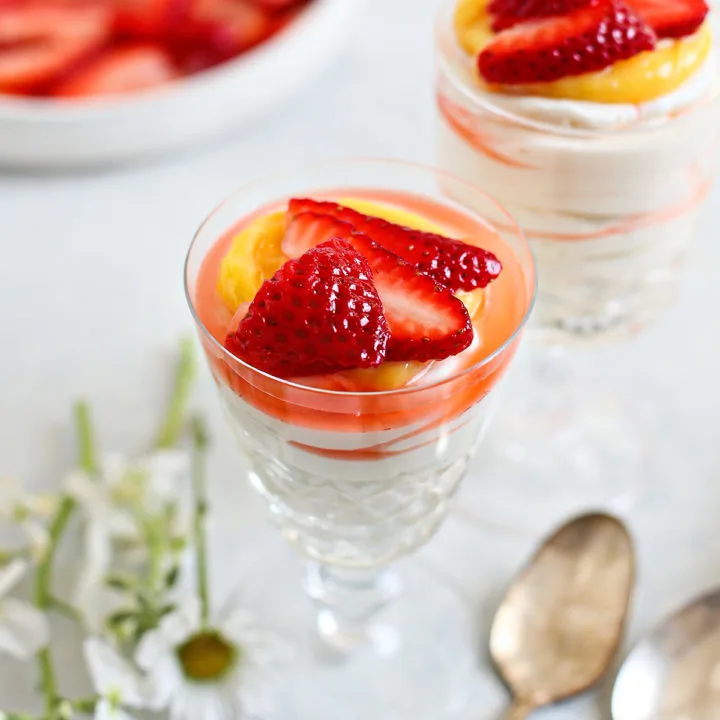 Cheesecake Mousse with Lemon Curd and Strawberries
Additional Time:
1 hour
40 minutes
Total Time:
2 hours
10 minutes
In this Cheesecake Mousse, lemony cheesecake like mousse is layered with lemon curd and fresh strawberries for a delightful dessert! You'll be amazed at how simple this springtime dessert is to prepare!
Ingredients
For the Cheesecake Mousse
12 oz Cream Cheese, room temperature
3/4 cup Powdered Sugar
1 cup Heavy Whipping Cream
2 teaspoons Fresh Lemon Juice
For the Lemon Curd
1/4 cup Lemon Juice
1/2 tablespoon Lemon Zest
1/2 cup Granulated Sugar
4 Egg Yolks
5 tablespoons butter, sliced into tablespoons
For the Strawberries
1 1/2 teaspoons Vanilla Extract
1 pound hulled and sliced Fresh Strawberries
1 1/2 tablespoon Granulated Sugar
2 teaspoons Fresh Lemon Juice
Instructions
Making the Cheesecake Mousse
In a medium bowl, whip the heavy cream until soft peaks form (use an electric hand mixer or a wire whisk if you'd like to work out your arms). Add the vanilla and continue to whip until stiff peaks form.
In another mixing bowl, beat the cheese over medium speed until creamy.
Slowly add the powdered sugar in, 1/3 a cup at a time, and lemon juice and whip until smooth and creamy, about 2 - 3 minutes.
Using a spatula, gently fold half of the whipped cream mixture into the cream cheese mixture.
Add the remaining whipped cream mixture and fold until combined. Refrigerate the mixture in a covered bowl for 1 - 2 hours.
Making the Lemon Curd
While the cheesecake mousse is chilling, combine the lemon juice, lemon zest, and sugar in a medium saucepan.
Heat over medium heat until simmering. Then, turn the heat to low.
Meanwhile, whisk the egg yolks in a medium-sized bowl until smooth.
Slowly pour half of the citrus mixture into the yolks while vigorously whisking.
Return the amount in the bowl to the saucepan.
Continue to cook over low heat while whisking until the mixture thickens and coats the back of a spoon. This will take about 5 to 10 minutes.
Remove the pan from heat and stir in the butter 1 tablespoon at a time.
Cool to room temperature, then store refrigerated in an airtight container for about a week.
Preparing the Strawberry Mixture
Meanwhile, combine the strawberries, sugar, and lemon juice in a bowl and let stand at room temperature for 30 minutes, or until the juices have released.
Assembling these Cheesecake Mousse Desserts
Divide the cheesecake mousse mixture between 6 dessert glasses.
Top with a few spoonfuls of homemade lemon curd and strawberries with their juices.
Serve immediately
Notes
To keep this dessert super simple and quick, prepare the lemon curd up to 2 days in advance and chill in the refrigerator. Alternatively, purchase store bought lemon curd.
Recommended Products
As an Amazon Associate and member of other affiliate programs, I earn from qualifying purchases.
Nutrition Information
Yield

6
Serving Size

1
Amount Per Serving
Calories

562
Total Fat

43g
Saturated Fat

26g
Trans Fat

1g
Unsaturated Fat

13g
Cholesterol

184mg
Sodium

256mg
Carbohydrates

40g
Fiber

2g
Sugar

36g
Protein

6g
GoodLifeEats.com offers recipe nutritional information as a courtesy and is an estimate only. This information comes from online calculators. Although GoodLifeEats.com makes every effort to provide accurate information, these figures are only estimates.