This Homemade Orange Curd is one of my favorite recipes and a must make during citrus season or any time you have extra oranges on your hands. Learn how easy it is to make this recipe for orange curd, how to store it, and how to use it. You'll love its wonderful flavor, silky smooth texture, simple ingredients, and many uses.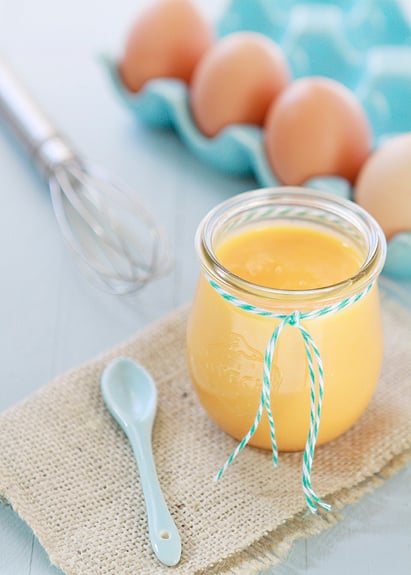 Creating this Orange Curd
I showed you before how easy it is to make lemon, lime, or grapefruit curd.
I found myself with several pounds of oranges in the produce drawer last week and felt the urge to do something with them.
Despite not having egg yolks that needed using up, I decided to go ahead and experiment with my lemon curd recipe to create an adaptation using delicious, winter oranges.
Now, what should I do with all those egg whites??? Perhaps experiment with French Macarons or bake an Angel Food Cake.
The tricky thing with oranges is they are already so sweet, so you really don't need nearly as much sugar in orange curd as you'd need with lemons or limes.
I used a little lemon juice and zest to balance things out.
Citrus curd is a great basic condiment to have on hand for sweet cravings or the need for a last minute, simple dessert. Or just to add a little brightness to the winter doldrums.
This post may include affiliate links. As an Amazon Associate and member of other affiliate programs, I earn a small commission from qualifying purchases.
Tools to Make this Recipe for Orange Curd
You don't need a lot of special equipment to make this recipe. Here's what I recommend:
Microplane Grater – for zesting the oranges and lemons.
Measuring Spoons and Cups – to measure the sugar, fruit juice, and zests from the citrus fruits.
Medium Size Bowl – to combine the egg yolks with the juices, zests, and sugar
Wire Whisk – whisking the eggs well is important so you don't end up with lumps of cooked egg
Saucepan or Double Boiler – you can use a regular saucepan or a double boiler. I'll include instructions for both.
Wooden Spoon – at the end, you'll use a spoon to stir in the butter.
Jar – I like to store my orange curd in a jar. I love Weck Jars for this because they're so cute!
What is in this Orange Curd Recipe
This easy orange curd recipe has some pretty basic ingredients, but you'll be amazed at how delicious it tastes! The addition of a small amount of lemon juice and lemon zest really brightens the orange flavor.
Fresh Orange Juice
Fresh Lemon Juice
Lemon Zest
Orange Zest
Sugar
Egg Yolks
Unsalted Butter
For the complete ingredient list and detailed instructions, scroll to the bottom of this post for the FREE printable recipe card.
What Type of Oranges Should I Use?
I typically use regular Navel Oranges when I make this recipe for orange curd.
However, you could probably use valencia oranges, cara cara oranges, tangelos, or even blood oranges (blood orange curd would be so pretty!).
For a sweeter curd, you'll want to try sweet oranges: clementine, satsuma, or tangerine.
Related: How to Supreme an Orange
How to Make Orange Curd
First, you'll combine the juices, zest, and sugar in a medium saucepan and heat it until simmering over medium heat.
While the juices are coming to a simmer, you'll whisk the eggs until very smooth. Then, slowly pour half of the orange juice mixture into the whisked egg yolks. Make sure you continue whisking while pouring.
Then, transfer the egg and juice mixture back to the saucepan – continuing to whisk while doing so. Cook the mixture over low heat while whisking until the mixture thickens. This should take about 10 minutes.
After that, remove the orange curd from the heat. Then, stir the butter in a tablespoon at a time. Cool to room tempearture.
TIP: Try using these three simple steps when squeezing your fresh orange juice. You'll get so much more juice out of your oranges and have plenty of juice for your recipe.
The above is simply a quick summary of this recipe. Check out the full recipe in the free printable recipe card at the bottom of this post for all the detailed instructions.
How to Separate Eggs to Make Orange Curd
Since you'll only need egg yolks to make this tangy orange curd, you'll want to check out the quick video attached to this post to learn How to Separate Eggs if you don't already know how to do this.
If you previously made a recipe that uses egg whites only, orange curd is a great reason to save those egg yolks. You can keep them in an airtight container in the fridge for a few days until you're able to make this homemade curd recipe.
Orange Curd: Frequently Asked Questions
Never made orange curd before and have a question? Here are the answers to commonly asked questions about preparing this recipe for easy orange curd:
Why Did My Orange Curd Turn out Lumpy?
There are a couple of reasons why your orange curd turned out lumpy:
You didn't continuously stir the mixture while it was cooking.
The eggs have cooked in the orange curd.
To prevent lumpy orange curd, make sure to whisk the eggs well, until they are completely smooth, before incorporating them with the orange juice mixture.
Then, slowly pour the hot orange juice mixture into the whisked eggs, whisking vigorously while you're pouring. Continue stirring constantly after you've combined all the ingredients and continue to cook the curd.
If you find that you often have bits of egg in your curd, you can also try using a double boiler instead of a sauce pan. When preparing orange curd with a double boiler, it takes a lot longer to cook so the egg portion cooks more slowly.
How Do You Know When Orange Curd is Done?
You'll be able to tell that your orange curd is done when you can run your finger along the back of the spoon you're stirring with and the curd holds the trail from your finger.
You can also use an instant read candy thermometer and check the temperature. Curds are usually finished when they reach 180 degrees F.
This recipe for orange curd thickens as it cools, so your hot curd will always be a little looser than the finished product.
How to Get Rid of Lumps
If you find that you have just a few lumps in your orange curd, don't worry! You can easily remove any lumps by pressing the orange curd through a fine mesh sieve. If you have a lot of lumps in your curd, unfortunately, you'll likely need to remake the recipe.
How Long Does Orange Curd Last
This easy recipe for orange curd will last for about 2 weeks in the refrigerator when stored properly. It should be kept in an airtight container and not left to sit on the counter.
Additionally, always use clean utensils when removing curd from the container. Contaminated utensils can introduce bacteria which will cause the curd to spoil. So, don't double dip!
Can You Freeze Orange Curd?
Yes! You can actually store lemon curd in the freezer for up to a year without problems. Here's how to freeze orange curd:
Prepare the Orange Curd according to recipe instructions, then let it cool completely. Smaller containers are better because the portions are more usable and they thaw faster.
Transfer the cooled orange curd to an airtight container that is freezer safe. Make sure to leave about a 1/2-1 inch of space to account for expansion when the curd freezes. Label and date the contents.
How to Thaw Frozen Orange Curd
To thaw frozen orange curd, transfer the container to the refrigerator for 24 hours before you plan to use it and let it thaw in the refrigerator. If you froze a large container, you may need more time to thaw.
Once thawed, the orange curd should be stored in the refrigerator when not in use. For best results, consume within 2 weeks.
How to Use Orange Curd
This, like so many other pantry and fridge staple favorites, is so simple to make at home yourself, there is no need to experiment with store bought counterparts.
There are so many fun ways to enjoy citrus curd that I'm sure you'll find yourself making it often. You can allow the citrusy goodness to take center stage, or be a background flavor for just a hint of flavor.
Here are a few of my favorite ways to enjoy it, plus some links for recipe inspiration:
With Your Breakfast
With Dessert
Tips for Gifting this Orange Curd
Orange curd is great for homemade gifting during the holiday season, but you'll want to make sure that it lasts as long as possible so your recipient doesn't have to use it immediately (unless they want to!). Here are some tips:
Before filling jars with orange curd: sterilize the jars and lids in the sanitize cycle of your dishwasher or in a large stock pot of boiling water. Then, let them dry completely.
Use clean, freshly washed handles when handling the jars as you fill them, and don't touch the insides of the jars or the curd itself.
For longer term storage, you can water bath can your jars of orange curd. Due to the acidity of the fresh oranges, water bath canning is safe for orange curd. Canned orange curd is best used within 6 months.
More Fruit Curd Recipes
Grapefruit Curd is a fun take on the classic lemon curd recipe. This curd has a pretty, light orange color and has a nice sweet and tart flavor. Use ruby red grapefruits for best results!
Homemade Raspberry Curd is a delicious tart raspberry filling. You'll also love its pretty color. It is perfect for making during the summer when raspberries are in season and has so many uses!
I love the combo of lemon and coconut together and this tart, yet sweet Coconut Lemon Curd just melts in your mouth.
Don't see what you're looking for here? You can always head over to check out the recipe index to look for more recipes.
Get More Great Recipe Ideas via Email
Did you love this recipe? Sign up to receive Good Life Eats email updates and never miss another recipe!

What is your favorite way to eat orange curd?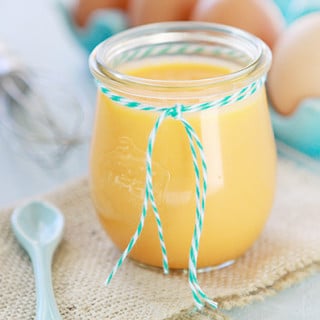 Orange Curd
Orange Curd is a delicious way to use up extra oranges!
Ingredients
1/3 cup + 1 tablespoon orange juice
1 - 2 drops of 100% Pure Orange Essential Oil
2 tablespoons lemon juice
2 teaspoons lemon zest
2 teaspoons orange zest
1/4 - 1/3 cup sugar, depending on your sweetness preferences
8 egg yolks
10 tablespoons butter, sliced into tablespoons
Instructions
In a medium saucepan, combine the juices, zest, and sugar.
Heat over medium heat until simmering.
Turn heat to low.
Meanwhile, whisk the egg yolks in a medium sized bowl until smooth.
Slowly pour half of the orange mixture into the yolks while vigorously whisking.
Return the amount in the bowl to the saucepan.
Continue to cook over low heat while whisking until mixture thickens and coats the back of a spoon. About 5-10 minutes.
Remove from heat and stir in the butter 1 tablespoon at a time.
Cool to room temperature, then store refrigerated in an airtight container for about a week.
Recommended Products
As an Amazon Associate and member of other affiliate programs, I earn from qualifying purchases.
Nutrition Information
Yield

16
Serving Size

1
Amount Per Serving
Calories

108
Total Fat

10g
Saturated Fat

5g
Trans Fat

0g
Unsaturated Fat

4g
Cholesterol

111mg
Sodium

62mg
Carbohydrates

3g
Fiber

0g
Sugar

2g
Protein

2g
GoodLifeEats.com offers recipe nutritional information as a courtesy and is an estimate only. This information comes from online calculators. Although GoodLifeEats.com makes every effort to provide accurate information, these figures are only estimates.