Wondering how to juice lemons or limes? Try using these three simple steps. You'll get so much more juice out of your lemons and limes and have plenty of juice for your recipe.
Limes are often really hard to juice. It can be pretty disappointing to be mid guacamole preparation and barely get a few drops out of the limes you purchased for your recipe. Or maybe you're trying to make a few glasses of Strawberry Lime Agua Fresca or Pineapple Limeade Cooler and you're frustrated at how dry the limes you selected are.
Using these three simple steps you'll get so much more juice out of your limes and have plenty of flavor to enhance your next bowl of Deconstructed Guacamole, Roasted Tomatillo Guacamole or summertime drink.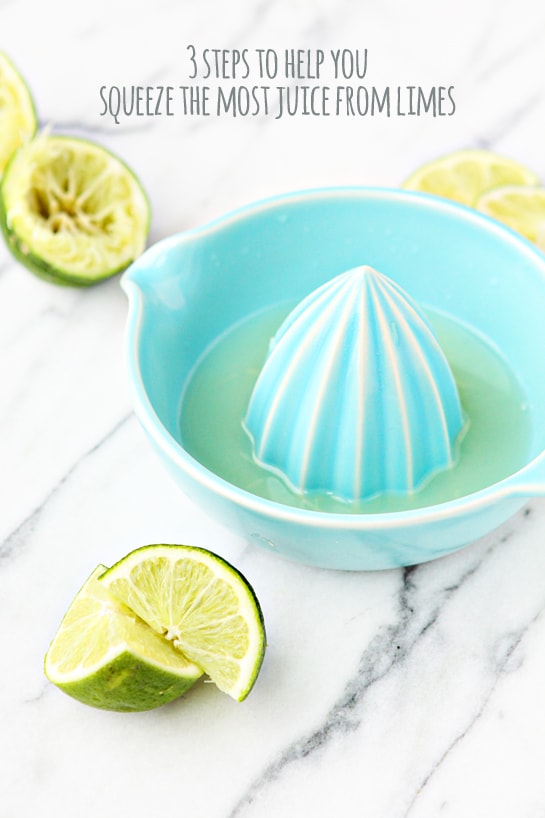 3 steps to Squeeze the MOST Juice from Lemons or Limes
Step 1. Microwave the Lemons or Limes
I know it sounds weird, but I always stick my limes in the microwave for 15 – 30 seconds, usually in 15 second intervals. Warming the fruit up helps the juices to release and you can get so much more out this way.
Step 2. Roll the Lemons or Limes on the Counter
Just a couple of seconds rolling the limes on the counter (use the same motion you would when rolling a rolling pin) will tenderize the limes and make them easier to juice, especially if they are harder limes.
Step 3. Use a Juicer or Reamer to Do Your Juicing
Never try to juice limes by squeezing them manually with your hands. You won't ever get as much juice this way as you would using a reamer, hand juicer (like pictured), or a citrus squeezer
Recipes Using Lemon or Lime Juice
Looking for some great recipes to use your juiced lemons or limes? Check our a few of my favorites. You can always browse the Recipe Index for more recipes, or head over to the Ingredient Index to see all of my lemon juice recipes or lime juice recipes.
Tomato, cucumber, onion, garlic, lemon juice, and oregano make up this Greek take on the classic Pico de Gallo. Greek Pico de Gallo is a great fresh appetizer!
Grilled Honey Mustard Chicken is a perfect easy summer grilled chicken recipe. The chicken tenderloins are marinated in a sweet and savory honey mustard sauce with sprigs of fresh rosemary and lemon juice, then quickly cooked on a hot grill. So good!
Homemade slushies like this recipe for a Cherry Limeade Slushie are perfect for summer and they're super easy to make!
Kale, purple cabbage, carrot, and red bell pepper are tossed with a jalapeño lime juice vinaigrette for a healthy Mexican inspired Cilantro Lime Kale Slaw.
Get More Recipes via Email
Did you love this recipe? Sign up to receive Good Life Eats email updates and never miss another recipe!