Cherry Limeade Slushies and Limeade Recipe
We have been enjoying these Cherry Limeades so much lately. They're a little bit addicting, but in a good way and they've been great when we have needed a little sweet treat at the end of the day. They'd be a perfect addition to your 4th of July picnic or barbecue this weekend.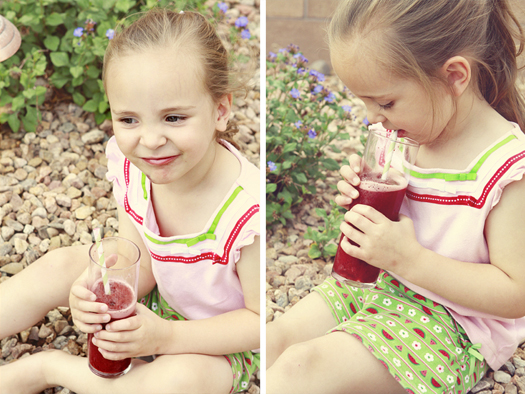 Now, don't get this confused with the ever popular Sonic Cherry Limeade. I'm all for ordering one on occasion, but this recipe leaves me feeling just a tad bit less guilty since these homemade slushies don't contain any soda or high fructose corn syrup. Plus, it's supplemented with real fruit pureed with the limeade.
What's so great about this recipe is it's simplicity. One batch of homemade limeade will make you several batches of Cherry Limeade . But, if you really want, you can use an all-natural store bought limeade and then whipping up your very own slushy will only take a second.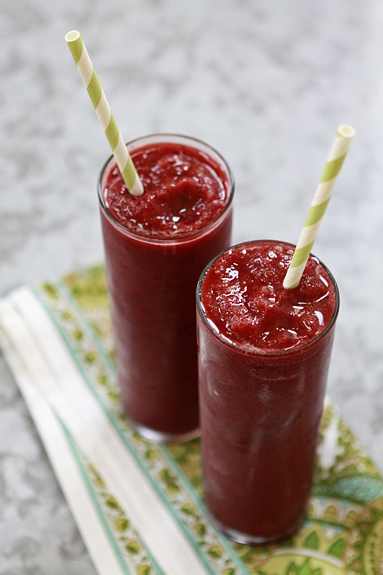 We've tried making these slushies with other fruits as well. Get creative with whatever frozen fruit you have stashed away in the freezer. Strawberries were also popular here in our house, but we decided that we like the cherry version best.
If you are a fan of Cherry Limeade, you might also like these Cherry Limeade Cupcakes that I made for a 4th of July celebration a few years ago.
Looking for more 4th of July menu ideas?
Drinks
Grilling
Dessert
Hope all of you in the USA have a wonderful, long weekend. Happy Independence Day!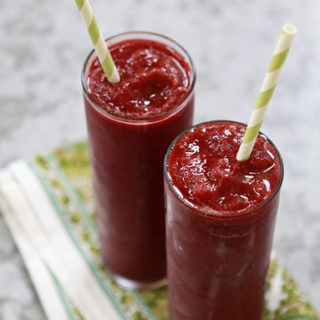 Ingredients:
For the Cherry Limeade Slushies:
2 cups Limeade, recipe follows*
1 - 2 cups crushed ice, according to preference
1 1/2 cups frozen cherries
For the Limeade:
1 cup sugar
1 cup of water
1 cup fresh lime juice
4-6 cups cold water (according to taste)
*alternatively, use all-natural store bought limeade if desired.
Directions:
For the Cherry Limeade Slushies:
Combine the 2 cups limeade, crushed ice, and frozen cherries in a blender. Start with 1 cup crushed ice and add additional ice until desired slushy-ness is achieved. Puree until blended to slushy consistency. Serve immediately.
For the Limeade
Combine the sugar and 1 cup of water in a small saucepan to make a simple syrup. Cook over medium heat until the sugar has dissolved. Let cool. In a pitcher, combine the simple syrup, lime juice, and cold water. Adjust water according to your sweet taste preferences. Chill.