Easy Smoked Chicken
Easy Smoked Chicken is a great summer meal. The chicken turns out incredibly flavorful, tender and juicy.
Perfect for BBQs or any time you want to cook a whole chicken but want to do something a little different than traditional roasting.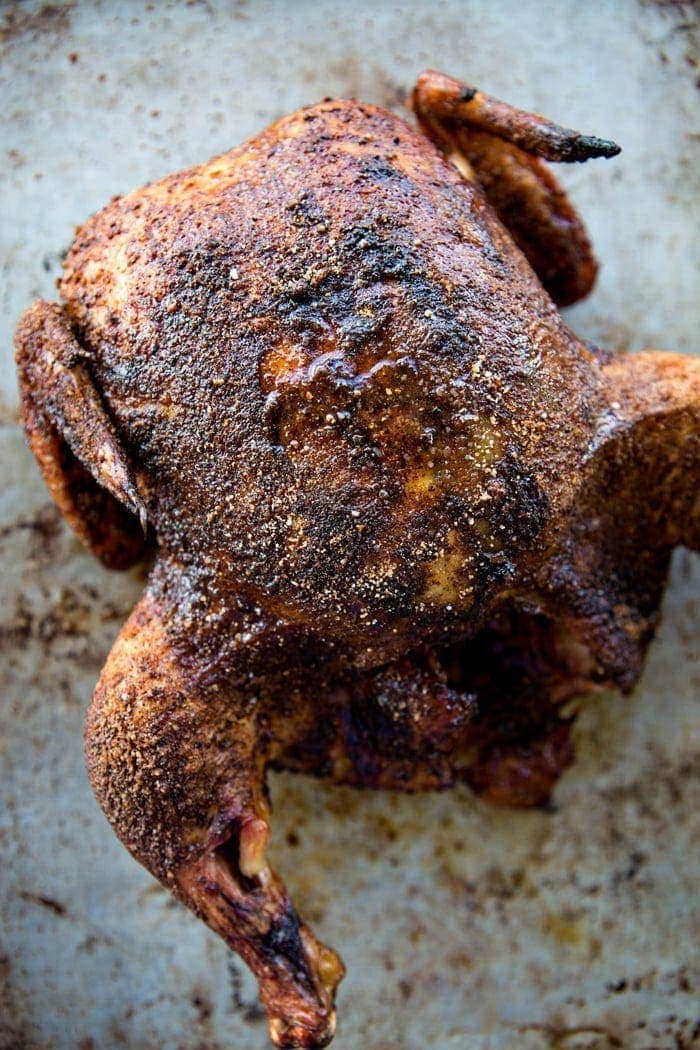 Click HERE to save this recipe for Easy Smoked Chicken to Pinterest!
Kevin and I love smoked meats. One of our favorite restaurants to go to near by is a BBQ place.
Growing up in Houston, I have had plenty of brisket and ribs in my lifetime, but I had never learned how to cook those things myself.
My thoughts and heart have been been with Houston so much this past week. I have seen the neighborhood my mom lived in when I was in college completely flood and people I knew from growing up lose so much.
A few years ago, a new family moved in on my street. As I got to know Becca, I discovered that we had a mutual love for food and cooked and ate together many afternoons and evenings during the time we were neighbors.
We often still get together for girls nights and will make dinner together. Becca and her husband had a Traeger Pellet Grill.
I thought this was the coolest thing ever because it seemed to demystify the art of smoking a little bit. The Traeger made smoking seem really easy, in fact. And I basically made it my mission to get one someday.
The downside is that they are not an inexpensive purchase.
Well, I spent the better part of the last year trying to convince Kevin that we needed a Traeger. Our inexpensive smoker wasn't giving us the results we wanted. It seemed finicky.
Foods cooked too hot, or they didn't taste smokey at all.
I knew that everything I had ever eaten that was cooked on a Traeger was really good.That just made me want one even more.
We finally bought one this summer and it is hands down one of my most-used and most-loved purchases of 2017.
The only other items up on that list are things like a new camera for me, our backyard landscaping, and my car (though technically we bought that at the very end of 2016).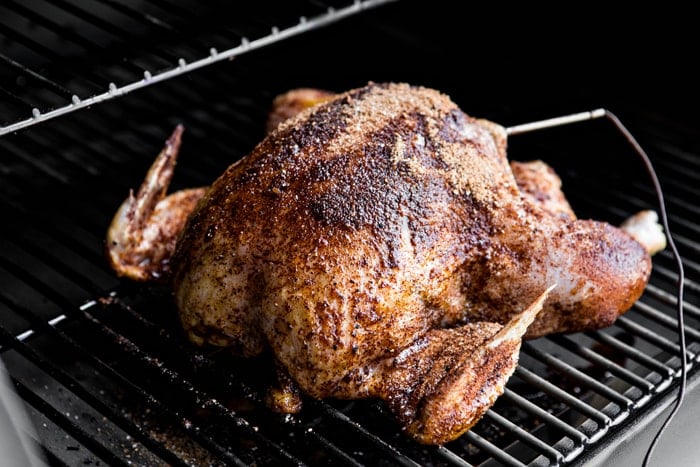 Click HERE to save this recipe for Easy Smoked Chicken to Pinterest!
What finally convinced Kevin to get on board with purchasing a Traeger Pellet Grill had everything to do with saving money.
We wanted to smoke Brisket and Turkey for our 1 year anniversary party as part of the menu.
We had eaten at our BBQ joint so many times together over the last few years and both loved their smoked turkey and brisket. It only seemed natural that we would celebrate with those items on our menu.
I priced out the cost of catering from various places, our favorite place included, and compared that to the cost of buying the meats ourselves.
The price difference was astounding. Brisket catered was around $20+ per pound. Turkey was around $15 per pound.
To illustrate my main arguing point for the Traeger purchase, you should know that a large Brisket at our Costco is only about $3-4 per pound.
So, yeah, there was some money to be saved for sure in terms of a long term investment.
Kevin is usually pretty interested in an argument if it involves "saving money." So, we ended up buying a Traeger as an anniversary gift to each other.
We purchased it a little early so that we could practice before hand and get the recipes just right. I always recommend testing new recipes and cooking techniques ahead of time if you're planning a holiday, dinner party, or other big event.
We definitely had some learning and troubleshooting to do along the way before we came up with our perfect method for the results that we wanted.
We love the way this Rosemary Beer Brined Turkey turned out for our party and we use this brine recipe often on turkey breasts.
Besides brisket and ribs, we've been cooking just about everything on our Traeger.
I've actually only used our regular grill about twice since the purchase. Once was to cook Naan (something that cooks better on an incredibly hot grill or griddle).
One of the things I love to cook on the Traeger is this Easy Smoked Chicken. You can usually get a whole chicken pretty cheap.
It is a nice fix it and forget about it kind of thing to have for dinner, with a nice flavor difference to roasting a chicken.
I like to brine my chicken for this Easy Smoked Chicken first to season it with salt all the way through rather than just on the surface.
I think brining also helps the meat stay really juicy and tender. Then, I rub it all over with my Homemade BBQ Chicken Rub .
See? there was a reason that I posted that recipe the other week…building up to this and all.
If you don't like the flavors of the rub that I use on this recipe for Easy Smoked Chicken, you can use whatever spice blend you like.
Just be careful not to add too much additional salt if you do brine the chicken. Personally, I like the way the Homemade BBQ Chicken Rub creates a nice crispy crust. The heat causes the sugar in it crystalizes on top of the chicken skin.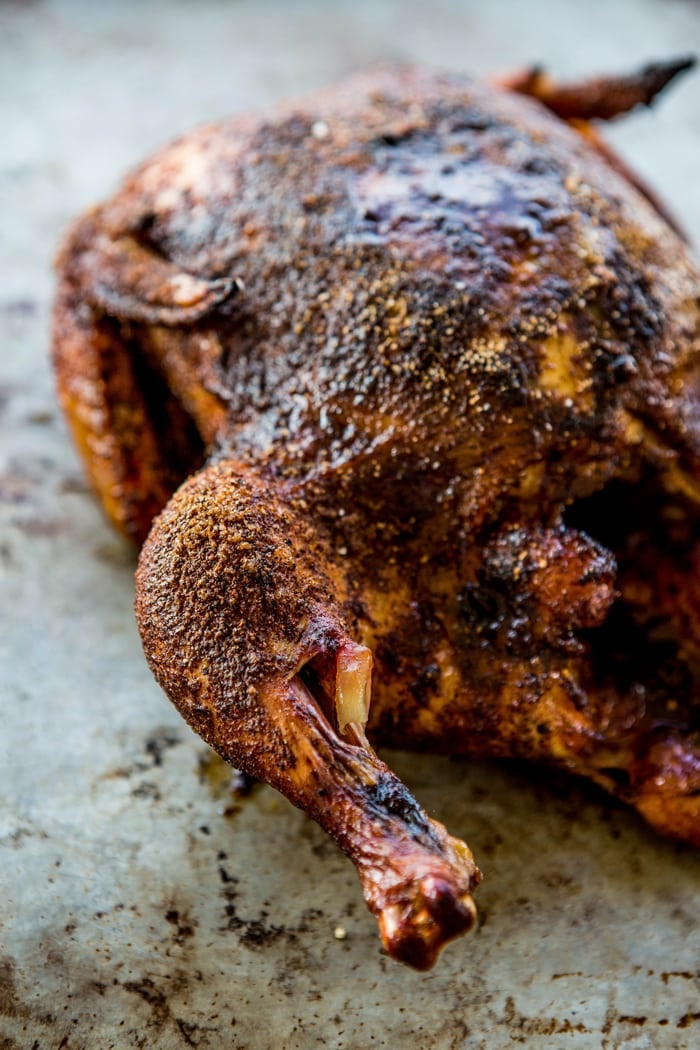 Click HERE to save this recipe for Easy Smoked Chicken to Pinterest!
I have probably made this Easy Smoked Chicken about 5 times since getting the Traeger and I love the way it turns out.
We made it again last weekend and I was reminded that I had taken photos the last time that I prepared the recipe.
I seem to do this a lot.I thought I should probably get it posted now. We usually just slice it up and serve the chicken as a main dish with some sides.
You can definitely use the chicken in other recipes. Take a look through all of my chicken recipe archives to see what looks good.
I think the meat from this Easy Smoked Chicken would be great on Honey Pecan BBQ Sauce Chicken Sliders.
Next time you want to cook a whole chicken but don't want to roast it, give it a try on a smoker.
And don't worry, if you don't have a Traeger Pellet Grill, you can still follow the general instructions of the recipe using whatever smoker you might have.
You may even try experimenting with one of those smoker boxes for a traditional grill if you're able to keep the temperature down low enough.
Have you ever made smoked chicken?
Love this recipe for Easy Smoked Chicken?
Sign up for Good Life Eats email updates and never miss another recipe!
Be sure to follow Good Life Eats on Instagram.
I'd love to hear if you try this recipe and what you think of it – snap a photo and tag @goodlifeeats and include the hashtag #goodlifeeatsrecipes so I can see what you're cooking up in YOUR kitchen!
Don't have Instagram? Let me a comment below!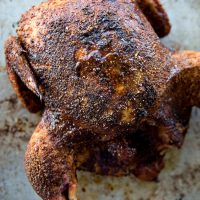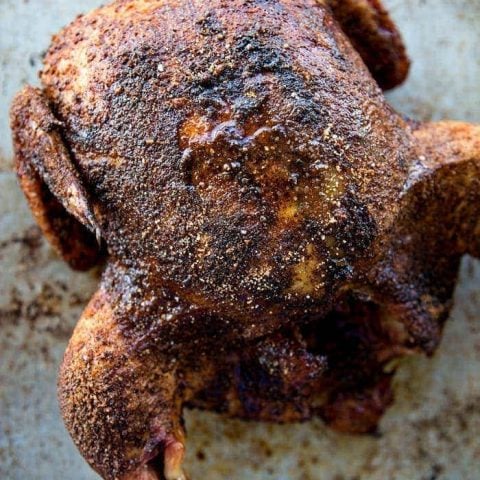 Easy Smoked Chicken
Additional Time:
20 minutes
Total Time:
8 hours
20 minutes
Easy Smoked Chicken is a great summer meal. The chicken turns out incredibly flavorful, tender and juicy. Perfect for BBQs or any time you want to cook a whole chicken but want to do something a little different than traditional roasting.
Ingredients
Simple Brine
2 quarts (8 cups) Cold Water, divided
1/4 cup plus 2 tablespoons Morton Kosher Salt
Chicken
1 whole Chicken, approximately 6 pounds
Instructions
To Brine the Chicken
Bring 1 cup cold water to boil. I usually do this in a 2 quart glass measuring cup in the microwave, however you can do this stovetop in a saucepan if you prefer.
Add the 1/4 cup plus 2 tablespoons of Morton Kosher Salt (not table salt!) to the boiling water and stir until dissolved. Stir in the remaining 7 cups of cold water so that you have 8 cups of water total.
Place the whole chicken, giblets removed and discarded, in a gallon sized freezer zip top bag.
Place the bag inside a large bowl.
Transfer the salt water to the bag containing the chicken. Zip the bag to seal.
Place the bowl with the chicken and brine filled bag in the refrigerator and chill for at least 2 hours, or up to 8 hours.
To Smoke the Chicken
Remove the chicken from the brine.
Discard the salt water. Rinse the chicken inside and out.
Place the chicken on a large baking sheet and pat dry.
Rub the chicken inside and out with the Homemade BBQ Chicken Rub. I like to carefully separate the skin over the breasts from the meat so that I can put some of the rub under the skin.
Let the chicken sit while you prepare the smoker.
Prepare your smoker to a low heat setting.
On our Traeger, we use the "smoke" setting (around 150-160 degrees F) and we either use Oak Pellets or the Gourmet Blend Pellets for our wood. Hickory or pecan would also work well for chicken.
Transfer the chicken from the baking sheet and place it on the smoker, insert the probe of a digital meat thermometer that is safe for BBQing into the thickest part of the breast, and smoke on 150-160 degrees F according to manufacturer instructions at 160 for about 3 hours.
Increase the temperature to 225 degrees F and continue to cook until the the meat thermometer registered 165 degrees F.
Remove the chicken from the smoker and let rest, loosely tented with foil, on a baking sheet for 20 minutes before slicing.
Notes
Depending on the brand of kosher salt you use, you'll need different amounts of salt because the different brands available on the market have different densities. I use Morton's kosher salt in this recipe, however here are the conversions:
Diamond Crystal: 1/2 cup salt per 2 quarts of liquid.
Morton's Kosher: 1/4 cup plus 2 tablespoons salt per 2 quarts of liquid.
Recommended Products
As an Amazon Associate and member of other affiliate programs, I earn from qualifying purchases.
Nutrition Information
Yield

8
Serving Size

1
Amount Per Serving
Calories

211
Total Fat

11g
Saturated Fat

3g
Trans Fat

0g
Unsaturated Fat

7g
Cholesterol

76mg
Carbohydrates

2g
Fiber

0g
Sugar

2g
Protein

24g
GoodLifeEats.com offers recipe nutritional information as a courtesy and is an estimate only. This information comes from online calculators. Although GoodLifeEats.com makes every effort to provide accurate information, these figures are only estimates.
Click HERE to save this recipe for Easy Smoked Chicken to Pinterest!
Favorite Traeger Recipes
More recipes to try using your Traeger Grill.