One Pan Easy Smoked Sausage Jambalaya
Summer is almost over.
I seriously cannot believe it.
The time just went by way too fast this summer.
Now that it is August, back to school and all that is required to get ready for the new school year (and the start of a new soccer season) has been on my mind.
And the fact that Logan is going to be in 4th grade this year.
I don't know how that happened!
Back to school and the start of a new fall soccer season always have me looking for simple, one pan dinner recipes.
I really like one pan recipes for busy days when I don't want to deal with a lot of dirty dishes or a huge messy kitchen.
And they're great because I can assemble everything earlier in the day and stash it in the fridge until it is time to throw it on the stove.
I recently visited my brother and his girlfriend, Erin, in Louisiana.
We spent the weekend in New Orleans eating good food, enjoying some shopping and visiting the National WWII Museum (I highly recommend)
Ever since that trip I've wanted to make some Jambalaya at home.
This One Pan Easy Sausage Jambalaya satisfied that craving and makes a great dinner for a busy day.
None of the ingredients are super complicated and most are usually already on hand in the freezer or in the pantry.
I like to keep a stash of smoked sausage, like the Butterball Hardwood Smoked Turkey Sausage I used in this recipe, in the freezer because it comes in handy for quick dinners.
Turkey sausage has a lot of flavor to offer.
During our weekend trip to New Orleans we had a sampler dinner of Red Beans and Rice, Jambalaya, and Gumbo along with crab cakes, BBQ shrimp in a delicious garlic butter sauce, and hush puppies.
Everything was delicious, but I realized at the end of the meal that I felt like I didn't eat any vegetables.
Erin said, "Welcome to Louisiana."
I've packed this One Pan Easy Sausage Jambalaya with a few more vegetables than what we ate in New Orleans so it can easily be a full meal by itself .
The Butterball Hardwood Smoked Turkey Sausage gives you plenty of protein to go along with the rice and vegetables.
However, if you would like a little more to this meal and have a little extra time, a simple side salad goes along nicely.
What are your favorite easy one pan meals?
One Pan Easy Smoked Sausage Jambalaya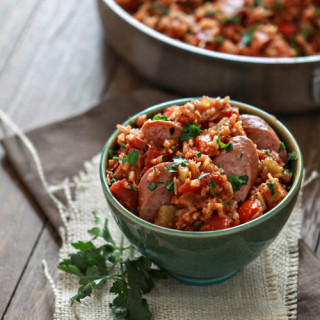 Ingredients:
3 teaspoons olive oil, divided
3 packages Butterball Hardwood Smoked Turkey Sausage, sliced approx. 1/4 inch thick
4 teaspoons Creole seasoning, divided
1 large yellow onion, diced
3 ribs celery, diced
1 green bell pepper, chopped
2 red bell peppers, chopped
2 teaspoons minced garlic
1 1/4 teaspoons dried thyme
1/4 teaspoon smoked paprika
1 – 14 ounce cans Fire Roasted Diced Tomatoes, undrained
1 – 14 ounce can crushed tomatoes
3 cups chicken broth
1 3/4 cups white rice, uncooked
salt and pepper, to taste
Directions:
In a large stainless steel skillet or cast iron pan heat 2 teaspoons of olive oil. Add the Butterball Hardwood Smoked Turkey Sausage and 1 teaspoon of the Creole seasoning; cook over medium heat until lightly browned. Remove with a slotted spoon and set aside on a plate.
Add the remaining olive oil to the pan. Add the onion and celery and sauté over medium heat for 5 minutes. Add the pepper and garlic and sauté for an additional 5 minutes. Return the sausage to the pan along with the remaining ingredients.
Cover and cook over low heat for 30 minutes, or until rice is tender, stirring occasionally so rice does not burn or stick to the bottom.
Disclosure: Disclosure: I've partnered with Butterball to create fun, new turkey recipes for their Turketarian program. This blog post is sponsored by Butterball. All opinions are my own.