Red Beans and Rice with Andouille Sausage
Sometimes not having time to make what's originally on the menu can be a blessing. Sure it's a hassle to figure out a new plan and make it work, especially when you're just not sure what to do with the ingredients that you have for the recipe that's no longer the plan.
But sometimes that's when really great recipes are created. Because you're forced to work with what you have and to make something out of it. Enter: Red Beans and Rice with Andouille Sausage.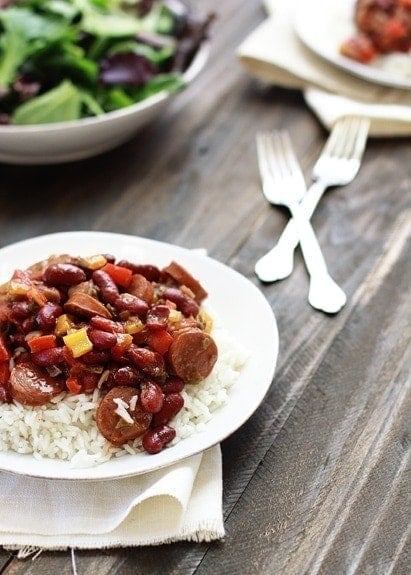 I know this song and dance all too well. I like to make a meal plan and have all that sorted out for the week and the necessary groceries on hand, but usually once a week something comes up and we have to veer off the planned path. And that's ok.
Now I'm not saying Red Beans and Rice with Andouille Sausage is the best ever recipe. It's certainly not anything fancy, but it really hit the spot the other night and I was able to use several things that I already had on hand, even though I definitely had not planned on Red Beans and Rice.
People always ask me how I come up with recipes just out of my head like this. I think part of this is being comfortable enough in the kitchen to put things together believing that they will most likely turn out just fine, but also not stressing if they don't turn out. It's all a learning process, and a fun one if you ask me.
So tell me, what have been your favorite happy accidents in the kitchen?
Red Beans and Rice with Andouille Sausage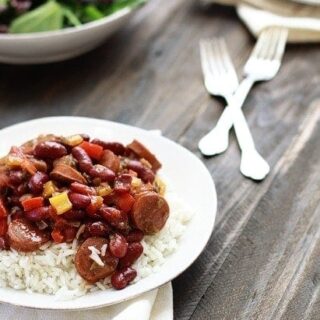 Ingredients:
12 ounces Andouille Sausage, sliced (I used Aidells brand)
2 teaspoons olive oil, plus more as needed
1 medium onion, diced
1 rib celery, diced
3 cloves garlic, minced
1 red bell pepper, diced
half of a yellow bell pepper, diced
1 cup chicken broth
20 ounces diced tomatoes in juices
1/2 teaspoon salt, or according to taste preferences
1/2 teaspoon black pepper
dash (or more) cayenne
2 bay leaves
1 teaspoon dried oregano
1/4 teaspoon allspice
1/8 teaspoon cloves
2 - 14 ounce cans kidney or red beans (I like Bush's and only drained 1 can)
2 cups rice, cooked according to package instructions
hot sauce for serving, if desired
Directions:
Heat a large cast iron pot over medium-high heat. Cook the sausage slices until browned. Remove and set aside.
Add the olive oil to the pot and saute the onion over medium heat until translucent and tender, about 5-7 minutes, stirring frequently. Add the celery and garlic and continue to saute for 2 minutes more.
Return the sausage to the pan. Stir in the bell pepper, broth, tomatoes, salt, pepper, cayenne, bay leaves, oregano, allspice, and cloves. Bring to a boil, then reduce to low and simmer for 20-30 minutes, or until the vegetables reach desired tenderness.
Stir in the beans and cook until heated through. Taste for seasonings and adjust if necessary. Serve over rice.