Easy Black Beans and Rice with Smoked Sausage
This Easy Black Beans and Rice with Smoked Sausage is a dinner you can whip up quickly on a busy weeknight!
I shared with you some tips to reclaim your kitchen and told you what is working for me. This #ReclaimtheKitchen topic has been a great journey for me to share with you.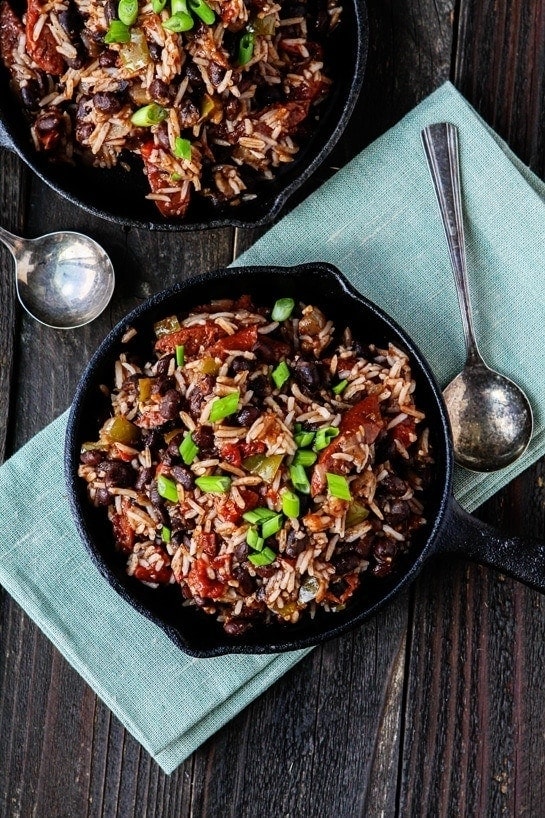 Because a part of reclaiming the kitchen is cooking together with family and friends, I wanted to share with you a few last tips for connecting with your kids in the kitchen.
You can use plenty of these tips as you prepare this recipe for Easy Black Beans and Rice with Smoked Sausage.
Many times I want my kids to play outside or do something quietly while I'm cooking dinner.
The task usually gets done faster that way, but I try really hard to make a point to spend some time each week connecting with them in the kitchen.
Sometimes it might be just having them sit at one of the stools at the counter and talk to me about their day or whatever is on their mind while I cook.
Other times it is great to have them cook alongside me.
Either way it does make the cooking process more enjoyable (even if it takes a little more time or effort) because I'm spending time with some of my favorite people in the world.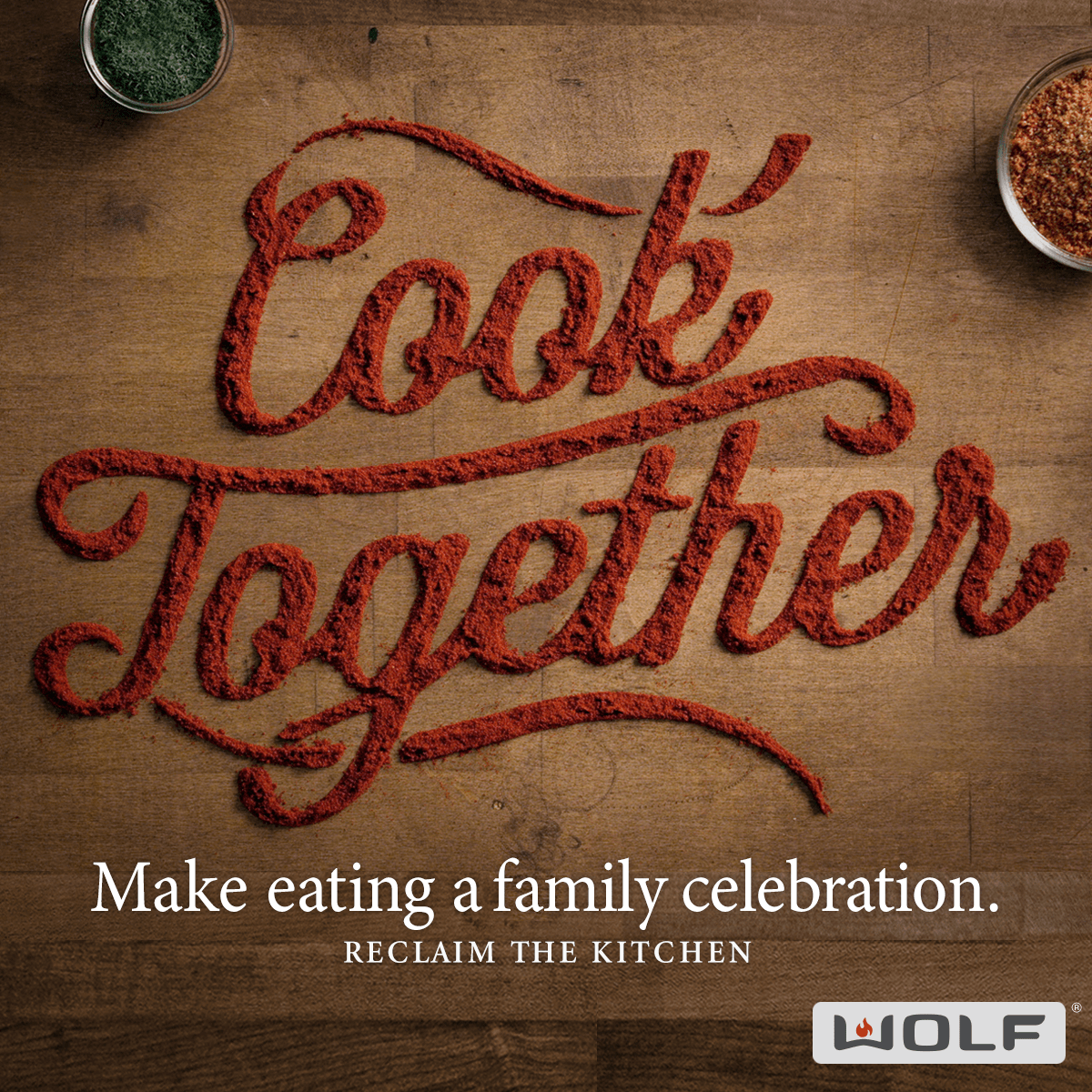 How to Involve Kids in Dinner Preparation
Here are a few tasks kids can do to be involved in kitchen preparations.
Older kids can participate in any of the tasks listed for ages younger than they are.
And of course, everything should be done with adult supervision and according to your assessment of your child's readiness.
The great thing is the earlier you start, the more proficient your kids become. Eventually dinner will be a breeze to whip up with all of the helping hands that you'll have in the kitchen.
Ages 5-6
Helping to knead bread, helping to roll out pie crust, cutting out cookies, tearing lettuce for salad, snapping the ends off of green beans, rinsing vegetables in a colander.
Pressing the button on food processors or blenders, pouring pre-measured ingredients or observing as you prepare a recipe.
Ages 7-8
Measuring ingredients, such as flour, spices, or sugar.
Stirring batters.
Reading recipes and setting out the appropriate ingredients for the recipe.
Greasing pans with butter.
Ages 9-10
Peeling vegetables, such as potatoes or carrots.
Reading recipe instructions and explaining what steps come next. Assisting in shaping rolls.
Ages 10+
Sautéing onion and celery for a stuffing recipe.
Chopping vegetables for soup.
Rolling a pie crust on their own.
Preparing simple recipes with supervision rather than assistance.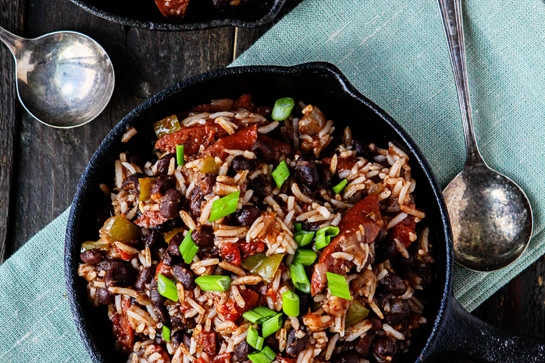 With these simple tasks, you're teaching your kids important skills that will stay with them for the rest of their lives.
It's also another great opportunity to spend time together and connecting over a fun activity.
Check out the Reclaim the Kitchen website where you will find tools to help your family reclaim YOUR kitchen. They offer great resources like:
Cook Smarts – A comprehensive meal-planning service offering four dinnertime meals a week.
CookingPlanIt – A robust collection of recipes that can be filtered to fit a user's needs. Perfect for cooks on the go.
Cook Fearless – This site helps the world learn to cook with confidence, becoming fearless in the kitchen.
To wrap things up I wanted to share with you a super quick but tasty recipe for Black Beans and Rice with Smoked Sausage.
This is the perfect recipe that you can use when you might be feeling like you need a little extra help reclaiming your kitchen.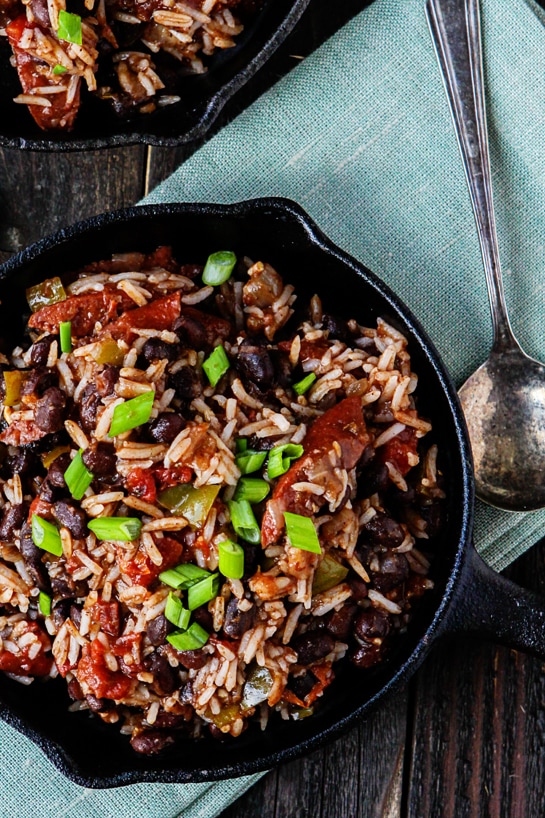 The recipe for Easy Black Beans and Rice with Smoked Sausage doesn't take a lot of time to prepare and if you have little ones it is an easy one for them to help out with.
Kiddos can open the cans, drain the beans, or sauté onions and peppers (Madeline loves to help me with this!).
What easy meals help you reclaim your kitchen?
Easy Black Beans and Rice with Smoked Sausage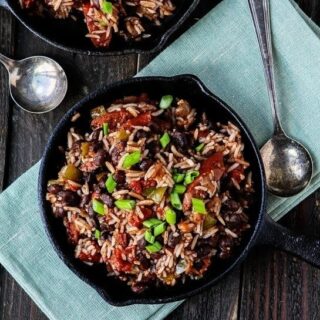 Ingredients:
1 1/3 cup uncooked rice
2 teaspoons butter
1 tablespoon olive oil
1 yellow onion, diced
1 smoked sausage, sliced in half moons
1 large green bell pepper, diced
2 teaspoons minced garlic
1 tablespoon cumin
1/2 teaspoon oregano
2 cans Black Chili Beans with sauce
1 can Black Beans, rinsed and drained
1 can fire roasted tomatoes
salt and pepper, to taste
Directions:
Prepare rice with butter according to package directions. Set aside.
Heat the oil over medium heat in a large stove top casserole dish or cast iron pot. I like my Le Creuset Enameled Cast-Iron 3-1/2-Quart Round Braiser for this. It is a very versatile piece.
Add the onion and sausage and saute for 5 minutes, until tender and fragrant. Add the bell pepper and garlic. Saute for an additional 3 minutes. Then stir in the cumin and oregano. Saute for an additional minute.
Add the black chili beans with sauce, drained black beans, and fire roasted tomatoes. Stir to combine. Season to taste with salt and pepper and stir well. Simmer for 20 minutes on low, stirring periodically.
Stir rice into bean and sausage mixture and serve.
This recipe for Easy Black Beans and Rice with Smoked Sausage is a sponsored post written by me on behalf of Wolf.