Pasta with White Beans, Tomatoes, and Sausage
This Pasta with White Beans, Tomatoes, and Sausage dish was one of the last real meals I cooked before life started to get really crazy with moving.
Looking back, I am not entirely sure how I managed to feed my family at all for the past 6 weeks. We have been on an endless cycle of pack, clean, dejunk…repeat. It is all a blur. I'm sure you are all tired of hearing about it by now…believe me, I'm tired of living it!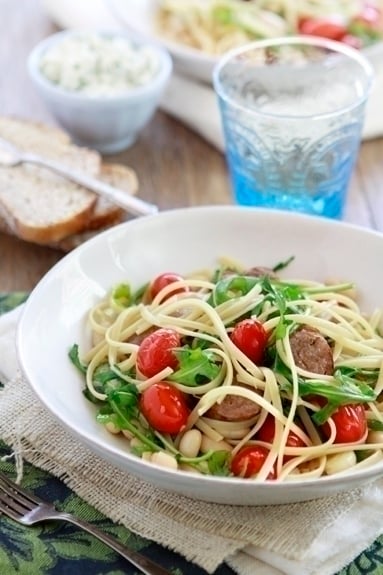 Honestly, I don't know what I would have done without pasta and beans, two of my favorite pantry staples. It seems like no matter what food we have in the house as long as I have beans and pasta in the pantry I can come up with something tasty and healthy to serve for dinner.
I laugh now thinking that even two weeks ago that I thought there was nothing good to cook (or eat), because our pantry is truly almost empty now – there isn't even a can of beans or box of pasta.
I'm so grateful for friends who have volunteered to feed us dinner during this last week in New Mexico and for all the guest authors who have shared recipes here on GoodLife Eats when I was unable to spend time in the kitchen cooking up the next recipe to share.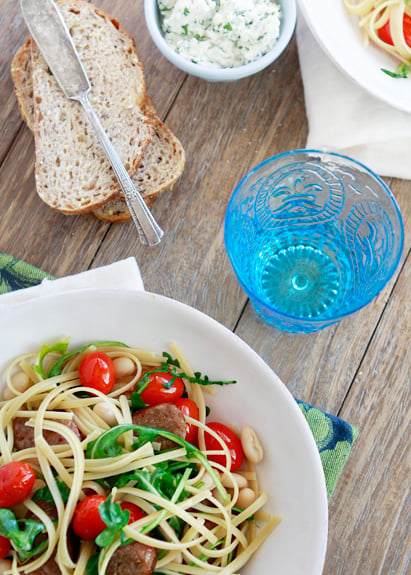 This week is moving week and I am so incredibly anxious to get my life back. Almost everything we own is in boxes. There has been little time for the kind of family meals I would like to prepare. Weekend family outings and actives seem like a far away luxury. The kids are out of school and I am ready to get started on our next adventure!
Until then, this recipe for Pasta with White Beans, Tomatoes, Arugula and Italian Sausage is one more recipe that we can add to our list of meals that doesn't take too much time or too many ingredients to prepare. I have a feeling things will still be hectic for a while.
What are your favorite meals using pantry staples?
Pasta with White Beans, Tomatoes, and Sausage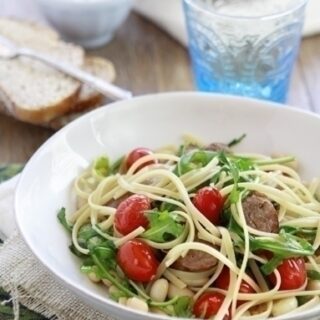 Ingredients:
12 ounces linguine
3 links Italian Sausage
2 tablespoons olive oil
4 cloves garlic, smashed
1 pint cherry or grape tomatoes
1 can Cannellini or Great Northern Beans (I prefer Bush's brand), rinsed and drained
1 packed cup fresh baby arugula
salt and pepper, to taste
freshly grated parmesan, for serving (if desired)
Directions:
Cook the pasta according to package instructions. Set aside. Cook the Italian sausage and slice into rounds. Set aside and keep warm.
Meanwhile, heat the olive oil in a large sautee pan or cast iron skillet over medium heat. Add the smashed garlic cloves and saute for 2-3 minutes, or until fragrant and tender.
Lower the heat to medium-low. Add the tomatoes and continue to cook until the tomatoes begin to burst and expel their juices. Add the beans to the pan, stir until combined and coated with olive oil from the pan. Add in the cooked pasta, arugula, and sausage. Stir until heated through.
Season to taste with salt and pepper. Serve with freshly grated parmesan cheese, if desired.
I have an ongoing relationship with Bush's Beans, however all opinions are my own and I've always used Bush's Beans in my recipes prior to my relationship with them.