Baked Sausage and Vegetable Spaghetti [Giveaway: Win a Year Supply of Barilla Pasta]
National Spaghetti Day is January 4th, so I have teamed up with Barilla Pasta to share a healthy Spaghetti Recipe and offer you an opportunity to win a year supply of Barilla Pasta!
I'm sharing a recipe for Baked Turkey Sausage and Vegetable Spaghetti to celebrate National Spaghetti Day. By sharing your own healthy spaghetti recipe, you can enter to win a year supply of Barilla Pasta.
I have only purchased Barilla pasta for years. I love how versatile pasta is in our every day meals and it often helps me out when I'm in a dinner bind.
I have been working to incorporate more whole grains into our diets. We are pretty good already, but pasta is a weakness. In many recipes I am not a big fan of the bite that whole wheat pasta offers. I was pleased to be introduced to another option for healthier pasta – Barilla Plus. Barilla Plus pasta includes ingredients such as flaxseed, legumes, and spelt.
The real challenge was would our family like the taste and texture of this healthier pasta. I'm excited to tell you that yes, we did! I now have a healthier pasta product that I can purchase that fits with our family's healthy lifestyle and our personal tastes.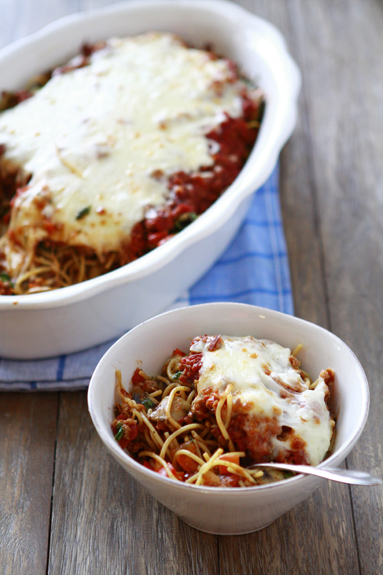 There are nights when all Madeline wants to eat for dinner is plain pasta with a bit of melted butter, but I feel so much better now that a serving (56 g) of this pasta offers 10 grams of protein, approximately 180 mg of Omega-3, and 4 grams of fiber.
For those of us who actually want to eat our pasta with vegetables and sauce mixed it, the nutrition density of a meal can only get better.
In this Baked Spaghetti recipe, I've made homemade tomato sauce from a recipe that I love. For lots of flavor, I added crumbled cooked Italian Turkey Sausage to the sauce – drain out any excess grease first.
Mixed in with the nutrient rich Barilla Plus Spaghetti are lots of vegetables – onion, red bell pepper, shredded carrots, mushrooms, and chopped fresh spinach. Layer the two with a bit of Mozzarella and bake it up for a bubbly tasty spaghetti meal. It tastes so rich that you'll forget that you're eating something healthy.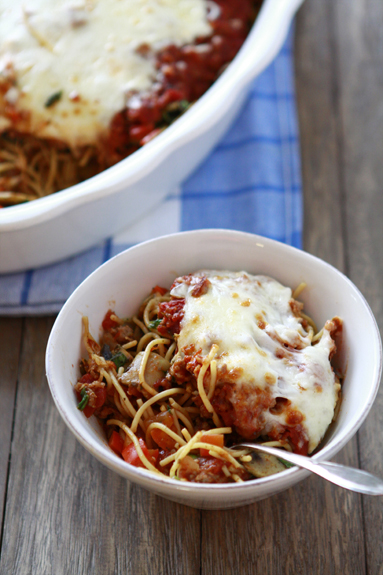 What is your favorite healthy spaghetti recipe? Please share it here!
Giveaway Prize (1 winner):
Giveaway CLOSED: Congratulations to Anne (comment #53) – you are the winner!
1 winner will receive a one year supply of Barilla Pasta.
Thank you Barilla for providing this giveaway!
Giveaway Rules & Requirements:
What is your favorite healthy spaghetti recipe?
Share a link in the comments or with the widget if you have a blog.
If you do not have a blog, share a recipe in the comments.
You may enter enter up to 3 recipes.
Contest ends January 7, 2013 at 2:00 p.m. (noon) PST.
Winner must be at least 18 years of age.
Winner will be chosen via random.org
Optional Extra Entries
Leave a separate comment for each optional extra entry that you complete. Must complete the main entry first.
1. Follow GoodLife Eats and Barilla on Twitter.
2. [You may do this DAILY – leave a comment each time you tweet] ReTweet the following message: I just entered to win a year supply of @BarillaUS Pasta from @GoodLifeEats http://su.pr/3V3tIu #BarillaSpaghetti #giveaway
3. Like GoodLife Eats on Facebook. Comment that you did (or already do).
4. Like Barilla on Facebook. Comment that you did (or already do).
5. Share this post on Facebook. Comment that you did.
6. Follow GoodLife Eats on Pinterest and Pin this recipe. Comment that you did.
7. Subscribe to GoodLife Eats via RSS or Email. Comment that you did (or already do).
Baked Turkey Sausage and Vegetable Spaghetti
Yield: serves 6 - 8
Prep Time:20 minutes
Cook Time:30 minutes
Total Time:50 minutes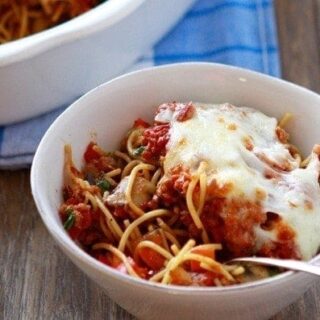 Ingredients:
4 cups Your Favorite Sauce Recipe
12 ounces Italian Turkey Sausage, removed from casings
8 ounces of Barilla Plus Spaghetti
1 tablespoon extra virgin olive oil
1 medium onion, diced
10 ounces mushrooms, sliced
2 cloves garlic, minced
2 large red bell pepper, chopped
1/2 cup grated carrot

5 ounces chopped fresh baby spinach or swiss chard (or a combination)
2 teaspoons Italian seasoning
1 3/4 cup mozzarella cheese
Directions:
Preheat the oven to 350 degrees F.
Cook pasta according to package instructions, but decrease the cooking time by 2 minutes. Drain and set aside in a medium to large bowl.
Remove the turkey from casings, if present. Cook the sausage until browned, crumbled and cooked through. Drain any excess grease. Remove and set aside in a medium bowl. Stir in the sauce. Set aside.
In the large saute pan or cast iron skillet used to cook the sausage, heat the olive oil over medium heat until shimmering. Add the onion and sauté for 5 minutes. Add the mushrooms and sauté for 5 minutes, until tender. Add the garlic and sauté 1 minute. Add the bell pepper and sauté for 2 more minutes.
Add the sautéed vegetables along with the chopped spinach and/or swiss chard, carrot, and Italian seasoning to the pasta bowl. Mix to combine and evenly distribute the vegetables. Season to taste with salt and pepper, if desired.
In a 9x13 or other oven safe large casserole dish, layer half of the pasta mixture, half of the sauce, 3/4 cup mozzarella, remaining pasta, remaining sauce, and 3/4 cup mozzarella.
Cover and bake in a 350 degree preheated oven for 20 minutes. Uncover and bake for 10 more minutes or until the sauce is hot and bubbly and the cheese is melted and lightly browned on top. Serve.
Notes:
Pairs well with a side salad.
Disclosure: I was compensated for my time and provided Barilla pasta to create my recipe. However as required by Barilla, all opinions and experiences contained in this post are my honest opinion.