We had kindergarten orientation for Logan today. He has been so ready for summer to be over and get back to school (he loved preschool and loves to learn). I have been ready for him to go back to school (summer has been particularly trying this year).
We got up all excited and anticipating a fun morning. Getting to meet the teachers and see the school. Gearing up for the first day. That is not what happened.
Logan had a great time with a group of kindergarten teachers and a small group of kids while the parents had a meeting with another one of the teachers. And I use the word "meeting" loosely. It really felt very unwelcoming and much more like a lecture.
More than once I wanted to raise my hand (were were in school after all. I might be in trouble for talking out of turn) and remind the woman (who also didn't bother to introduce herself) that we are all parents, most of multiple children and have raised them thus far without any of their help and didn't need to be spoken to in such a condescending tone. But I kept my mouth shut because I don't like confrontation.
As it turns out, we aren't allowed to walk our child to his kindergarten class on the first day. Instead we drop him off at the curb where the teachers will "collect" the kids and sort them into the proper classroom based on their color coded ID badge.
I am not allowed ever passed the front office unless I am a volunteer, but volunteers aren't allowed to bring other children, so since I still have a 2 year old at home I likely won't ever be able to volunteer without getting a babysitter.
I can't visit and observe the classroom not can I eat lunch with him except on designated days such as Thanksgiving feast. I'll try not to rant too much, but the whole vibe I got was not warm and community oriented. Eric said he felt like it was a "child factory." Say goodbye to your parental rights once your child steps out of the car.
It was definitely an emotionally draining meeting. And I am no longer excited about kindergarten. We had an amazing experience for 2 1/2 years at our school district run preschool and at the Montessori school Logan went to for summer camp this year.
And now I'm just stunned. I was never a parent who thought kindergarten would be a hard transition. We are both ready. But I'm not ready for this school and their rigidity.
I am so torn on what we should do. I loved the Montessori school, felt safe their, and Logan was happy. I would love to send him there, but it is expensive.
I wish I had the ingredients for this recipe, because it's a no-brainer. No over thinking. No exhausting steps or big mess. The perfect meal for a day like today where I just want to curl up on the couch and watch TV or read a book (right now I'm reading Georgia's Kitchen) and forget all about how much I don't like this school.
I tweeted a mention of this recipe a few weeks ago, not really intending to blog about it because it was just something we through together on a crazy, busy day…kind of like the day we are having today. Except then, several of you asked when I'd post it.
So here we go. I did happen to take pictures, but just in case. The final image isn't the best because we are in monsoon season, so every day around dinner time the big bad clouds start rolling in and it gets very dark. A quick drive by post with a recipe for Flatbread Pizza with Sausage and Zucchini (among other things).
Please excuse the estimation of measurements. I definitely wasn't taking notes during this recipe. I had also planned to grill these, but remember it's monsoon season. We baked them instead.
Get More Recipes via Email
Did you love this recipe? Sign up to receive Good Life Eats Email Updates and never miss another recipe!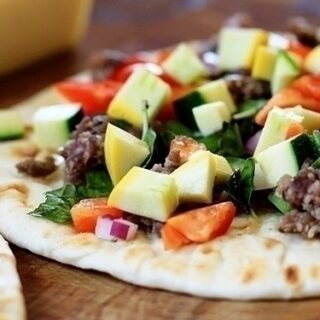 Flatbread Pizza with Sausage and Zucchini
Using raw vegetables and storebought pita make these flatbread pizzas a quick, easy meal!
Ingredients
4 pocketless pitas
olive oil
a handful of fresh basil, sliced into strips
bite sized fresh marinated mozzarella balls (about 6-8 per pita)
fresh grated Parmesan cheese
crumbled Italian sausage, about 1 cup
1 small zucchini, diced
1 small yellow crooked neck squash, diced
1/4 of a red onion, diced
1/2 of a red bell pepper, diced
Instructions
Brush the tops of each pita bread with olive oil. Top with basil. Sprinkle the pita bread with sausage, zucchini, yellow squash, red onion, and bell pepper.
Cut the mozzarella balls in half and sprinkle on top of the other toppings.
Bake at 400 degrees, or grill, until the pita is slightly crispy and the cheese is bubbly. Sprinkle with freshly grated Parmesan cheese, cut into wedges and serve.
Notes
You could probably saute the vegetables first if you wanted to, but I didn't bother. Quick, easy meal was what the doctor ordered. I might add some mushrooms next time. It's an easy recipe to customize to your liking. Just add extra vegetables for a no-meat version.
Recommended Products
As an Amazon Associate and member of other affiliate programs, I earn from qualifying purchases.
Nutrition Information
Yield

4
Serving Size

1
Amount Per Serving
Calories

427
Total Fat

21g
Saturated Fat

7g
Trans Fat

0g
Unsaturated Fat

15g
Cholesterol

35mg
Sodium

779mg
Carbohydrates

41g
Fiber

3g
Sugar

5g
Protein

19g
GoodLifeEats.com offers recipe nutritional information as a courtesy and is an estimate only. This information comes from online calculators. Although GoodLifeEats.com makes every effort to provide accurate information, these figures are only estimates.