Peach, Raspberry, and Blueberry Cobbler
I had some peaches that needed to be used up last week. That's what happens when when I see great fruit prices and I buy more than we can really eat in time. Since they weren't really very pretty peaches anymore, I thought I should bake something with them. A peach cobbler was the first thing that came to mind. Or, in this case, a Peach, Raspberry, and Blueberry Cobbler with a Cinnamon Sugar Biscuit Topping.


I love baking with fruit and my latest craving was to bake something with peaches and blueberries. Blueberries and raspberries had both been on sale too, so I used a little of both. If I want to make anything with berries around here I have to move quick because Madeline is a berry eating machine.


She's eaten an entire regular sized package of blueberries before we've even gotten out of the grocery store before. Yes, I know I shouldn't let her eat them straight from the store without washing – but you try telling that to a head strong 2 1/2 year old when you've still got a list a mile long to shop for.


Anyway…the photos are from the first time that I made this recipe, but the recipe is from the second time I made it because I wanted to perfect a couple of things. I love a peach cobbler and I love berry cobbler, and I definitely love the two combined. Eric likes the cobblers better cold, but I like them better just a bit warmer than room temperature.


No funny store, amusing anecdote, or life insights in this post. But definitely a winner of a recipe with this Peach Berry Cobbler.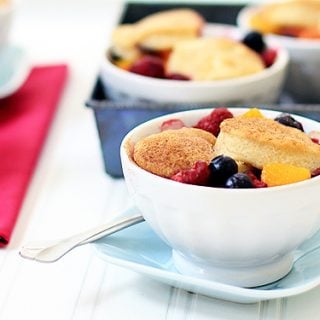 Ingredients:
for the peach mixture:
1/3 cup sugar
2 tablespoons + 1/4 teaspoon cornstarch
1/2 teaspoon cinnamon
1 1/2 tablespoons lemon juice
1 teaspoon vanilla
1/4 teaspoon almond extract
3 cups fresh or frozen peaches, chopped
1 cup fresh or frozen blueberries
1 heaping cup fresh or frozen raspberries

for the cinnamon biscuit topping:
adapted from Cook's Illustrated
1/2 cup all purpose flour
1/2 cup plain cake flour
1 teaspoon baking powder
1/8 teaspoon baking soda
1/4 teaspoon cinnamon
1 1/2 tablespoons sugar
1/4 teaspoon salt
4 tablespoons cold butter (frozen is best)
1/4 cup + 1 1/2 tablespoons cold cream
cinnamon sugar for sprinkling on top
Directions:
Preheat oven to 400 degrees F.
For the fruit mixture: combine the sugar, cornstarch, cinnamon, lemon juice, vanilla, and almond extract in a small bowl. Mix well. Place the peaches and blueberries in a medium sized mixing bowl. Add the cornstarch mixture and toss to coat. Add the raspberries and gently stir to combine.
Divide the fruit mixture among four 8 ounce individual dessert serving dishes that are oven safe. Place dishes on top of a baking sheet and transfer into the oven. Bake for 10 minutes.
Meanwhile, combine the first seven ingredients for the cinnamon biscuits (flour through salt) in a medium sized mixing bowl, mix well. Using the largest whole on a box cheese grater, grate the cold or frozen butter. Add the butter to the flour mixture and stir to combine. Stir in the cream until the mixture just comes together.
Then, turn out the dough onto a lightly floured surface and knead just until it comes together. Roll to a 1/2 inch thickness. Cut biscuits using either a 2 or 3 inch biscuit cutter. If you want two smaller biscuits per cobbler, then use the 2 inch biscuit. If you want one biscuit per cobbler, use the 3 inch biscuit.
After the fruit has baked for 10 minutes, remove from the oven and top with biscuits (2 small biscuits per cobbler or 1 larger biscuit each). Then, if desired, sprinkle the tops with cinnamon sugar.
Return to the oven and bake for 15-20 minutes. Biscuits should be golden and the fruit mixture bubbling. Cool for 5-10 minutes before serving.