Peach Sangria is a delicious and flavorful cocktail that's easy to make for a group, or just for yourself. The peach flavors combine perfectly with the Rosé for a delightful drink you are sure to enjoy, especially on those hot summer days! Read on to learn everything you need to know about making this peach cocktail.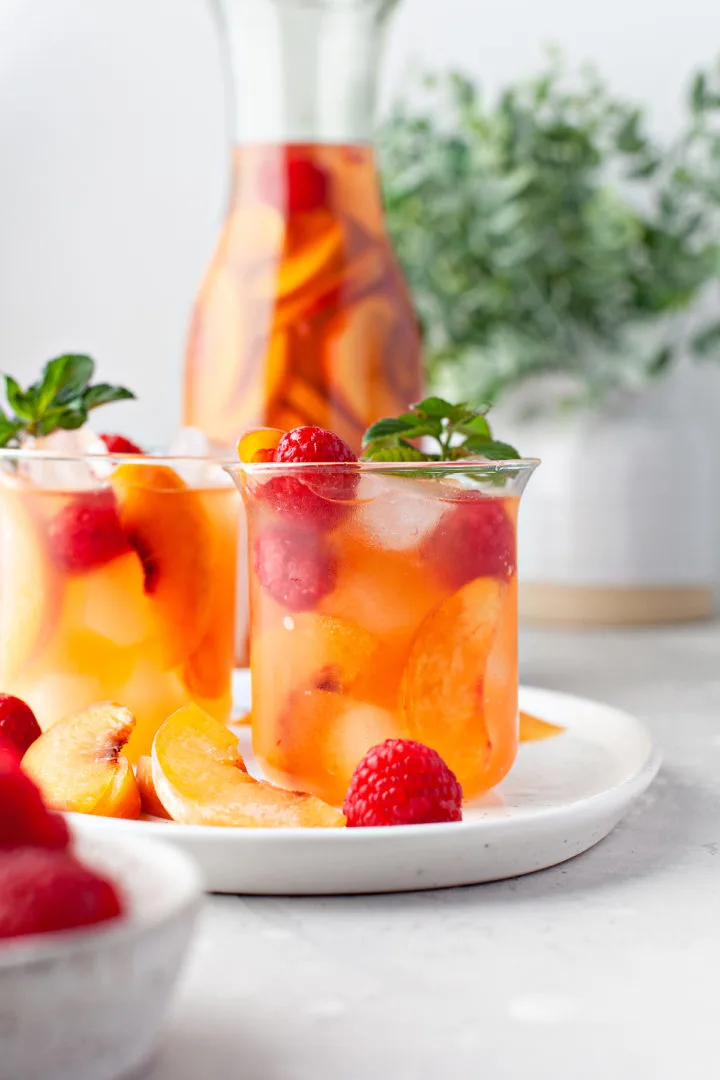 What is Sangria?
Traditional sangria is a punch like alcoholic beverage, originating in Spain and Portugal. Sangria has strict labeling rules under EU law stating that only sangria made in these two countries is allowed to be sold as "sangria."
The EU uses the following criteria to define a beverage as sangria :
made from wine
contains citrus fruit extracts, with or without the juice
spices may be added
carbon dioxide (i.e. "sparkling") may be added
has not been colored
ABV between 4.5% – 12%
may contain solid pieces of citrus-fruit pulp or peel
Traditionally, classic sangria is made using a red wine base. In addition to wine, sangria typically includes soda, added liqueur, fruit, and sweetener.
This post may include affiliate links. As an Amazon Associate and member of other affiliate programs, I earn a small commission from qualifying purchases.
Tools Needed to Make Sangria with Peaches
You'll need a few kitchen tools to prepare a batch of homemade sangria. Here's what I recommend having on hand before getting started with this recipe:
Large Pitcher or Jar – to make the peach sangria in.
Cutting Board and Sharp Knife – to cut the peach slices.
Measuring Cups and Spoons – to measure the ingredients.
Wooden Spoon – to stir the ingredients together.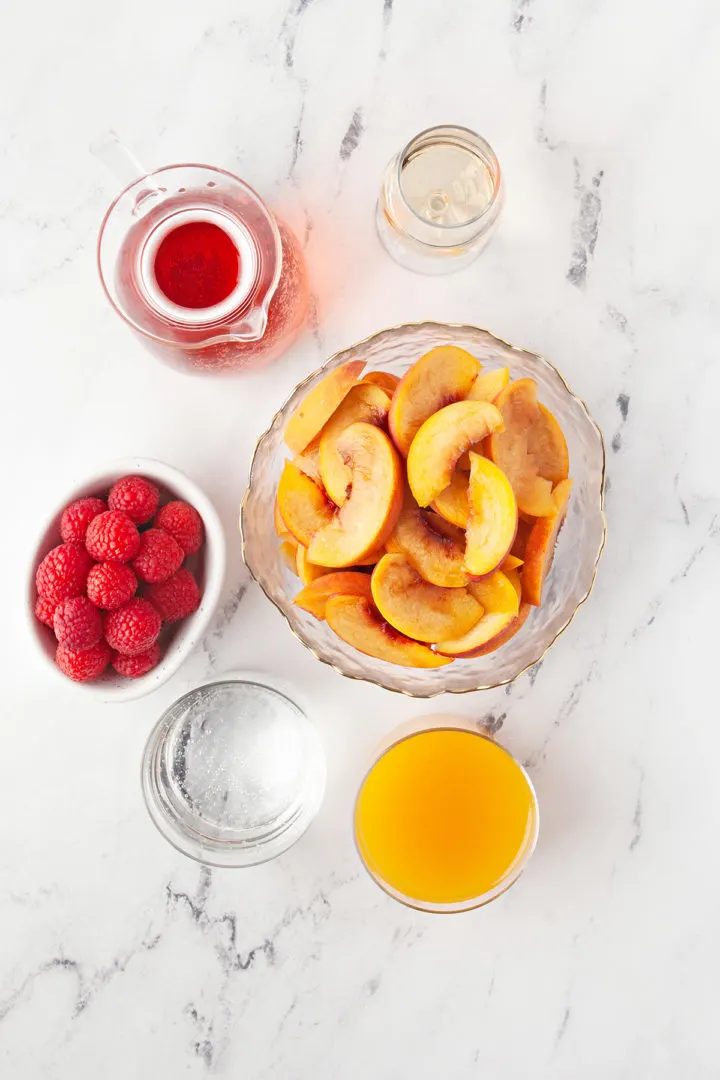 What is Peach Sangria Made Of?
Not sure what fruit goes in peach sangria? Well, here's what I added to this simple summer cocktail:
Dry Rosé Wine
Peach Liqueur
Peach Nectar
Sugar or Agave Nectar
Fresh Peaches
Fresh Raspberries
Sparkling Water
What Kind of Peach Liqueur Should I Use?
This recipe calls for Peach Schnapps, but you could also use peach brandy or peach vodka.
For the complete ingredient list and detailed instructions, scroll to the bottom of this post for the FREE printable recipe card.
What is the Best Wine to Use in Peach Sangria
I prefer making this peach sangria with a dry rosé wine. I think the peach schnapps, peach nectar, and sweetener provide provide plenty of sweetness.
Here are a few inexpensive dry rosé wines that I like for sangria:
A good rule of thumb when choosing a wine for sangria is to look at the tasting notes of that wine. Choose a wine that has notes of the fruits that are present in the sangria recipe, or flavors that pair well with the chosen fruits.
However, cocktails are all about personal preference! Since you're the one drinking this peach rosé, use a sweet wine if that's what you prefer!

How to Make this Homemade Peach Sangria Recipe
Making sangria couldn't be easier! Here's a quick overview of the process:
Combine the wine, peach schnapps, peach nectar, and your choice of sweetener in a large pitcher or jar. Then, add the fruit and refrigerate.
Don't add ice or sparkling water until just before serving. Those items are best added directly to the glass.
The above is simply a quick summary of this recipe. Check out the full recipe in the free printable recipe card at the bottom of this post for all the detailed instructions.
Tips for Making the Best Peach Sangria
For the best flavor, use ripe peaches during peach season.
Refrigerate your rosé wine, peach nectar, fruits, and club soda at least a day before making this, so everything is nice and chilled before preparing the recipe.
Give the peach sangria time to chill in the fridge, for at least two hours before serving.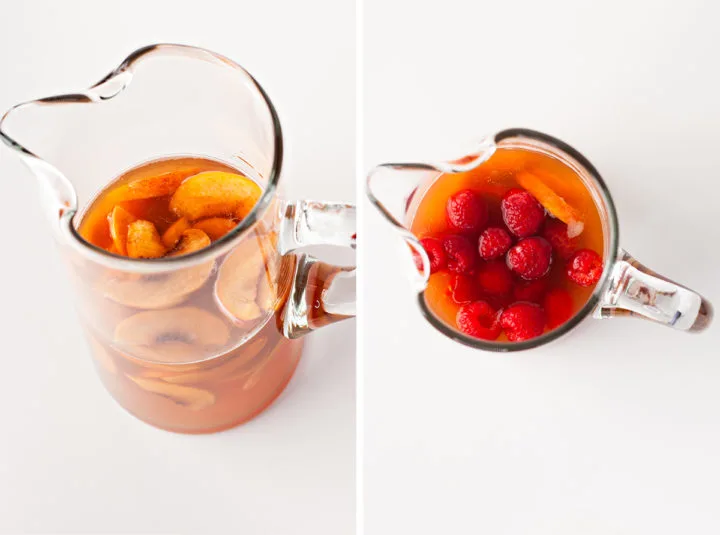 How to Serve this Peach Sangria
This recipe for Peach Sangria is best served chilled.
Sangria gets better the longer it sits, so you'll want to refrigerate it for at least a few hours before serving it. You can wait even longer so the flavors meld together.
Serve this summer sangria in a large pitcher; clear glass works well to show off the juicy peaches and fresh raspberries. A punch bowl works best for a big batch if you're serving this fruity drink at a party.
For serving glasses: they make sangria glasses, but you can serve this easy sangria recipe in any glassware.
Some people like stemmed wine glasses. Others prefer something without a stem, like a tumbler or a stemless wineglass. For outdoor events, it may be worth looking into shatterproof options when serving this peach cocktail.
Don't forget to garnish! A sprig of fresh mint or fresh basil make great garnishes.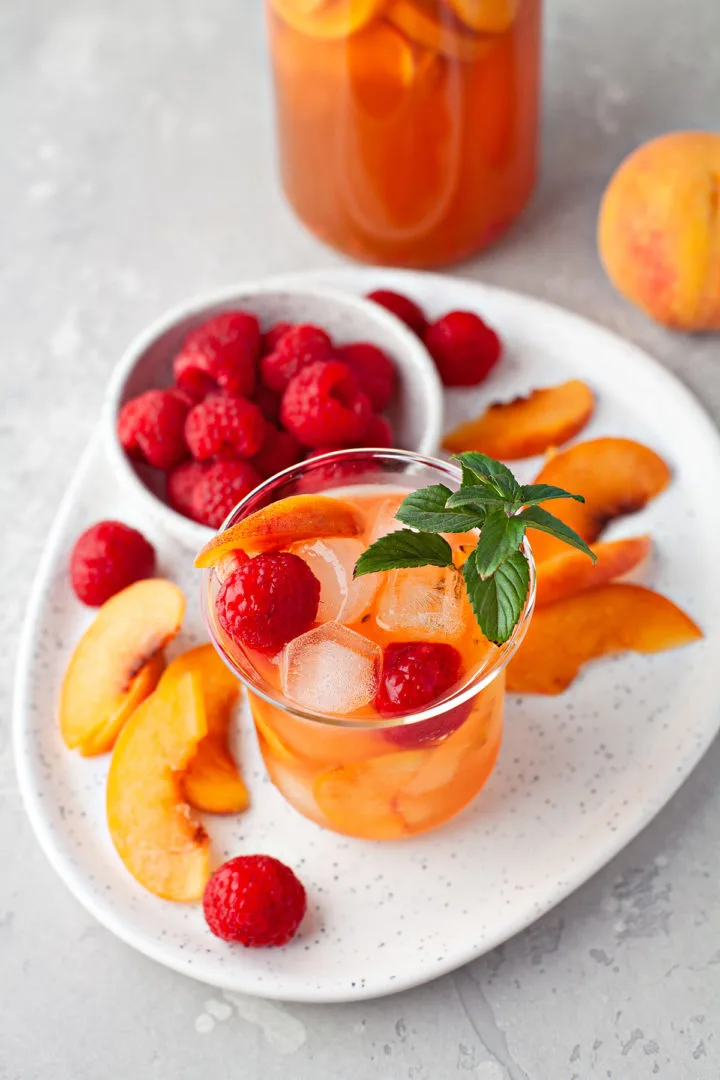 How to Make a Virgin Peach Sangria
Don't drink alcohol? Try making a virgin sangria version of this peach sangria with just a couple of substitutions! Here's how:
In place of the peach liqueur, add additional peach nectar or peach flavoring. If you'd like to try something different, this Orange Non-Alcoholic Spirit would also work well.
What is a good non-alcoholic alternative to rosé?
There are a lot more alcohol-free or alcohol removed wines on the market than there were even just a few years ago. Here are a couple of rosé wines that contain 0.5% or less ABV.
Safety tip: Depending on the brand you use, some alcohol-removed wines spirits may still contain trace amounts of alcohol. Check the label before using!
Peach Sangria FAQ
Got questions about how to make this recipe for Peach Sangria? Here are the answers to a few commonly asked questions. Feel free to leave any other questions in the comments on this post and I'll respond with answers.
Do I Need to Peel Peaches for Sangria?
No, just cut the peaches into slices, and discard the pit. You can leave the skins on. However, feel free to peel them if you prefer.
Can I Use White Peaches?
Sure! The flavor and appearance will be slightly different, but you can definitely make a white peach sangria if white peaches are what you have.
What Can I Substitute for Raspberries?
If you don't have raspberries, you can substitute fresh strawberries in their place for a peach strawberry sangria.
Do I Have to Add Sweetener to Sangria?
No! If you do not want your sangria sweet, leave out the sweetener. Then, sample it after chilling to see how you like it.
If you'd like it sweeter, add some simple syrup or agave nectar starting with 1 tablespoon. Then, taste and adjust accordingly.
Can I Use White Wine to Make Peach Sangria?
I have only prepared this peach sangria with rosé wine, but I think you could probably make it with good results using a white wine. Try a crisp white wine, such as sauvignon blanc, pinot grigio.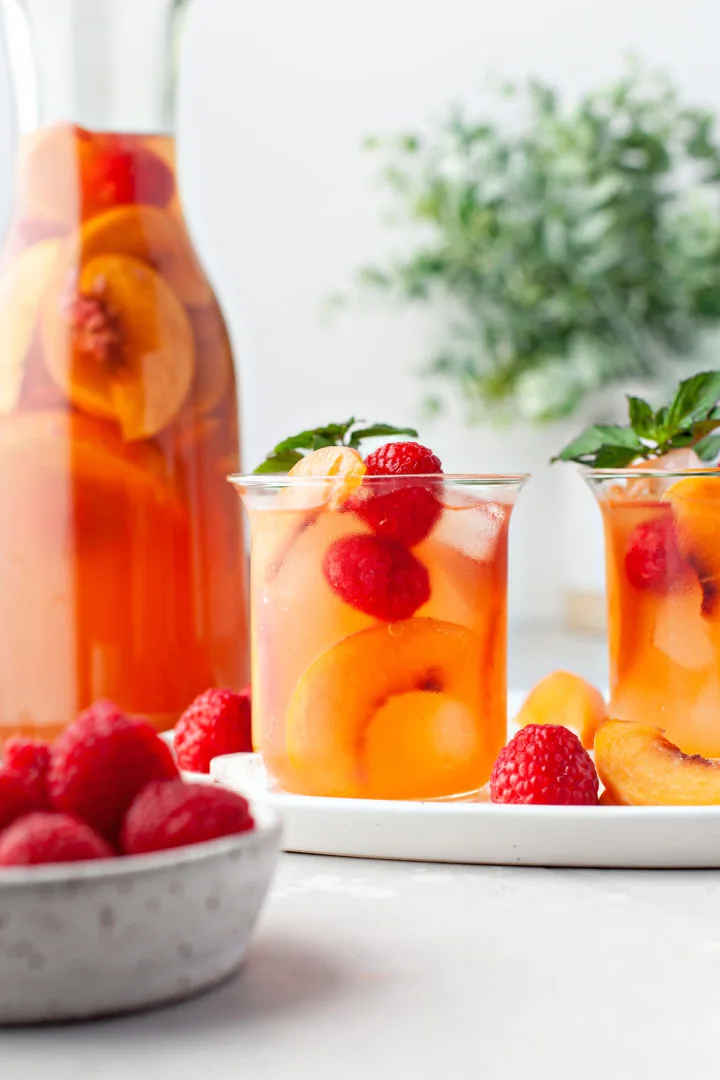 Try this Easy Peach Sangria Recipe
Next time you're looking for an easy cocktail to make with summer peaches, give this Peach Sangria a try!
Did you think it was the perfect summer drink? Leave a comment below and give it a review for others to see what you thought of this homemade sangria.
On Instagram? Share your photo and tag me with @goodlifeeats and #goodlifeeatsrecipes. I'd love to see your photo of this happy hour cocktail!
More Easy Recipes for Summer Cocktails
This Raspberry Mango Sangria combines all the cheery and colorful tastes of summer into one beautiful drink with fresh fruit; it's fresh, crisp and refreshing. You'll love how easy to prepare this summer cocktail is!
If you love fresh strawberry cocktails, you're bound to love this Strawberry Aperol Spritz! Aperol is infused with strawberries before being combined with prosecco and club soda in the classic spritz ratios.
Pineapple, cilantro, and lime juice infuse this Pineapple Margarita with refreshing summer flavors. Make a small batch or prepare in a pitcher for parties!
Strong, tart, and slightly sweet, a Mai Tai Cocktail is a classic rum cocktail that will transport you straight to the tropics!
Get New Recipes via Email
Did you love this recipe for Peach Sangria? Sign up for Good Life Eats email updates and never miss another recipe!
Have you ever made homemade sangria?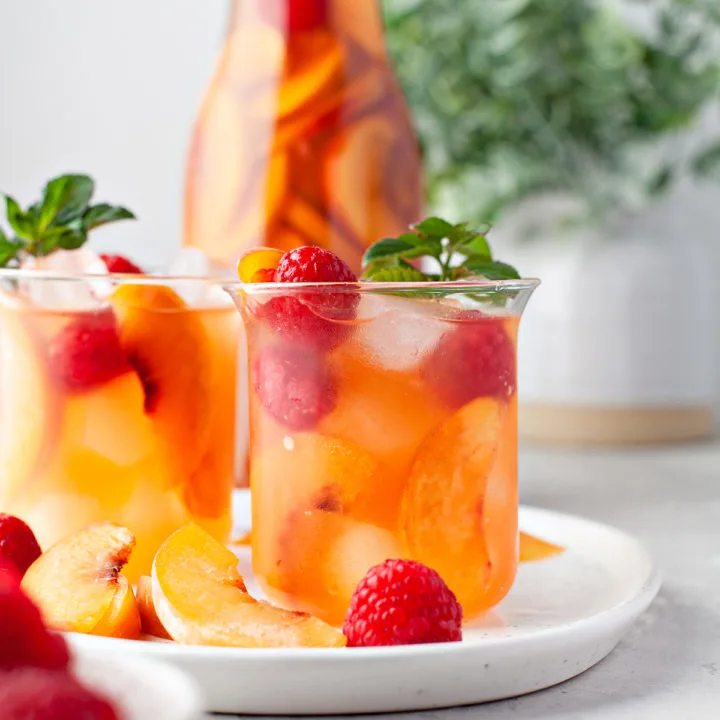 Peach Sangria
Total Time:
2 hours
10 minutes
Peach Sangria is a delicious and summer cocktail that's easy to make. The peach flavors combine perfectly with the Rosé for a delightful drink you are sure to enjoy! This peach cocktail is perfect for a gathering or simply sipping on a hot day!
Ingredients
750 ml Dry Rosé Wine
1/3 cup Peach Liqueur
1/2 cup Peach Nectar
3 Tablespoons Agave Nectar
3 Fresh Peaches
1 cup of Fresh Raspberries
Sparkling Water
Ice
Optional:
Instructions
Preparing the Peach Sangria
Pour the wine into your jar.
Next, add the peach liqueur, nectar, and agave nectar. Mix until combined.
Slice the peaches, then add the sliced peaches and the fresh raspberries to the jar with the sangria mixture. Stir gently, so you don't break the fruit.
Refrigerate the Sangria
Place in the refrigerator for at least 2 hours so the sugar dissolves and the sangria has more of a fruity taste.
Serving the Peach Sangria
Before serving, add some ice into your glasses. Pour the sangria along with some of the fruit into the glass.
Top with sparkling water and garnish with a fresh peach slice and/or fresh mint leaves once you are ready to serve.
Notes
Adjust the alcoholic content and sweetness to your preferences. (The peach liqueur you can start with ¼ of a cup, and add more if you like it a bit stronger.)
If you do not want it so sweet, start with 1 Tablespoon of Agave and continue adding to taste.
Refrigerate your rosé wine, peach nectar, fruits, and club soda at least a day before making this, so everything is nice and chilled.
Sangria gets better the longer it sits. Give the sangria time to chill in the fridge, for at least two hours before serving. You can wait even longer so the flavors meld together.
Recommended Products
As an Amazon Associate and member of other affiliate programs, I earn from qualifying purchases.
Nutrition Information
Yield

6
Serving Size

1
Amount Per Serving
Calories

213
Total Fat

0g
Saturated Fat

0g
Trans Fat

0g
Unsaturated Fat

0g
Cholesterol

0mg
Sodium

10mg
Carbohydrates

29g
Fiber

3g
Sugar

24g
Protein

2g
GoodLifeEats.com offers recipe nutritional information as a courtesy. This provided information is an estimate only. This information comes from online calculators. Although GoodLifeEats.com makes every effort to provide accurate information, these figures are only estimates.