Strong, tart, and slightly sweet, a Mai Tai Cocktail is a classic rum cocktail that will transport you straight to the tropics! In this post, I'll share how to make a mai tai completely from scratch as well as the best rum for mai tais, and so much more.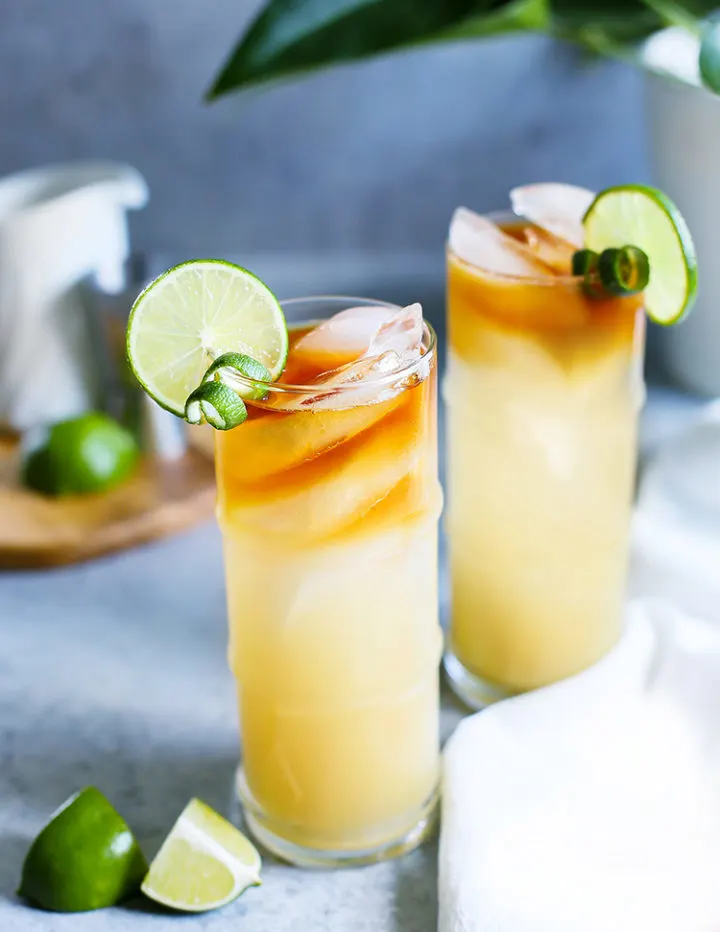 What Is a Mai Tai?
Commonly associated with the Tiki culture, the mai tai cocktail was actually created by Victor J. Bergeron (aka "Trader Vic") in his Oakland, CA restaurant and not in Tahiti as many people mistakenly believe.
The first ever mai tai was made with 17-year-old J. Wray & Nephew rum. To the rum, Bergeron added lime, orange Curaçao, French orgeat, and simple syrup. He shook up the ingredients with shaved ice and garnished the cocktail with fresh mint and a lime wedge.
Bergeron had friends visiting from Tahiti at the time. When they tasted his cocktail creation, they're said to have exclaimed, "Maita'i roa a'e!" Roughly translated, that means "the best!"
From then on, the rum cocktail was known as a Mai Tai.
Evolution of the Mai Tai Cocktail
However, the mai tai has undergone a few changes since its creation.
Bergeron was asked to create cocktail menus for the Royal Hawaiian and Moana Surfrider Hotels in Hawaii. He added additional fruit juices to make the cocktail sweeter, and thus more attractive to tourists.
Over the years, various rums and mixers have had supply issues and that's also affected the exact ingredients in mai tais.
Regardless, the mai tai cocktail has been a wildly popular Tiki drink since Bergeron brought it to Hawaii. Movies like Elvis Presley's "Blue Hawaii" have also helped popularize the cocktail!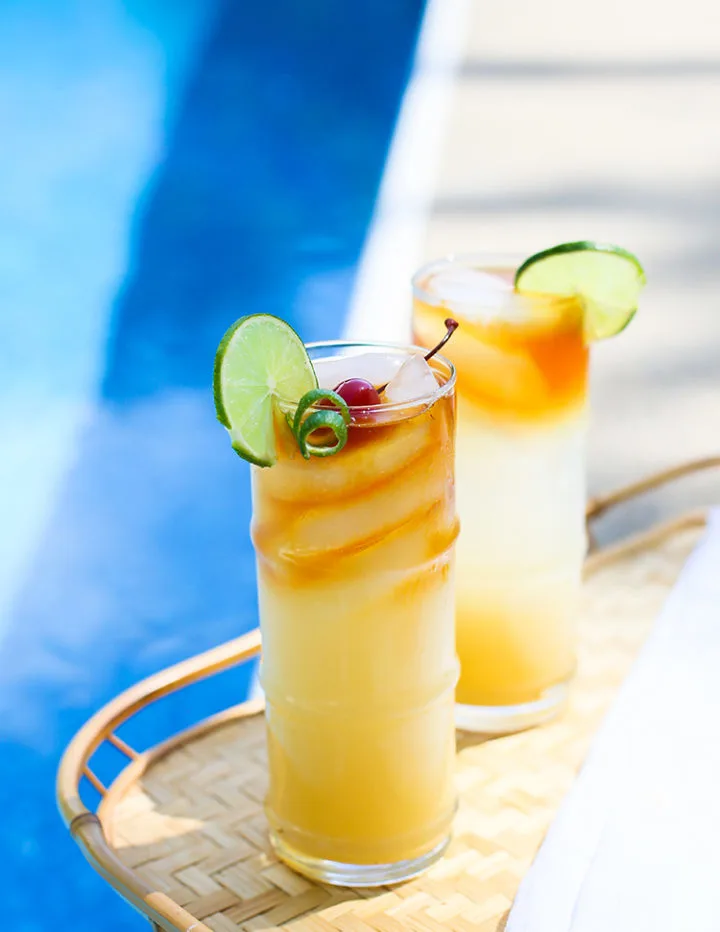 What Does a Mai Tai Taste Like?
The mai tai drink is tart and strong in flavor. Although it's made with a sweet and sour mix these days, it's by no means a sweet cocktail.
The rum flavor is prominent in a mai tai, so it's important to use one that's good quality.
In short, it's a cocktail with a distinct rum flavor and just a hint of lime.
What Does "Mai Tai" Mean?
In Tahitian, "mai tai" means "the best." This is what Bergeron's Tahitian friends said after they tasted the cocktail for the first time.
What Makes This Mai Tai Recipe Unique
The mai tai cocktail recipe I'm sharing in this post isn't the classic mai tai drink. My recipe contains pineapple juice (the original didn't have any pineapple in it).
Although this isn't the original recipe, I think it's the best mai tai recipe! It's a recreation of the mai tais my husband and I sipped at the Hale Koa Hotel in Hawaii. The Hale Koa is famous for their mai tais, so it seemed fitting to base my version on the ones I enjoyed on my honeymoon.
After watching the bartender prepare many of these, we got a sense for what was in their recipe and have been experimenting with it at home ever since, and I feel confident that we've finally nailed our version of this recipe down.
Despite this being the "Tiki version" of the mai tai cocktail, I'm positive you're going to love it as much — if not more — than the original!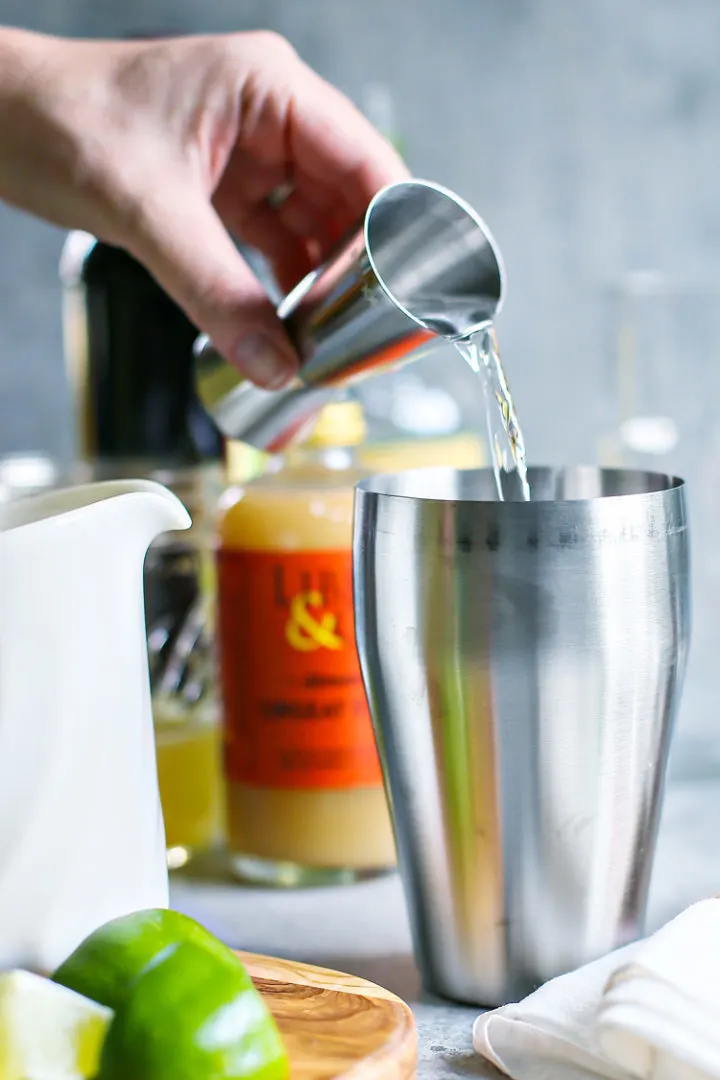 This post may include affiliate links. As an Amazon Associate and member of other affiliate programs, I earn a small commission from qualifying purchases.
Tools Needed to Make a Mai Tai Cocktail
This is an easy mai tai recipe, but you do need a few cocktail accessories to make it. Here are the tools needed to make this tropical rum cocktail:
Shaker — This recipe makes one mai tai. It's easiest to measure the ingredients directly into the shaker.
Strainer for shaker — Most cocktail shaker sets come with a strainer included, but if you don't have one you absolutely need it for this recipe.
Jigger — Makes measuring out the mai tai ingredients quick and easy.
Cocktail glasses — Traditionally highball glasses are used, but we love using these fun tiki glasses. Use any glass you have on hand!
Bowl — The sweet and sour mix is prepared in a separate bowl and leftovers can be refrigerated for future cocktails.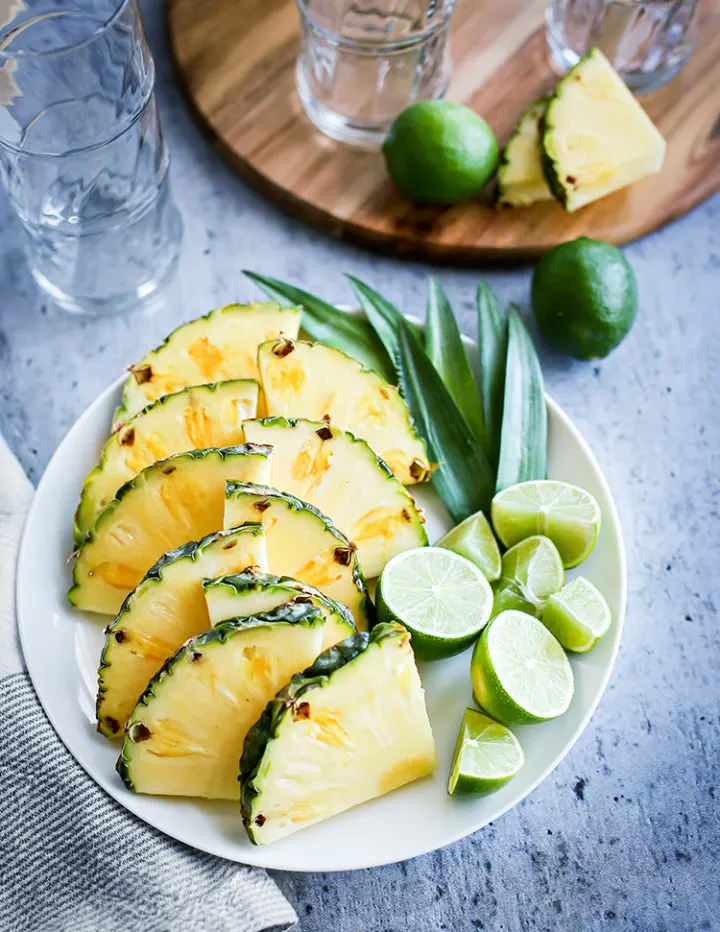 Mai Tai Ingredients
I go into much more detail about the ingredients needed to make this easy mai tai recipe in the sections below. This is just an overview of the ingredients needed to make a Hawaiian mai tai cocktail.
Here's what's in a mai tai drink:
White Rum
Orange Curaçao
Sweet and Sour Mix
Pineapple Juice
Orgeat
Dark Rum
And here's what you'll need to make the homemade sweet and sour mix:
Lemon Juice
Water
Granulated Sugar
For the complete ingredient list and detailed instructions, scroll to the bottom of this post for the FREE printable recipe card.
What's the Best Type of Rum for a Mai Tai?
This is incredibly subjective, but as a general rule of thumb you'll want to look for a rum that's not spiced. I prefer using a blend of white and dark rums to make mai tais. The combination of rums creates a more complex flavor!
Best dark rum for mai tais: Try Appleton Estate 8 Reserve Rum. Look for a dark rum with caramel and vanilla notes.
Best light rum for mai tais: A classic brand like Bacardi is a good choice.
What is Orange Curaçao?
Historically made on the island of Curaçao, orange Curaçao is a type of brandy that's been flavored with the peel of Curaçao oranges. The flesh of these oranges is incredibly bitter, but locals realized that the fragrant peel is excellent for flavoring drinks.
Unlike Champagne — which must be produced in the Champagne region of France to be labeled as Champagne rather than sparkling wine — orange Curaçao doesn't actually have to be produced on the island of Curaçao to be labeled as such.
So, it's important to do your research and buy a good quality Curaçao! A brand like Pierre Ferrand is a good option. Just avoid the neon blue Curaçaos sold in stores!
Some substitutes for Curaçao you can use include: Grand Marnier or Triple Sec.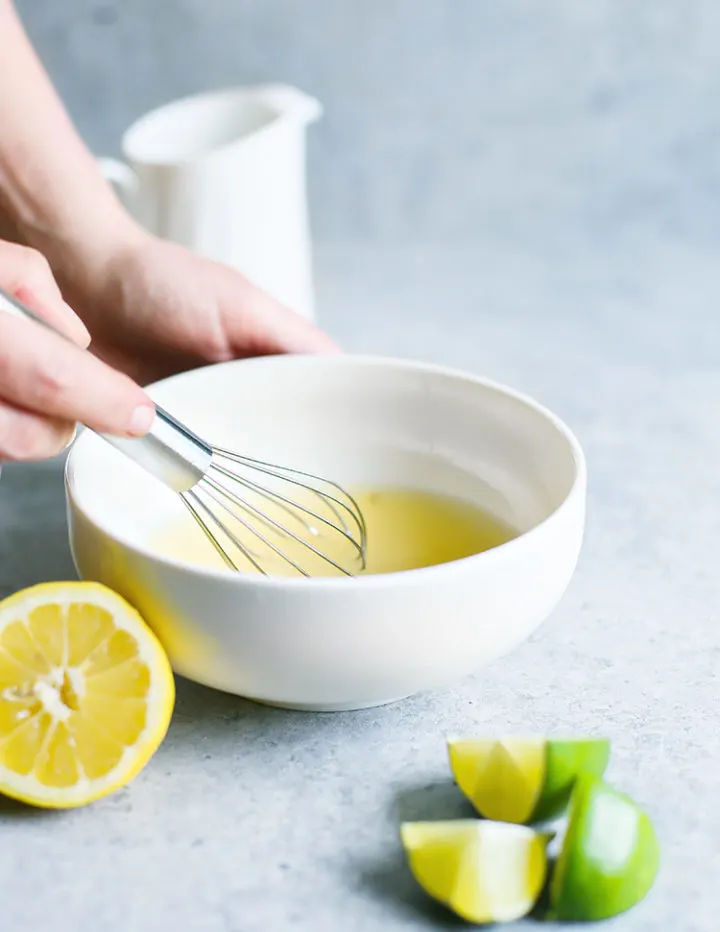 What Is Sweet and Sour Mix?
One of the mai tai ingredients in the Hale Koa signature mai tai is homemade sweet and sour mix.
Sweet and sour mix is a non-alcoholic mixer made with equal parts lemon and lime juice, plus simple syrup (sugar and water). Homemade sweet and sour mix lasts up to three weeks in the fridge, so you can make a big batch of it now to enjoy in future cocktails!
What Is Orgeat Syrup?
Pronounced "or-zhat," orgeat syrup is a non-alcoholic sweetener that's commonly made with almonds, sugar, and orange flower water. You'll see orgeat syrup frequently used in Tiki cocktail recipes like this one!
Because of the high almond content, orgeat syrup is a bit milky in texture. It can be purchased at liquor stores, some grocery stores, and Amazon.
Look for orgeat syrup that's made with real ingredients — i.e. doesn't contain artificial flavors or colors.
Some substitutes for orgeat syrup you can use include: almond syrup, plain simple syrup, or amaretto.

How to Make a Mai Tai Cocktail
This may be a simple mai tai recipe, but it packs in lots of tropical flavor! Here are the basic steps to making a mai tai cocktail at home:
Prepare the sweet and sour mix: First, combine the lemon juice, lime juice, water, and sugar. Then, mix well and make sure the sugar has completely dissolved.
Make the mai tai: Add white rum, orange Curaçao, sweet and sour mix, pineapple juice, and orgeat to a shaker.
Next, add ice and shake until well mixed.
Then, strain the mixture into a glass with fresh ice cubes.
After that, float 1 ounce dark rum on top (don't mix it in!).
Lastly, garnish with pineapple, cherries, or limes.
The above is simply a quick summary of this recipe. Check out the full recipe in the free printable recipe card at the bottom of this post for all the detailed instructions.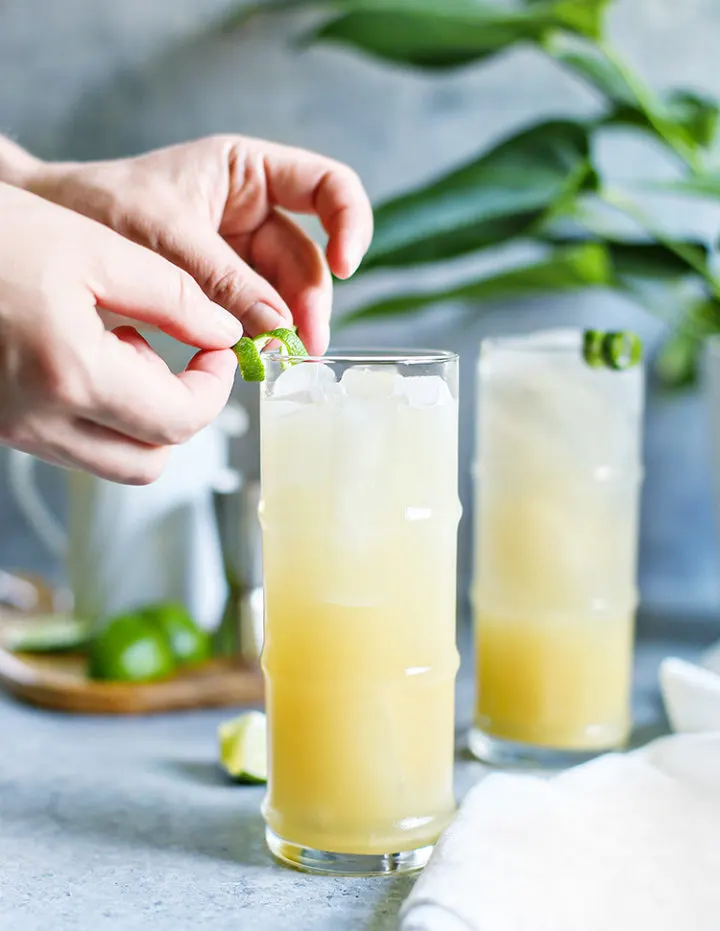 Mai Tai Garnish Ideas
You can garnish your homemade mai tais however you'd like! Here are my favorite mai tai garnishes:
Popular garnishes: orchid flower, pineapple wedge, maraschino cherry, umbrella
Traditional garnishes: lime slice or wedge and fresh mint leaves
What Kind of Glass Is a Mai Tai Served In?
Highball glasses are the traditional choice, but we use these cute Tiki glasses for serving mai tais. Use what you have on hand!
Are Mai Tai Cocktails Served Over Ice?
Yes! I serve my mai tais over ice cubes, but crushed ice will make the drink taste almost like it was blended.
Tips for Making the Best Hawaiian Mai Tai
Use 100% pure pineapple juice. Fresh pressed is best if you can find it, or you can juice it yourself using a juicer. The Hale Koa Hotel juices their own pineapple juice!
Make homemade sweet and sour mix. It takes all of 5 minutes to prepare and is so much more flavorful than store-bought!
Don't skimp on the rum. It's the star ingredient, so buy a good bottle and enjoy.
Shake a Mai Tai. Do NOT blend it!
Float the dark rum. The dark rum float isn't part of the original recipe, but it's how we prefer our mai tais.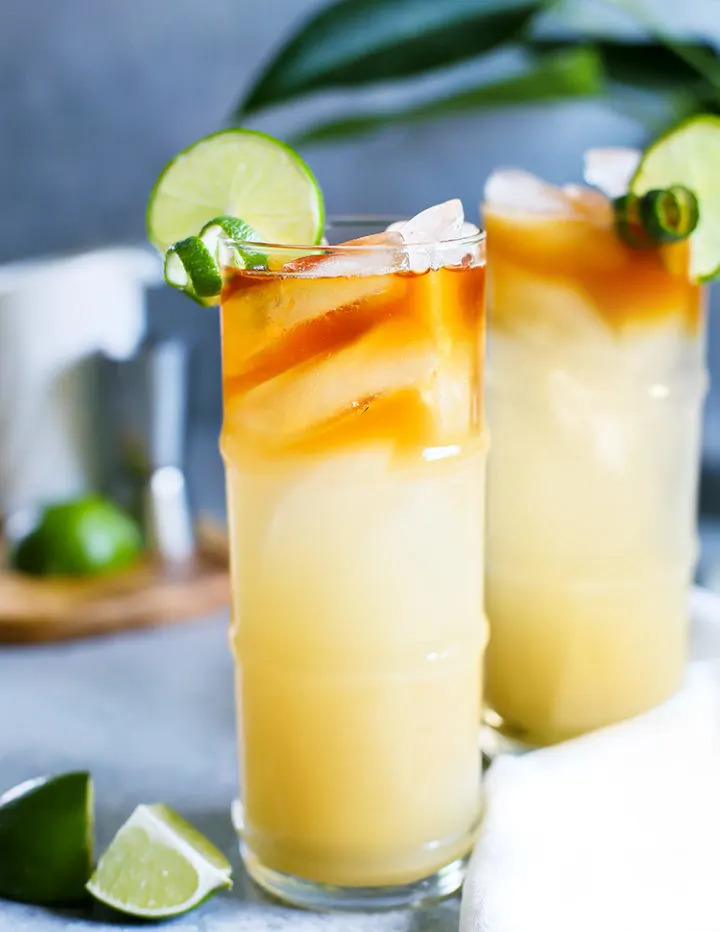 How to Make a Mai Tai Pitcher Cocktail
You can easily use this recipe for mai tais to make a pitcher cocktail rather than individual glasses.
To make a pitcher mai tai, measure the ingredients in parts rather than in shots. The easiest way to do this would be to use measuring cups. So, ½ oz would become ½ cup and so on.
Note that you'll have to mix the rum into the pitcher cocktail rather than floating it.
How to Make Mai Tai Mocktails
I have not tried making non-alcoholic mai tais, but there are many alcohol-free spirits on the market that you could use. A few options are:
Safety tip: Depending on the brand you use, some alcohol-removed spirits may still contain trace amounts of alcohol. Check the label before using!
What to Serve with a Mai Tai Cocktail
Here are some fun ideas that would taste great paired with this homemade mai tai cocktail recipe:
For a super tropical main dish to serve alongside these delicious Mai Tais, try this recipe for Pineapple Salsa Chicken. Chicken is flavored with a simple Caribbean chicken marinade, then grilled to perfection before being topped with pineapple salsa.
You can never go wrong with a burger in the summer. These Teriyaki Turkey Burgers are served on a tender brioche bun with the homemade Teriyaki BBQ Sauce, some greens, a grilled pineapple slice and onions.
This Cumin-Lime Pork and Pineapple Quesasdilla recipe is a delicious, light summer grilling recipe!
For a tropical appetizer to serve with this Mai Tai recipe, try these Grilled Pineapple Lettuce Cups or Strawberry Mango Salsa.
A Mai Tai would be super refreshing along side these spicy Mango Habanero Pork Ribs.
Don't see what you're looking for here? You can always head over to check out the recipe index to look for more recipes.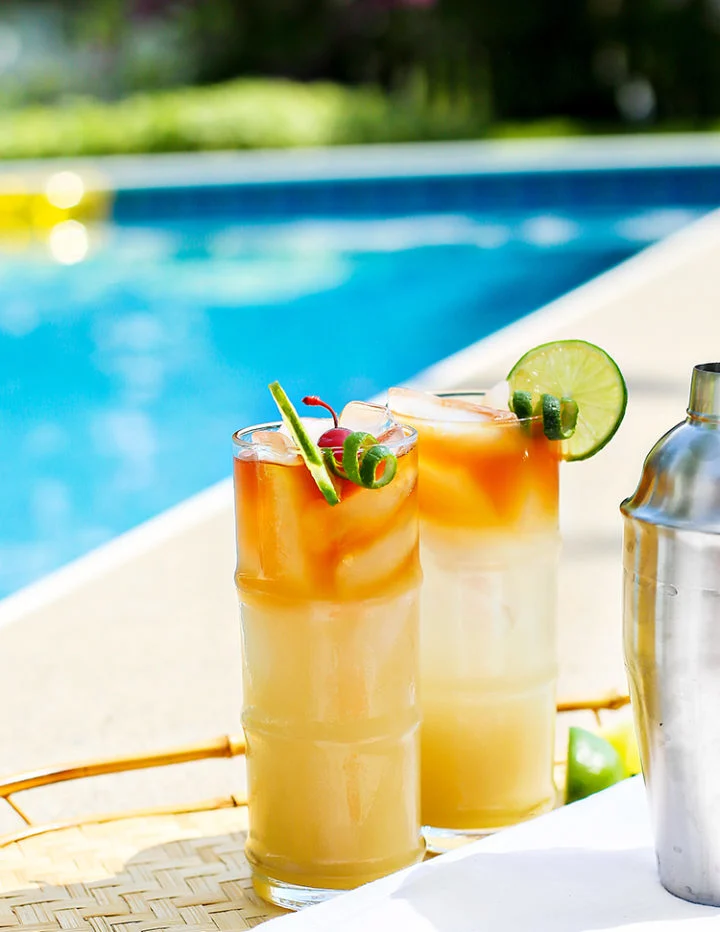 Try This Recipe for a Mai Tai Cocktail!
Next time you're looking for a tropical summertime cocktail, give this simple mai tai recipe a try!
Did you think it was the perfect drink? Leave a comment below and give it a review for others to see what you thought of this great mai tai recipe.
On Instagram? Share your photo and tag me with @goodlifeeats and #goodlifeeatsrecipes. I'd love to see your photo of this mai tai cocktail!
More Easy Summer Drinks:
A classic Moscow Mule gets a fruity twist with this recipe for Fresh Pineapple Mint Moscow Mules!
Pineapple, cilantro, and lime juice infuse this Pineapple Margarita with refreshing summer flavors. Make a small batch or prepare in a pitcher for parties!
This Raspberry Mango Sangria combines all the cheery and colorful tastes of summer into one beautiful drink with fresh fruit; it's fresh, crisp and refreshing.
Homemade Watermelon Mint Lemonade is a fun take on the traditional homemade lemonade recipe — and it couldn't be more summery with its gorgeous bright pink color!
This Sparkling Tea recipe is made with hibiscus tea, seltzer, and fresh raspberries. So simple, but so refreshing!

Strawberry Agua Fresca tastes great on a hot summer day! Refreshing Mexican Strawberry Water is fresh and fruity; the perfect drink recipe for Cinco de Mayo.
Get More Recipes via Email
Did you love this recipe? Sign up to receive Good Life Eats Email Updates and never miss another recipe!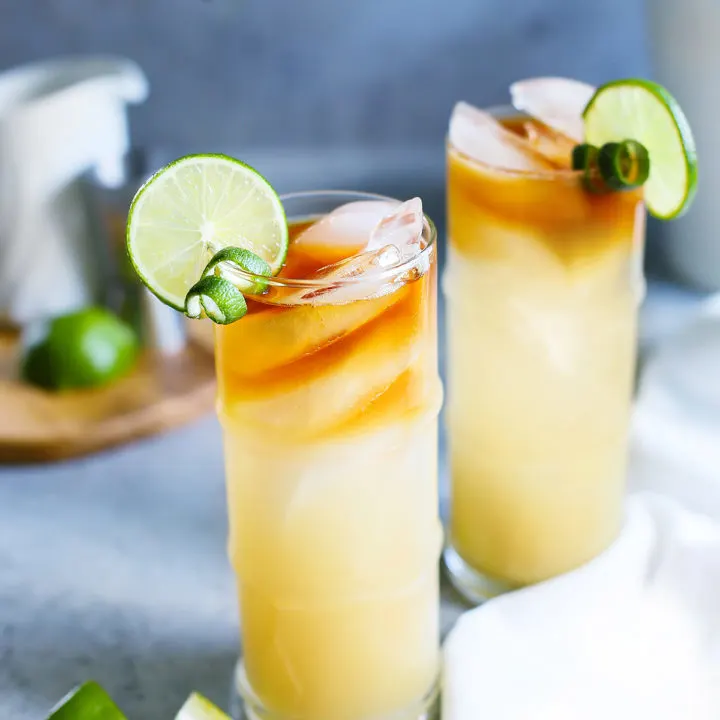 Mai Tai Cocktail
Strong, tart, and slightly sweet, a Mai Tai Cocktail is a classic rum cocktail that will transport you straight to the tropics! In this post, I'll share how to make a mai tai completely from scratch as well as the best rum for mai tais, and so much more.
Ingredients
1 oz White Rum
1/2 oz Orange Curacao
2 oz Sweet and Sour Mix
2 oz Pineapple Juice
1/4 oz Orgeat
1 ounce Dark Rum
Sweet and Sour Mix
1/4 cup fresh Lemon Juice
1/4 cup Fresh Lime Juice
1/4 cup Water
1/4 cup Granulated Sugar
Instructions
Sweet and Sour mix for the Mai Tai:
Combine the lemon juice, lime juice, water, and sugar.
Mix well and make sure the sugar has completely dissolved.
Making a Mai Tai:
Add the white rum, orange curacao, sweet and sour mix, pineapple juice, and orgeat to a cocktail shaker.
Add ice and shake vigorously until all of the ingredients are well mixed.
Strain the mixture into a glass filled with fresh ice cubes.
Float 1 ounce of dark rum on top of the cocktail (don't mix in).
Garnish the mai tai with pineapple and cherry, or one of the garnish ideas in the post.
Notes
Store leftover sweet and sour mix in the fridge for up to 3 weeks.
Recommended Products
As an Amazon Associate and member of other affiliate programs, I earn from qualifying purchases.
Nutrition Information
Yield

1
Serving Size

1
Amount Per Serving
Calories

460
Total Fat

0g
Saturated Fat

0g
Trans Fat

0g
Unsaturated Fat

0g
Cholesterol

0mg
Sodium

10mg
Carbohydrates

87g
Fiber

1g
Sugar

77g
Protein

1g
GoodLifeEats.com offers recipe nutritional information as a courtesy. This provided information is an estimate only. This information comes from online calculators. Although GoodLifeEats.com makes every effort to provide accurate information, these figures are only estimates.
Photography: photos taken in this post are by Rachael from Set the Table.