Pineapple Limeade Cooler Recipe
You might have noticed that this Pineapple Limeade Cooler Recipe made an appearance in a couple of photos recently. First the Fajita Burger with Peppers and Guacamole and then they appeared again in the Sweet Potato and Black Bean Taco Recipe.
It started out as just a prop when I made the burgers, but Eric walked downstairs while I was photographing and commented: "Look at those pretty drinks." I told him that he could have one of the since I was done photographing.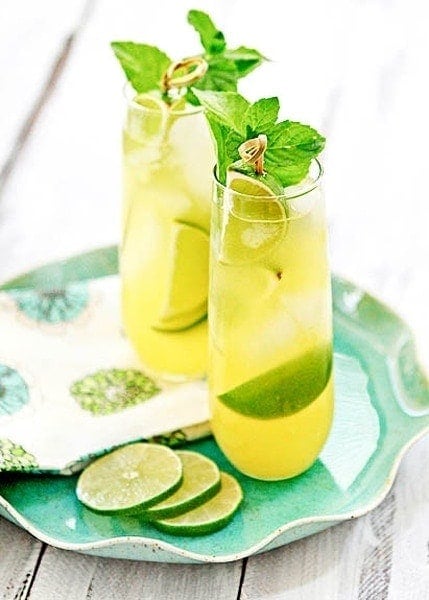 It turns out that this Pineapple Limeade Cooler was more than just pretty prop for the photo. We decided to give this simple drink recipe another go on purpose. They're so refreshing on a hot day and tasted great with the Sweet Potato and Black Bean Tacos the other day.
You can use a fresh Limeade recipe or your favorite store-bought limeade in this Pineapple Limeade Cooler, whichever you like best. I like to make homemade limeade, but if I'm busy or I have some on hand I also like Simply Limeade. The little individual six ounce size cans of pineapple juice are perfect for these drinks. Store them in the fridge so they're nice and chilly.
More Refreshing Summer Drinks
What are your favorite summer drinks?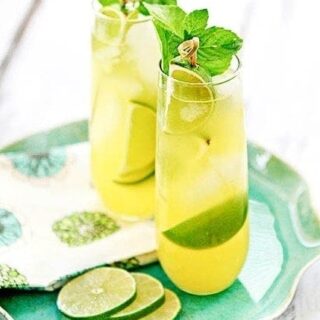 Ingredients:
1 part pineapple juice
2 parts limeade (recipe: Fresh Limeade)
1/2 part Club Soda or Sierra Mist
Ice
Lime Wedges
Mint Leaves
Directions:
In a glass or pitcher with ice, pour the pineapple juice, limeade, and club soda or Sierra Mist. Add a few slices of lime and some mint leaves. Drink immediately and enjoy!