Switch up your traditional fajita recipe for a meatless version using nutrient-rich portabella mushrooms.
Your Taco Tuesday or Cinco de Mayo celebration won't be missing out when it comes to these Vegetarian Fajitas because they come packed with flavor!
It's been our tradition for a while now to eat a vegetarian meal at least once a week.
I've been wanting to test out a vegetarian fajitas recipe for a while and finally got around to it.
Fatjitas are so fast to whip up, but they're even faster in this vegetarian version of a classic Mexican favorite.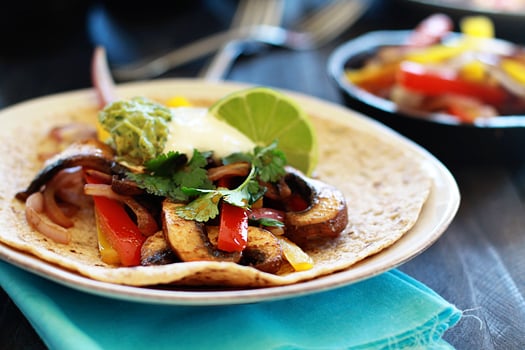 Eating vegetarian once in a while helps me increase my vegetable intake.
It's pretty simple to dream up vegetarian version of some of my favorite recipes, such as here with these tasty Vegetarian Fajitas, using a few of these simple guidelines.
How to Vegetarian-ize a Main Dish
"Almost" Vegetarian
Many recipes, such as these fajitas, are so close to vegetarian already.
You might simply need to make only one change, such as substituting a vegetable based broth for a meat broth.
Another easy fix is omitting a bacon garnish.
Try Tofu, Eggs, or Cheese in Lieu of Meats
These simple meat substitutes can add protein back into a meal that you've taken meat out of.
Try marinated tofu strips in stir-fry instead of chicken for a simple change.
Add Extra Vegetables
If you're taking out meat, you'll need to add something else back in.
Many times my solution is to add extra vegetables if I feel the recipe already has plenty of protein.
Don't Forget Flavor
Meat can often add a lot of flavor to a dish.
For instance, I often brown or sear meats for soups and then de-glaze those leftover browned bits into the pan.
Removing that will change the taste of the dish.
You can easily counter act this with additional spices, aromatics, herbs, roasted garlic or finishing oils (such as truffle oil).
Bulk Up
You can easily add bulk back into a recipe by using protein-rich quinoa, lentils, or legumes that will keep you feeling full in place of the meat.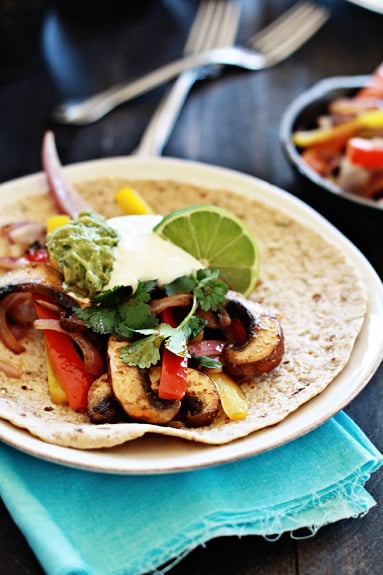 I know that eating lighter meals, like these Vegetarian Fajitas, regularly allows me the opportunity to indulge in dessert once in a while.
But more importantly, I'm setting the example that vegetables taste good.
Or really, more than just good.
Most small children are not big fans of vegetables.
Though I continue to offer vegetables to my children at meal time and place them on their plates, I figure that the best example I can really give is to eat a wide variety of vegetables myself.
Logan is literally a "vegetarian" in that he currently refuses eat meat, but that doesn't mean he loves his vegetables yet.
In this Vegetarian Fajita Recipe I substituted mushrooms for the chicken or beef in this recipe.
You could use regular white button mushrooms, but I picked out some smaller portabellas for a hearty taste.
I hope you'll give these Vegetarian Fajitas a try next time you're craving Mexican food!
What is your favorite vegetarian main dish to cook?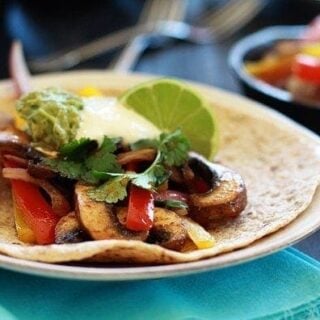 Vegetarian Fajitas with Portabella Mushroom
Switch up your traditional fajita recipe for a meatless version using nutrient-rich portabella mushrooms. Your Taco Tuesday or Cinco de Mayo celebration won't be missing out when it comes to these Vegetarian Fajitas.
Ingredients
For the Fajita Filling:
8 ounces small portabella mushrooms
1 yellow red bell pepper
1 red bell pepper
1 large purple onion
8 small taco sized flour tortillas, warmed
For the Portabella Marinade:
1 tablespoon water
1 tablespoon red wine vinegar
1 lime, juiced
3 tablespoons olive oil
2 cloves garlic, minced
1/2 teaspoon cumin
1/2 - 3/4 teaspoon chili powder
1/4 teaspoon salt
1/4 teaspoon pepper
1/4 teaspoon paprika
For the Garnishes:
Restaurant Style Salsa
homemade guacamole
shredded cheddar, Monterrey jack or pepper jack cheese
fresh cilantro leaves
sour cream
Instructions
Remove the stems off the mushrooms, reserving for a later use.
Slice the mushrooms in 1/3 to 1/4 inch thick slices.
Combine the ingredients for the marinade and whisk until well mixed.
Add the portabella mushroom slices, tossing to coat, and let marinade for 20-30 minutes.
Meanwhile, slice the peppers and onions into strips half inch strips, discarding the seeds, stem and ribbing from the peppers and the skins from the onion.
Heat a large saute or cast iron pan over medium-high heat. Add 1 1/2 teaspoons olive oil to the pan.
Add the onions and peppers, cooking until the onions are slightly translucent - about five minutes. Stir frequently.
Then, add the mushrooms and half of the marinade.
Cook until the marinade is absorbed and the mushrooms are tender, about 3-5 minutes.
Fill warmed tortillas with vegetable mixture, cheese, sour cream cilantro, salsa, and guacamole.
Recommended Products
As an Amazon Associate and member of other affiliate programs, I earn from qualifying purchases.
Nutrition Information
Yield

4
Serving Size

2 Fajitas
Amount Per Serving
Calories

504
Trans Fat

1g
Fiber

9g