Kale, purple cabbage, carrot, and red bell pepper are tossed with a jalapeño lime vinaigrette for a healthy Mexican inspired Cilantro Lime Kale Slaw.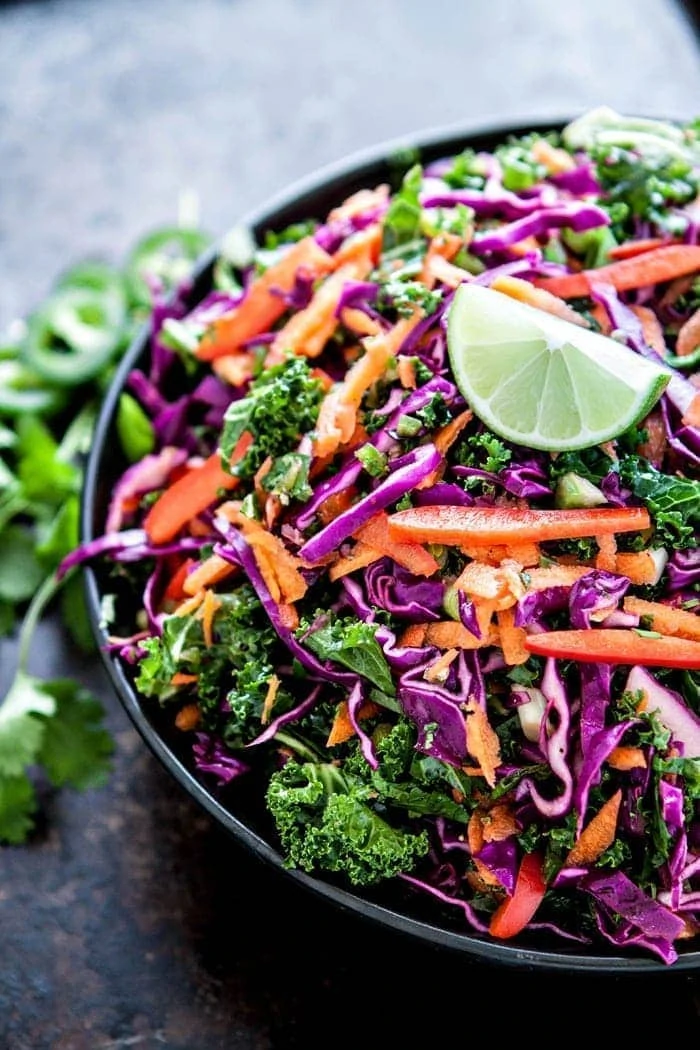 Click HERE to save this recipe for Cilantro Lime Kale Slaw!
Creating This Kale Slaw
I always think that it would be fun to have a Cinco de Mayo dinner party or potluck. Even something casual, just an excuse to make a big taco bar with friends and neighbors. I could show everyone my mad taco skills with these 7 Ways to Up Your Taco Tuesday Game.
And for a second last week, I started to say to Kevin "…maybe we should…Cinco de Mayo…oh wait, you'll be out of town…"
There's always next year!
But just in case anyone out there is in fact having a super fun Cinco de Mayo party with all the tacos and guacamole and yummy Mexican drinks, I thought I'd share this recipe for Cilantro Lime Kale Slaw.
I actually made this a few months ago for dinner. We were having tacos, as we are prone to doing once a month or so. Because tacos for dinner, especially when I make this really yummy Crock Pot Mexican Chicken, are basically one of the easiest dinners in existence and all 4 kids end up happy.
And I'm happy because I didn't spend the entire period between after school and dinner cooking and making a mess of the kitchen.
So, I made some chicken. But I didn't feel like having the usual shredded lettuce, cheese, and tomatoes for toppings.
We had kale, as we often do thanks to our weekly Kale Chips snack, so I decided to make some Cilantro Lime Kale Slaw instead. I was a little skeptical with how the kids would react. They eat kale all the time, but not in tacos.
Surprisingly they ate it. They didn't all put the Cilantro Lime Kale Slaw in their tacos.
At least one of them loaded up their tortillas with shredded chicken and their favorite 5 Minute Guacamole and opted to have the cilantro lime slaw on the side like a salad instead.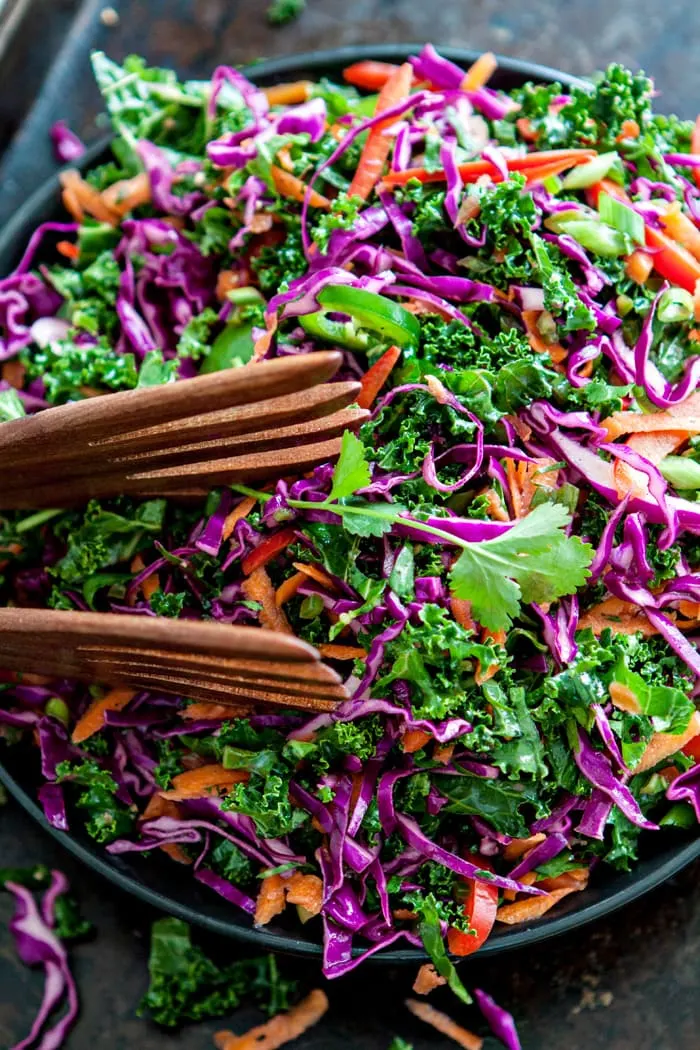 Click HERE to save this recipe for Cilantro Lime Kale Slaw!
Madeline used a crispy corn tortilla, slathered it with guac, topped it with chicken and kale slaw, opting for a tostada instead. For the most part, though, I don't really care how they choose to assemble their plate.
Especially when it comes to something like a taco. Isn't that the fun of tacos anyway? Everyone can put what they want on it and make it their own.
There was a time where I wasn't sure how my new step-kids would deal with having to eat different foods all the time, and at the same time one or both of my own kids often wouldn't want to eat what I made.
Somehow in the six of us coming together, eating and dinner time became something pretty drama-free aside from slow eaters and the table manners you would probably expect from 4 kids between the ages of 13 and 9.
But, they eat vegetables, and different types. Whether it is in or out of a tortilla doesn't really matter. They put up with the way my job interacts with what their having for dinner, and I think they do a really good job at it.
We probably won't be having anything special for Cinco de Mayo this Friday, but maybe the kids and I will be have some tacos with this Cilantro Lime Kale Slaw.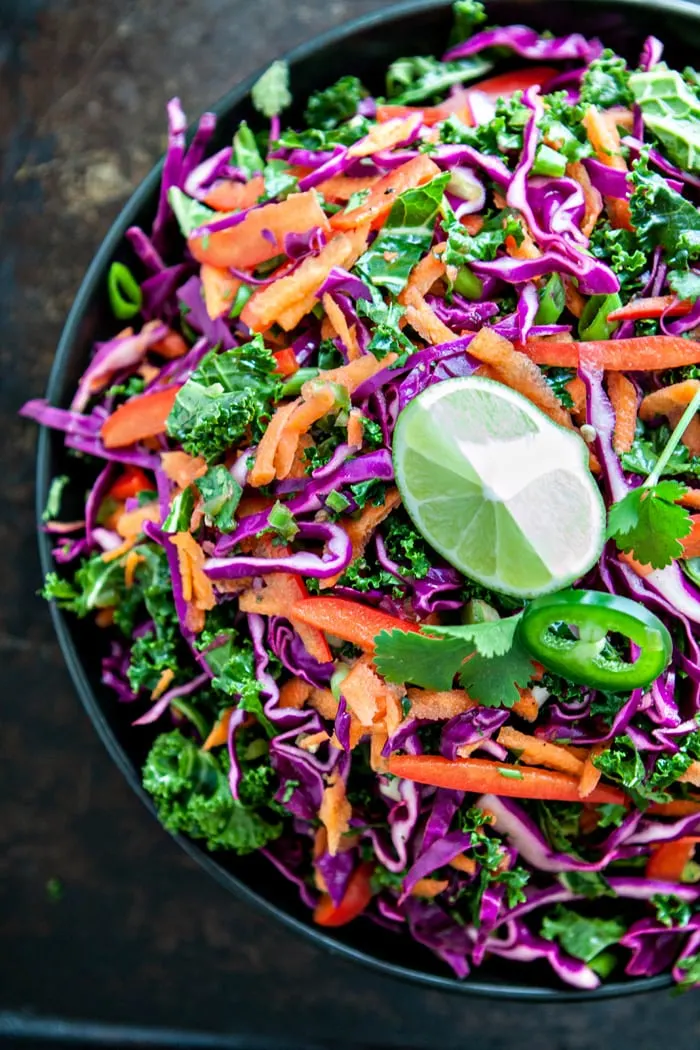 Click HERE to save this recipe for Cilantro Lime Kale Slaw!
Kale Slaw Ingredients
To make this cilantro lime slaw, you'll need:
Lime juice
Olive oil
Fresh cilantro
Veggies (kale, chopped carrots, purple cabbage, jalapeño, etc.)
Ground cumin
Sugar
Salt and pepper
How to Make Kale Slaw
To make this kale slaw, simply whisk together the cilantro lime dressing and drizzle over the chopped vegetables. Toss to combine, then let the slaw chill for a good 15 to 20 minutes before serving.
If you like a milder slaw, remove the seeds from the jalapeño pepper before adding it to the mix.
Can I Make This in Advance?
Definitely! You can probably make this the morning you wish to serve it. Because this slaw recipe uses such hearty veggies, they shouldn't become too soggy in the fridge.
If you want to prep this kale slaw a day or more ahead of time, I recommend chopping all the veggies and storing the slaw dressing separately. When you're ready to serve, just toss everything together.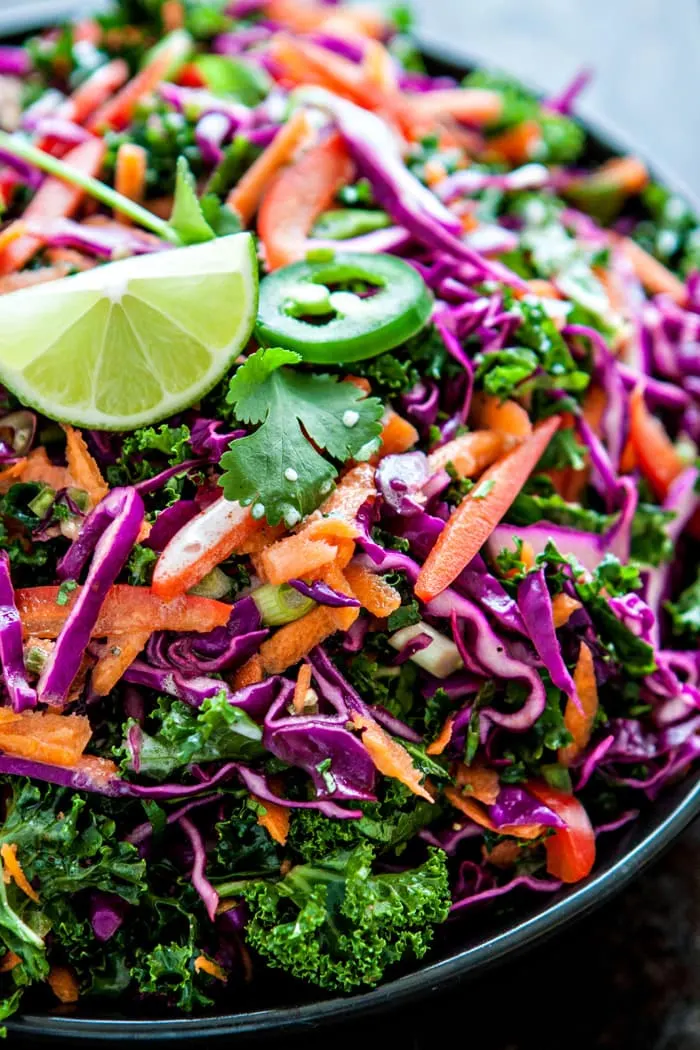 Click HERE to save this recipe for Cilantro Lime Kale Slaw!
More Mexican Recipes:
This kale slaw would taste phenomenal atop these Lemon Pepper Tacos!
And don't even get me started on how good these Sweet Potato and Black Bean Tacos are.
For a heartier meal, pair this cilantro lime slaw with these Chicken and Spinach Enchiladas. They're topped with tomatillo sauce and sour cream — so good!
I bet you could even serve this cilantro lime slaw as a side salad to this Chicken Enchilada Chili. Who knew kale slaw could be so versatile?
What's your favorite way to eat slaw?
Love this recipe for Cilantro Lime Kale Slaw? Sign up for Good Life Eats email updates and never miss another recipe!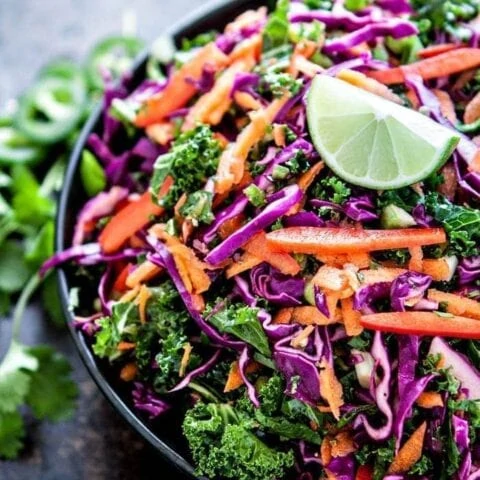 Cilantro Lime Kale Slaw
Kale, purple cabbage, carrot, and red bell pepper are tossed with a jalapeño lime vinaigrette for a healthy Mexican inspired Cilantro Lime Kale Slaw.
Ingredients
1 1/2 tablespoons Fresh Squeezed Lime Juice
1 1/2 tablespoons Olive Oil
pinch of Sugar
pinch of Ground Cumin
1/4 teaspoon Fine Sea Salt
1 tablespoon finely minced Cilantro Leaves
2.5 ounces Kale Leaves, chopped
8 ounces Shredded Purple Cabbage
1 small Red Bell Pepper, sliced thin
2 Carrots, shredded
4 Green Onions, sliced
2 tablespoons Chopped Cilantro
1 Jalapeño, finely minced
Pepper, to taste
Instructions
In a small bowl, or glass measuring cup, combine the lime juice, olive oil, sugar, ground cumin, sea salt and 1 tablespoon finely minced cilantro leaves.
Whisk and set aside.
In a large bowl, combine the kale, purple cabbage, red bell pepper, carrots, green onion, 2 tablespoons chopped cilantro, and jalapeño.
Mix until all of the ingredients are evenly distributed.
Re-wisk the dressing, then pour over the vegetables and stir to coat evenly.
Taste for seasoning and season, to taste, with pepper.
Cover bowl with plastic wrap.
Transfer to the refrigerator and let chill for 15 - 20 minutes.
Serve.
Notes
For milder heat, remove the jalapeño seeds and discard prior to mincing the jalapeño.
Try this Cilantro Lime Kale Slaw in place of your standard shredded lettuce next time you make tacos or tostadas.
Recommended Products
As an Amazon Associate and member of other affiliate programs, I earn from qualifying purchases.
Nutrition Information
Yield

6
Serving Size

1
Amount Per Serving
Calories

59
Total Fat

4g
Saturated Fat

1g
Trans Fat

0g
Unsaturated Fat

3g
Cholesterol

0mg
Sodium

105mg
Carbohydrates

7g
Fiber

2g
Sugar

3g
Protein

1g
Tag @goodlifeeats and include the hashtag #goodlifeeatsrecipes so I can see what you're cooking up in YOUR kitchen!
Click HERE to save this recipe for Cilantro Lime Kale Slaw!