This trip to Oahu was in partnership with the Oahu Visitors Bureau and their partners.
About 2 months ago, Kevin and I found ourselves planning a last minute trip to the island of Oahu. Say what?! Travel like this isn't something that usually sneaks up on you as a surprise.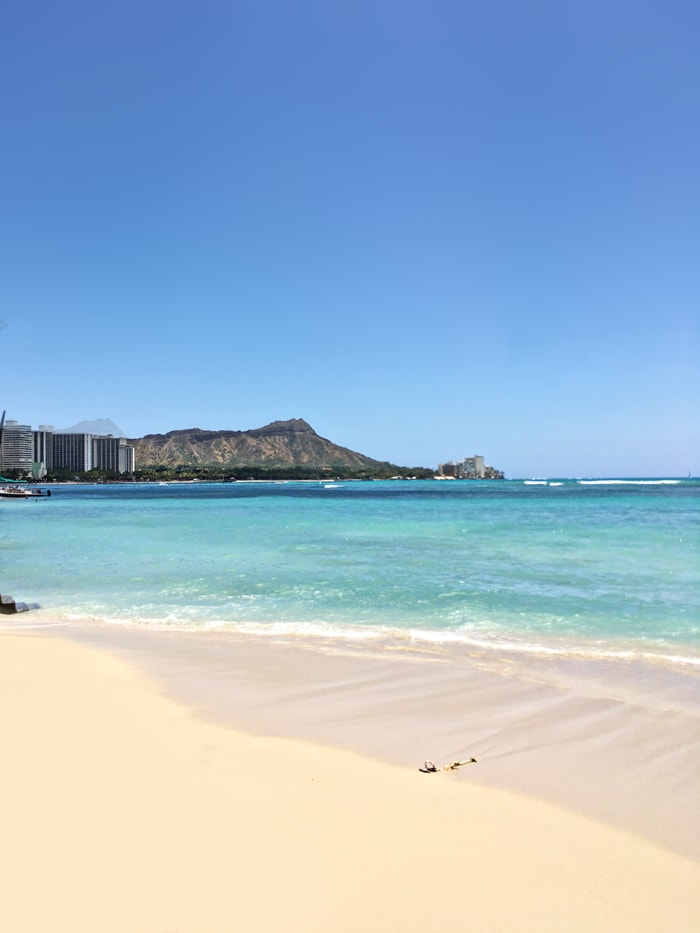 Kevin travels quite a bit as a part of his Army job. Though, his trips are mostly to places that don't interest me enough to tag along.
For several months earlier this year there was some talk of a trip to Honolulu followed by a trip to Japan. I'd only be able to join him for the Honolulu portion, but we figured even if it was just a few days it would be a chance for us to get away together and for me to have fun and new topics to write about for the travel section here.
Then, the trip was cancelled. Luckily we hadn't purchased a plane ticket for me yet. Enter disappointment. I was so excited to go to a beach anywhere but especially on a gorgeous island that I've never been to before.
Then several weeks later it was back on, but only the portion to Honolulu. Since his over all travel was shorter, we were able to leave a few days early for some personal travel before he had his work day.
At this point it was only about 4 weeks out from the trip. I've never been to any of the Hawaiian Islands, so I was incredibly excited. I knew I wouldn't be able to plan this trip so quickly with everything else we had going on without some help, so I contacted the Oahu Visitors Bureau. I was so impressed with their response and helpfulness. They always had answers to my questions and great suggestions for the specific activities we were interested in doing.
One of the things they suggested was to attend The Diamond Head Beach Luau on Waikiki. Neither one of us had ever been to a Luau and it was something Kevin thought would be really fun, so, in partnership with Oahu Visitors Bureau, we made plans to do that our first evening on the island.
Upon landing in Honolulu around 1:30 in the afternoon, I quickly discovered that traffic is incredibly slow in and around the Honolulu airport and Waikiki Beach. It took us a lot longer than we would have liked to get from the gate, to our rental car, and then to the hotel (even though it wasn't that far at all).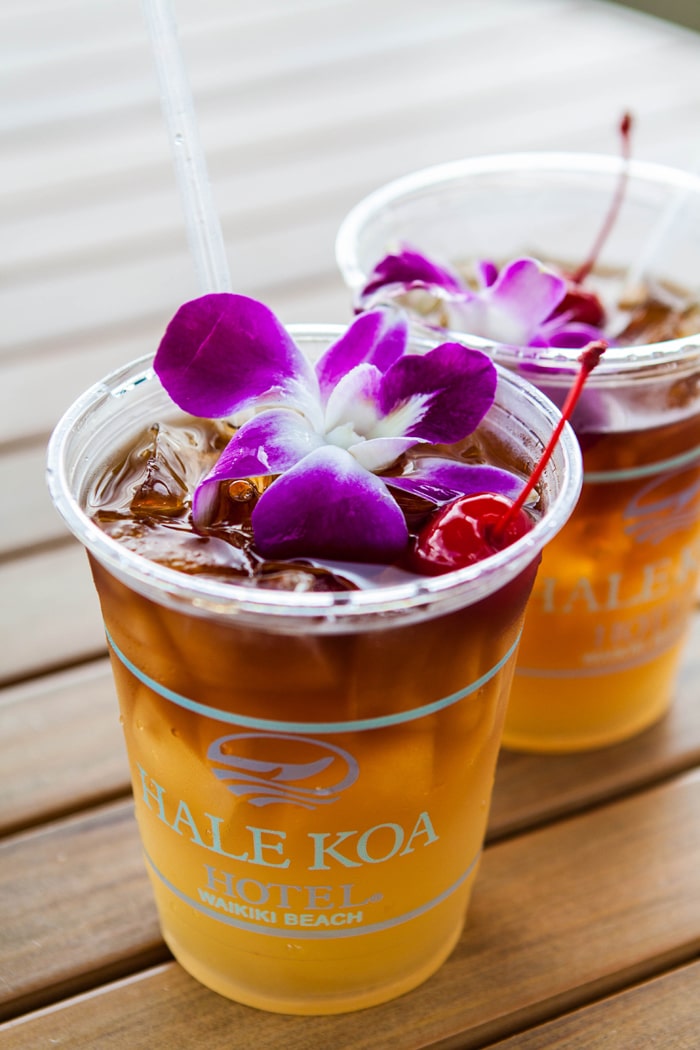 After checking into our room at the Hale Koa we changed out of our travel clothes, got freshened up and headed down to the Barefoot Bar for their signature Mai Tais.
Given our experience with driving from the airport, we decided to walk to the Diamond Head Beach Luau, located at the Waikiki Aquarium in the foothills of Diamond Head.
Google Maps put the distance to the Waikiki Aquarium at under 2 miles, about 1.7 miles total and 35 minutes. Not a short walk, but not so long that it wasn't manageable. Though, it took us a little longer than we thought it would due to walking on sand for a good portion of the way since we just weren't able to walk as fast on sand as on pavement. And maybe also because I was stopping to take photos of the beach for Instagram.
It was wonderful, though, to get on the beach right away and to enjoy the views and the sound of the crashing waves while getting a little exercise after sitting on a plane for so many hours earlier that day.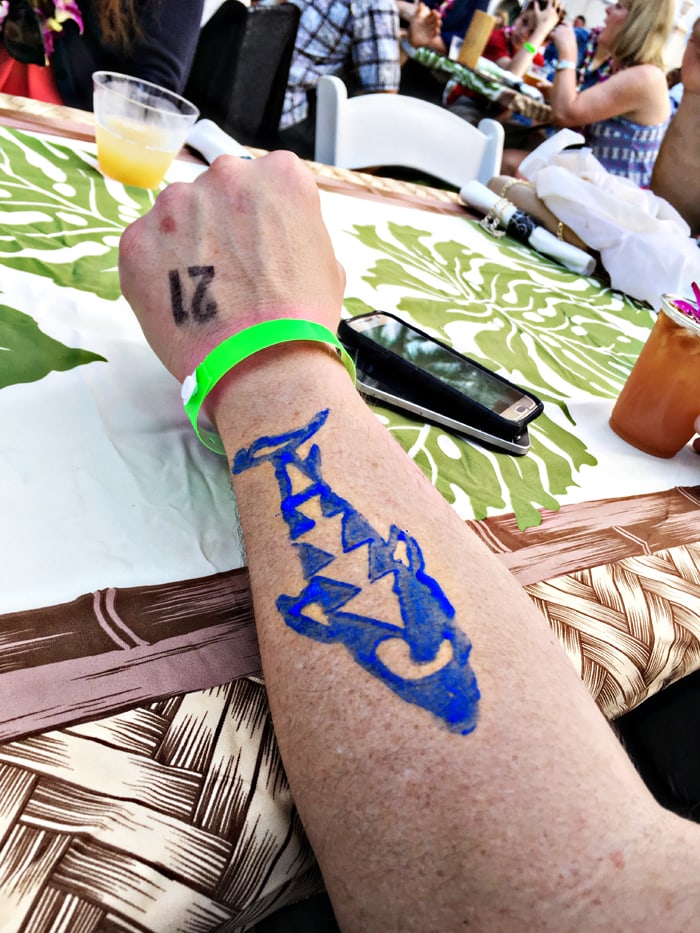 When we arrived at the Luau they had live music playing, along with Mai Tais and Leis upon arrival, and several different activities like hula lessons, basket weaving, lei making that you could participate in while you waited for the dinner and show to start.
We walked around to check the various activities out and Kevin was even stamped with a Hawaiian shark tattoo, but mostly we just sat and enjoyed the music and ambiance after a long day of travel.
We enjoyed traditional Hawaiian dishes like Smoked Kalua Pork, Roasted Shoyu Chicken, Local Fish, Ahi Poke, and Lomi Lomi Salmon. I had never had Poke before. Honestly, I've never been much of a fish person and always have been a bit wary of eating raw fish.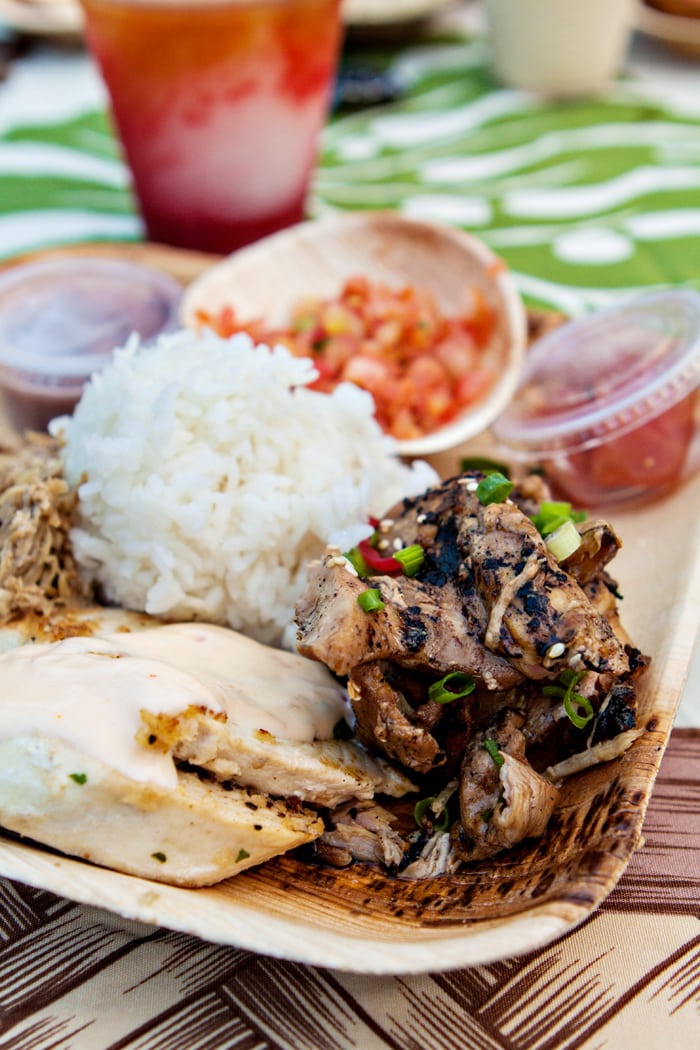 Typically when I eat seafood, it is because I'm eating shrimp or crab, or fish tacos with battered and deep fried fish (usually something mild like Mahi-Mahi).
But, I was in Hawaii. I figured, why not go for it? I always tell the kids, "You might find that you really like it" when I'm trying to get them to eat something new. I guess I should probably take my own advice?
I really liked the Ahi Poke. Like REALLY liked it. I had it a couple more times during the trip. The night of the Luau, however, my favorite was the Lomi Lomi Salmon. I thought that was a little funny because Salmon has historically been my least favorite fish.
I'm usually in favor of milder white fish. The Lomi Lomi Salmon was described by our server as like ceviche but with salmon instead of shrimp. It was so good! It just goes to show you – you might think you know what you like, but you really never know.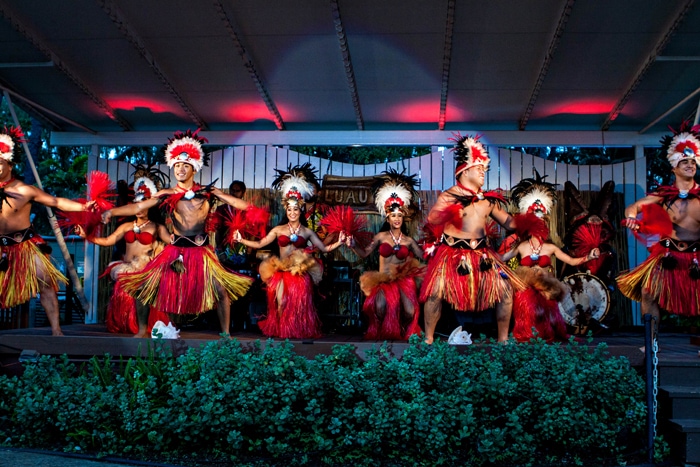 Then, it was time for the show to start. Kevin and I are always fans of going out for a night of live music, and this was no exception. We had such a good time watching learning about and enjoying traditional songs and chants of the Hawaiian and Polynesian cultures from fire dancing to the traditional Hula and everything in between.
I should have taken notes on my phone during the performance, because I can't remember all of the names of the dances or the specific chants. I was so captivated that I couldn't look away, unless it was to pick up the camera to try to capture a part of the dance.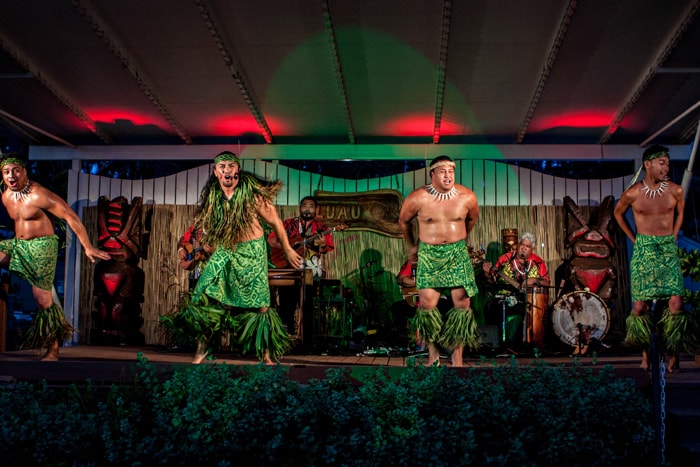 As you can see, they had lots of different dances and costume changes. Some of the dances were just the women, some were just the men, while others were mixed groups. The performer's energy was amazing!
One of my favorites of the night was the fire dancing by 2 young brothers who are champion fire dancers. I didn't get any photos of these because they were not on the main stage and off to the side from our table – I assume due to the nature of throwing fire sticks in the air there was a need for them to be farther away.
These two boys were incredible and so full of energy. The fire sticks were beautiful as they were thrown into the air and twirled all around. I've never seen anything like it.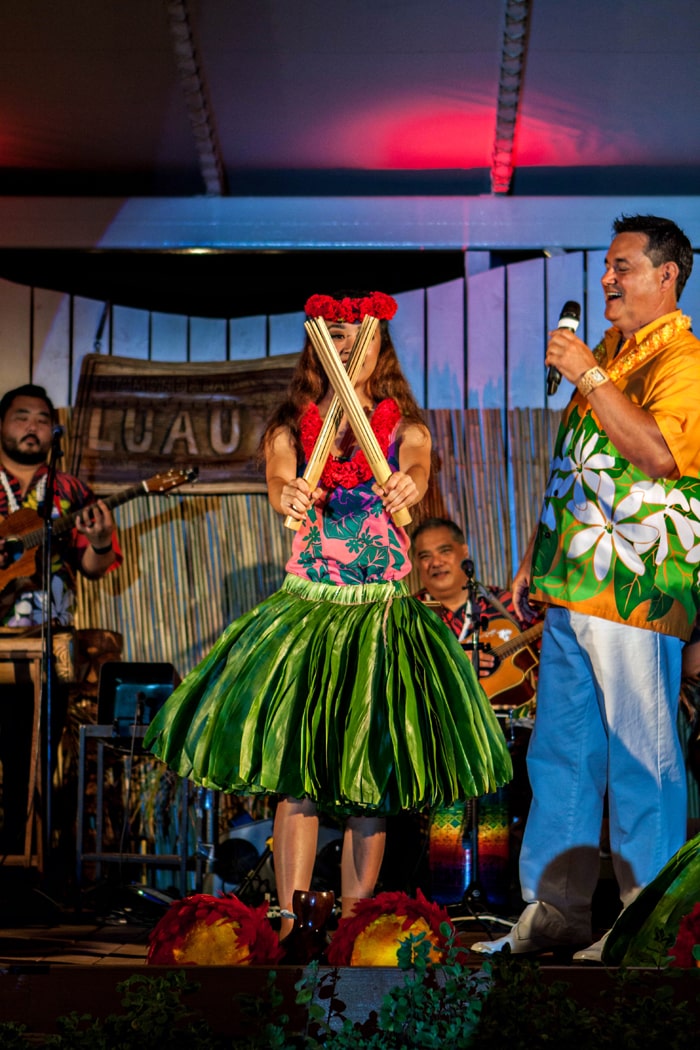 If you can swing the extra cost, I highly recommend the VIP package for the Luau. It is a little pricier, but I think that it is a better value. You receive extra drink coupons (redeemable for mixed drinks, sodas, beer, wine, etc.), premium seating, a souvenir photo, table service for dinner so you don't have to miss any of the show while you stand in line at the buffet (our server was so great too and really knowledgable), and a fresh Orchid Lei.
VIP Tickets are especially worth it if taking photo or video is something that is important to you. Our seating was front and center, so I didn't have to get up or ever be in anyone else's way when I wanted to take a photo.
All in all, we had a great time at the Diamond Head Beach Luau, for the food and for the entertainment. It was the perfect welcome to the island of Oahu as well as a great start to our trip!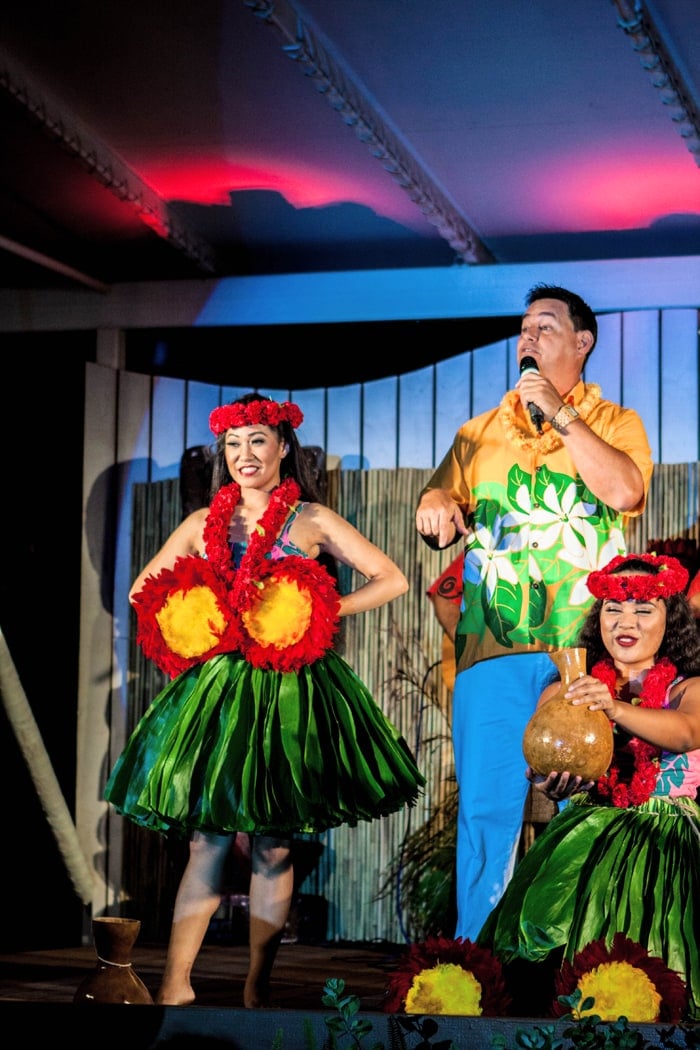 Big thanks to the Oahu Visitors Bureau and Diamond Head Beach Luau for hosting us for the evening.