Lemon Pepper Tacos with Cilantro-Lime Slaw
This week, Land O'Lakes challenged me to create a twist on an old favorite recipe. I think we all have our favorite go-to recipes we can whip up with our eyes closed. And, what family doesn't consider tacos a go-to mealtime favorite?
I know we do, so I decided it was time to get creative in the kitchen and develop a new twist on the old standby tacos. Something light and fresh for the spring and summer months ahead, but also easy enough for lazy, hot summer days.
In case you missed my post last week, I am sharing my Weeknight Wins along with four other food bloggers. You can repin your favorite go-to recipe ideas for each Challenge from our Pinterest Board. Plus, each week there will be a new prize for you to have a chance to win!
Just like in last week's challenge, I used chicken tenderloins as a part of the dish. I love how chicken tenderloins cook up so fast, are incredibly tender, and don't take all day to thaw.
Chicken tacos sounded lighter and more refreshing option for this time of year than the standard Mexican-flavored ground beef.
I browned some chicken tenderloins in a pan with Lemon Pepper flavored Sauté Express® Sauté Starter. The lemon pepper provided a fresh, bright flavor for the chicken and didn't require me to prepare any marinades ahead of time.
Then, instead of the usual lettuce, tomato, cheese, and sour cream, I filled the taco shells with a crunchy cilantro-lime slaw and a few slices of avocado to go with the chicken.
I really loved this recipe! Another way of serving the filling is to place it inside lettuce leaves, such as iceberg or butter lettuce, instead of a tortilla. This will increase vegetable intake, as well as keeping the recipe low-carb.
These lemon pepper chicken tacos with cilantro-lime slaw are perfect for those nights when I don't want to eat something that is too heavy on the stomach.
Now, enter to win a Weeknight Wins sweepstakes! Share your idea for a new twist on an old favorite for a chance to win the Sauté Express® Sauté Starter New Twist Prize Pack.
Sauté Express® Sauté Starter New Twist Prize Pack
One winner will win the following prize package valued at approx. $150.
Four Coupons for Sauté Express® Sauté Starter
Anthropologie Utensil Jar
Anthropologie Dish Towel Set
Le Creuset Cast Iron Skillet
Tell me what you would make using Sauté Express® Sauté Starter for a new twist on an old favorite. Each week, Land O'Lakes will pick a favorite to be featured on Land O'Lakes Weeknight Wins Pinterest Board. *When you enter, Land O'Lakes may select your comment to feature for promotion, social media and/or other related marketing materials.
To enter, simply leave a comment below answering one of the following questions:
What is your idea for a new twist on a go-to recipe?
OR
What would you make with Sauté Express® Sauté Starter?
Enter the Weeknight Wins by Sauté Express® Sauté Starter Sweepstakes
Giveaway Details

Open to legal U.S. residents 18 years and older. No purchase necessary to enter or win. One entry per person (that includes email address & IP address) per day. Required information is first & last name and valid email address. Entries obtained by mechanical or spamming mechanisms will be disqualified.
One winner will be chosen at random from all of the qualified entries submitted. Sweepstakes ends on Friday, April 12, 2013 at 11:59 PM EST. Winner will be contacted via email supplied in the entry & will have 48 hours to respond or another winner will be chosen. Approximate retail value of prize: $150. Sweepstakes is sponsored by Land O'Lakes. Good Life Eats and the sponsor reserve the right to cancel the sweepstakes at any time.
Contact Good Life Eats for winner list or with any questions. By participating in this Sweepstakes, you agree to be bound by these rules and the decisions of the Sponsors, which shall be final. All federal, state, and local laws apply; void where prohibited.
Lemon Pepper Tacos with Cilantro-Lime Slaw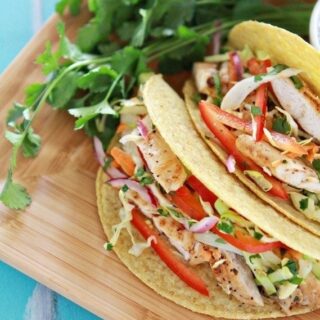 Ingredients:
2 squares Lemon Pepper Sauté Express® Sauté Starter
1 pound chicken tenderloins, thawed
6 ounces finely shredded cabbage
2–3 carrots, shredded
1 red bell pepper, sliced into thin strips
¼ cup chopped fresh cilantro
¼ of a small purple onion, cut in half and then sliced thin
1 lime, juiced
1–2 avocados, halved, pit removed and sliced
½ cup crumbled plain feta
8 crunchy taco shells, flour tortillas, or lettuce leaf cups
Directions:
In a sauté pan, melt the Sauté Express® Sauté Starter over medium heat until it begins to bubble. Add the thawed chicken and cook for 3–5 minutes, or until browned. Turn and cook the other side until browned and the chicken is cooked through. While cooking, brush some of the Sauté Express® Sauté Starter on the side of the chicken facing up.
Meanwhile, in a bowl, combine the cabbage, carrot, red bell pepper, cilantro, onion, and lime juice. Toss the ingredients to coat with the lime. Set aside. This may be prepared up to a day in advance and refrigerated.
After chicken has cooked, slice or shred it into bite-sized pieces. Divide the meat between the eight taco shells, tortillas, or lettuce cups. Top with the avocado and cilantro-lime slaw and sprinkle with feta cheese.
Best served immediately once assembled.
Disclosure: I've partnered with Land O'Lakes for an exclusive endorsement of Sauté Express® Sauté Starter. This blog post is sponsored by Land O'Lakes. All opinions are my own.