Simple Quinoa and Cherry Tomato Salad
Spring has finally sprung here in Ohio, and for our family, it brings with it a dizzying sports schedule, jam-packed with t-ball, softball, baseball, and soccer. I love that my kids are active, but my talent for getting dinner on the table in a hurry is certainly stretched to its limit by all of these activities!
Dinner becomes a tag team effort, with my husband manning the grill, while, I throw together a quick and simple side and one of our older kids slices up some fresh fruit.
One of our favorite sides for busy nights is quinoa. Have you jumped on the quinoa bandwagon yet? I was a little iffy on whether my family would take to it, but it's definitely become a favorite, and I serve it several times a week.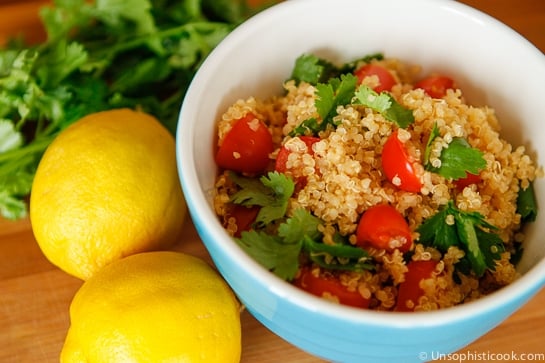 Written by: Tara Kuczykowski of Unsophisticook
If you're not familiar with quinoa, not only is it tasty, but it packs a fantastic nutritional punch. Though it's typically prepared like a grain, it's actually a seed. It's higher in protein than most grains and is also gluten-free.
Quinoa cooks up in about 20 minutes on the stove top, or if you prefer a more hands-off method, you can actually cook quinoa in a rice cooker — my preferred method. While I own a Zojirushi Umami Rice Cooker with all of the bells and whistles, even a simple rice cooker will suffice. This set-it-and-forget-it method is priceless for a busy mom.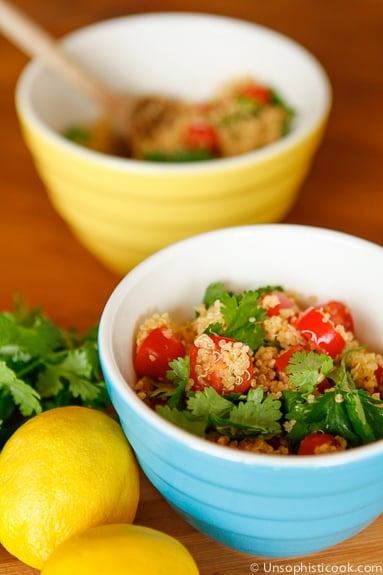 While we often eat quinoa plain, it's also a super versatile mix-in ingredient. Experimenting with adding fresh veggies and greens from our weekly CSA delivery is always a joy, because you really can't go wrong.
We're loving this simple side salad filled with sweet cherry tomatoes and cilantro right now, but if you're not a fan of cilantro, try substituting a handful of chopped fresh basil or baby spinach.
Pair this simple quinoa and tomato salad with Katie's Grilled Citrus Chicken Kabobs for a quick, yet filling, weeknight meal.
What's your favorite way to serve quinoa?
Simple Quinoa and Cherry Tomato Salad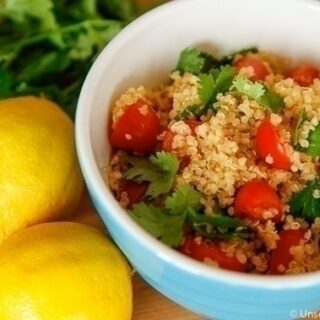 Ingredients:
2 cups prepared quinoa
1 (10 oz.) container of cherry tomatoes, each halved
1 cup cilantro, chopped or leaves with stems removed
1 medium lemon, zest + juice
olive oil
salt
pepper
Directions:
While preparing the quinoa, assemble the cherry tomatoes, cilantro and lemon zest in a large bowl.
Spread the hot quinoa over the tomato and cilantro mixture and let it set for about 3 minutes before mixing. This will warm up the tomatoes and slightly wilt the cilantro.
Squeeze the lemon juice over the top and drizzle olive oil over the top.
Toss the entire mixture together and add salt and pepper to taste.