School is back in session and I can't tell you how good it feels to have time to cook dinner again. Our summer was spent at the pool and we rarely made it home in time to prepare a nice dinner before it was time to eat.
As exciting as it is to have a little more routine in our life again, this year is going to be a big change from our normal routine. Some good, some the kind of changes that you just deal with.
No more hour round trip drive to school gets us home in the afternoon a lot earlier than we're used to. Eric back in school means at least once a week, possibly twice, where he won't make it home in time for dinner. Those nights are going to be busy. And Logan will start soccer in a few weeks with after school practices.
Suddenly it doesn't sound like I'm going to have much time on my hands for preparing a nice dinner, or enough people home to enjoy it. Luckily, there are plenty of quick school night dinner ideas as well as many recipes that can be assembled ahead of time and cooked when it is time to eat. Here are a few that I'm sure will be gracing our table this fall.
5 Easy School Night Dinner Ideas
1. Quinoa Salad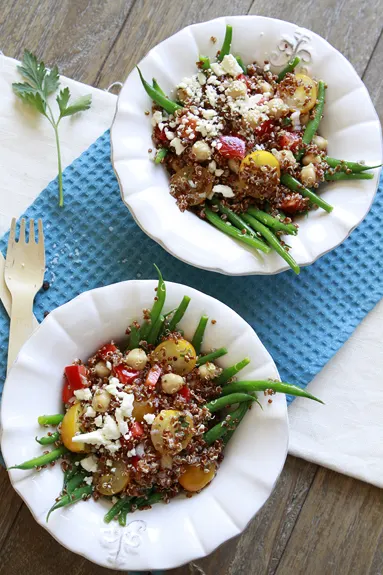 Lately I am on a bit of a quinoa kick. Quinoa Salads are a great way to "clean out the fridge." Add in whatever vegetables, meats, or cheeses you have on hand.
For a light dinner, the salad can be a meal in itself. If you need a bit more try serving the salad with a side of your favorite grilled meat or a roasted chicken. Or if you'd rather go meatless, serve with a side of fresh fruit.
This recipe for Roasted Tomato Caprese Salad is delicious tossed with Quinoa. Add in some chopped spinach or other fresh greens for extra veggies.
If you're in the mood for something spicy, try this Mexican Sweet Potato Quinoa Salad. It is great and filling as a meatless meal, but also works well with the addition of chicken or ground beef.
Another great quinoa recipe for those who crave spicy is this Quinoa Taco Salad
This recipe features quinoa with yellow cherry tomatoes, red bell peppers, haricot verts (French green beans), garbanzo beans, and a shallot lemon dijion dressing.
2. DIY Personal Pan Pizzas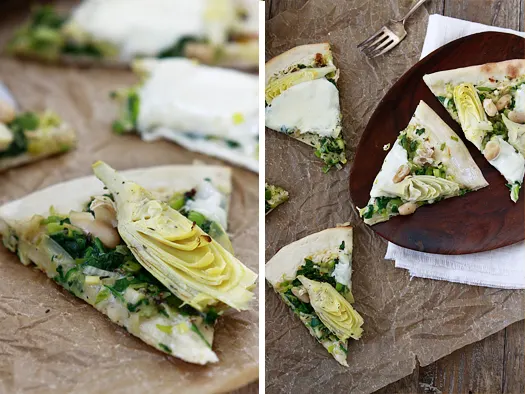 Artisan Pizza and Flatbread in Five Minutes a Day makes pizza night super simple.
If you haven't heard of this method before, the concept is that you spend a few minutes on the first day preparing the dough and a few inactive hours for the rise. The dough then can be stored in the fridge all week. Simply remove what you need to use when you need to use it. No waiting on pizza day for dough to rise.
Toppings can be prepared in advance and then laid out prior to cooking for each person to put what they'd like to eat on their own personal pan pizza. Or you can make 1 large pizza if everyone agrees on the toppings. That doesn't always happen here.
3. Shredded Tex-Mex Crockpot Chicken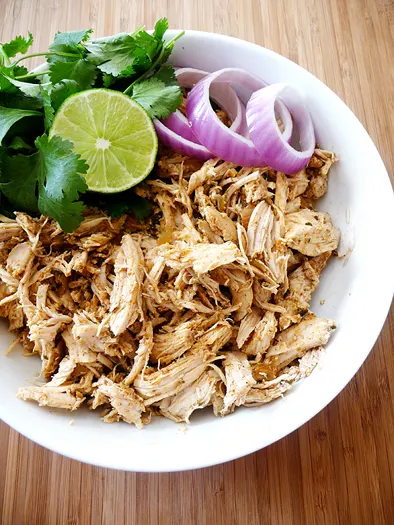 This recipe for Shredded Tex-Mex Crockpot Chicken is a staple for me during the school year. The make-ahead factor is appealing on busy days when I don't have much more time than it takes to throw something in the crockpot. The shredded chicken can also be made in bulk and frozen in portions for use in recipes throughout the month.
How to use this Shredded Tex-Mex Crockpot Chicken:
We use the mexican flavored shredded chicken in quesadillas, soft tacos, burritos, enchiladas, or tortilla soup. If I have more time I tend to lean towards the more time intensive enchiladas (which can be assembled in advance), or if I have less time it is soft tacos or tortilla soup.
4. Lettuce Wraps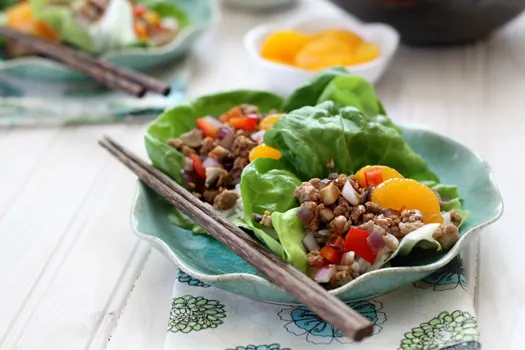 I love lettuce wraps! They were one of the few things that I did cook over the summer. We have a favorite Ground Chicken Asian Lettuce Wrap recipe adapted from The Steamy Kitchen Cookbook.
When serving lettuce wraps, I often prepare the filling ingredients earlier in the day when the schedule isn't so rushed and reheat later when it is time to eat.
Don't be afraid to experiment with the fillings and flavors. We've recently made Taco Lettuce Wraps rather than the traditional Asian inspired lettuce wraps. You can go meatless with a bean based filling or use leftover grilled chicken or steak to mix things up. For the veggies, look to the season for inspiration.
5. Tomato Soup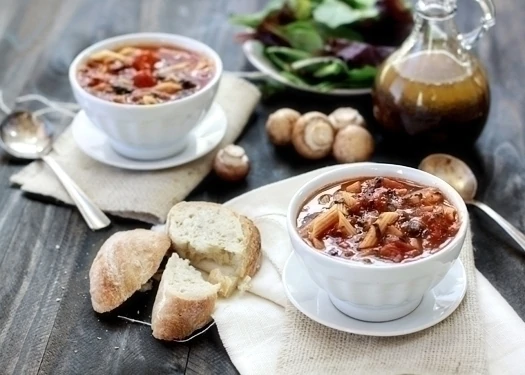 A favorite in our house is this recipe for Tomato Florentine Soup served with a salad and crusty bread. It is easy to make and most nights I have all of the ingredients on hand.
Madeline likes it when we leave out the pasta, add a little cream and serve it with a side of grilled cheese for dipping. If you don't feel like pasta, substitute cannellini beans instead. This Tomato Florentine Soup is also a great base for a vegetable soup or minestrone. Just add in additional vegetables or beans to fill it out.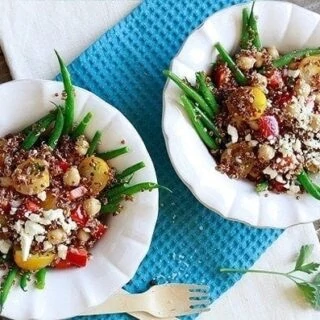 Quinoa Salad with Haricot Verts and Shallot Lemon Dijion Dressing
Additional Time:
30 minutes
Total Time:
1 hour
10 minutes
This recipe features quinoa with yellow cherry tomatoes, red bell peppers, haricot verts (French green beans), garbanzo beans, and a shallot lemon dijion dressing.
Ingredients
For the Salad:
1 cup uncooked quinoa
1 small shallot, minced
8 ounces yellow cherry tomatoes, halved
1 large red bell pepper, diced
1 can Bush's Bean Garbanzo Beans, rinsed
8 ounces haricot verts (French Green Beans)
For the Dressing:
1 1/2 tablespoons dijion mustard
2 1/2 tablespoons olive oil
1 1/2 tablespoon lemon juice
1 1/2 tablespoons white wine vinegar
1/2 teaspoon salt, or to taste
1/4 teaspoon black pepper, or to taste
Garnish:
Instructions
Rinse the quinoa until the water runs clear. In a medium saucepan, add the quinoa and 1 1/2 cups water. Bring to a boil. When the water comes to a rolling boil, turn to low and cover the saucepan with a lid. Cook for 20 minutes, until the quinoa is tender and the water absorbed. Set aside when done.
In another saucepan, bring water to boil (just enough to cover the haricot verts). Place the beans in the boiling water and cook for 2 - 3 minutes. Drain and immediately rinse with cold water.
Meanwhile, combine the shallot, red pepper, tomatoes, and garbanzo beans and haricot verts in a bowl large enough to accommodate the vegetables plus quinoa. Set aside. Whisk the ingredients of the dressing together and pour over the vegetables.
After the quinoa has finished cooking, add it to the vegetable mixture and toss to combine the ingredients and coat with dressing. Serve topped with crumbled feta.
Recommended Products
As an Amazon Associate and member of other affiliate programs, I earn from qualifying purchases.
Nutrition Information
Yield

6
Serving Size

1
Amount Per Serving
Calories

270
Total Fat

9g
Saturated Fat

2g
Trans Fat

0g
Unsaturated Fat

7g
Cholesterol

4mg
Sodium

270mg
Carbohydrates

37g
Fiber

7g
Sugar

4g
Protein

11g
GoodLifeEats.com offers recipe nutritional information as a courtesy and is an estimate only. This information comes from online calculators. Although GoodLifeEats.com makes every effort to provide accurate information, these figures are only estimates.