Chicken Caesar Lettuce Wraps
I'll admit it. I get bored with food easily. I can't stand eating the same thing all the time. Salads are something that can so easily become dull. Grilled Chicken Caesar Salad, for example, is great for lunch or a lighter dinner, but ordinary.
I decided why not turn a salad into a lettuce wrap? These Chicken Caesar Lettuce Wraps are a fun break from the ordinary. Grilled chicken, Casesar dressing, crunchy croutons, and parmesan cheese (plus a few tomatoes for color) are mixed together and served in a lettuce leaf, rather than being tossed with a plate of chopped lettuce.
This recipe for Chicken Caesar Lettuce Wraps is loose. Meaning that each ingredient isn't specifically measured out. I recognize that salads are often very personal. Some like more or less dressing than others. You might not like tomatoes. Chicken Caesar Lettuce Wraps are no different. Use this recipe as a guideline and adapt it as you see fit.
You can try this method with other salads you love. Asian grilled chicken salad, cob salad, or waldorf salad would all be great stuffed into a lettuce leave and folded up. Give it a try! You'll appreciate the change from the ordinary.
More Lettuce Wrap Recipes
How do you change your salads up?
Chicken Caesar Lettuce Wraps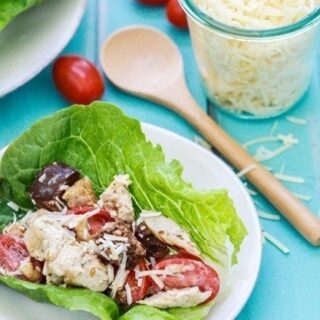 Ingredients:
Directions:
Pour the Marzetti Simply Dressed Lemon Vinaigrette over the chicken in a zip top bag and marinade the chicken for 6 hours, or overnight.
To prepare the chicken caesar wraps:
Wash and dry the lettuce leaves, set aside.
Drain the chicken from the marinade. Grill the chicken over medium heat until done, turning part way through. Allow to cool, and then slice.
Toss the chicken with the Marzetti Simply Dressed Caesar Salad Dressing - use as much or as little as you like depending on your personal dressing preferences. Gently stir in the halved grape tomatoes, a small handful of freshly grated parmesan cheese, and croutons (as much or as little as you like - your preference).
Portion the chicken mixture between the lettuce leaves. Sprinkle the top with freshly grated parmesan. Serve immediately.
I have been invited to participate in a Marzetti ambassador program. This post is sponsored by Marzetti® and product has been provided by them. The opinions and ideas expressed here are my own. Follow Marzetti® on Pinterest.