Balsamic Berry Salad Lettuce Cups
With warmer days happening more and more frequently, I am really looking forward to having more fresh and light salads on the dinner table.
My latest salad creation, Balsamic Berry Salad Lettuce Cups, was inspired by the flavor combination of berries and balsamic vinegar. If you haven't tried that yet, give it a try. I know it might sound a little odd, but balsamic vinegar is great drizzled over strawberries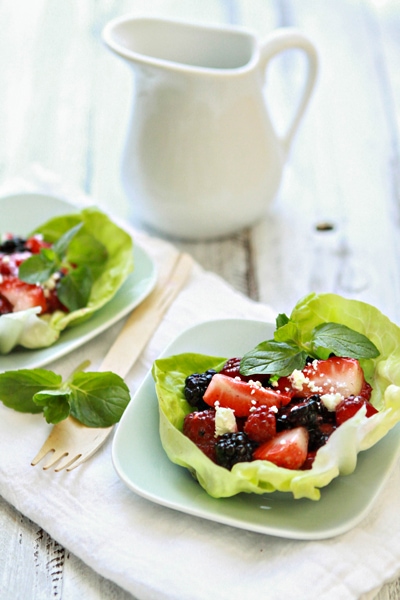 Simply Dressed® salad dressings are my go-to when it comes to store-bought salad dressings because they are made with extra virgin olive oil, sea salt, and canola oil. They don't contain preservatives, trans fat, high fructose corn syrup, MSG or artificial flavors.
I love Marzetti's new Simply Dressed® Balsamic Salad Dressings. They are really convenient to have on hand to whip up fun recipes like this and I like how it is the next best thing to homemade.
These Balsamic Berry Salad Lettuce Cups are the perfect light salad for warmer months. They would also be great served as a healthy a snack or appetizer. If you'd like a light dinner or lunch, try adding a few strips of grilled  chicken to the berry mixture.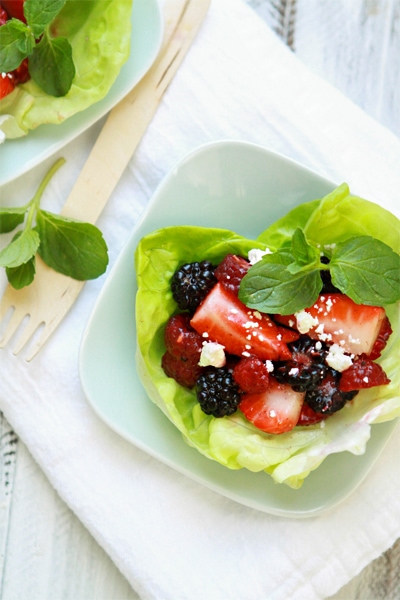 For another variation, try mixing things up by adding other fruits such as blueberries, orange sections, or watermelon cubes. Chopped fresh herbs are another great way to add a big flavor impact in a salad without a lot of extra effort.
What is your favorite spring salad recipe?
Giveaway Prize $175 value (1 winner):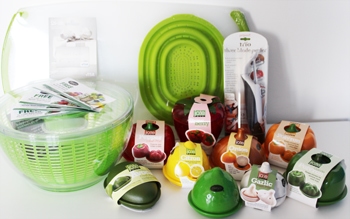 Five Marzetti Simply Dressed coupons
$75 Visa gift card
Williams-Sonoma salad spinner
Crate & Barrel over-the-sink board with colander
Trio vegetable peeler
Nine Marzetti assorted vegetable pods
Balsamic Berry Salad Lettuce Cups
Yield: 6 lettuce cups
Prep Time: 10 minutes
Total Time: 10 minutes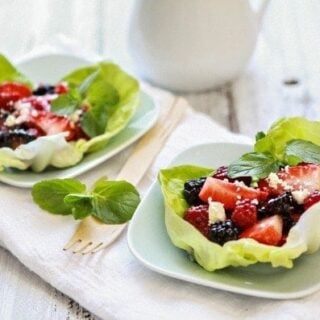 Ingredients:
4 ounces blackberries, sliced
4 ounces strawberries, sliced
4 ounces raspberries, sliced
1 tablespoon Simply Dressed® Balsamic Salad Dressing
2 teaspoons fresh squeezed orange juice
6 leaves Butter Lettuce leaves, washed and dried
fresh mint, for garnish
crumbled feta or goat cheese, for garnish
Directions:
Combine the berries in a bowl and gently stir. In another bowl, combine the balsamic dressing and orange juice. Pour the dressing mixture on top of the berries. Spoon the berries inside of the lettuce leaves. Garnish with fresh mint and sprinkle with crumbled feta or goat cheese. Serve immediately.
Disclosure: I've partnered with Marzetti to create a fun, new salad recipe. This blog post is sponsored by Marzetti. All opinions are my own.