Grilled Mediterranean Vegetable Salad with Tomato Balsamic Vinaigrette
Isn't it funny how sometimes the simplest things taste the best?
For example: I LOVE (read: am obsessed with) oatmeal.  Not fancy oatmeal either.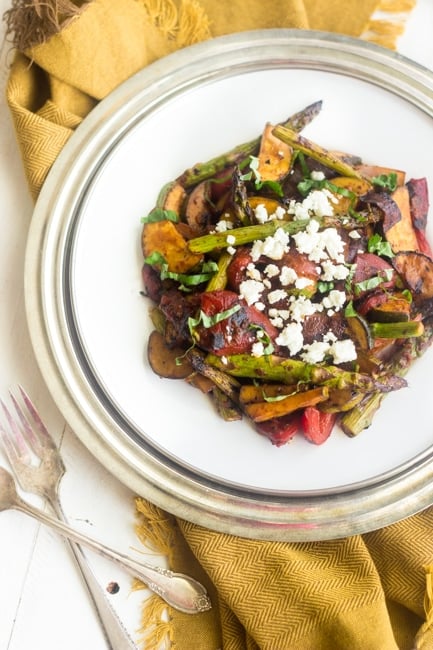 Written by: Taylor Kiser of Food Faith Fitness
A little bit of cinnamon, apples and just cook 'er in the microwave, and I am one happy camper.
I can eat it every. Single. Day (and I do – sometimes even for dinner) and it just never gets old.
This salad is another one of those things.
When I was whipping the whole dealio up, I was thinking "this is SO BORING. I need to do something CA-RAY-ZAY to jazz it up so people don't think that I make snooze-fest meals."
I even pondered just ditching the whole idea half way through because it just didn't seem like it was going to be all kinds of exciting.
Holy bananas, I was totally and completely wrong.
Please don't get confused by the banana reference – there are NO bananas in this recipe. I just like the saying.
Anyway.
I made this salad, ate it….and then made another batch and ate it AGAIN. It was THAT ah-may-zing folks.
I even made it again the next day so that my husband could try it.
You know what? He even agreed that was one of the best vegetable dishes his taste buds had ever laid eyes on.
Whatever that means.
All you need to know is that my thinks-Snickers-bars-are-an-acceptable-breakfast Hubby liked veggies.
The end.
Well, almost. I just want to talk about this salad a little bit more.
The real star of this dish is the vinaigrette. Using the oil from the jar of sun-dried tomatoes adds a level of flavour that I was totally not expecting.  In the best possible way, of course.
Combine that with the smokey, grilled vegetables, sweet balsamic vinegar and a little bit of saltiness from the capers, and you've got a dish that sounds like it may be a little "ho hum" but, in fact, is "OH YUM!"
Had to.
What simple dish do you never get tired of?
Grilled Mediterranean Vegetable Salad with Tomato Balsamic Vinaigrette
Yield: 2-4 servings
Prep Time:10 mins
Cook Time:5 mins
Total Time:15 mins
A quick and easy grilled vegetable salad with a little taste of the Mediterranean!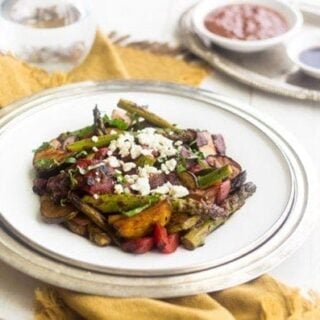 Ingredients:
¾ Cup Roasted red peppers from a jar, sliced * (About 1 ½ full peppers)
1 ½ Cups Asparagus, broken into large pieces
1 1 /2 Cups Zucchini, sliced (about 1 large zucchini)
½ Cup Red onion, roughly chopped
¼ Cup Balsamic Vinegar
2 tsps Oil from a jar of oil-packed sun dried tomatoes
Pinch of salt/pepper
½ tsp Capers, plus additional for garnish
½ tsp Garlic, minced
2 Tbsp Sun dried-tomatoes, roughly chopped, plus additional for garnish. (optional)
¼ Cup Reduced-fat Feta cheese, crumbled
Fresh basil, minced (for garnish)
Directions:
1. Add the sliced roasted red pepper, asparagus, sliced zucchini and chopped red onion into a large bowl.
2. In a small bowl, whisk together the ¼ cup Balsamic vinegar, 2 tsps oil and pinch of salt and pepper. Pour over the vegetables, mixing well. Cover the bowl and refrigerate for at least 2 hours.
3. Once the vegetables have marinated, preheat your grill to medium/high heat and place a grill basket on top.
4. Place the vegetables into the grill basket, reserving the balsamic vinegar mixture. Cook, stirring occasionally, until lightly charred.
5. While the vegetables grill, combine the reserved Balsamic Vinegar mixture with ½ tsp capers, ½ tsp garlic and sun dried tomatoes in a small food processor. Process until well combined (you may still have some small tomato chunks – this is fine.)
6. Place the grilled veggies in a bowl and toss with the balsamic vinaigrette. Garnish with additional sun dried tomatoes, capers, crumbled feta cheese and fresh basil.