Zucchini Tomato Basil Salad with Lemon Basil Vinaigrette
This Zucchini Tomato Basil Salad with Lemon Basil Vinaigrette is a light and refreshing summertime salad and perfect when your garden is exploding with tomatoes, basil, and zucchini in the later summer months.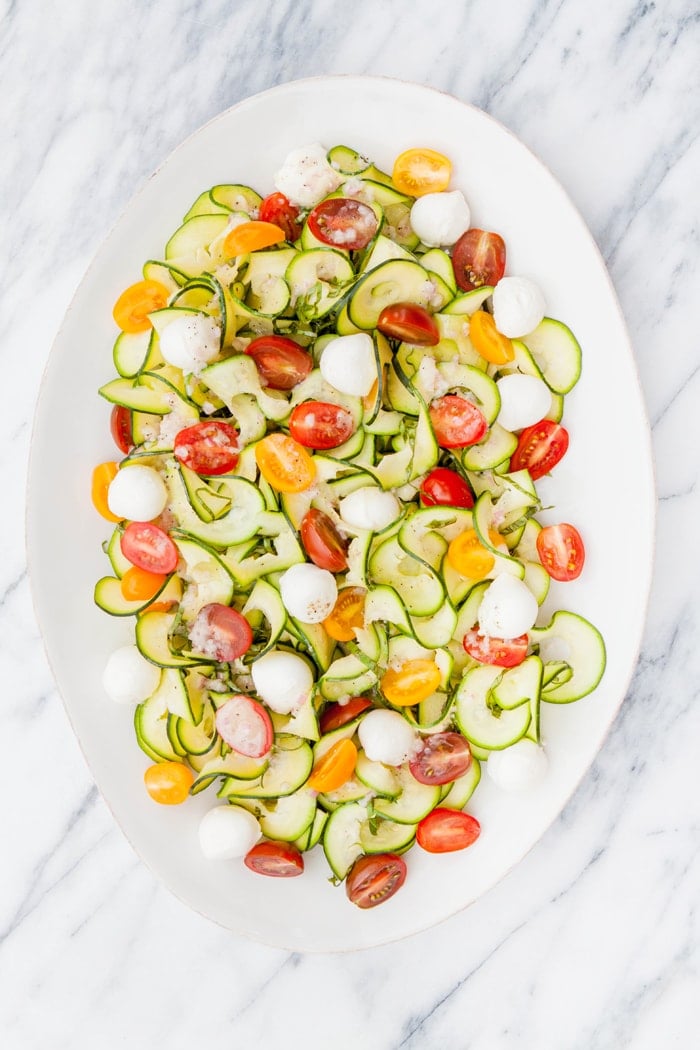 I get so excited about all the amazing summertime produce!
I love to grow a garden and eat whatever vegetables I have grown.
Originally, I got interested in gardening and thinking more seasonly about my eating habits after reading Animal Vegetable Miracle: A Year of Food Life, by Barbara Kingsolver about 7 years ago.
I am definitely not as hard-core as Barbara's family, but the book inspired me to at least try my hand at growing a few things and thinking differently about how I approach what's available in the grocery store.
For the first time since moving to Colorado I planted a vegetable garden.
Before I always grew my own herbs in the summer (a must), especially basil because I use that a ton, but I didn't have any raised beds so I skipped out on the vegetables.
Last week, I planted a few things in my boyfriend's garden.
It will be great to have access to home-grown produce again!
If you'd like to see what I planted, follow me on Instagram where I shared a picture.
No matter where you get your produce from – the local farmer's market, your backyard garden, or the grocery store – take advantage of summer's delicious offerings and fresh flavors.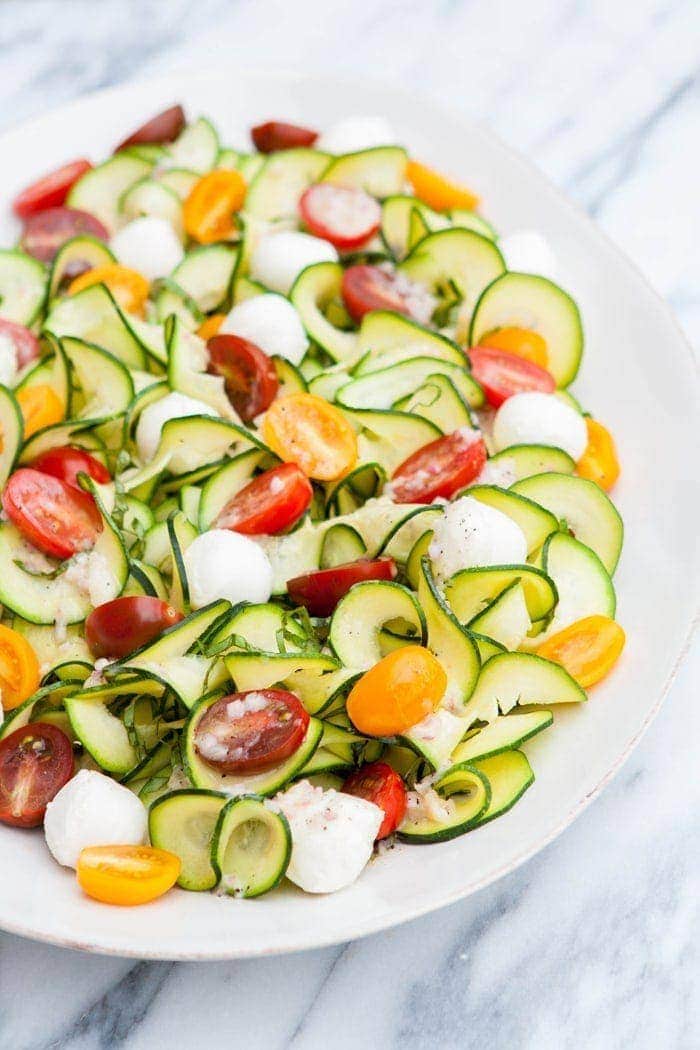 Some of my favorite summer fresh flavors are in this Zucchini Tomato Basil Salad with Lemon Basil Vinaigrette.
Similar to this Roasted Tomato Caprese Salad, but a little bit different by keeping the tomatoes fresh and with the addition of zucchini (click that link for TONS more zucchini recipes to try) and the Lemon Basil Vinaigrette rather than a basic balsamic vinegar.
If caprese is your thing, you might also want to give this Pizza Caprese with Garlic Focaccia Crust or this Easy Caprese Pasta Dinner a try.
Back to the Zucchini Salad…
I love how light this recipe is.
You can easily toss in some pasta to round it out if you like something a little heartier and want to use is as a main dish with some added grilled chicken, but it is also a really nice change from a basic green salad to serve alongside your dinner.
I recommend giving this recipe for Marinated Grilled Flank Steak a try in the summer.
I also like it as a really light lunch because I often like to eat salads for my afternoon meal. It is so refreshing tasting!
To make the salad, I used this Spiralizer so that I could  cut the zucchini into these long, thin ribbons.
Spiralizers are so versatile.
You can use them for zucchini, potatoes, sweet potatoes, butternut squash and more.
I love that the one I purchased has several different blade shapes and sizes to choose from depending on what you're preparing.
And, since Memorial Day is coming up in a week, you might consider taking this recipe to whatever BBQ potluck you may be attending if you're wanting something lighter than Creamy Jalapeño BBQ Coleslaw I recently posted.
I think it is a crowd-pleaser, considering that when I served it adults and kids (in a variety of age ranges) happily ate it.
What are your favorite ways to use zucchini and tomatoes in the summer?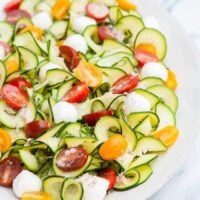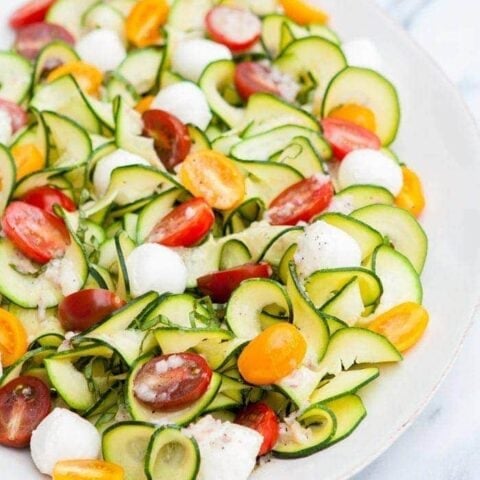 Zucchini Tomato Basil Salad with Lemon Basil Vinaigrette
Zucchini Tomato Basil Salad with Lemon Basil Vinaigrette is a light and refreshing summertime salad
Ingredients
For the Dressing:
2 tablespoons White Wine Vinegar
2 tablespoons Extra Virgin Olive Oil
2 tablespoons fresh Lemon Juice
1 clove garlic, finely minced
1 tablespoon minced Shallot
2 large Fresh Basil Leaves, sliced thin
For the Salad:
2 Medium Zucchini, ends removed and discarded
6 large Fresh Basil Leaves, sliced thin
8 ounces Cherry Tomatoes in a variety of colors, sliced in half lengthwise
5 ounces Small Fresh Mozzarella Balls
Salt and Pepper, to taste
Instructions
To prepare the dressing:
In a small jar, combine the white wine vinegar, extra virgin olive oil, lemon juice, garlic, shallot, and basil.
Screw the lid to the jar on tightly, then shake until well mixed. Set aside.
To prepare the salad:
Using a vegetable Spiralizer, prepare the zucchini using the straight blade according to manufacturer's recommended instructions. Alternatively, slice the zucchini into ribbons using a vegetable peeler or a mandolin.
In a mixing bowl, toss the zucchini with the remaining basil. Transfer to a large serving platter.
Arrange the tomatoes and the mozzarella on top of the bed of zucchini.
Pour the dressing on top of the prepared salad, then sprinkle the top with salt and pepper, seasoning to taste.
Recommended Products
As an Amazon Associate and member of other affiliate programs, I earn from qualifying purchases.
Nutrition Information:
Yield:

8
Serving Size:

1
Amount Per Serving:
Calories:

89
Total Fat:

7g
Saturated Fat:

2g
Trans Fat:

0g
Unsaturated Fat:

4g
Cholesterol:

11mg
Carbohydrates:

3g
Fiber:

1g
Sugar:

2g
Protein:

4g