This Zucchini Tomato Basil Salad with Lemon Basil Vinaigrette is a light and refreshing summertime salad and perfect when your garden is exploding with tomatoes, basil, and zucchini in the later summer months. And, since it's a raw zucchini salad, you won't have to turn the oven on those hot summer days.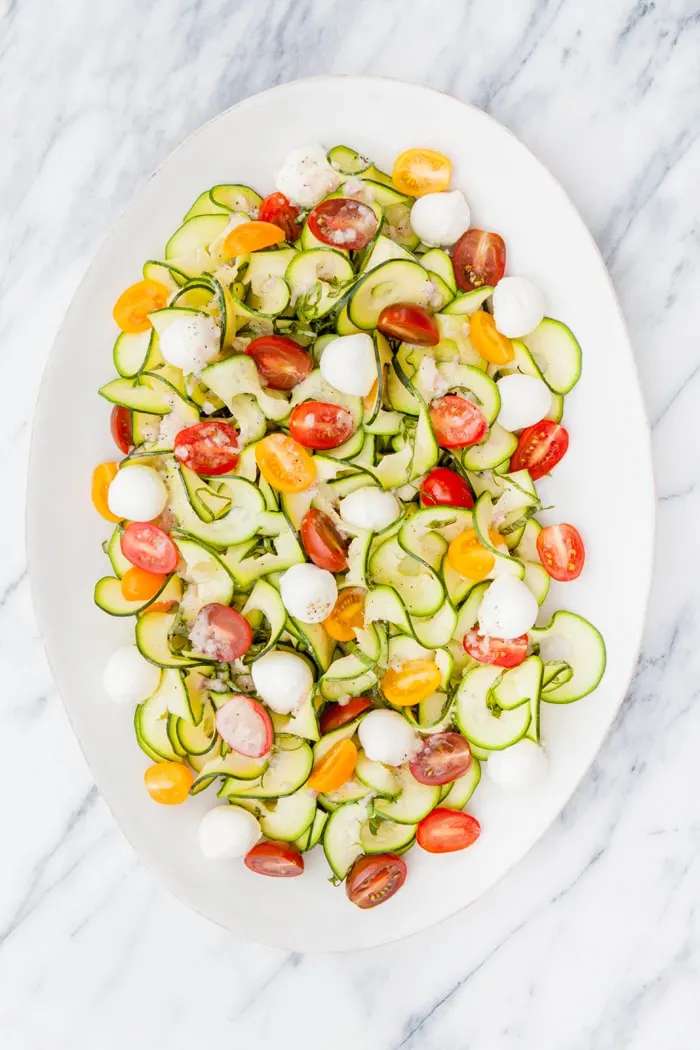 Click HERE to save this recipe for Zucchini Tomato Basil Salad!
Inspiration for this Zucchini Tomato Basil Salad Recipe
I get so excited about all the amazing summertime produce! I love to grow a garden and eat whatever vegetables I have grown.
Originally, I got interested in gardening and thinking more seasonly about my eating habits after reading Animal, Vegetable, Miracle: A Year of Food Life, by Barbara Kingsolver about 9 years ago.
I am definitely not as hard-core as Barbara's family, but the book inspired me to at least try my hand at growing a few things and thinking differently about how I approach what's available in the grocery store.
This summer we had a small container garden on our deck, an experiment that has actually worked out pretty well. We planted hot peppers, tomatoes, zucchini, lettuce, radishes, and plenty of fresh herbs.
It was great to have access to home-grown produce again. One of my favorite things about summer is having my own garden!
No matter where you get your produce from – the local farmer's market, your backyard garden, or the grocery store – take advantage of summer's delicious offerings and fresh vegetables.
Cold Zucchini Salad Recipe
Some of my favorite summer fresh flavors are in this Zucchini Tomato Basil Salad with Lemon Basil Vinaigrette. Similar to this Roasted Tomato Caprese Salad, but a little bit different by keeping the tomatoes fresh and with the addition of zucchini (hello, Zucchini Season!) and the Lemon Basil Vinaigrette rather than a basic balsamic vinegar.
This side dish is the perfect way to use up all those extra zucchini that seem to pop up overnight. I think it is a crowd-pleaser, considering that when I served it adults and kids (in a variety of age ranges) happily ate it.
If caprese is more your thing, you might also want to give this Pizza Caprese with Garlic Focaccia Crust or this Easy Caprese Pasta Dinner a try.
Tomato Basil Salad Ingredients
For this tomato basil mozzarella salad, you'll need:
Fresh basil
Cherry tomatoes
Fresh mozzarella balls
Salt and Black Pepper
And for the homemade lemon basil vinaigrette, you'll need:
White wine vinegar
Extra virgin olive oil
Lemon juice
Garlic
Shallot
Fresh basil
For the complete ingredient list and detailed instructions, scroll to the bottom of this post for the FREE printable recipe card.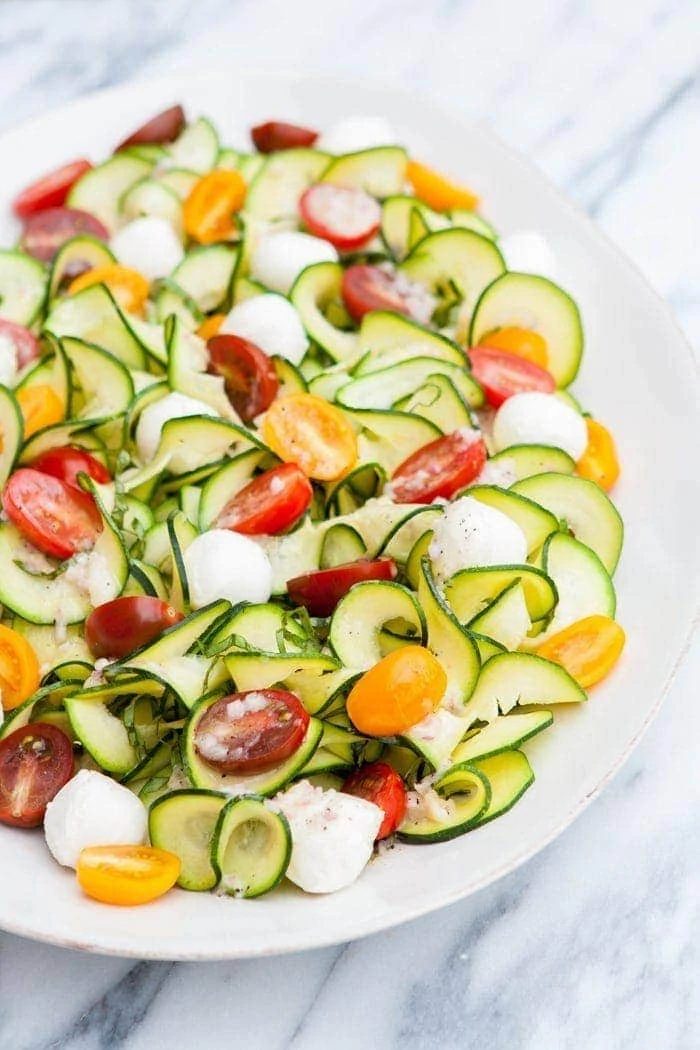 Click HERE to save this recipe for Zucchini Tomato Basil Salad!
How to Make Tomato Basil Salad
To make this zucchini noodle salad, first combine the lemon basil vinaigrette ingredients in a jar and shake to combine. If you like extra lemon flavor, add in some of the lemon zest , too.
Then, slice the zucchini into ribbons using either a Spiralizer, mandoline, or a knife.
Toss the zucchini with the fresh basil and arrange the this tasty salad on a large serving platter for a pretty presentation.
Then, top with halved cherry tomatoes and mozzarella balls before drizzling with lemon basil vinaigrette.
The above is simply a quick summary of this recipe. Check out the full recipe in the free printable recipe card at the bottom of this post for all the detailed instructions.
Ingredient Substitutions in this Zucchini Tomato Salad Recipe
Typically I don't recommend making a bunch of substitutions when preparing a new recipe. When making substitutes, you won't know if you don't like the recipe or if the recipe didn't turn out due to a preparation mistake, an ill effect from the substitute, or something else.
However, if you do choose to make substitutions in a recipe, I recommend only making one substitute at a time so you don't have a building effect of multiple poor substitutions.
Here are my recommendations for this recipe:
What Can I Substitute for the Zucchini?
If you don't have zucchini and still want to make this salad, you could likely substitute yellow squash in place of the zucchini. I haven't tried that yet, but since they're similar it should work. I would just choose a summer squash that is shaped similarly to a zucchini.
Can I Use Regular Tomatoes in this Tomato Salad Recipe?
Of course! I like using cherry tomatoes in this recipe because they're so juicy and bite-sized. But you could certainly use, heirloom tomatoes, Roma tomatoes, or another variety you have on hand.
If using large tomatoes in this zucchini tomato salad, you'll have to cut them into small bite sized pieces. About the size of half a cherry tomato.
Whatever tomatoes you end up using, I recommend using a mix of colors because it makes the salad so pretty. I love to use a combination of red and yellow tomatoes for added color.
Dressing Substitutions in this Zucchini Salad Recipe
White Balsamic Vinegar could be used instead of white wine vinegar. I don't recommend regular balsamic as it is a very bold flavor and will stain the zucchini a dark color once dressed.
If you don't have shallots, finely diced red onion could be substituted.
Can I Use Dried Basil?
No, dried basil is more potent than fresh and it's quite crunchy. The distinctive flavor of fresh basil is a must for this tomato basil salad.
Tips for Making Tomato Basil Salad with Zucchini
To make the salad, I used this Spiralizer so that I could cut the zucchini into these long, thin ribbons. Spiralizers are so versatile and the best way to cut these long, thin zucchini ribbons. You can use them for zucchini, potatoes, sweet potatoes, butternut squash and more.
Fresh, ripe tomatoes from the garden or farmers market will taste best because they're sweeter and juicier.
Look for medium zucchini. The large zucchini don't work as well in this Zucchini Tomato Salad because the seeds can be very big. If you use small zucchini you will likely need to use extra.
How to Serve Zucchini Tomato Salad
I love how light this recipe is. You can easily toss in some pasta to round it out if you like something a little heartier and want to use is as a main dish with some added grilled chicken, but it is also a really nice change from a basic green salad to serve alongside your dinner.
I recommend giving this recipe for Marinated Grilled Flank Steak a try in the summer. I also like it as a really light lunch because I often like to eat salads for my afternoon meal. It is so refreshing tasting!
More Summer Salad Recipes:
Looking for more delicious salad recipes? Here are a few of my favorites, but you can always check out the Recipe Index to browse more Salad recipe ideas!
This Bleu Cheese BLT Salad is another great way to use up fresh tomatoes! I love the contrast of the salty bacon with the juicy tomatoes.
Another hearty summer salad I adore is this Buffalo Chicken Cobb Salad. Grilled chicken, egg, and avocado pair wonderfully with the bleu cheese dressing.
It doesn't get much easier than this Black Bean Salad! Enjoy this as a salad, dip, or taco topping.
You can eat this Cilantro Lime Kale Slaw as a salad or atop fish tacos. Be careful, this stuff is addicting!
This Italian Mixed Greens Salad goes perfectly with pizza and pasta. It's made with a lemon Dijon vinaigrette that I can't get enough of!
What are your favorite ways to use zucchini and tomatoes in the summer?
Love this recipe for Zucchini Tomato Basil Salad? Sign up for Good Life Eats email updates and never miss another recipe!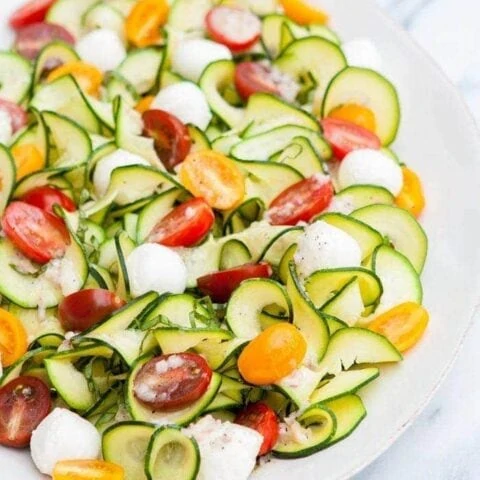 Zucchini Tomato Basil Salad with Lemon Basil Vinaigrette
Zucchini Tomato Basil Salad with Lemon Basil Vinaigrette is a light and refreshing summertime salad
Ingredients
For the Dressing:
2 tablespoons White Wine Vinegar
2 tablespoons Extra Virgin Olive Oil
2 tablespoons fresh Lemon Juice
1 clove garlic, finely minced
1 tablespoon minced Shallot
2 large Fresh Basil Leaves, sliced thin
For the Salad:
2 Medium Zucchini, ends removed and discarded
6 large Fresh Basil Leaves, sliced thin
8 ounces Cherry Tomatoes in a variety of colors, sliced in half lengthwise
5 ounces Small Fresh Mozzarella Balls
Salt and Pepper, to taste
Instructions
To prepare the dressing:
In a small jar, combine the white wine vinegar, extra virgin olive oil, lemon juice, garlic, shallot, and basil.
Screw the lid to the jar on tightly, then shake until well mixed. Set aside.
To prepare the salad:
Using a vegetable Spiralizer, prepare the zucchini using the straight blade according to manufacturer's recommended instructions. Alternatively, slice the zucchini into ribbons using a vegetable peeler or a mandolin.
In a mixing bowl, toss the zucchini with the remaining basil. Transfer to a large serving platter.
Arrange the tomatoes and the mozzarella on top of the bed of zucchini.
Pour the dressing on top of the prepared salad, then sprinkle the top with salt and pepper, seasoning to taste.
Recommended Products
As an Amazon Associate and member of other affiliate programs, I earn from qualifying purchases.
Nutrition Information
Yield

8
Serving Size

1
Amount Per Serving
Calories

89
Total Fat

7g
Saturated Fat

2g
Trans Fat

0g
Unsaturated Fat

4g
Cholesterol

11mg
Carbohydrates

3g
Fiber

1g
Sugar

2g
Protein

4g
Click HERE to save this recipe for Zucchini Tomato Basil Salad!