Deconstructed Guacamole
Chips and and salsa, or dip or guacamole…basically tortilla chips in general are one of my favorite snacks. It is such a classic combo.
And my favorite chips are actually pretty good for you, too. I have been buying Food Should Taste Good Chips for years. There are all sorts of fun flavors like Multigrain, Guacamole, Blue Corn, Olive, and Sweet Potato.

A couple weekends ago we had out of town guests visiting and I made a kind of enchilada casserole type recipe for dinner.
Normally I would make a green salad and some guacamole to go with a meal like this. I decided I wanted to try a little bit different take on this recipe for The Best Guacamole.
Instead of mashing the ingredients all together to make a dip, I decided to take something more ordinary and be a little more creative with it.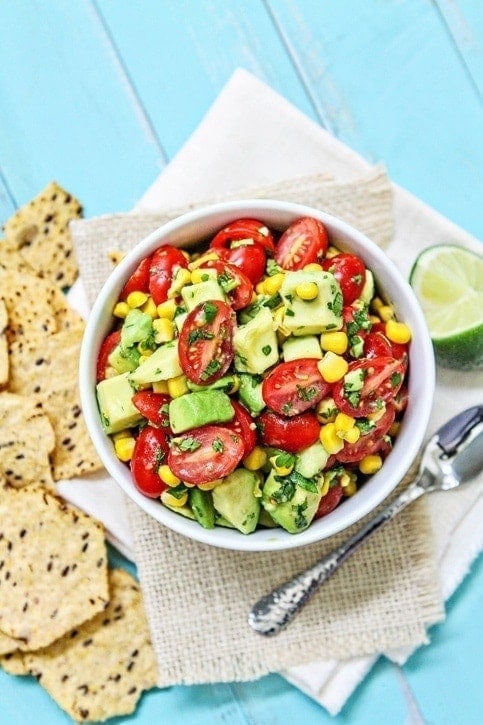 I left everything chunky and added some corn for an extra pop of color so it was more like a deconstructed guacamole. This recipe was so good  paired with the casserole and a huge hit. The the leftovers were perfect the next day for afternoon snacking.
This deconstructed guacamole is also perfect for snacking with chips, or for adding on top of tacos, fajitas, grilled meats or a Mexican salad.  And it is great for entertaining!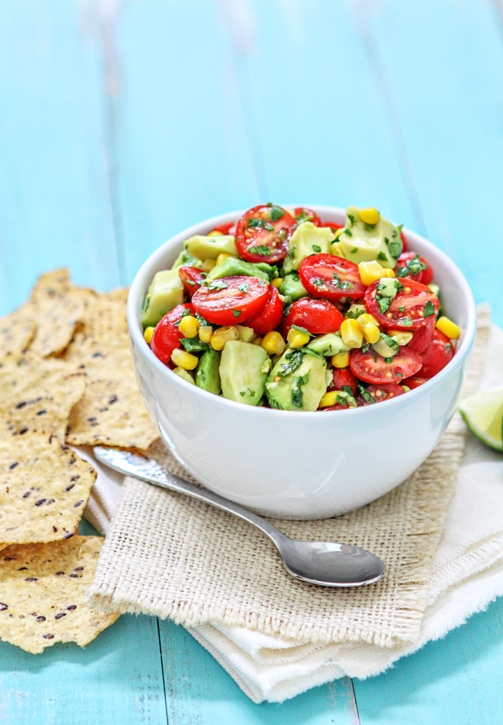 If you're looking for something fun and easy to bring to a get together with friends try this Deconstructed Guacamole, or for more ideas check out 5 New Ways to Serve Chips and Dip!.
There are some really fun ideas here, like DIY printable paper cones containing individual servings of Sweet Potato Chips to display alongside  gluten-free mango salsa or hollowed out pineapple with pineapple salsa inside.
How do you like to eat your chips?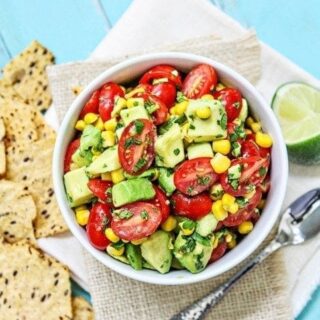 Ingredients:
1 pint of grape tomatoes, sliced
1 cup of corn
3 large avocados, cut into chunks
1 clove garlic, minced
1 jalapeño pepper, seeds removed and minced
2 tablespoons fresh cilantro, finely chopped
Juice of 2 limes
1/4 teaspoon salt
1/4 teaspoon pepper
Directions:
Add all of the ingredients to a bowl and stir gently to mix. Cover with plastic wrap and refrigerate until serving, or serve immediately. Tastes best if you let it refrigerate for a little bit to chill first. Garnish with lime wedges if desired.
This post is sponsored by Evite and Food Should Taste Good. All opinions are my own.