Bacon, Apple and Cheddar Grilled Cheese
One of our go-to dinners on crazy week days – and I'm not just talking busy, but full on crazy we have so much going on and there is hardly any food in the house we should have gone grocery shopping like yesterday kind of days – is grilled cheese. We pretty much always have some sort of bread and some sort of cheese.
And if we are feeling fancy, we usually have something we can throw in between the two slices of bread with the cheese to make it seem more like a meal than just a sandwich.
In this case it was Butterball turkey bacon, green apple, and red onion. The kids love apples, so we always have them for school lunches. The pantry always has onions because whenever I cook I always end up using a little…and sometimes a lot. And I like to keep bacon on hand as well.
This Bacon, Apple and Cheddar Grilled Cheese might not always fit the bill on a we-should-have-gone-grocery-shopping-like-yesterday kind of day. But, it is pretty handy to have around on days that are pretty busy and you might not have a huge selection of things in the fridge to get creative with.
Sharp cheddar cheese is combined with bacon, green apple, and caramelized onion in between two slices of toasted sourdough for an easy, but slightly decadent take on the classic sandwich. If the kiddos don't like the fillings, they can have sliced apples and bacon on the side instead of between the bread. Meanwhile, I choose to enjoy the complimentary flavors all together.
Bacon, Apple and Cheddar Grilled Cheese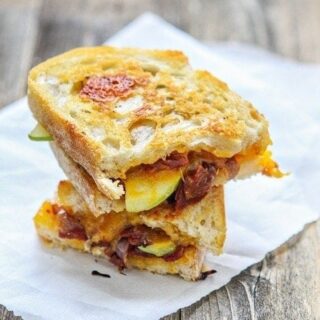 Ingredients:
Red onions, sliced into thin wedges
Olive oil
Butter
Sourdough Bread
Cooked Butterball Turkey Bacon
Thinly sliced green apples
Sharp Cheddar Cheese
Directions:
In a sauté pan or cast iron skillet, heat the olive oil. Cook the onions over medium heat until tender and browned. To assemble the sandwich, place the onions along with the bacon, apple slices, and cheddar cheese in between 2 slices of sourdough bread. Butter the outsides of the bread and toast in a cast iron skillet or using a Panini press until the cheese is melted and the bread is golden brown and toasted. Serve immediately.
Notes:
The amount of cheese, apple, bacon, and onion you use in each sandwich is completely up to the person who is eating the sandwich. I personally used about 6 thin slices of apples, 4 strips of bacon, a good helping of cheese and about 1/4 of a small red onion.
Disclosure: Disclosure: I've partnered with Butterball to create fun, new turkey recipes for their Turketarian program. This blog post is sponsored by Butterball. All opinions are my own.