Cheddar cheese, bacon, green apple, and caramelized onions are piled in between two slices of toasted sourdough for an easy Apple Bacon Grilled Cheese recipe.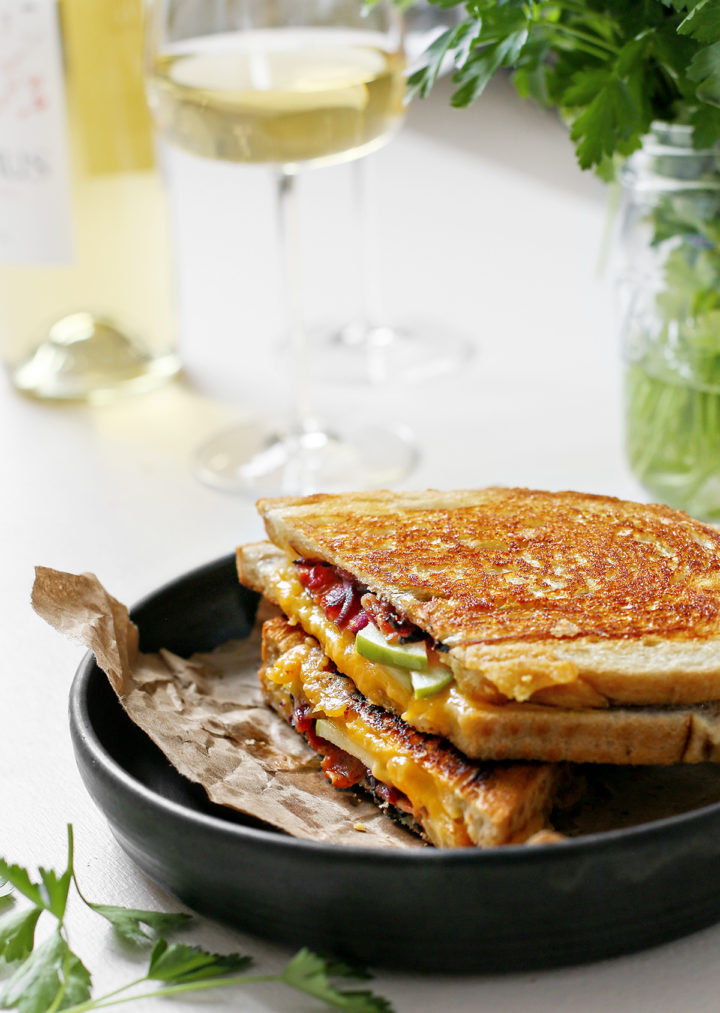 Creating This Apple Bacon Grilled Cheese Recipe
One of our go-to dinners on crazy week days — and I'm not just talking busy, but full on crazy "we have so much going on and there is hardly any food in the house we should have gone grocery shopping like yesterday" kind of days — is grilled cheese.
We pretty much always have some sort of bread and some sort of cheese.
And if we are feeling fancy, we usually have something we can throw in between the two slices of bread with the cheese to take the traditional grilled cheese sandwich to the next level.
In this case, it was bacon, green apple, and red onion. The kids love apples, so we always have them for school lunches.
The pantry always has onions because whenever I cook I always end up using a little…and sometimes a lot. And I like to keep bacon on hand as well.
This apple and bacon grilled cheese sandwich might not always fit the bill on a we-should-have-gone-grocery-shopping-like-yesterday kind of day.
But, it is pretty handy to have around on days that are pretty busy and you might not have a huge selection of things in the fridge to get creative with.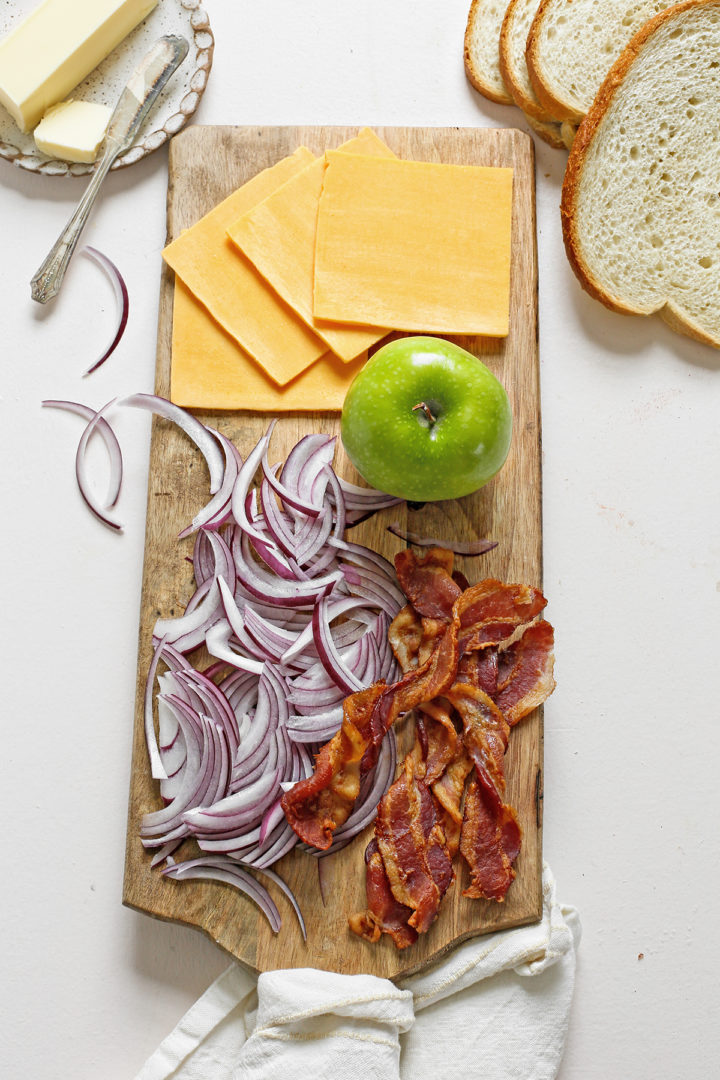 Apple Bacon Grilled Cheese Ingredients
For the sake of keeping this apple and bacon grilled cheese sandwich a quick and easy recipe, the ingredients list is super simple.
Red Onion
Olive Oil
Butter
Sourdough Bread
Bacon
Green Apple
Sharp Cheddar Cheese
For the complete ingredient list and detailed instructions to make these grilled cheese bacon sandwiches, scroll to the bottom of this post for the FREE printable recipe card.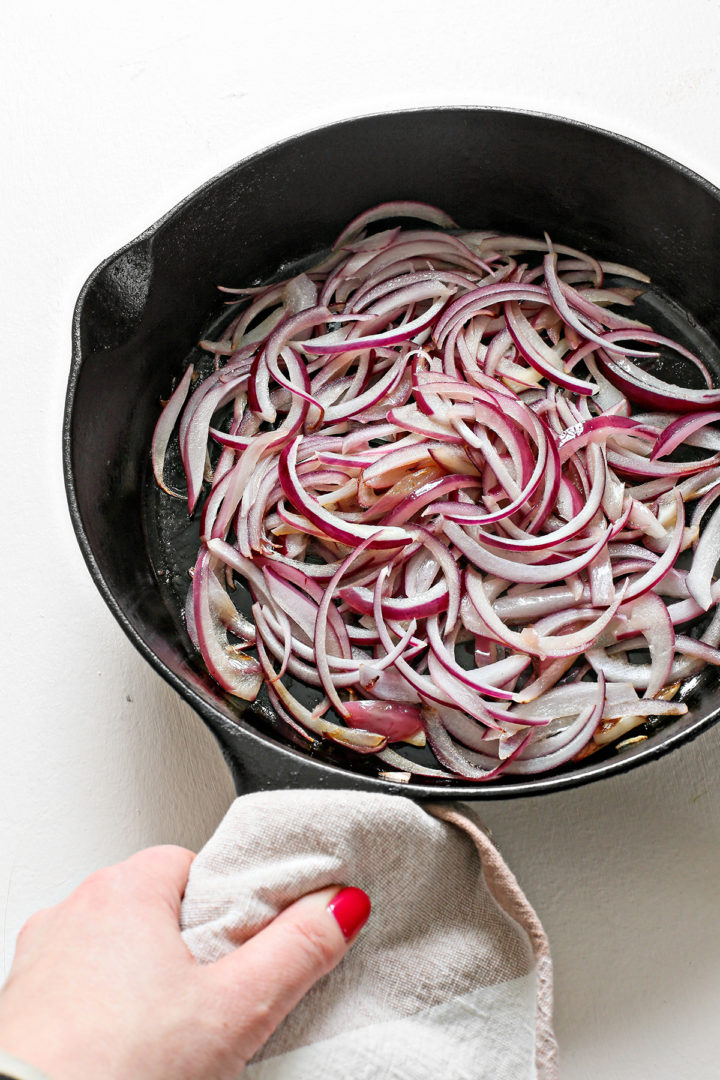 How to Make an Apple Bacon Grilled Cheese
I doubt I need to walk you through the steps for making this apple and bacon grilled cheese sandwich, but here are the basics anyways:
In a sauté pan or cast iron skillet, heat the olive oil.
Cook the onions until caramelized – you might like this tutorial on how to caramelize onions.
To assemble the sandwich, place bacon, caramelized onions, apple slices, and cheddar cheese in between 2 slices of sourdough bread.
Butter the outsides of the bread and toast in a cast iron skillet until golden brown and toasted.
The above is simply a quick summary of this bacon grilled cheese sandwich recipe. Check out the full recipe in the free printable recipe card at the bottom of this post for all the detailed instructions.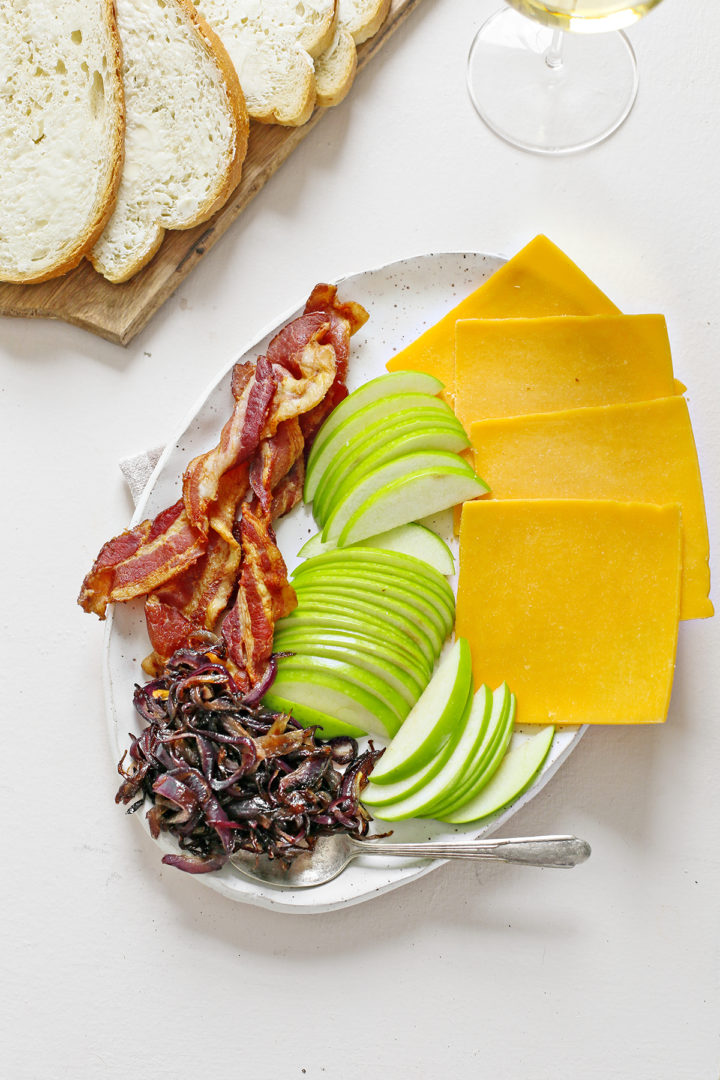 Tips for Making the Best Bacon Grilled Cheese
Purchase a good quality cheddar for this recipe. We like to visit the cheese counter at our grocery store because they always have great advice for good options to try.
Cut your apple slices thin. If they're thick, the sandwich will be harder to eat.
We prefer crispy bacon with this recipe. It adds a nice texture to the sandwich. Baking the bacon is a great way to cook it!
Transfer bacon to a paper towel-lined plate after cooking it to remove excess bacon grease from the bacon slices.
Make sure you butter the outside of the bread slices. You'll love the crispy, buttery bread!
Bacon Grilled Cheese FAQ
Got questions about how to make this Apple and Bacon Grilled Cheese? Here are the answers to a few commonly asked questions. Feel free to leave any other questions in the comments on this post and I'll respond with answers.
What's the Best Bread for Grilled Cheese Sandwiches?
We prefer using sourdough bread to make this bacon and apple grilled cheese. However, any hearty, crusty bread will work.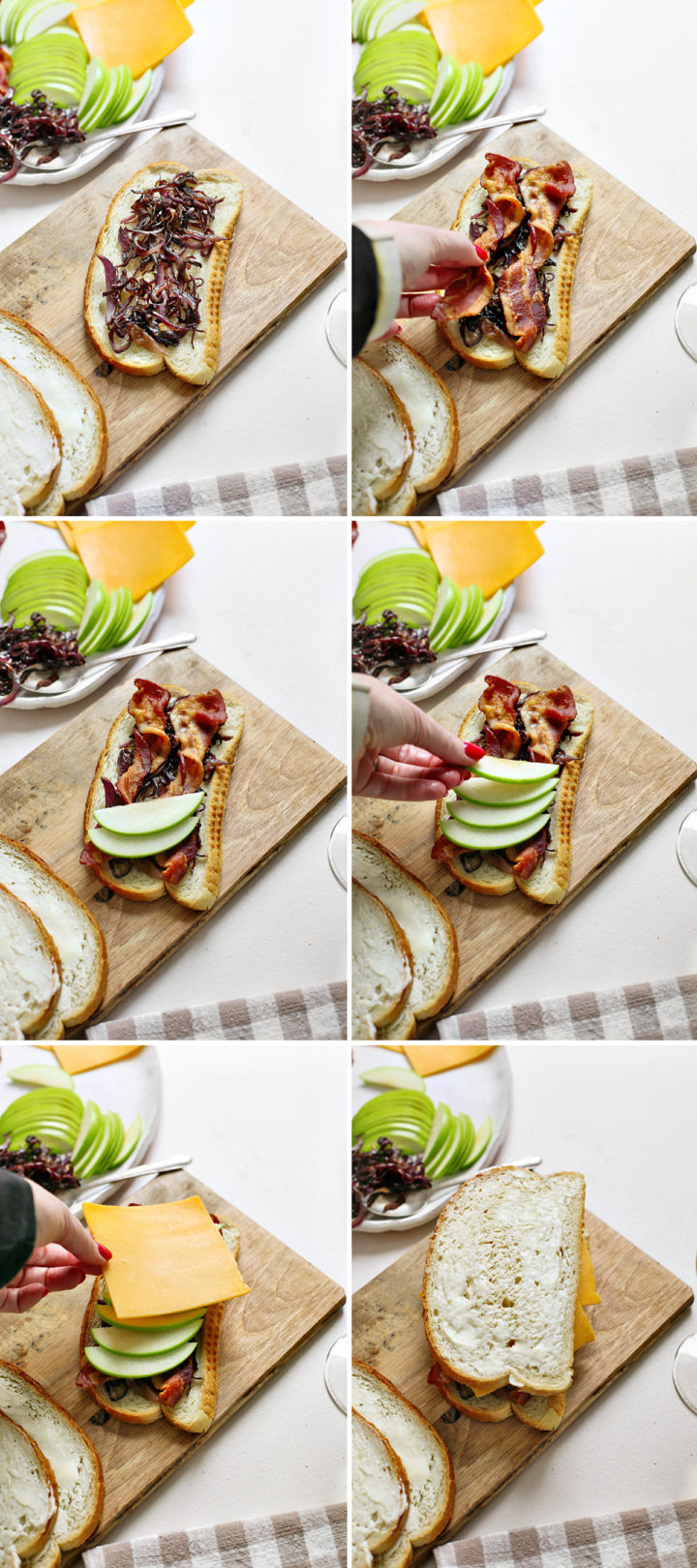 Can I Use Turkey Bacon?
Yes, you may substitute any bacon you'd like for the regular bacon. Just make sure to cook the bacon in advance!
What Can I Substitute for Sharp Cheddar Cheese in this Recipe?
If you don't have sharp cheddar or just want to use a different type of cheese, I would recommend: mild cheddar, colby, colby-jack, or gouda for this bacon grilled cheese recipe.
But, feel free to try it with your favorite cheese.
Can I Make This Recipe Gluten-Free?
Yes, just use your favorite gluten-free bread. Also, double check that your bacon and cheese are both certified gluten-free.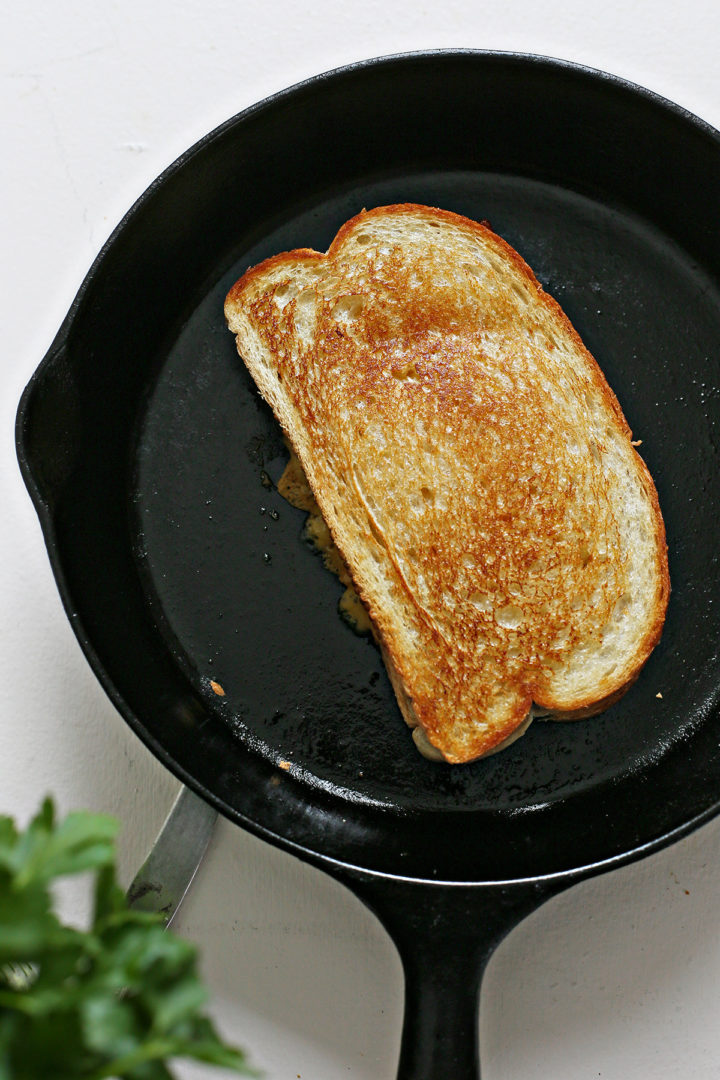 What is the Best Pan to Cook Grilled Cheese in?
Personally I prefer to use a cast iron pan. However, you can also use a panini press or a non-stick skillet if you prefer.
What to Serve with Grilled Cheese Sandwiches
Quick and easy is usually the name of the game when I make grilled cheese sandwiches for dinner. Here are some of my favorite sides to serve with grilled cheese:
Don't see what you're looking for here? You can always head over to check out the recipe index to look for more recipes.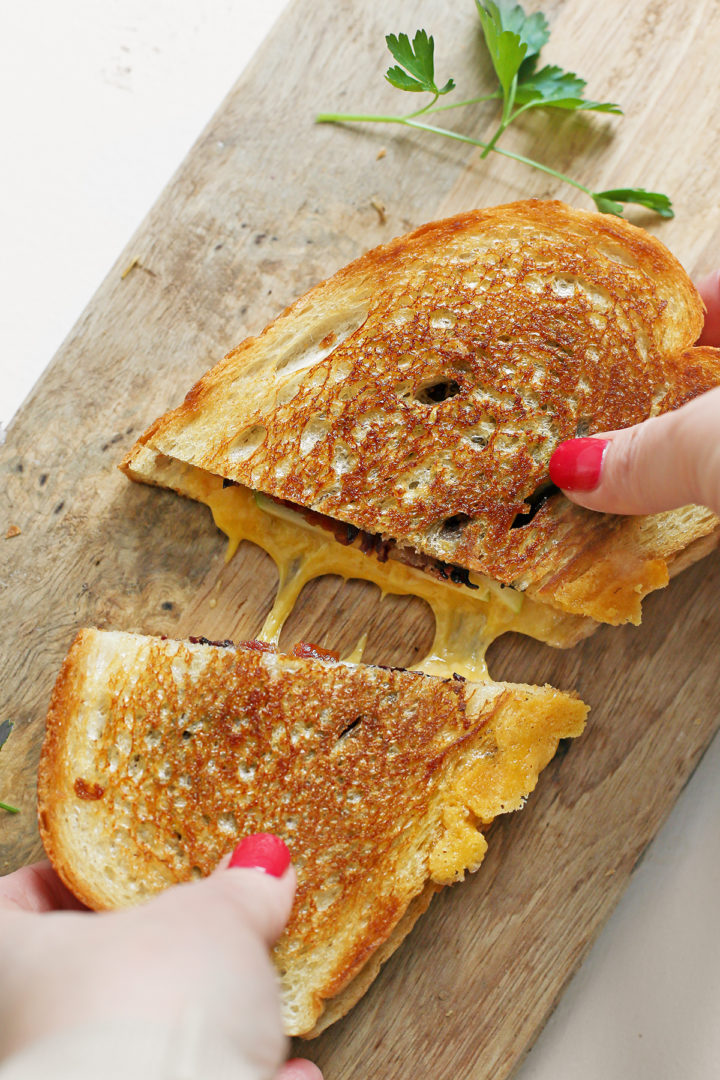 Try these Apple Bacon Grilled Cheese Sandwiches!
Next time you're looking for a next level grilled cheese sandwich recipe, give this recipe for Apple and Bacon Grilled Cheese a try!
Did you love the sweet apples with the smoky bacon and cheddar cheese? Leave a comment below and give it a review for others to see what you thought of this delicious sandwich recipe.
On Instagram? Share your photo and tag me with @goodlifeeats and #goodlifeeatsrecipes. I'd love to see your photo of these grilled cheese bacon sandwiches!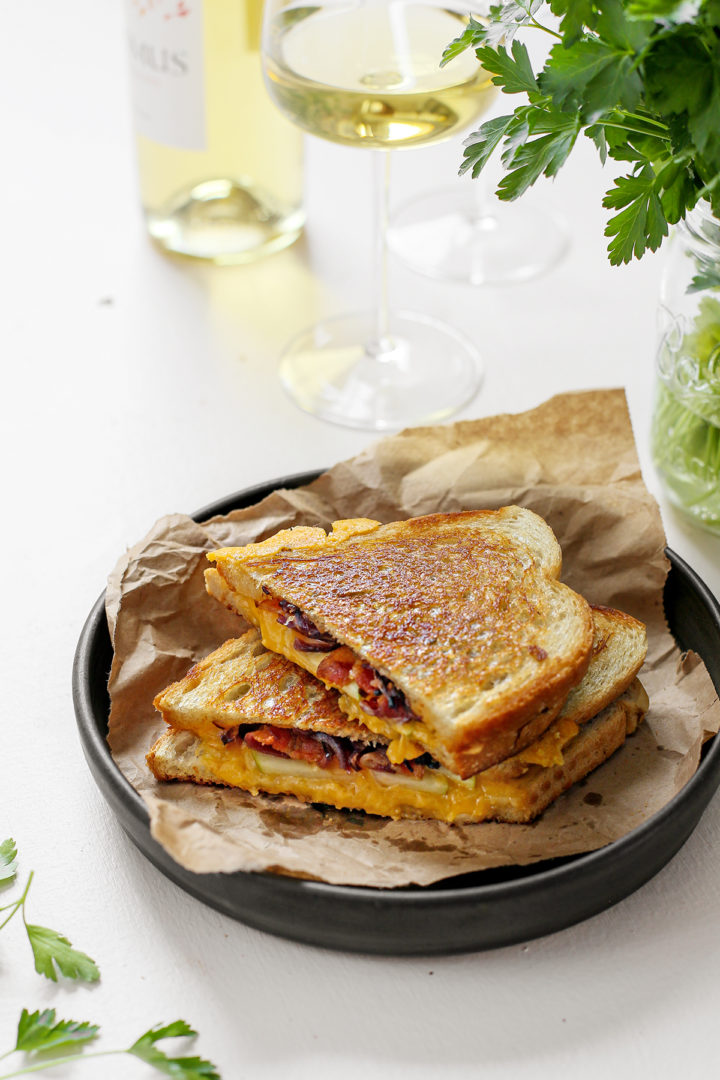 More Easy Sandwich Recipes:
A twist on the original grilled cheese using sharp cheddar cheese, Parmigiano Reggiano, roasted red peppers and prosciutto. You won't regret trying this Roasted Red Pepper and Prosciutto Grilled Cheese!
Thinly sliced, cool cucumbers are layered with mashed avocado and cream cheese spread on whole grain bread to make this satisfying Cucumber and Avocado Sandwich.
These Cucumber Watercress Sandwiches are the perfect finger food recipe for a springtime baby shower. This tea sandwich recipe couldn't be easier to make!
In this Pork Sandwich recipe, crusty sandwich rolls are layered with savory steakhouse mushroom marinated roasted pork loin, caramelized onions and mushrooms, melted cheese, and a hint of baby arugula.
Slow roasted roast beef, mashed avocado, roasted red pepper, lettuce, colby pepper jack, and chipotle aioli and sandwiched together between whole grain bread for a delicious Roast Beef Sandwich.
Get More Delicious Recipes via Email
Did you love this recipe for Apple Bacon Grilled Cheese? Sign up for Good Life Eats email updates and never miss another recipe!
Have you ever had a grill cheese sandwich recipe with bacon and apples?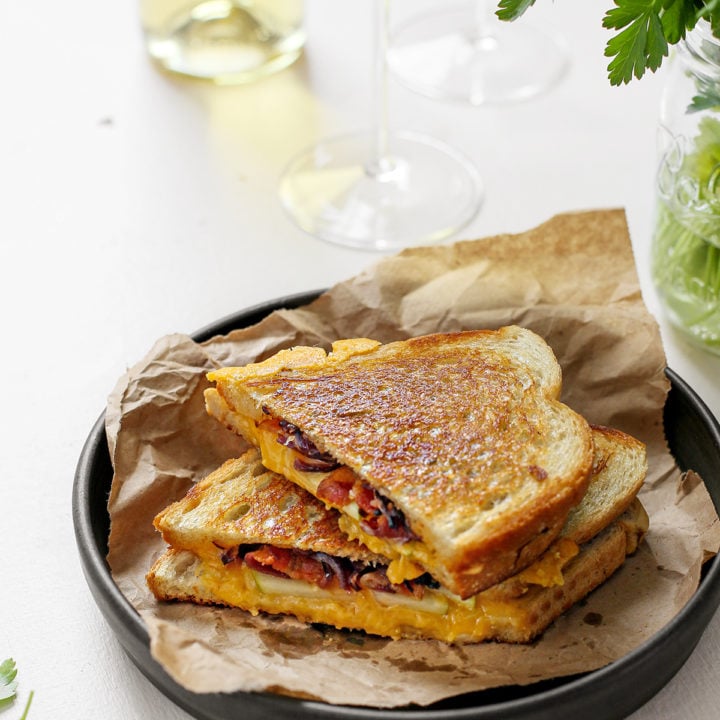 Apple and Bacon Grilled Cheese Sandwich
If we are feeling fancy, we usually have something we can throw in between the two slices of bread with the cheese to make it seem more like a meal than just a sandwich. I love making custom sandwiches like this.
Ingredients
1 Red Onion, sliced into thin wedges
1/2 tablespoon Olive Oil
1/2 tablespoon Butter
4 slices Sourdough Bread
6 slices Bacon
1 small Green Apple, thinly sliced
3-4 ounces Sharp Cheddar Cheese
Instructions
Prepping the Bacon Grilled Cheese Sandwich Ingredients
Caramelize the Onions
Slice the onion thinly (about ⅛ inch).
Add butter or oil to a pot over medium-low heat.
Once melted, add the sliced onions.
Cook for about 10 minutes, stirring often.
Then, stir in the salt. Reduce the heat to low.
Let the onions continue cooking over low heat for roughly 45 to 50 minutes.
Stir only every 5 to 10 minutes. You want the onions to develop color evenly and not burn, but you don't want to disturb them often or else they won't caramelize!
When very dark brown and sweet in flavor, remove from heat.
Slice the Apples
Cut the apple into thin slices, discarding the core and stem.
Cook the Bacon
Cook the bacon strips until crispy.
Place on a paper towel-lined plate to drain the grease while you begin sandwich assembly.
To Assemble the Bacon Grilled Cheese Sandwich
Butter one side of each of the bread slices.
On the side without the butter, layer the onions, bacon, apple slices, and cheddar cheese.
Top with another slice of bread, leaving the buttered side on the exterior.
To Cook the Bacon Grilled Cheese Sandwich
Heat a cast iron skillet over medium heat. When the pan is hot, add the sandwiches, cooking until the side facing down is crispy and golden.
Then, flip and repeat with other side, cooking until the bread is crispy and golden and the cheese is melted.
Serve immediately.
Notes
The amount of cheese, apple, bacon, and onion you use in each sandwich is completely up to the person who is eating the sandwich. I personally used about 6 thin slices of apples, 4 strips of bacon, a good helping of cheese and about 1/4 of a small red onion.
Recommended Products
As an Amazon Associate and member of other affiliate programs, I earn from qualifying purchases.
Nutrition Information
Yield

2
Serving Size

1/2 a sandwich
Amount Per Serving
Calories

788
Total Fat

36g
Saturated Fat

15g
Trans Fat

1g
Unsaturated Fat

17g
Cholesterol

84mg
Sodium

1650mg
Carbohydrates

81g
Fiber

5g
Sugar

15g
Protein

36g
GoodLifeEats.com offers recipe nutritional information as a courtesy and is an estimate only. This information comes from online calculators. Although GoodLifeEats.com makes every effort to provide accurate information, these figures are only estimates.