Make a delicious Brie Grilled Cheese by layering creamy brie, bacon, and raspberry jam between buttery, crispy bread for an easy Grilled Cheese with Brie. You'll love the combination of sweet and salty, crispy and gooey in this grilled cheese sandwich recipe.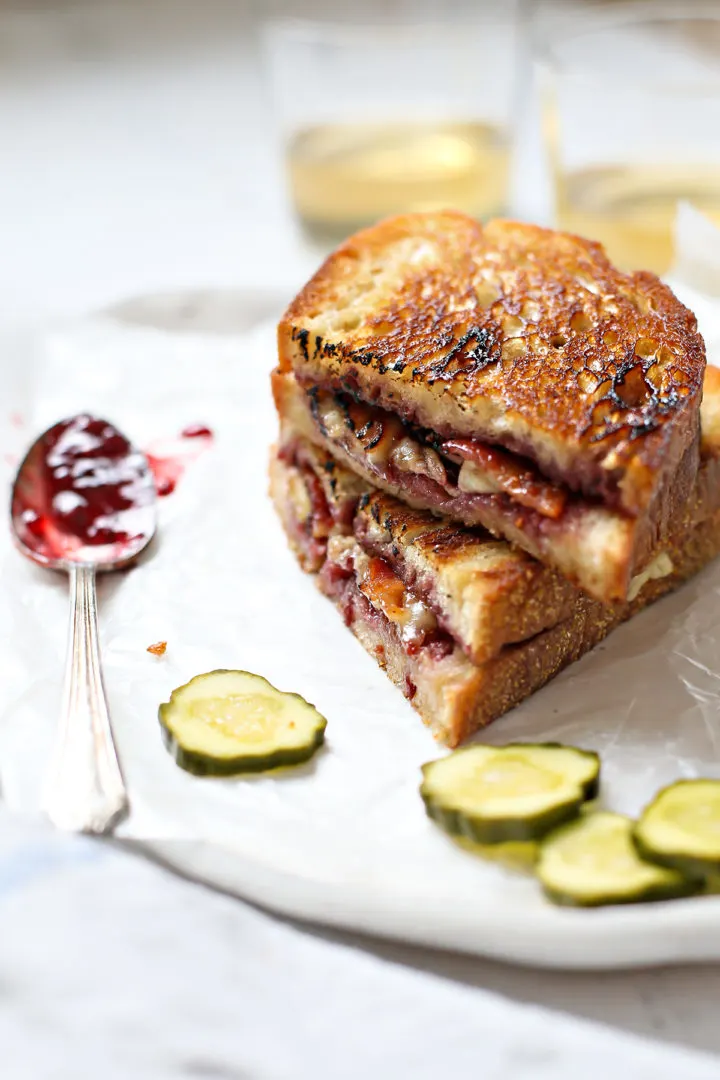 Recipe by former contributor Erica Buttered Side Up
Creating this Brie Grilled Cheese
Let's talk about how amazing these ingredients are, shall we? Crispy, salty bacon; soft Brie that melts if you so much as look at it; your favorite jam; rustic bread.
All of these ingredients work together to make this brie grilled cheese a very memorable sandwich.
I love that this sandwich is all about crispy and soft contrasts.
The melty cheese and jam ensure that this sandwich is anything but dry. The jam also offsets the saltiness of the bacon nicely.
My husband enjoyed it even though he doesn't care for jam on savory sandwiches, so I think this recipe is a win all around.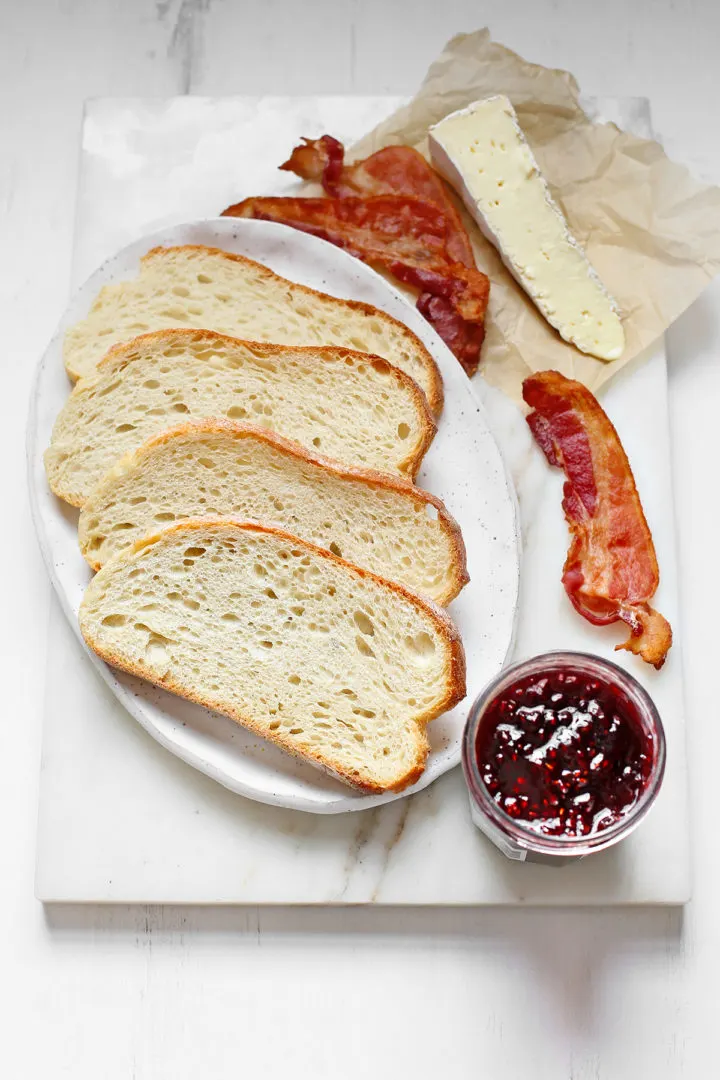 What's in this Brie Grilled Cheese?
Think of this more as an inspiration than a hard-and-fast recipe. I firmly believe that you'll get much more enjoyment out of a recipe if you make it your own.
Choose a bread that looks delicious to you. Use your favorite bacon. Spread the bread with some amazing jam. It's hard to go wrong when you use quality ingredients.
Here are the ingredients I chose:
Crusty Bread
Hickory Smoked Bacon
Brie Cheese
Raspberry Jam
Pasture Butter
For the complete ingredient list and detailed instructions to make these brie grilled cheese sandwiches, scroll to the bottom of this post for the FREE printable recipe card.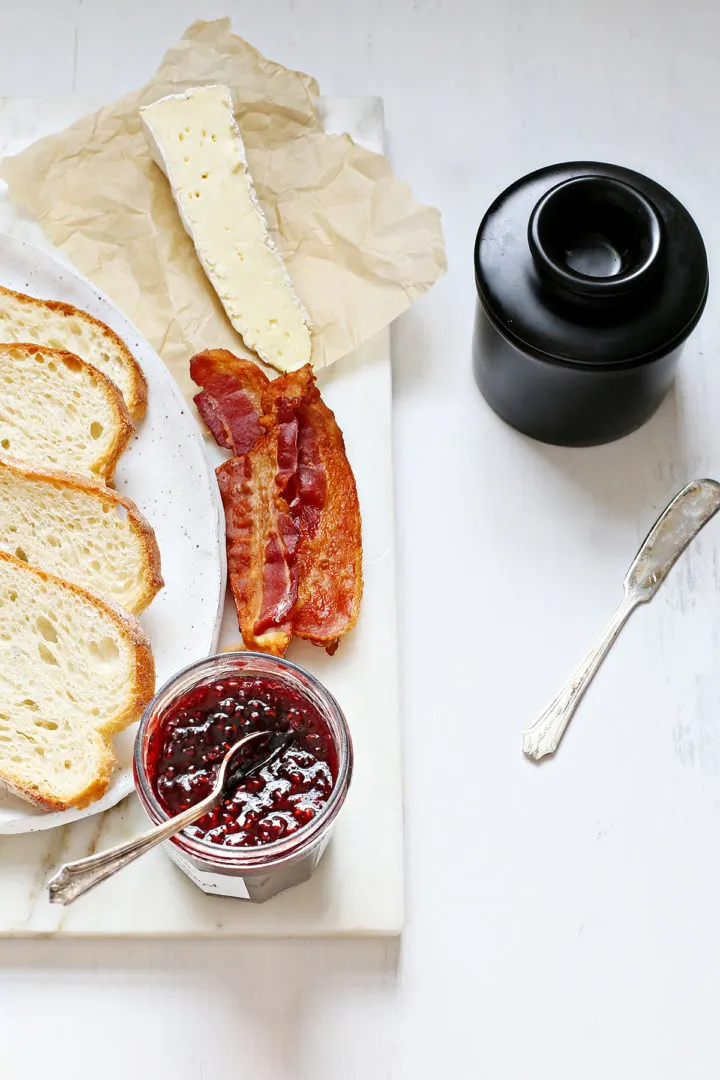 How to Make a Brie Grilled Cheese
Making a grilled cheese sandwich is pretty easy, and you most likely know how, but here's a quick overview of the process:
Heat a cast iron pan over medium heat.
Butter the outsides of the bread slices.
Assemble the sandwich, layering jam, cheese, bacon, and more cheese between 2 slices of buttered bread.
Toast in a cast iron skillet until the bread is golden brown on both sides and cheese is melted.
The above is simply a quick summary of this grilled cheese with brie. Check out the full recipe in the free printable recipe card at the bottom of this post for all the detailed instructions.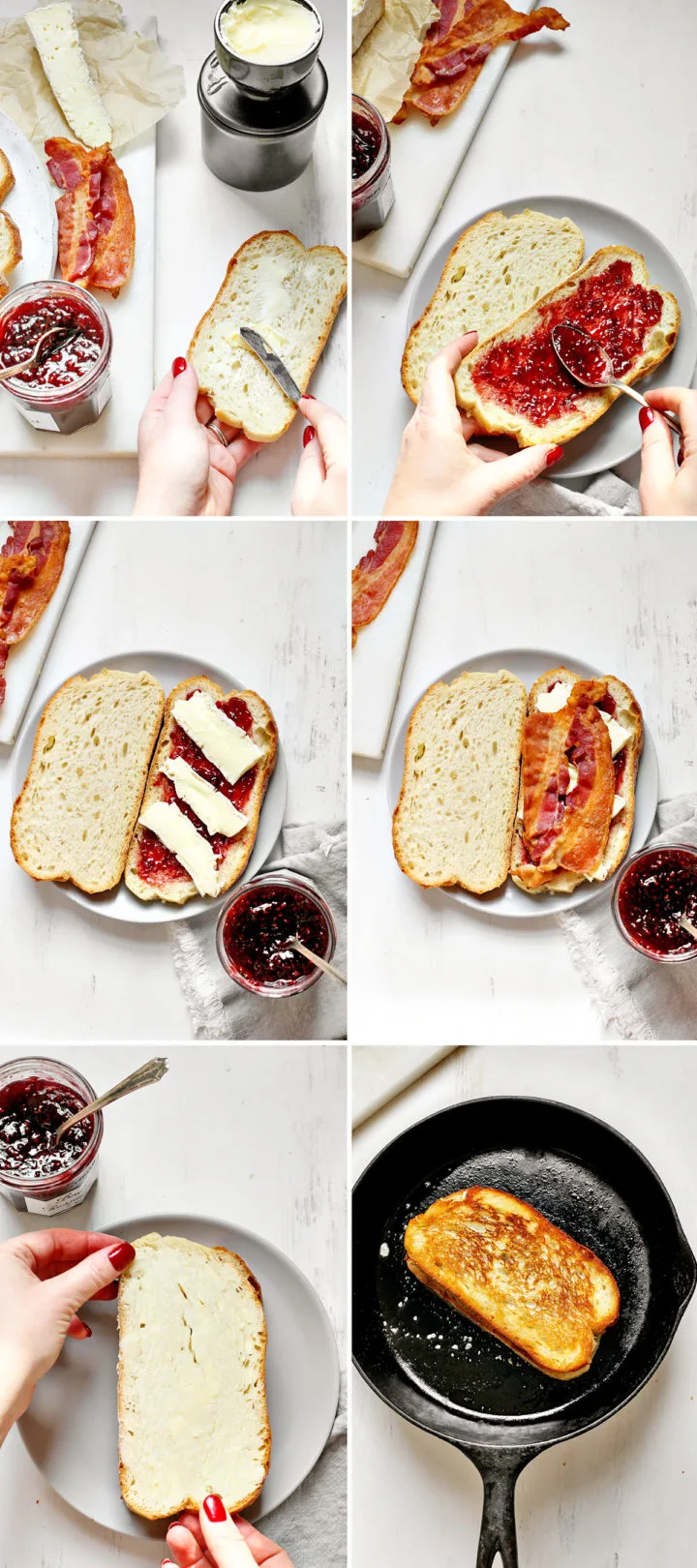 Tips for Making the Best Brie Grilled Cheese
We prefer crispy bacon with this recipe. It adds a nice texture to the sandwich. Baking the bacon is a great way to cook it!
Transfer bacon to a paper towel-lined plate after cooking it to remove excess bacon grease from the bacon slices.
Go easy on the butter – this sandwich can get greasy fast.
Use a light hand with the jam as well. You want just a hint of sweetness. And it can make the bread soggy if you use too much.
Use a cast-iron skillet set to medium to medium-low heat. Cooking at a lower heat will allow the bread to become crisp and golden brown while the cheese melts.
You can either butter the skillet or butter the outside of the bread lightly – whatever floats your boat.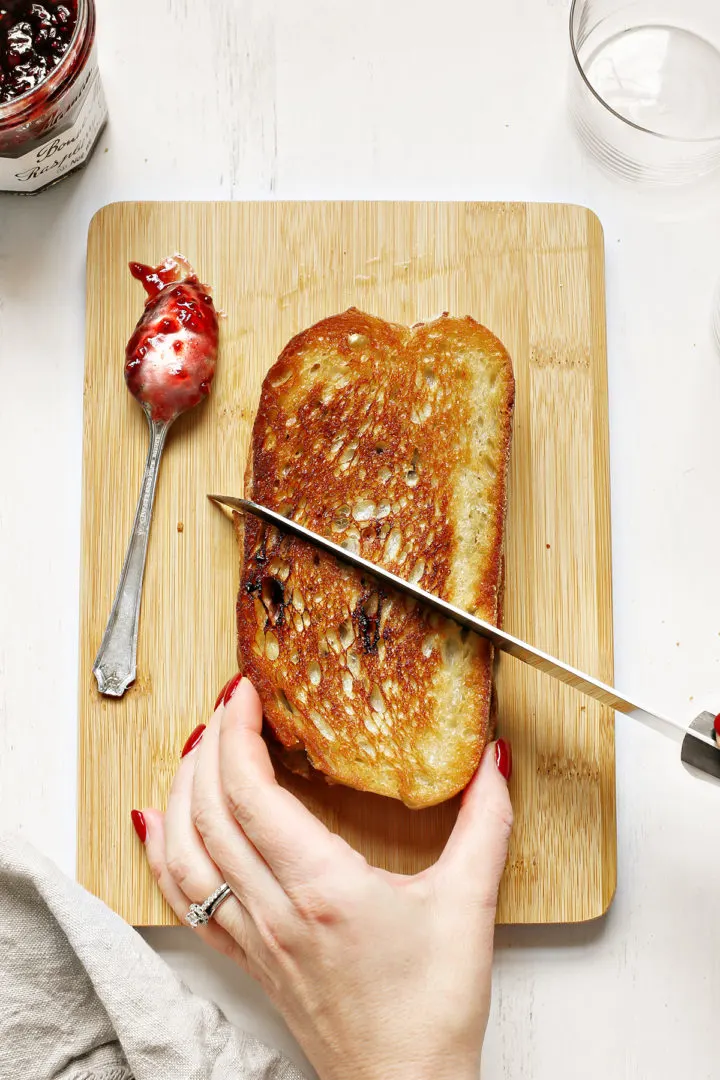 Brie Grilled Cheese FAQ
Got questions about how to make this Brie Grilled Cheese? Here are the answers to a few commonly asked questions. Feel free to leave any other questions about making these grilled cheese sandwiches in the comments on this post and I'll respond with answers.
What Type of Bread Should I Use for this Grilled Cheese with Brie?
What matters most is that you use a good bread. I don't recommend regular sandwich bread. The slices of bread need to be sturdy enough to hold up the crispy bacon, creamy brie cheese, and the jam.
We prefer to use: sourdough bread, a country loaf, or French bread, but any crusty artisan bread will do.
Can I Use Turkey Bacon?
Yes, you may substitute any bacon you'd like for the regular bacon. Just make sure to cook the bacon in advance!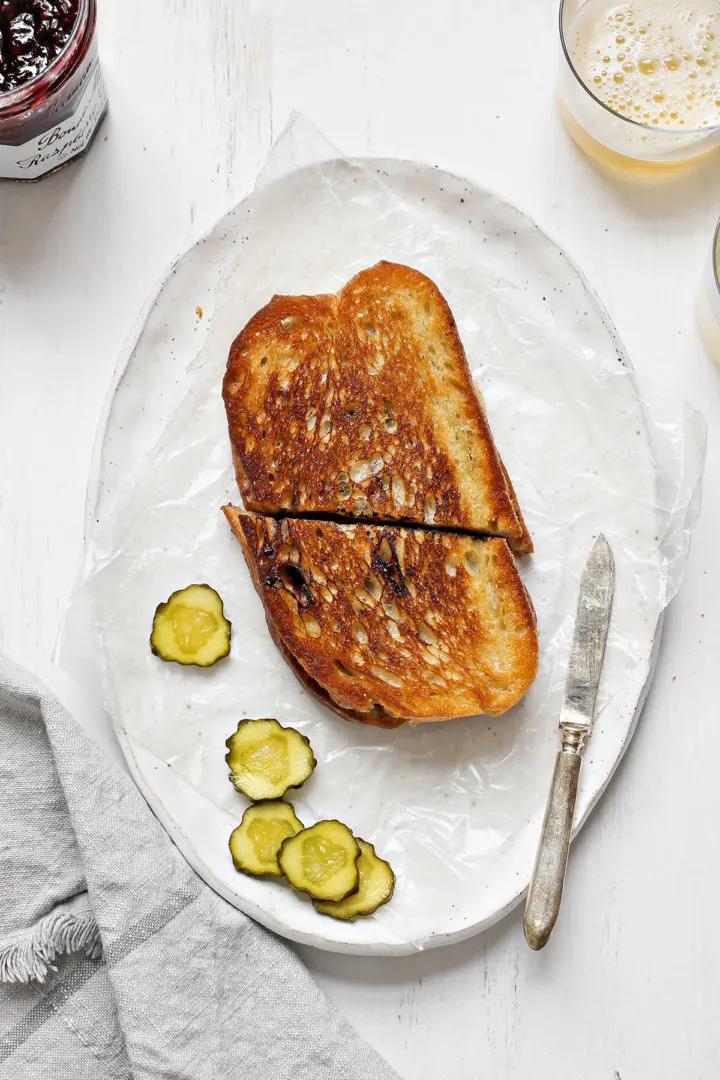 Can I Use a Cheese Other Than Brie?
Sure! I think that a sharp white cheddar would go best with the other ingredients in this recipe if you're looking to substitute for the brie.
What Can I Use Instead of Raspberry Jam?
The best part about this brie grilled cheese sandwich is that there are so many different ways you can make it.
Raspberry jam happens to be my personal favorite, but here are a few other fun ways to prepare this grilled cheese:
Cranberry Sauce – great way to use up Thanksgiving Leftovers. You could even add in some leftover turkey if you wanted.
Fig Jam
Blackberry Jam
Blueberry Jam
Peach Jam
Apple Butter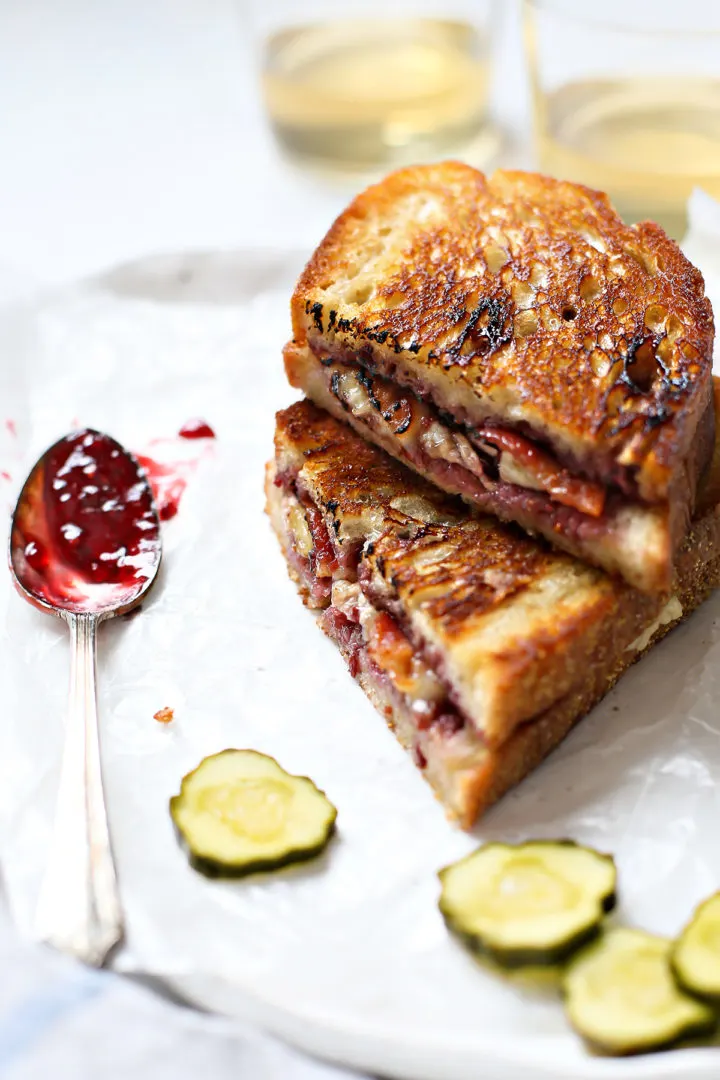 Can I Make a Gluten-Free Grilled Cheese?
Yes, just use your favorite gluten-free bread (pick one that is sturdy, like an artisan bread). Also, double check that the bacon, jam, and cheese are all certified gluten-free.
What to Serve with Brie Grilled Cheese
Quick and easy is usually the name of the game when I make grilled cheese sandwiches for dinner. Here are some of my favorite sides to serve with this recipe for grilled cheese with brie:
For total fall comfort food, serve this brie grilled cheese with Cream of Tomato Soup, the classic side dish to serve with a grilled cheese sandwich.
These "Cheesy" Kale Chips are one of our favorite ways to serve veggies on the side for a tasty lunch. Their crispy texture is the perfect companion to a sandwich.
Roasted Broccoli is a great, easy vegetable side dish to serve on the side of the sandwich.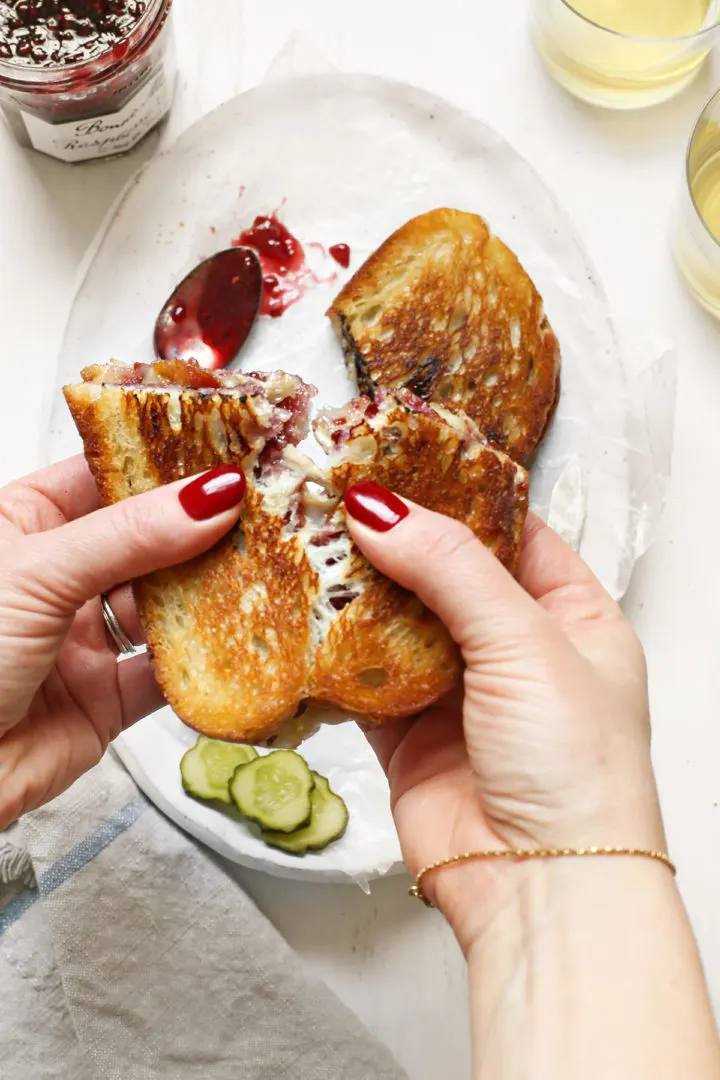 Try this Brie Grilled Cheese!
Next time you're looking for a next level grilled cheese sandwich recipe, give this Brie Grilled Cheese recipe a try!
Did you love the contrast of sweet and salty, creamy and crunchy? Leave a comment below and give it a review for others to see what you thought of this easy sandwich recipe.
On Instagram? Share your photo and tag me with @goodlifeeats and #goodlifeeatsrecipes. I'd love to see your photo of these grilled cheese with brie!
More Grilled Cheese Sandwich Recipes
Cheddar cheese, bacon, green apple, and caramelized onions are piled in between two slices of toasted sourdough for an easy Apple Bacon Grilled Cheese recipe.
A twist on the original grilled cheese using sharp cheddar cheese, Parmigiano Reggiano, roasted red peppers and prosciutto. You won't regret trying this Prosciutto Grilled Cheese!
Gooey melted Jarlsberg Cheese meets avocado, applewood bacon, arugula, and sliced tomato in this Bacon Avocado Grilled Cheese.
Don't see what you're looking for here? You can always head over to check out the recipe index to look for more recipes.
Get More Delicious Recipes via Email
Did you love this recipe for Brie Grilled Cheese? Sign up for Good Life Eats email updates and never miss another recipe!
Have you ever made a grilled cheese with brie?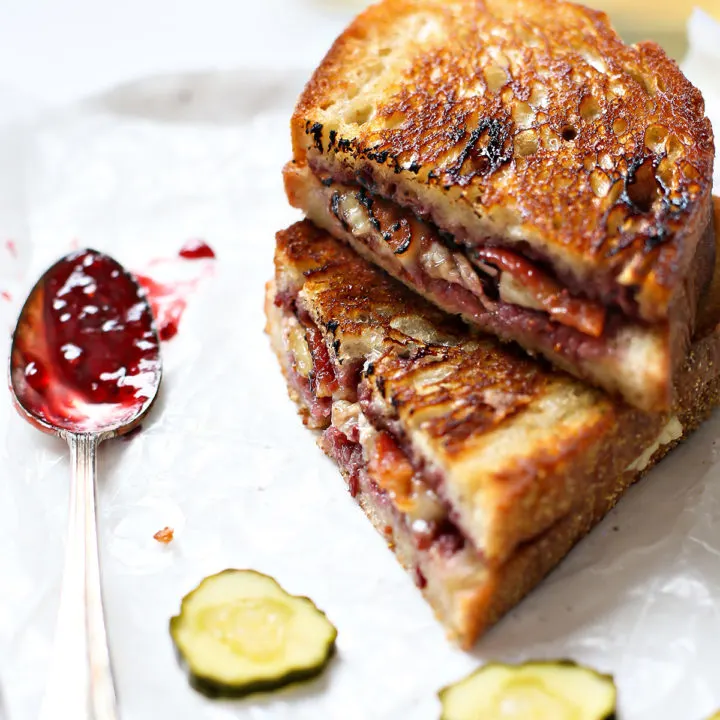 Brie Grilled Cheese
Brie, crispy bacon, and raspberry jam are piled in between two slices of buttery, crispy bread for an easy Brie Grilled Cheese recipe.
Ingredients
4 slices Crusty Bread (French Bread, Sourdough, or other Artisan Bread)
1-2 tablespoons Butter, according to preference
4-6 slices Hickory Smoked Bacon, according to preference
2-4 ounces Brie Cheese, according to preference
4-5 tablespoons Raspberry Jam, according to preference
Instructions
Prepping the Brie Grilled Cheese Sandwich Ingredients
Slice the Brie
Cut the brie into thin slices, discarding the rind.
Cook the Bacon
Cook the bacon strips until crispy.
Place on a paper towel-lined plate to drain the grease while you begin sandwich assembly.
To Assemble the Brie Grilled Cheese
Butter one side of each of the bread slices.
On the side without the butter, spread some of the jam.
Then, top with a quarter of the brie, half of the bacon, and a quarter of the brie. (Reserve the remaining brie, jam, and bacon for the second sandwich)
On the other slice of bread, spread more jam. Add that slice of bread on top of the slice with the cheese and bacon, placing the jam spread side towards the inside of the sandwich.
Repeat with remaining ingredients to assemble the second sandwich.
To Cook the Brie Grilled Cheese
Heat a cast iron skillet over medium low heat.
When the pan is hot, add the brie grilled cheese sandwiches, cooking until the side facing down is crispy and golden.
Then, flip and repeat with other side, cooking until the bread is crispy and golden and the cheese is melted.
Serve immediately.
Recommended Products
As an Amazon Associate and member of other affiliate programs, I earn from qualifying purchases.
Nutrition Information
Yield

2
Serving Size

1
Amount Per Serving
Calories

530
Total Fat

24g
Saturated Fat

12g
Trans Fat

0g
Unsaturated Fat

11g
Cholesterol

66mg
Sodium

928mg
Carbohydrates

59g
Fiber

2g
Sugar

23g
Protein

19g
GoodLifeEats.com offers recipe nutritional information as a courtesy. This provided information is an estimate only. This information comes from online calculators. Although GoodLifeEats.com makes every effort to provide accurate information, these figures are only estimates.