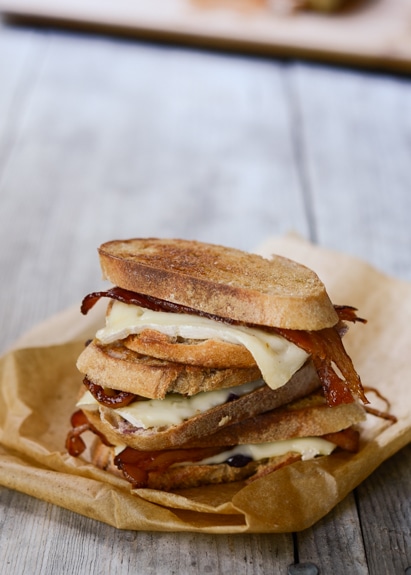 Written by: ERICA KASTNER of Buttered Side Up
Let's talk about how amazing these ingredients are, shall we? Crispy, salty bacon; soft Brie that melts if you so much as look at it; your favorite jam; rustic bread. All of these ingredients work together to make a memorable sandwich.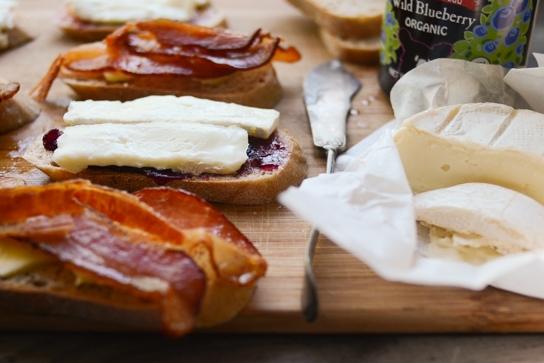 This sandwich is all about crispy and soft contrasts. The melty cheese and jam ensure that this sandwich is anything but dry. The jam also offsets the saltiness of the bacon nicely. Reuben enjoyed it even though he doesn't care for jam on savory sandwiches.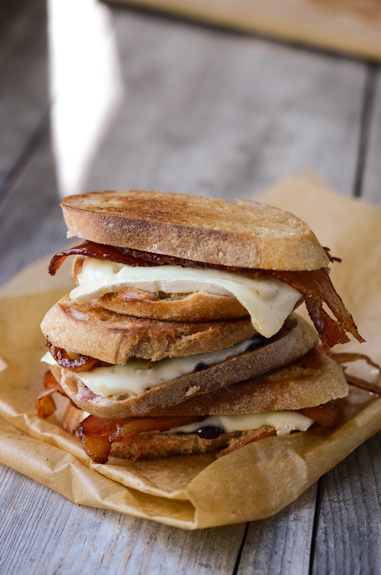 Think of this more as an inspiration than a hard-and-fast recipe. I firmly believe that you'll get much more enjoyment out of a recipe if you make it your own. Choose a bread that looks delicious to you. Use your favorite bacon. Spread the bread with some amazing jam. It's hard to go wrong when you use quality ingredients.
Here are the ingredients I chose:
Crusty French Bread
Hickory Smoked Bacon
Brie Cheese
Blueberry and Peach Jam
Pasture Butter
Here are a few tips for success:
Go easy on the butter – this sandwich can get greasy fast.
Use a light hand with the jam as well. You want just a hint of sweetness. And it can make the bread soggy if you use too much.
Use a cast-iron skillet set to medium to medium-low. You don't want the outside of the sandwich burning before the inside gets warm.
You can either butter the skillet or butter the outside of the bread lightly – whatever floats your boat.
What's your favorite way to fix a grilled cheese sandwich?
Recipe idea from House and Hold.