Baked Mac n Cheese with Gruyere and Butternut Squash
Gourmet Mac n Cheese is definitely comfort food in our home. I love this easy recipe for Baked Gruyere and Butternut Squash Mac n Cheese – I can't believe how many times we've made this in the last few months and I haven't even shared it with you yet!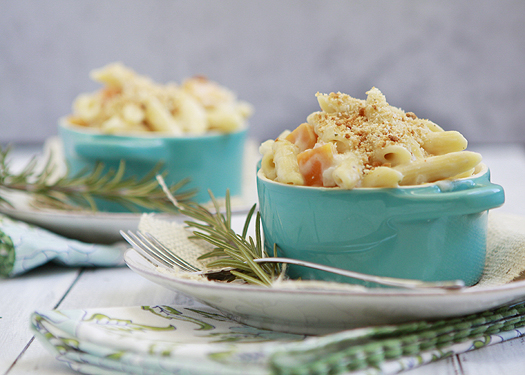 It was one of those quickly thrown together creations when I needed to get dinner on the table fast and such a hit that we kept making it. I served it at Madeline's school Christmas potluck and along with their parents, a bunch of 3 and 4 year olds completely gobbled it up!
Now, you might be thinking – "Katie, how is this a quickly thrown together creation??" I hear you! But it really was quick and on the table within 30 minutes. I followed these 3 Steps to Fancy Mac n Cheese to fill in the dish with flavors, ingredients and textures.
3 Steps to Fancy Mac n Cheese
It's time to get creative in the kitchen. Try these three, simple ways towards creative mac n cheese recipes. Sure we all love the traditional recipe, but it's fun to mix things up once in a while.

Fancy Up the Cheese
Master a basic cheese sauce and utilize that recipe over and over again, but each time you can experiment with different cheeses. Adjusting and tweaking the flavors to fit your mood at the time.
In this recipe for Baked Gruyere and Butternut Squash Mac n Cheese, Gruyere is accented by Mascarpone and Parmesan Cheese creates a rich, velvety sauce in this recipe. You could dream up infinite cheese combinations for your sauce.
Lacking inspiration?  Look up some of your favorites cheeses in The Flavor Bible: The Essential Guide to Culinary Creativity to find complimentary combinations.
Use Different Pasta Shapes
Embrace your inner child, or appeal to your own children with fun and different pasta shapes. Just because it's "Macaroni" and Cheese, doesn't mean you have to actually use macaroni pasta. In fact, I rarely do. I love shells, rotini, penne, wagon wheels and more.
Add a Few Mix-Ins
Adding accent meats and vegetables turns mac n cheese into a delicious, one pot meal with lots of flavor and color. I like to add steamed broccoli or chopped spinach to my mac n cheese, but this time I decided to experiment with squash. My two favorite meat mix-ins are ham and bacon. They both go so well with cheesy sauce, but experiment with others as well.
More Gourmet Mac n Cheese Recipes
p.s. Make sure you head over to take a look at the Deliciously Organic Meal Plan Deal and Cookbook Offer. Carrie is offering 50% off of her Organic Meal Plan subscriptions!
Baked Mac n Cheese with Gruyere and Butternut Squash
Yield: serves 6
Prep Time:20 minutes
Cook Time:10-20 minutes
Total Time:30 - 40 minutes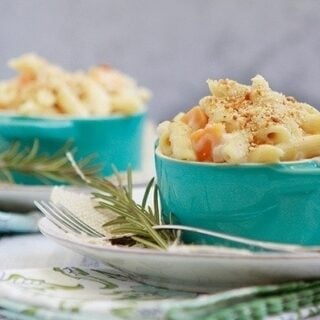 Ingredients:
1 - 1 lb. box penne pasta
1/2 of a yellow onion, diced
3 tablespoons butter
1/4 cup flour
3 cups whole milk
3 ounces mascarpone or cream cheese
5 ounces gruyere cheese, grated
1 ounce parmesan cheese, grated
1/8 teaspoon nutmeg
1/8 teaspoon cayenne pepper
1/2 teaspoon black pepper
1/2 to 1 teaspoon salt, according to personal preference
1/4 - 1/2 teaspoon finely minced fresh rosemary
butternut squash, chopped into bite sized pieces
1/2 cup panko breadcrumbs
Directions:
Peel, remove the seeds, and cut the butternut squash into bite sized cubes, or however large you'd like them to be. Set aside.
Bring a pot of water to a boil and cook pasta one to two minutes less than package instructions. Add the squash to the pasta water during the last 3-5 minutes, depending on the size of your squash. Drain and set aside.
In a large French or Dutch oven, melt the butter. Saute the onion in the butter for 4-6 minutes, or until soft and tender. Whisk in the flour and cook over medium heat till golden. Slowly whisk in the milk while cooking over medium heat.
Add the nutmeg, cayenne, black pepper, salt (if desired), and rosemary. Stir in the mascarpone cheese, whisking until melted and creamy. Then, whisk in the gruyere and parmesan until melted and creamy. Bring to a slow simmer, and then stir in the pasta and squash.
Transfer to an oven safe casserole dish. Top with 1/2 cup of panko bread crumbs and bake at 400 degrees F until the pasta is bubble and hot and the breadcrumbs are toasted, about 10-20 minutes. Serve immediately.
Notes:
For quicker prep, purchase already prepared butternut squash from the grocery store. I like the pre-peeled, and chopped squash that Costco offers.