Recipe Exchange: Homemade Mac n Cheese
What do you think of when you're asked to describe what "comfort food" means? I recently had to think about this a bit because Eric said that he had never heard the term prior to knowing me.
Homemade Macaroni and Cheese is the definition of comfort to me. I have fond memories of enjoying a bowl of homemade macaroni and cheese as a child and still love the cheesy, gooey pasta now as an adult. Though I do choose to fancy it up a bit with different cheese choices.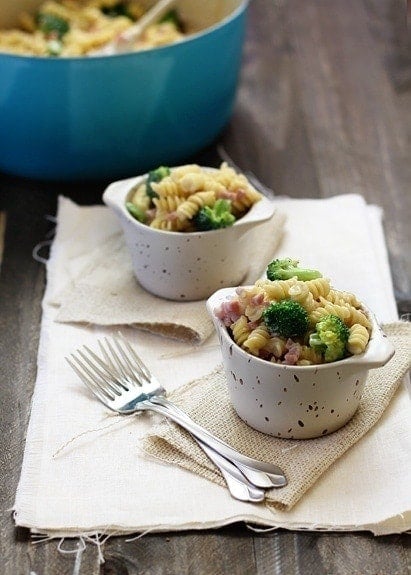 In this Cheesy Broccoli Ham and Rotini I've used sharp white cheddar and Gruyere cheese to add extra interest to the flavor of the sauce. This recipe is a great use of leftover Holiday ham. Add some broccoli and it's a great one pot meal – a favorite of the many ways to use the Le Creuset French Ovens!
What is your favorite comfort food? I hope you'll share it here for a chance to win a Le Creuset 5 quart French Oven – the perfect pot to cook your comfort food in. Check out Jamie's delicious Beef Stew Recipe that she shared for this recipe exchange.
Cheesy Broccoli and Ham Rotini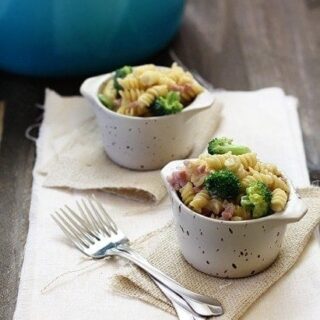 Ingredients:
1 pound rotini
2 shallots, minced
2 cloves garlic, minced
3 tablespoons butter
3 tablespoons flour
2 cups low-fat milk
4 ounces sharp white cheddar, grated
4 ounces gruyere, grated
1/8 teaspoon nutmeg
1/8 teaspoon cayenne pepper
3/8 teaspoon black pepper
1/2 - 1 teaspoon salt, according to taste
1 cup heavy cream
3/4 cup diced ham
2 large crowns of broccoli, cut into florets
Directions:
Cook pasta one minute less than package instructions. Drain and set aside. Steam the broccoli till tender crisp and set aside (you can also add it into the pasta water during the last 1-2 minutes of pasta cooking).
In a large French or Dutch oven, melt the butter. Add the shallot and garlic and saute for 1-2 minutes. Whisk in the flour and cook over medium heat till golden.
Slowly whisk in the milk while cooking over medium heat. Stir in the cheese, 4 ounces at a time, whisking until melted and creamy. Add the nutmeg, cayenne, pepper, and salt (if desired). Bring to a slow simmer, then stir in the ham and let cook until ham has heated through and flavors have developed, about 3-5 minutes.
Stir in the pasta and heavy cream, followed by the broccoli. Cook for 1 additional minute to reheat the pasta and broccoli. Serve immediately.
How To Participate
For a chance to win a 5 Quart Le Creuset French Oven:
Write and post a recipe on your blog about COMFORT FOOD.
Include "Come join the fun at the My Baking Addiction and GoodLife Eats Holiday Recipe Swap sponsored by Le Creuset." in your blog post.
Add your link to the widget on either GoodLife Eats or My Baking Addiction (we have the same widget code, so only add it on one site).
Submit your post before Dec. 16, 11:59 AM. On Dec. 17, 12:00 AM the widget will switch to voting mode. Be sure to encourage your readers to vote for you and/or vote for your favorites.
Anyone can participate in the link up, but the prize will ship to US residents only.
More detailed info, including buttons for your posts are available here.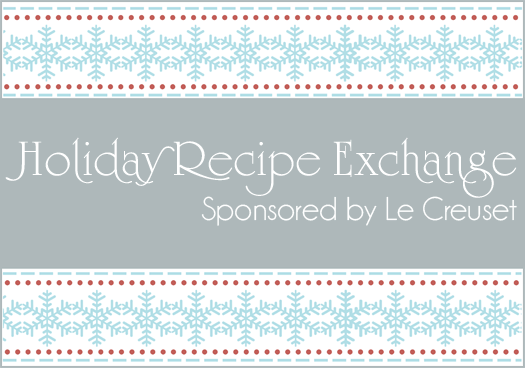 Link Up Your Recipes:
This Week's Prize:
5 Quart Le Creuset French Oven (2 winners), provided by Le Creuset.

Recipe Theme Schedule:
We still have three weeks open for this Holiday season. If you would like to discuss scheduling a sponsored recipe exchange please contact Katie or Jamie to discuss availability and themes.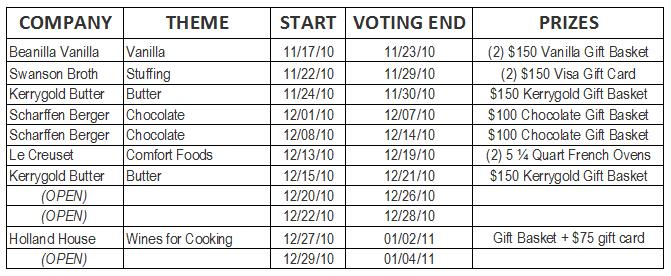 click image to enlarge
How To Promote Your Recipe:
Help us spread the word by letting your friends, family, and followers know about the contest. Email, Facebook, Tweet, Stumble…anything you want to do to promote this post is welcome.
Sample Tweet 1: Join @GoodLifeEats and @BakingAddiction for a Holiday Recipe Exchange. See how you can participate (and WIN) here: http://bit.ly/9YCFgA Pls RT
Sample Tweet 2: Enter COMFORT recipes in @GoodLifeEats & @BakingAddiction Recipe Exchange 4 chance @lecreuset 5 qt oven http://wp.me/p14Uvo-166
Sample Tweet 3: Have a winning COMFORT recipe? Share in @GoodLifeEats & @BakingAddiction Recipe Exchange 4 chance @LECREUSET 5 QT http://wp.me/p14Uvo-166
Sample Tweet 4: Vote 4 my COMFORT recipe in @GoodLifeEats & @BakingAddiction Recipe Exch so I can win @lecreuset prize http://wp.me/p14Uvo-166