Want to experiment with Grinding Your Own Flours and Using Whole Grains? This recipe for Multi-Grain Pumpkin Cranberry Bread is a great place to start!
This recipe features white whole wheat, spelt, barley, and oat flours!
While I've already made some headway with a few of my 2012 goals, I still have a couple more that I need to get to work on. This January for the Eat Well, Spend Less Series we're taking a look at our 2012 Food Resolutions. How does this relate to Multi-Grain Pumpkin Cranberry Bread?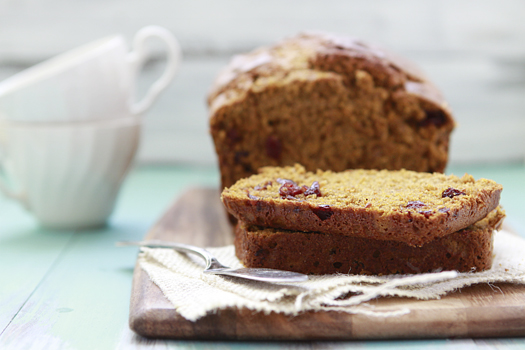 One of my 2012 Food Resolutions is to eat a larger variety of grains. I mentioned that our family is great about using freshly ground white whole wheat flour as a substitute in many of our favorite baking recipes.
Last year I adapted our family's favorite waffle recipe to create "Healthier" Whole Wheat Waffles, a recipe we still enjoy quite frequently and feel much better about eating.
But I'd like to take it a step further. I want to experiment with using other grains besides whole wheat to bake with. I came up with this delicious recipe for Multi-Grain Pumpkin Cranberry Bread.

Now, some of you might be a little intimidated by baking with whole grains and flours other than whole wheat. Believe me – I was too! So I thought I'd offer a few of my tips to you before sharing my recipe for Multi-Grain Pumpkin Cranberry Bread.
3 Tips for Baking with Whole Grain Flours
If you're curious why you should use other whole grains in your recipes, check out this post on 5 Reasons You Should Grind Your Own Flour from Whole Grains.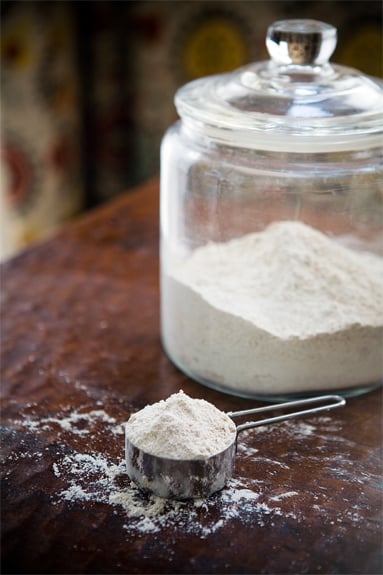 Getting Started and Purchasing Grains
Examine the grains before you purchase them. Grains should be uniform and undamaged. Start out by purchasing a small amount of the grains you'd like to try using.
Fresh grains don't have an indefinite shelf life (unless they are packaged for long term storage) and you won't yet know in the beginning what you like and don't like or what works and doesn't.
Stock up once you've found your grove and are regularly using whole grains. We purchase a 25 lb. bucket of white whole wheat flour at Costco now since we know we'll use it regularly.
Fresh is Best
I like to grind my own flours using an electric grain mill. Because it can be cumbersome to lug the machine out each time I might want to bake, I grind two 1 gallon sized freezer ziploc bags at a time of flours that I use often, such as whole wheat. Less if it is a flour like oat or rye flour that I use in smaller quantities.
Whole grain flours need to be stored in the refrigerator or freezer and in a tightly sealed container. These flours contain the oil-rich germ which causes the flour to go rancid when not stored properly.
Unfortunately, these flours lose their nutritional value quickly, so they're best used within 3 months of grinding.

Practice Makes Perfect!

When I first started baking with fresh whole wheat flour a few years ago I got comfortable with the change by substituting half of the all-purpose flour quantity for the whole wheat. Just this small change with increase the nutritional value of your recipes.
After that, maybe increase to using whole wheat flour for 2/3 or 3/4 of the full flour amount, or substitute another portion of the all-purpose flour for a different grain.
For example, in this Multi-Grain Pumpkin Cranberry Bread I added small portions of barley and oat flour to the recipe as an experiment.
Sometimes you might find that adding more liquids helps baked goods from being dry. Why? Whole Wheat Flour absorbs more liquid than all-purpose flour.
You'll also find what combinations of grains you like to work with and what flavors your family prefers. We learned that for whole wheat we prefer white whole wheat flour for it's mild taste.

This post is part of the Eat Well, Spend Less Series where, along with a few of my friends, I bring you suggestions for how you can eat delicious, tasty meals without wrecking your grocery budget.
This month we're discussing tackling our 2012 Food Resolutions. If you
Looking for more Pumpkin Recipes?
Be sure to check out these 25 Pumpkin Recipes to Try this Fall – So, if like me, you have a pumpkin hoarding problem you now have a very good excuse. I've just shared my favorite Pumpkin Recipes for you to try this fall.
What are you doing to tackle your 2012 food resolutions? Got any great tips to stay on track?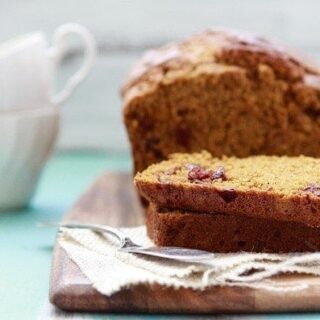 Multi-Grain Pumpkin Cranberry Bread
Yield:
1 - 2 loaves, depending on the size
Total Time:
1 hour
10 minutes
Ingredients
1 2/3 cup spelt flour
2/3 cup freshly ground white whole wheat
1/3 cup barley flour
1/3 cup oat flour
2 teaspoons baking soda
1 teaspoon salt
2 1/2 teaspoons cinnamon
1/2 teaspoon nutmeg
1/2 teaspoon allspice
3/4 teaspoon ginger
1/4 teaspoon cloves
1/8 teaspoon cardamom
1 cup granulated sugar
3/4 cup brown sugar
1/2 cup butter, melted
1/2 cup milk
1 teaspoon vanilla extract
4 eggs, beaten
1 - 15 ounces can pumpkin puree
1 cup dried cranberries
Instructions
Preheat the oven to 375 degrees F.
In a medium-large mixing bowl combine the flour through brown sugar. Stir well. In a small bowl, combine the butter though pumpkin puree. Mix well.
Make a well in the center of the dry ingredients. Pour in the liquids and stir with a wooden spoon until mixed. Don't overbeat, just stir until it is combined and there are no dry spots left. Fold in the cranberries
Divide batter between 1 or 2 greased loaf pans, depending on the size you have. I have a nice large pan that fits all the batter in.
Bake at 375 degrees F for 60-70 minutes, or until a toothpick comes out clean.
Notes
I lowered the sugar, some similar recipes use up to 3 cups of sugar. I, however, wanted this to be more of a breakfast bread than a dessert bread. Feel free to increase the sugar if you desire.
Recommended Products
As an Amazon Associate and member of other affiliate programs, I earn from qualifying purchases.
Nutrition Information
Yield

24
Serving Size

1
Amount Per Serving
Calories

205
Total Fat

5g
Saturated Fat

3g
Trans Fat

0g
Unsaturated Fat

2g
Cholesterol

42mg
Sodium

242mg
Carbohydrates

37g
Fiber

3g
Sugar

20g
Protein

5g
GoodLifeEats.com offers recipe nutritional information as a courtesy and is an estimate only. This information comes from online calculators. Although GoodLifeEats.com makes every effort to provide accurate information, these figures are only estimates.