This Oatmeal Pumpkin Smoothie is the perfect way to celebrate fall with your kids! Pumpkin smoothies are easy to prepare, super healthy and full of all your favorite fall spices. What isn't to love about a smoothie recipe that tastes like pumpkin pie?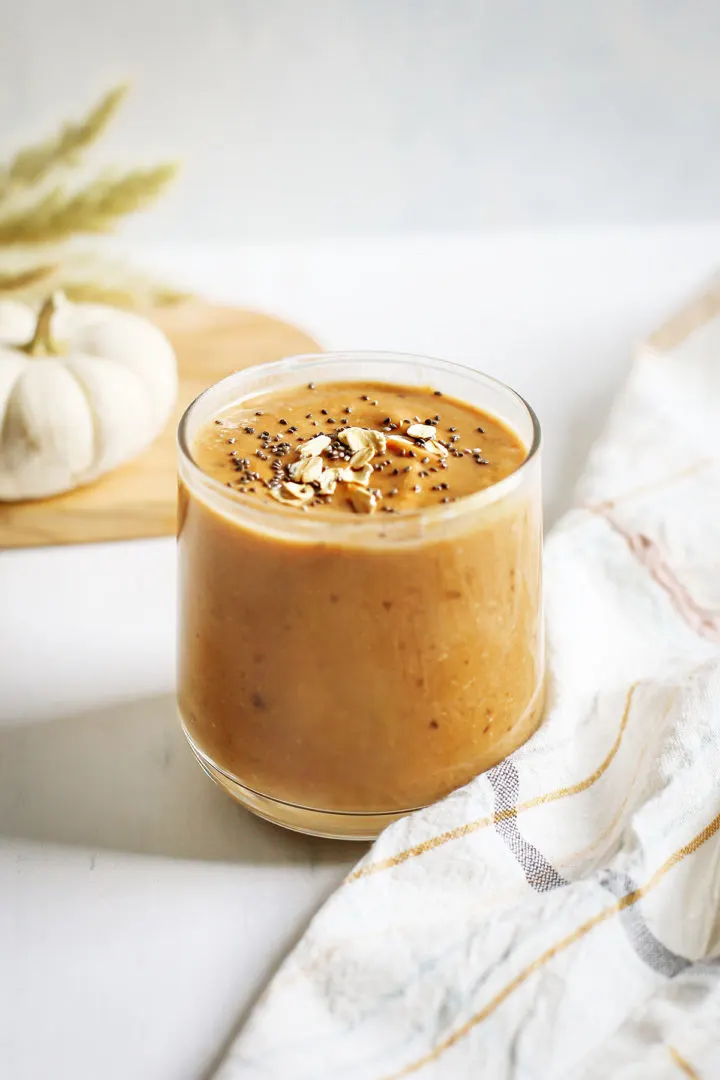 Click and save this Pumpkin Oatmeal Breakfast Smoothie to Pinterest!
Creating This Pumpkin Smoothie Recipe
It's my favorite time of year. I love Autumn because even though it brings chilly air and rainy days with it when it rolls into town, it also comes bearing gifts.
I've been looking forward to the changing colors on the trees, the upcoming holidays, and all the pumpkin goodness that happens this time of year!
When the calendar turns to October, I fill the menu with every pumpkin recipe I can get my hands on. For me, pumpkin is the surest sign that Autumn has arrived. I love pumpkin so much that I have a whole Pinterest board dedicated to Pumpkin Recipes.
This oatmeal pumpkin smoothie is one of our favorite pumpkin recipes right now. It's a healthy, yet delicious, way to start the day.
Plus, tasty pumpkin breakfast recipes make it easier to deal with the darker mornings and the chillier air we've been waking up to lately.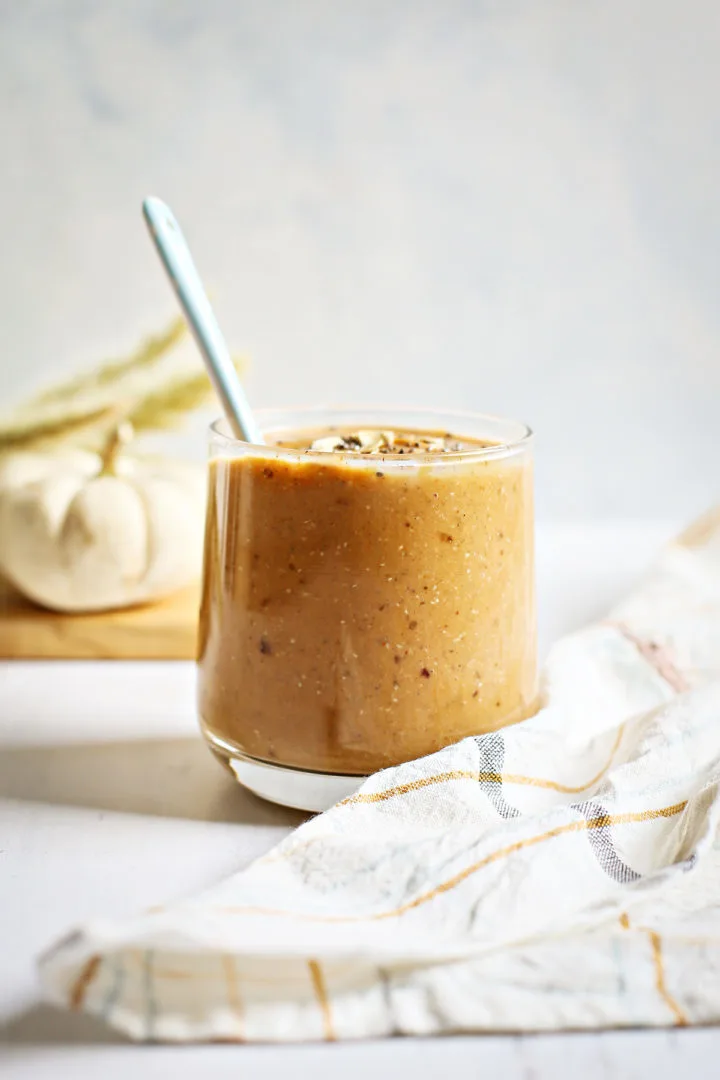 Click and save this Pumpkin Oatmeal Breakfast Smoothie to Pinterest!
What I Love About this Healthy Pumpkin Pie Smoothie
I really love smoothies for breakfast. They are something I can pull together quickly in the mornings while everyone rushes around like headless chickens.
Mornings during the school year are crazy at our house. We are not those people who have figured out a calm, solid morning routine.
We are, however, those people that believe a healthy pumpkin smoothie alleviates the problem. This delicious smoothie is the perfect breakfast for busy mornings because you can drink it on the go if needed.
Pumpkin Smoothies are a healthy way to satisfy those pumpkin spice cravings. Breakfast that tastes like dessert but is healthy like a bowl of oatmeal? Count me in! The kids want on that train too!
The best thing about this particular oatmeal breakfast smoothie recipe is that while it is healthy, packed with vitamin A, protein, and whole grain goodness, it tastes a lot like a yummy slice of pumpkin pie.
We'll be eating pumpkin pie too, of course, because as far as I'm concerned, pumpkin desserts are as good as it can get.
But since it's harder to justify a slice of pie at 6 o'clock in the morning, I'll settle for the next best thing. A pumpkin pie smoothie — complete with all the health benefits of a plain old bowl of oatmeal, that tastes like pie.
This post may include affiliate links. As an Amazon Associate and member of other affiliate programs, I earn a small commission from qualifying purchases.
Tools Needed to Make this Pumpkin Smoothie
This recipe doesn't need a lot of fancy kitchen equipment, but you will need a couple of kitchen basics. Here's what you'll need to prepare this delicious pumpkin pie smoothie recipe:
High-Powered Blender – using a high powered blender will help you achieve that smooth consistency in your smoothie. My favorite blender is the Blendtec Blender. We've had it for 10 years and it still works great!
Measuring Cups – to measure the oats, almond milk, pumpkin puree, and ice cubes.
Measuring Spoons – to measure the spices, vanilla, and chia seeds.
Other Favorite Smoothie Making Tools and Gadgets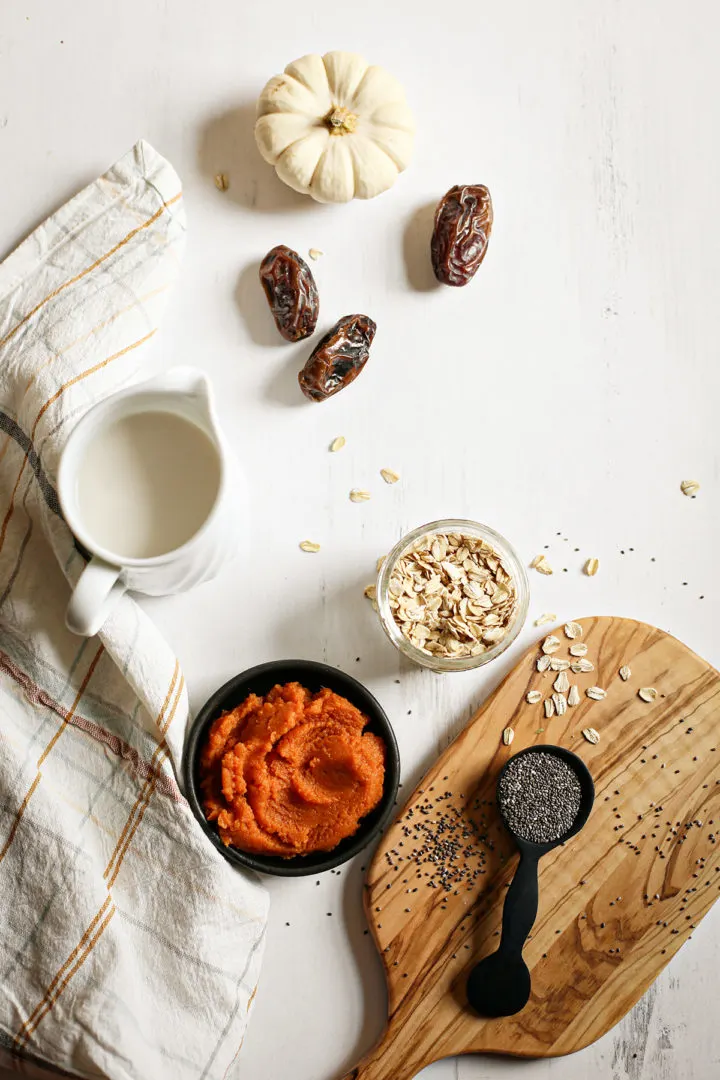 Pumpkin Smoothie Ingredients
This healthy pumpkin smoothie uses minimal ingredients and can easily be tailored to suit your own tastes. For this pumpkin pie smoothie, you'll need:
Rolled Oats
Almond Milk
Frozen Banana
Vanilla Extract
Dates
Spices
Ice Cubes
Chia Seeds – Nutiva Black Chia Seeds are my favorite brand of chia seeds to use in this Pumpkin Smoothie Recipe!
Garnish ideas: dusting of pumpkin pie spice or cinnamon, rolled oats, and/or pumpkin seeds.
For the complete ingredient list and detailed instructions, scroll to the bottom of this post for the FREE printable recipe card.
Pumpkin Smoothie Ingredient Substitutes
Typically I don't recommend making a bunch of substitutions when preparing a new recipe. When making substitutes, you won't know if you don't like the recipe or if the recipe didn't turn out due to a preparation mistake, an ill effect from the substitute, or something else.
However, if you do choose to make substitutions in a recipe, I recommend only making one substitute at a time so you don't have a building effect of multiple poor substitutions.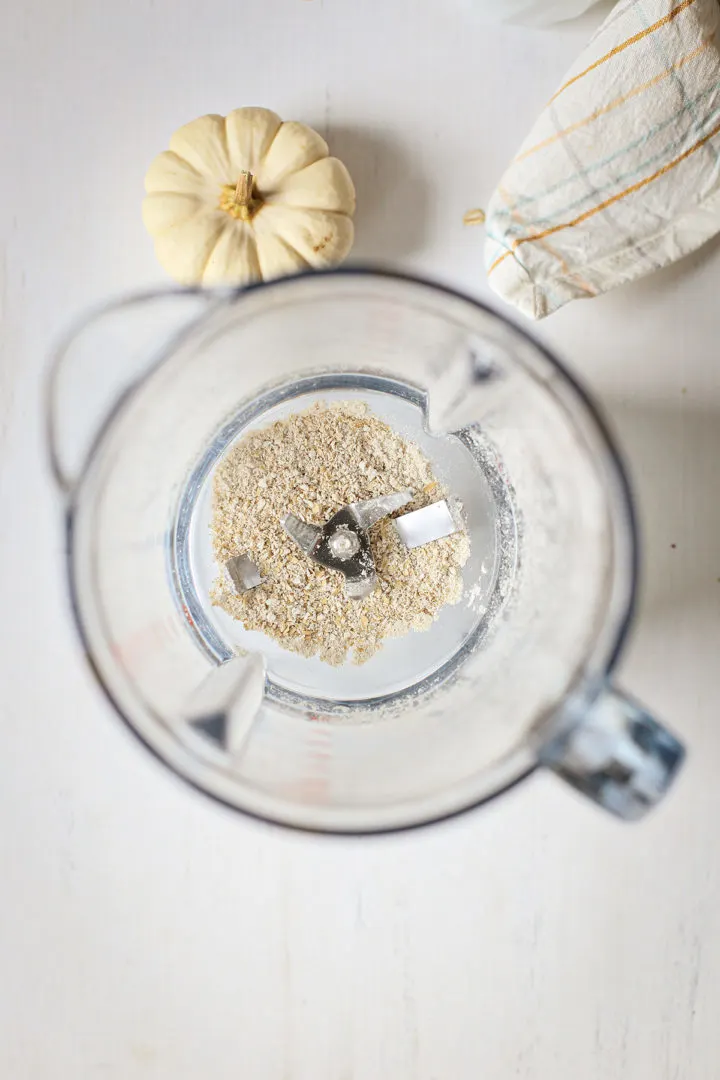 Can I Use Instant Oats?
You should be able to use plain instant oats since they're fairly fine in texture and you are grinding them anyway. However, I've only ever made this pumpkin smoothie recipe as written so I'm not sure how if there will be a difference in taste when using instant oats instead of rolled.
What Can I Use Instead of Almond Milk?
If you'd rather use another type of milk in this healthy pumpkin smoothie, go for it. Other plant-based milk options that you could use are oat milk or soy milk. Or, feel free to use whole milk if you prefer dairy milk. I don't recommend coconut milk due to the flavor.
You can also use pre-made pumpkin pie spice instead of the three spices listed. In general, you're welcome to play around with the ingredients as you see fit.
Can I Omit the Dates?
Yes, but if you omit the dates I recommend adding in some honey or pure maple syrup to sweeten this pumpkin smoothie.
How to Make a Pumpkin Smoothie
Place the rolled oats in a blender and pulse until powdery. Then, add in the rest of the ingredients and blend until your desired consistency is reached. Pour into your favorite glass and enjoy!
The above is simply a quick summary of this recipe. Check out the full recipe in the free printable recipe card at the bottom of this post for all the detailed instructions.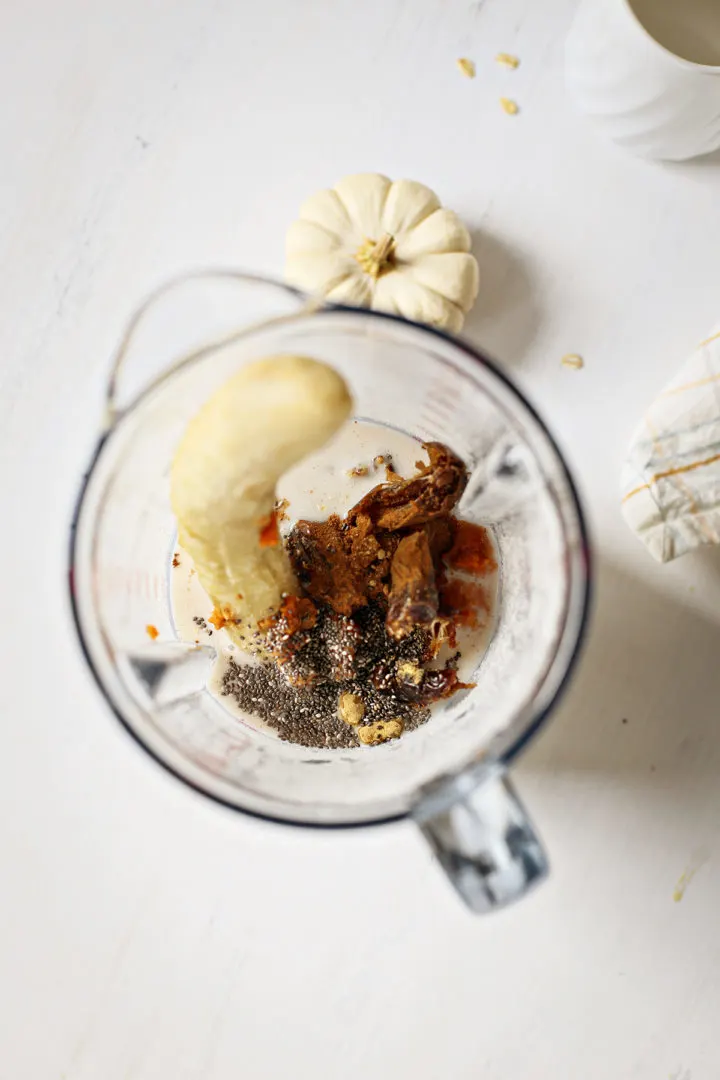 Click and save this Pumpkin Oatmeal Breakfast Smoothie to Pinterest!
Tips for Making Pumpkin Smoothies
Here are my tips for making the best pumpkin smoothie:
Use pure pumpkin puree and not canned pumpkin pie filling.
Real pumpkin puree doesn't have any other ingredients added. You can easily make your own pumpkin puree and freeze it in ice cube trays to keep it on hand.
Pumpkin pie filling is pre-sweetened and spiced, and will make this pumpkin pie smoothie too sweet.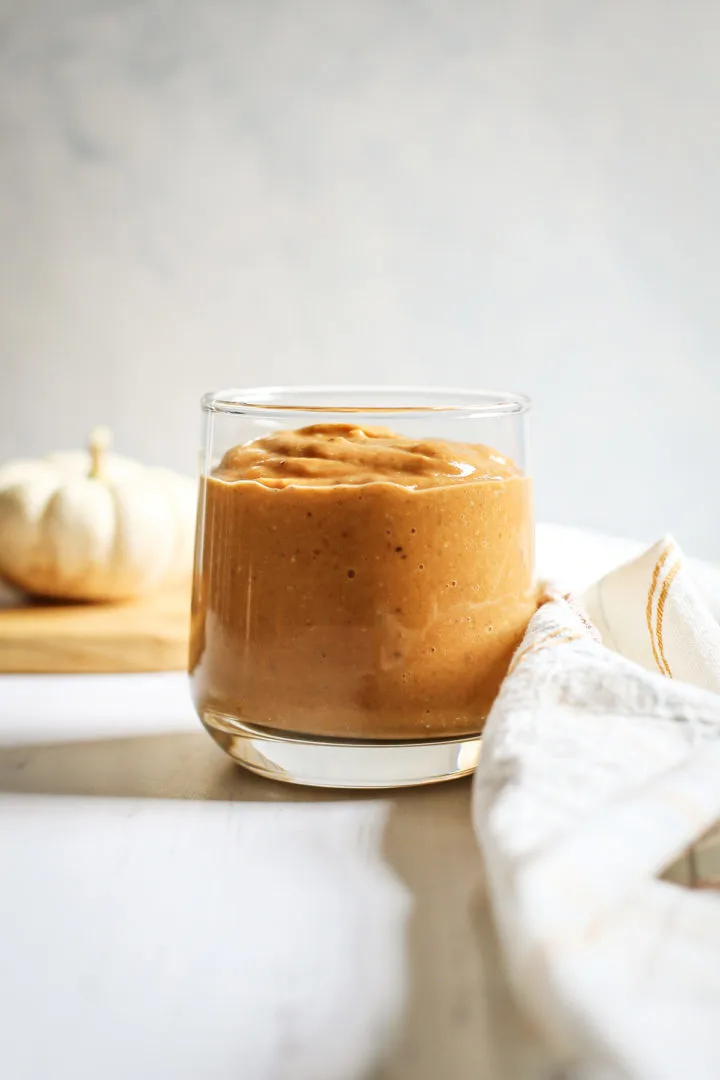 This recipe is flexible – adapt it according to your preferences!
If you like extra protein in your smoothies try adding a scoop of vanilla protein powder or collagen powder to this pumpkin smoothie recipe.
If you prefer a thicker smoothie I recommend adding in more ice and less milk. And for a thinner smoothie, use a little less ice and add more milk as needed.
For a creamy smoothie try adding some plain greek yogurt or vanilla greek yogurt in place of some of the milk in this pumpkin smoothie. You can also make yogurt ice cubes or milk ice cubes to use in place of regular ice for a creamier flavor.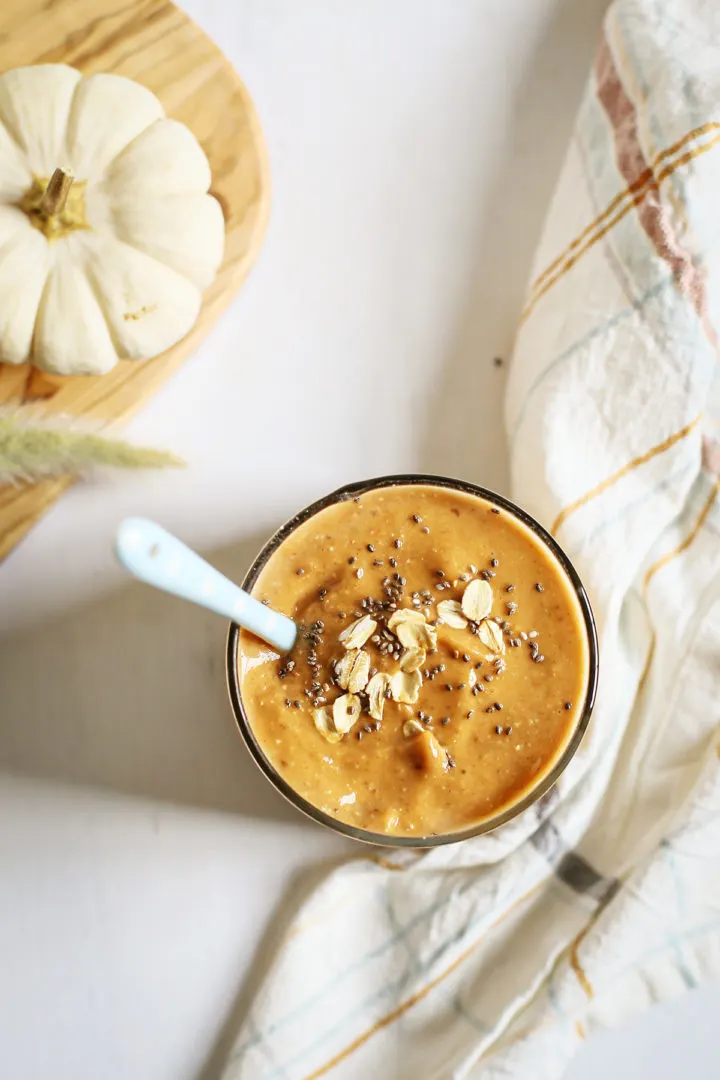 Try this Easy Pumpkin Smoothie Recipe!
Next time you're looking for easy recipes for breakfast, give this Pumpkin Smoothie a try! Did you think it was a delicious way to start your mornings during pumpkin season? Leave a comment below and give it a review for others to see what you thought of this great smoothie recipe.
On Instagram? Share your photo and tag me with @goodlifeeats and #goodlifeeatsrecipes. I'd love to see your photo of this delicious smoothie with pumpkin flavor!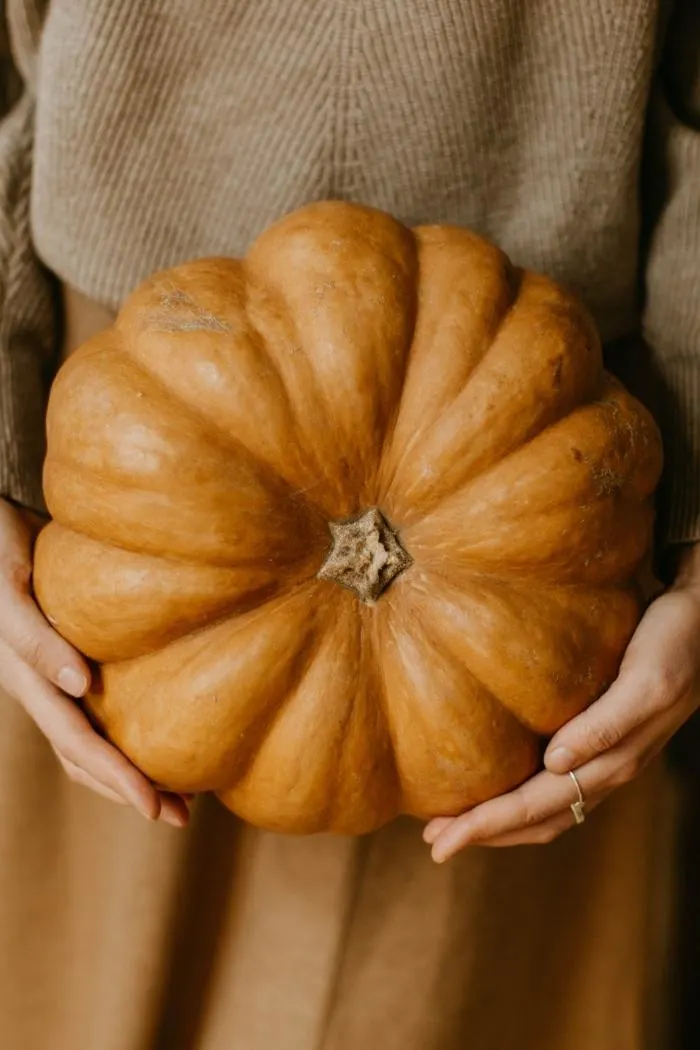 More Pumpkin Recipes:
Looking for some more tasty ways to enjoy your pumpkin spice this fall? Check out some of these favorite pumpkin recipes.
Be sure to check out these 25 Pumpkin Recipes to Try this Fall – So, if like me, you have a pumpkin hoarding problem you now have a very good excuse. I've just shared my favorite Pumpkin Recipes for you to try this fall.
A toasted cinnamon swirl bagel is delicious slathered in this Whipped Pumpkin Cream Cheese. This is a great way to use up leftover pumpkin puree that you might have in the refrigerator.
This recipe for Orange Spice Pumpkin Muffins with Pecan Streusel is a great addition to any breakfast or brunch. They freeze well, so make a double batch and keep some on hand for busy mornings.
This Easy Pumpkin Pudding is the perfect way to celebrate fall with your kids! It is easy to prepare, super creamy and full of all your favorite fall spices. What isn't to love about this recipe?
Easy Pumpkin Spice Chai Latte, featuring real pumpkin, can be whipped up in just a few minutes for you to enjoy and warm up with this fall.
For a chocolatey after dinner treat, try these homemade Pumpkin Pie Truffles. They are also perfect for holiday gifting!
My family loves these Pumpkin Cinnamon Rolls. They're the perfect treat on chilly weekend mornings.
If you're craving something savory, make a batch of this Pumpkin and Turkey Black Bean Chili. It's incredibly hearty and great for busy weeknights.
Didn't find what you were looking for here? Browse the recipe index archives for even more great recipe ideas:
What is your favorite fall pumpkin recipe?
Get More Easy Recipes via Email
Did you love this recipe for Pumpkin Oatmeal Breakfast Smoothie? Sign up for Good Life Eats Email Updates and never miss another recipe!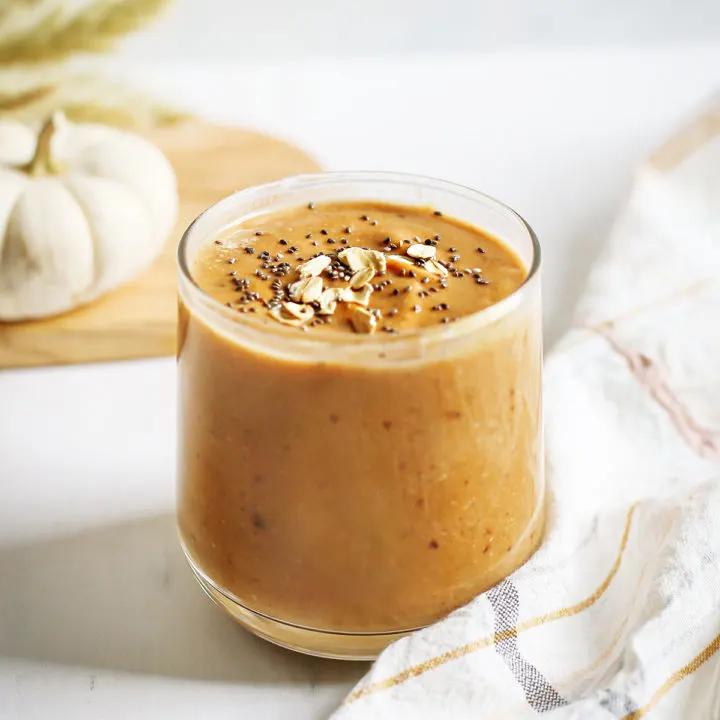 Pumpkin Oatmeal Breakfast Smoothie
This Pumpkin Oatmeal Breakfast Smoothie is the perfect way to celebrate fall with your kids! It is easy to prepare, super healthy and full of all your favorite fall spices. What isn't to love about a smoothie recipe that tastes like pumpkin pie?
Ingredients
1/4 cup dry rolled oats
3/4 cup almond milk
1/2 cup pumpkin puree
1 frozen banana
3 to 5 pitted dates, or to taste
1/2 teaspoon ground cinnamon
1/4 teaspoon ground ginger
pinch of nutmeg
1/4 teaspoon vanilla extract
1 tablespoon chia seeds
1/4 cup ice
Instructions
Place the rolled oats in a high powered blender and pulse once or twice to grind the oats to a coarse powder.
Add in the remaining ingredients in the order listed and pulse until smooth.
Add more milk to thin, if desired.
Recommended Products
As an Amazon Associate and member of other affiliate programs, I earn from qualifying purchases.
Nutrition Information
Yield

2
Serving Size

1/2 of recipe
Amount Per Serving
Calories

216
Total Fat

4g
Saturated Fat

1g
Trans Fat

0g
Unsaturated Fat

3g
Cholesterol

0mg
Sodium

10mg
Carbohydrates

45g
Fiber

8g
Sugar

23g
Protein

5g
GoodLifeEats.com offers recipe nutritional information as a courtesy and is an estimate only. This information comes from online calculators. Although GoodLifeEats.com makes every effort to provide accurate information, these figures are only estimates.
Favorite Smoothie Recipes