Kitchen Tip: Freezer Smoothies & Pineapple Kale Smoothie Recipe
A few months ago I had the opportunity to add a GE® 16.7 Cu. Ft. Frost-Free Upright Freezer to our home.
I didn't really need extra refrigerator space, but our freezer was always jam packed with no room left over to do any substantial freezer cooking, just a few things here and there.
Now that I have an extra freezer in the basement, I have been able to do a lot of meal preparations ahead of time.
It has made my life so much easier to have freezer friendly homemade meals and snacks stashed in the freezer.
Especially on days with a lot of after school activities or when I am sick.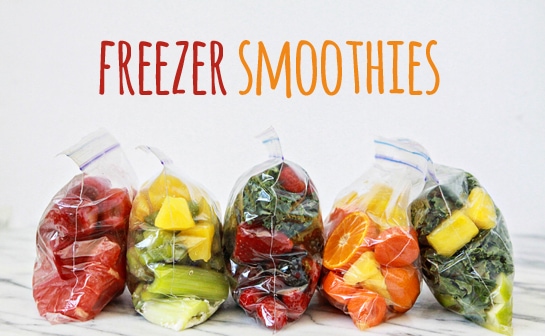 I honestly can't believe it has taken me this long to jump on the freezer cooking train.
Between frozen homemade dinners, snacks, breakfast items like frozen pancakes and waffles, and frozen cookie dough, I have everything I need for a day when life doesn't go as planned.
And now I have plenty of room to have more than just a couple of things on hand.
One of my favorite time saving tips for breakfast on busy school mornings is to make freezer smoothies.
Madeline is really into smoothies for breakfast and I like them too so this makes figuring breakfast out for the two of us really quick and easy.
Madeline and I have several smoothie flavor combinations that we enjoy.
I have assembled a few of each flavor ahead of time in zip top bags and stashed them in the freezer.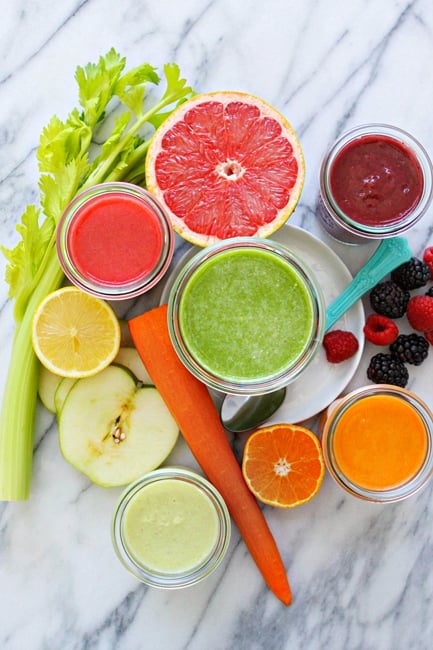 How to Make Freezer Smoothie Bags
First, decide what flavor smoothies you'd like. Here are a few of our favorites:
Green Smoothies using Kale or Spinach
Berry Smoothies – strawberry, blueberry, raspberry – with or without greens
Strawberry Citrus Smoothies – strawberry, oranges, and grapefruit
Tropical Smoothies – Kiwi, pineapple, coconut oil and spinach
Orange Pineapple Carrot
Next, if you aren't able to easily distinguish what the smoothie is based on what you've put in the bag or you have specific ingredients you need to add when you prepare the smoothie, such as juice rather than water.
Be sure to add any additional information on the bag using a permanent marker.
Then, place all of the solid ingredients in a freezer safe plastic zip top bag.  
This would include ingredients like the fruits and vegetables, grains (like rolled oats), seeds (like flax or chia), nuts or coconut oil.
Squeeze as much air out of the bag as you are able to do and zip.
Then, stash all the bags in your freezer.
When it is time to prepare your smoothie, just dump all of the contents of the bag into your blender along with any additional ingredients, such as the liquids, and blend.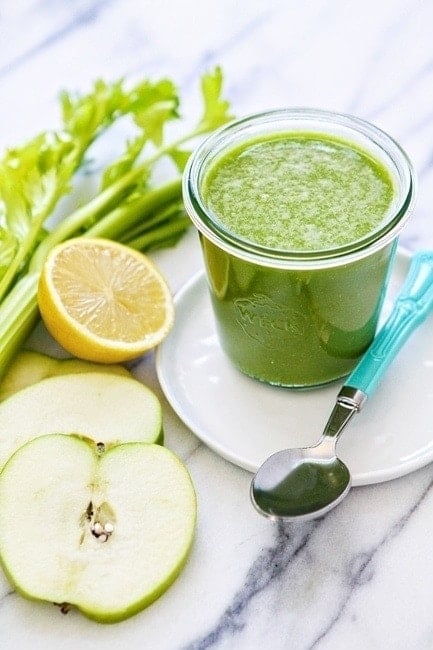 Madeline's absolute favorite smoothie right now is this Pineapple Apple Kale Smoothie.
I love it too and I love that she is getting a large serving of green vegetables to start off her morning.
Every time I give her a glass of this she sighs and says "Mom, you make the BEST smoothies."
I like to add a scoop of vanilla protein powder to our Pineapple Apple Kale Smoothie when we have it for breakfast to make it a little more substantial.
I'm honestly not sure if she knows that this Pineapple Apple Kale Smoothie has kale in it.
She either knows and doesn't care or hasn't realized since she usually doesn't watch me make it.
When she first asked what kind of fruit it had, I told her it had green apples and pineapple.
So, I kind of think she accepted the fact that it is green based on that it has green apples in it.
Either way works for me!
More Smoothie Recipes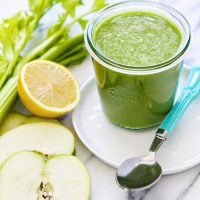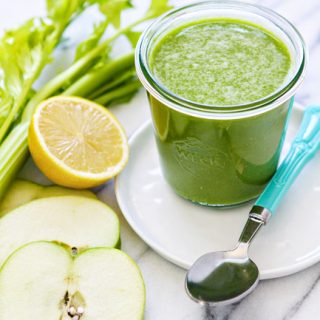 Pineapple Apple Kale Smoothie
You can adjust the ingredient amounts according to your personal preferences - making it more green or less, thicker or more like juice, etc.
Ingredients
1 large handful of kale
1 rib celery
1 green apple, sliced
1/4 of a whole lemon
10 ounces water
3/4 cup frozen pineapple
additional water according to your consistency desire
vanilla protein powder, if desired
Instructions
Add all of the fruits and vegetables and the 10 ounces of water.
Blend on high (or "smoothie" setting) until smooth.
Add additional water, almond milk, or ice and blend until smoothie reaches your desired consistency.
On low, blend in the protein powder, if using.
Notes
These are easy to make ahead of time and store in the freezer. You can add all of the fruits and vegetables for one recipe into a small freezer friendly zip top bag and freeze and make several bags in advance. Then, when you are ready to make a smoothie, dump the contents of one bag into the blender and follow the remaining instructions.
Alternately, you can prepare the full smoothie recipe and freeze the prepared smoothie in small individual serving containers, such as plastic freezer jam jars. This is a great option for packing smoothies in kids' lunches. Put the smoothie in frozen in their lunch bag along with a spoon and it will be sorbet consistency by lunchtime.
Recommended Products
As an Amazon Associate and member of other affiliate programs, I earn from qualifying purchases.
Nutrition Information:
Yield:

4
Serving Size:

1
Amount Per Serving:
Calories:

104
Total Fat:

0g
Saturated Fat:

0g
Trans Fat:

0g
Unsaturated Fat:

0g
Cholesterol:

1mg
Sodium:

35mg
Carbohydrates:

20g
Fiber:

3g
Sugar:

15g
Protein:

7g
GE® provided me with the freezer, but all opinions and experiences are 100% mine. Fine GE® on Facebook, Pinterest, and Twitter.
Favorite Smoothie Recipes