These Chocolate Mint Cupcakes feature chocolate cupcakes with chunks of andes mint and vanilla mint buttercream
Food has always a big part of how I express love and kindness to my family.
It feels good to make something special for them and enjoy eating it together.
Even better, though, is when I get to spend the time making something delicious in the kitchen with a family member, especially my kids.
Earlier this month we celebrated Logan's birthday, so Madeline and I took the opportunity to spend some time together baking his birthday cupcakes.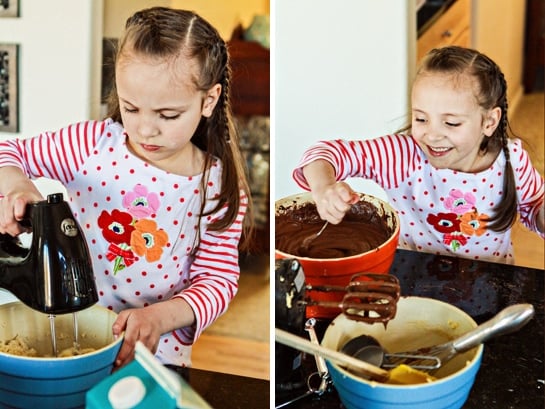 I could have just as easily whipped up a batch of cupcakes by myself, and with a lot less mess.
And probably quicker, too.
But why?
It is so much more special to spend the time with her as well as to include her in preparing for Logan's birthday celebration.
That is something that through my years of being a mom that I've had to learn on my own.
Despite the mess, time in the kitchen face-to-face with someone I love, especially my kids, is more rewarding than making a recipe quickly while keeping the kitchen slightly more tidy.
On a whim last I grabbed some Andes Crème de Menth Baking Chips that we on sale.
After a quick inventory of the pantry, Madeline and I decided to take our favorite chocolate cupcakes and change things up a bit.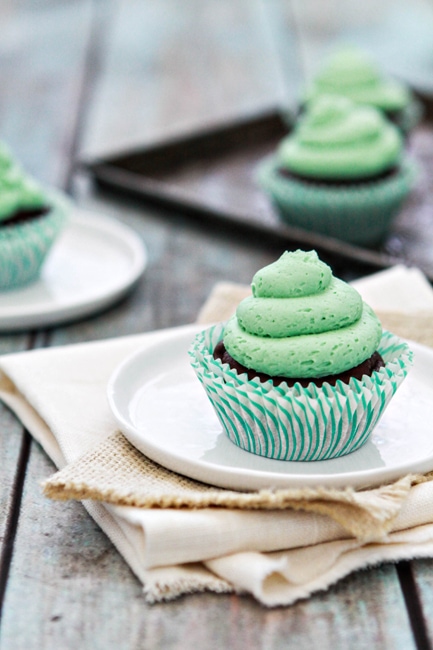 Chocolate cupcakes became Chocolate Mint Cupcakes with Peppermint Buttercream.
One of Logan's favorite ice cream flavors (and mine too) is Mint Chocolate Chip, and these cupcakes tasted a little bit like that.
Of my two kids, Madeline has probably consistently been the one most interested in helping me cook, which has made the progression of her confidence that much more noticeable.
It has been amazing to see her growth in the kitchen.
I've watched her go from a toddler who could help stir things with a spoon and dump pre-measured ingredients into a bowl to this month when she measured most of the ingredients by herself for this Chocolate Mint Cupcake Recipe.
She even managed to control a hand mixer with my encouragement.
I think the hand mixer still scares her a little.
As the batter got thicker and the bowl heavier she told me "I'm having a hard time "trolling" (controlling) this thing, mom!"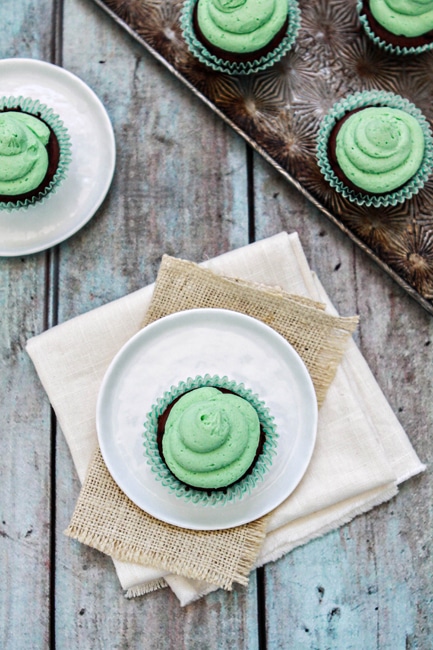 The mess, and oh there was a mess!, was the last thing on my mind as we worked through the recipe together.
We spent time laughing over funny things (like how eggs tend to explode when Madeline cracks them), me encouraging her through more challenging steps and reassuring her over the literal spilled milk.
And of course sampling the batter to make sure the cupcakes would be good enough to share with Logan.
And before we knew it we were done.
Cupcakes went into the oven, Madeline ran off with Logan to concoct some new game involving both Twister and Pokémon.
And, despite the disaster zone the kitchen had become, the mess was cleaned up before the timer for the baking cupcakes went off.
The memories created in the kitchen as Madeline and focused on a common goal are invaluable.
I couldn't have asked for a better afternoon or a better helper.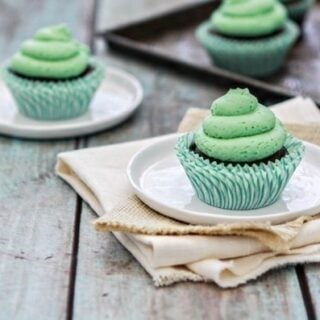 Chocolate Mint Cupcakes
Additional Time:
30 minutes
Total Time:
1 hour
20 minutes
These Chocolate Mint Cupcakes feature chocolate cupcakes with chunks of andes mint and vanilla mint buttercream
Ingredients
For the Cupcakes
1/2 cup semi-sweet chocolate
1 cup all-purpose flour
1 1/2 cups cake flour
1 1/2 cup unsweetened cocoa powder
2 tsp baking soda
1 tsp baking powder
3/4 tsp salt
3 large eggs
1 1/2 cups sugar
3/4 cup butter, softened
2 1/2 cups buttermilk
For the Mint Buttercream
4 sticks butter, softened
1/4 teaspoon peppermint extract
2 teaspoons vanilla extract
2 pounds powdered sugar
4 tablespoons milk
Instructions
For the Cupcakes
Line 3 dozen muffin cups with cupcake liners or grease using non-stick spray. Set aside.
Preheat oven to 350F.
Sift together flour, cocoa powder, baking soda, baking powder and salt. Set aside.
In a large bowl, beat the eggs and sugar for 5 minutes, until it is pale and thick.
Add in the butter. Mix until combined.
Now, add in the buttermilk. Beat until well incorporated.
Add the flour mixture in 3 increments and beat until smooth.
Stir in the Andes Crème de Menthe baking chips.
Divide batter into the cupcake tins.
Bake for 20-25 minutes or until a toothpick comes out clean. Do not over-bake.
Remove from oven and let cool completely before frosting.
For the Buttercream:
Cream butter in electric mixer or using a stand mixer for 1-2 minutes until fluffy.
Slowly add 1 cup sugar and beat until smooth.
Add milk and mix until combined.
Add remaining confectioners' sugar, 1/2 cup at a time, and beat until well incorporated.
Add vanilla and peppermint extracts and food coloring (if desired), and mix at medium-high speed until light and fluffy (2-3 minutes).
Add more cream or sugar as necessary to achieve proper consistency.
Pipe or spread onto cooled cupcakes.
Notes
To freeze frosted cupcakes:
Place cupcakes on a baking tray and freeze until solid.
Then, place cupcakes inside a freezer safe plastic zip top bag or freezer safe plastic container.
Return to the freezer.
Alternately, you may freeze the cupcakes in this same method with our the frosting and then frost them later after they have thawed.
Recommended Products
As an Amazon Associate and member of other affiliate programs, I earn from qualifying purchases.
Nutrition Information
Yield

36
Serving Size

1 cupcake
Amount Per Serving
Calories

327
Total Fat

16g
Trans Fat

1g
Fiber

1g
Protein

3g
Want to know how to build a successful restaurant?
Check out BonAppetit.com's "Out of the Kitchen", a glimpse into the inner workings of two successful restaurants.
Meet the back of the house inner circle and see how face-to-face relationships keep customers coming back for more.
This recipe for Chocolate Mint Cupcakes is a sponsored conversation written by me on behalf of Bon Appetit. The opinions and text are all mine.