After I posted the Lemon Coconut Cupcakes that I made for Logan's birthday so many of you asked: How did you make the two-toned color icing for those cupcakes?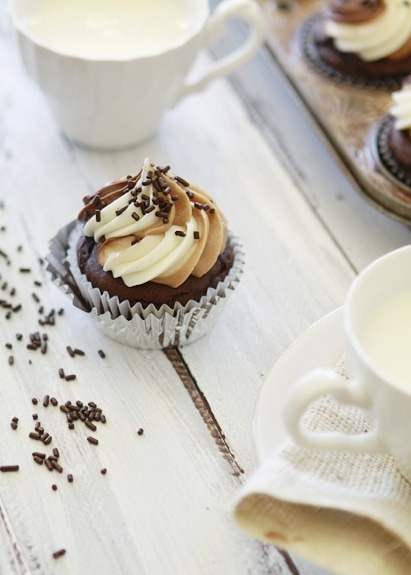 The two tone technique for decorating cupcakes is really a lot easier than you might think and it is so fun. Besides looking pretty, you can flavor the frosting differently to add so much flavor to the recipe. Think cream cheese and blueberry buttercream. Or Lemon and Vanilla buttercream. Raspberry Buttercream with Chocolate.
So I put together a quick kitchen tip to show you how. This time using a new recipe, which I'll share later this week: Nutella Cupcakes with Nutella, Almond Butter, and Vanilla Cream Cheese Frosting.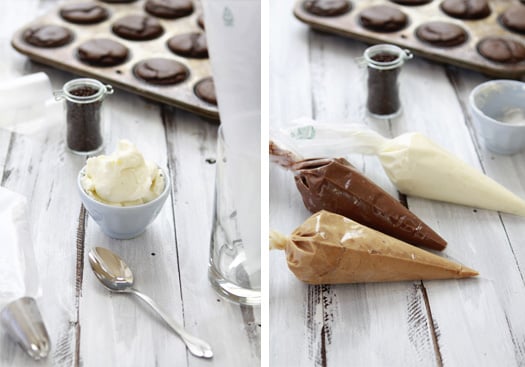 Kitchen Tip: How to Pipe with Two or More Frosting Types
1. Lay your colors or flavors out in different container to keep them separate.
2. Using the tip for filling piping bags in the Cupcake Piping Tricks kitchen tip, fill the bags (I personally like disposable best) with your designated colors or flavors.
3. Twist the tops of the bags and cut about a half inch of the ends of each filled bag.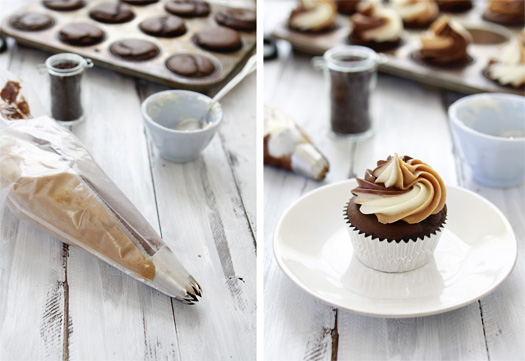 4. Then, you'll take (in this case) a fourth bag. Snip the end of the bag and add your favorite piping tip to the bag.
5. Now, load all three frosting bags inside the fourth bag with the piping tip.
Twist the top of the fourth bag so nothing escapes and pipe as usual.
I usually do a couple of test pipes on a napkin or a cupcake I don't care about until all three frostings are evenly coming out and any air has passed.
Any questions?
I can't wait to share the new cupcake recipe with you! The combo of the nutella, almond butter (you could use peanut butter, but Logan is allergic) and cream cheese frosting was absolutely amazing!