Coconut Lime Cupcakes with Coconut Lime Cream Cheese Frosting
A couple weeks ago I had a birthday. With my sister living in Colorado now, this birthday was extra special. I don't think I've celebrated my birthday with her since high school.
She planned a sisters special spa day for us during the day while the kids were at school on a Friday. We enjoyed facials at JLounge and Spa in Boulder, pedicures, and a delicious lunch out at Pizzeria Da Lupo (YUM!).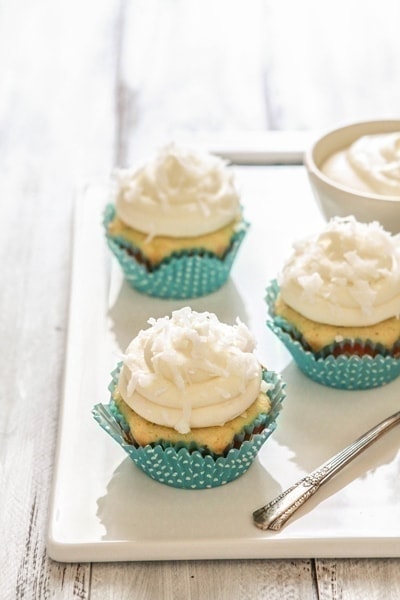 Allie asked me what I wanted for my birthday dinner for our family party and immediately my mind went to Mexican.
It was always a tradition growing up to celebrate birthdays at Pappasito's. With no Pappasito's within a reasonable driving distance, we decided to come up with our own Mexican menu.
Stuffed Roasted Poblanos, Shredded Beef Enchiladas, Tomato and Avocado Salad with Tortilla Chips, and Coconut Lime Cupcakes were on the menu.
I can't even remember the last time that someone made cupcakes for my birthday. We usually celebrate my birthday by eating out, but it was a great treat to celebrate with my family eating in. My sister helped Logan and Madeline make these tasty Coconut Lime Cupcakes with Coconut Lime Cream Cheese Frosting.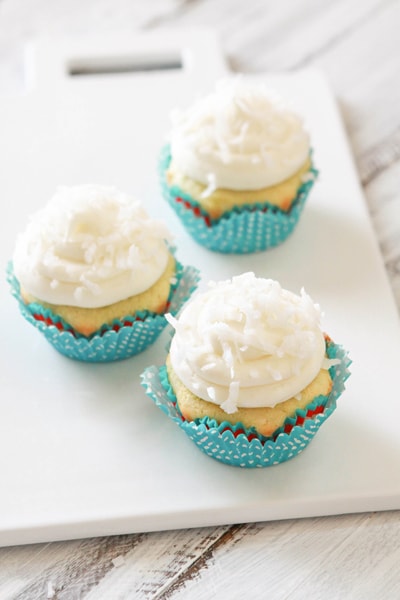 I wrote up the recipe for Allie based off of my favorite Vanilla Cupcake Recipe and she and the kids went to work. I think it has been really fun for them having their aunt live so close by.
For the recipe, I subbed coconut oil for the butter and added shredded coconut, lime zest, and lime juice to the batter. The frosting also showcases coconut oil with some lime juice.
These were the perfect sweet end to our Mexican feast and a super special day.
Coconut Lime Cupcakes with Coconut Lime Cream Cheese Frosting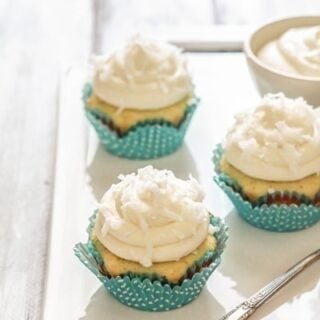 Ingredients:
For the Coconut Lime Cupcakes:
1 1/4 cup all purpose flour
1 cup cake flour
1 teaspoon baking powder
1/2 teaspoon baking soda
1/2 teaspoon kosher salt
8 tablespoons coconut oil, softened but not melted
1 1/3 cups sugar
1 cup unsweetened coconut
zest 2 limes
1 cup sour cream
1/2 cup coconut milk
4 large egg whites, room temperature
seeds scraped from one vanilla bean
1 tablespoon lime juice or 4 - 6 drops 100% Pure Lime Essential Oil
For the frosting:
6 ounces cream cheese, at room temperature
8 tablespoons softened coconut oil
2 1/2 - 4 cups powdered sugar
1 tablespoon coconut milk
1 tablespoon lime juice or 4 - 6 drops 100% Pure Lime Essential Oil
Directions:
For the Cupcakes:
Preheat the oven to 375 degrees F. Place the racks in the center position. Line cupcake tins with cupcake liners. Set aside.
In a large bowl combine both flours, baking powder, baking soda, and salt. Whisk to combine.
In a medium bowl whisk together the coconut milk, sour cream, and egg whites. Set aside.
Add the sugar, coconut, and lime zest to a small food processor and blend until the coconut is finely chopped and the sugar is fragrant.
Fit a stand mixer with a paddle attachment, or use a hand mixer (I got a better dome with the hand mixer). Add the coconut oil, sugar mixture, and lime juice to the bowl and beat at medium speed for 3 minutes, or until light. Scrape the sides as necessary.
Add one third of the flour mixture while beating on medium speed, again scraping the sides as needed. Beat in half of the sour cream mixture. Alternately add the remaining flour mixture and sour cream until all the wet and dry ingredients have added, beating until the batter fully incorporated and smooth.
Use a large scoop (about 3 tablespoons), evenly divide the batter between 20-24 lined muffin tins filling each about 2/3 of the way full.
Bake for 15-24 minutes, or until a toothpick inserted into the centers come out clean. Cool on wire rack.
For the Frosting
In the bowl of a stand mixer fitted with the whisk attachment, combine the cream cheese and coconut oil.
Beat until fluffy. Turn the mixer to low speed and slowly add the powdered sugar 1 cup at a time while continuing to beat. Add as much powdered sugar as you would like until your desired frosting consistency is reached.
Once well blended, add in the lime juice and coconut milk. Mix on low speed until well combined and moist. If desired, an additional 1 to 2 tablespoons of coconut milk until your desired consistency is reached. Beat at high speed until frosting is smooth and fluffy.
Frost the cooled cupcakes and sprinkle with shredded coconut (toasted or untoasted) if desired.