Dark Chocolate Muffins with Cinnamon Streusel
My sister-in-law recently asked me if I would create a chocolate muffin recipe for her. I quickly and happily agreed because like the beloved Dorie Greenspan says,
"I think anytime you can get away with calling chocolate a breakfast food, you should."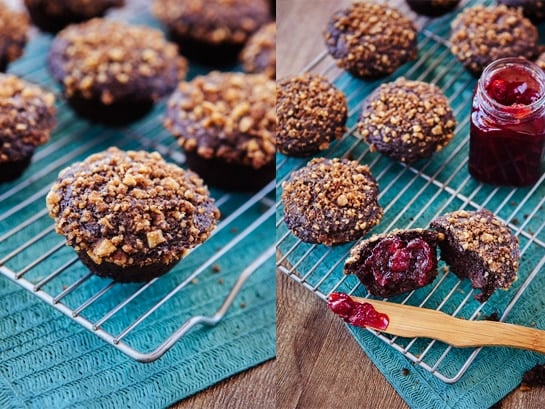 Though I hardly need an excuse to make muffins, one of life's greatest simple pleasures, I am happy my sweet sister-in-law gave me a good reason to pull out the chocolate and muffin tins. She is a devoted mother to a little blonde angel and a supportive, patient, loving wife to my brother. I couldn't have asked for a better sister!
If we lived closer, I would make a batch of these and deliver them for Mother's Day this week. Muffins always make the nicest gifts.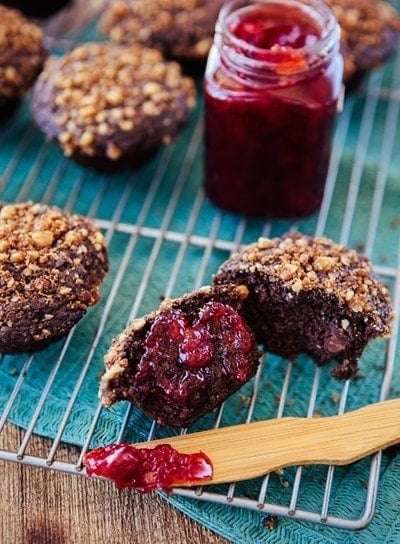 I adapted this muffin recipe from Dorie Greenspan herself, whose book Baking: From My Home to Yours is always the first book I reach for when a baking mood strikes. With dark chocolate and dark chocolate cocoa powder, these muffins are rich without being overly sweet. They are delicious on their own, but they pair quite well with a cherry jam too.
More Muffin Recipes:
Strawberry Ginger Muffins | Some the Wiser
Whole Grain Banana Nut Muffins | Some the Wiser
Coconut Lemon Poppy Seed Muffins | Good Life Eats
Honey Corn Bread Muffins | Good Life Eats
Dark Chocolate Muffins with Cinnamon Streusel
Yield: 12 muffins
Prep Time:10 minutes
Cook Time:20 minutes
Total Time:30 minutes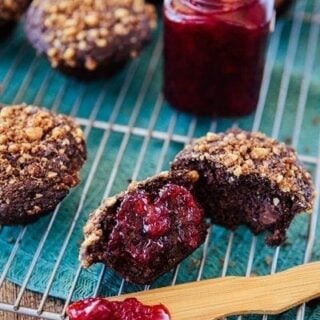 Ingredients:
6 tablespoons unsalted butter
5 ounces dark chocolate (60% cacao), coarsely chopped
2 cups all purpose flour
2/3 cup sugar
1/3 cup unsweetened dark chocolate cocoa powder,
1 tablespoon baking powder
1/2 teaspoon baking soda
1/2 teaspoon salt
1 1/2 cups buttermilk
1 large egg
1 teaspoon pure vanilla extract
For the Streusel
1/4 cup packed brown sugar
1 teaspoon ground cinnamon
1/2 cup finely chopped nuts (walnuts, pecans, or almonds)
1 tablespoon melted butter
Directions:
Preheat oven to 375 degrees Fahrenheit. Prepare muffin tin with liners or cooking spray.
Melt the butter and half of the chopped chocolate in a metal bowl over a saucepan of simmering water. Remove from heat.
In a large bowl, whisk together the dry ingredients. In a small bowl, whisk together wet ingredients until well combined. Pour the liquid ingredients and the melted chocolate and butter over the dry ingredients and, with a whisk or rubber spatula, gently but quickly stir to blend. Stir in the remaining chopped chocolate. Divide batter evenly among muffin cups.
Prepare streusel by combining all of the ingredients together in a small bowl. Sprinkle evenly over the muffin batter before placing them in the oven. Bake for about 20 minutes, or until the muffins spring back when pressed lightly. Cool on wire rack for 5 minutes before removing from pan.