These moist double Chocolate Muffins feature a rich chocolate flavor, chocolate chunks, and a crunchy cinnamon streusel on top of the muffins. This chocolate muffin recipe is freezer-friendly and the muffins can be baked up in different sizes.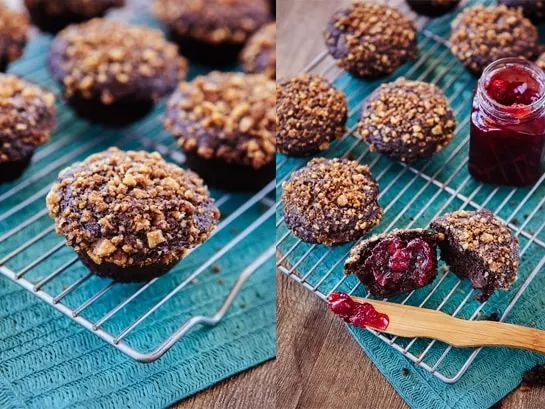 Making these Cinnamon Streusel Chocolate Muffins
My sister-in-law recently asked me if I would create a chocolate muffin recipe for her. I quickly and happily agreed because like the beloved Dorie Greenspan says,
"I think anytime you can get away with calling chocolate a breakfast food, you should."
Though I hardly need an excuse to make muffins, one of life's greatest simple pleasures, I am happy my sweet sister-in-law gave me a good reason to pull out the chocolate and muffin tins.
She is a devoted mother to a little blonde angel and a supportive, patient, loving wife to my brother. I couldn't have asked for a better sister!
If we lived closer, I would make a batch of these and deliver them for Mother's Day this week. Muffins always make the nicest gifts.
I adapted this muffin recipe from Dorie Greenspan herself, whose book Baking: From My Home to Yours is always the first book I reach for when a baking mood strikes.
With dark chocolate and dark chocolate cocoa powder, these muffins are rich without being overly sweet. They are delicious on their own, but they pair quite well with a cherry jam too.
Tools Needed to Make these Chocolate Muffins
You'll need a few kitchen tools to prepare this recipe for easy chocolate muffins. Here's what I recommend having on hand before getting started:
Measuring Spoons and Measuring Cup Set – to measure ingredients when making the muffin batter
Large Bowl – to combine the dry ingredients in.
Medium Bowl – to combine the wet ingredients in.
Wire Whisk – for whisking the wet ingredients
Wooden Spoon or Rubber Spatula – for stirring the muffin batter.
Muffin Tin – to bake the homemade muffins in.
Muffin Liners – to line the muffin pan with, if desired.
Ice Cream Scoop or Cookie Scoop – to scoop the muffin batter into the baking cupcake liners.
Wire Rack – to cool the baked muffins on.
What's in these Chocolate Muffins?
Here's a quick overview of what you'll need to make these dark chocolate muffins. For the complete ingredient list and detailed instructions, scroll to the bottom of this post for the FREE printable recipe card.
For the Cinnamon Streusel
Brown Sugar
Ground Cinnamon
Chopped Hazelnuts
Melted Butter
For the Chocolate Muffins
Unsalted Butter
Dark Chocolate
All-Purpose Flour
Granulated Sugar
Unsweetened Dark Chocolate Cocoa Powder
Baking Powder
Baking Soda
Sea Salt
Buttermilk
Large Egg
Vanilla Extract
How to Make these Chocolate Muffins
The below is simply a quick summary of this dark chocolate muffin recipe. Check out the full recipe in the free printable recipe card at the bottom of this post for all the detailed instructions.
Prep – preheat the oven and add liners to the muffin tin.
Make the Streusel – chop nuts and combine remaining ingredients.
Dry Ingredients – Mix all the dry ingredients in a large bowl.
Wet Ingredients – Combine melted butter and melted chocolate to a medium bowl. Then add the remaining wet ingredients and stir.
Mix the Batter – Gently stir the wet and dry ingredients together, then stir in the chocolate chunks or chocolate chips.
Bake – Transfer the batter to the muffin tin, sprinkle streusel on the muffin tops, then bake.
Tips for Making the Best Chocolate Muffins
Muffin batter is best mixed by hand with a wooden spoon and should be slightly lumpy. Batter mixed until smooth, like cake batter, will result in tough muffins.
Your results may produce more or less muffins than listed in the recipe. If you have empty cups, fill them halfway with water to help the keep the heat evenly distributed.
When baking more than one pan of muffins, leave space between pans to allow the heat to circulate in the oven and produce more evenly browned muffins. Additionally, it is helpful to rotate the pans halfway through baking.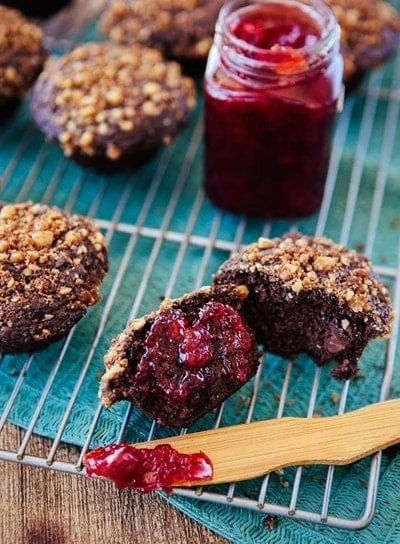 How to Store these Double Chocolate Muffins
These moist muffins will last for up to five days stored properly. Here are my muffin storage tips:
STEP ONE: Transfer the chocolate muffins to a wire cooling rack and allow them to cool completely. If you store warm muffins, you'll end up with a lot of excess moisture on your muffins due to condensation (and this causes them to go soggy AND mold).
STEP TWO: Place a sheet of paper towels on the bottom of a large airtight container. You can also use gallon sized ziptop bags with a sheet of paper towel inside. The paper towels will help absorb any excess moisture that is released from the muffins and help prevent them from becoming soggy.
STEP THREE: Transfer muffins to a storage container or zip top plastic bag lined with a paper towel.
STEP FOUR: Place a second paper towel on top of the muffin layer.
Depending on how deep your airtight container is, you may be able to fit more than one layer of muffins. In this case, repeat the process – always end with a paper towel on top of the last layer of muffins. A bag will likely fit only one layer.
STEP FIVE: Place the lid on the container (or zip the bag) and store at room temperature. For best results, don't recommend refrigerating muffins, this can cause them to dry out.
Freezing these Chocolate Lovers Muffins
If you're hoping for longer storage, then I recommend freezing these muffins. Head over to my post on How to Freeze Muffins for all the details and tips.
Chocolate Muffin Recipe FAQs
Got questions about how to make this chocolate chocolate chip muffin recipe? Here are the answers to a few commonly asked questions. Feel free to leave any other questions in the comments on this post and I'll respond with answers.
Can I Use a Different Type of Chocolate Chips?
Sure, if you would like chunks of milk chocolate chips or white chocolate chips, feel free to substitute for the dark chocolate chunks.
What Can I Substitute for Buttermilk?
Plain yogurt or plain Greek yogurt would work as a substitute if you don't have buttermilk on hand. Alternatively, check out this post on 6 Substitutes for Buttermilk for more ideas.
What Can I Substitute for the Hazelnuts?
You can substitute pecans, walnuts, or almonds in place of the hazelnuts if you prefer.
Can I Make this Recipe with a Jumbo Bakery-Style Muffin Tin?
Yes, definitely! You'll have around 1/2 as many muffins since they'll be larger and you'll need to keep and eye on the baking time.
Depending on how high you fill the muffin tin, jumbo muffins typically take anywhere from 25-50% longer to bake
Can I Make Mini Muffins?
Sure! Mini muffins are super cute bite sized snacks. They'll bake up much faster than traditional muffins, so check them after 5 minutes, and then keep an eye on them every couple minutes afterwards.
Try this Ultimate Chocolate Muffin Recipe!
Next time you're looking for a recipe for tender chocolate muffins with dark chocolate chips, give this easy recipe a try!
Did you love the intense chocolate flavor? Leave a comment below and give it a review for others to see what you thought of this great recipe.
On Instagram? Share your photo and tag me with @goodlifeeats and #goodlifeeatsrecipes. I'd love to see your photo of these Chocolate Muffins with Cinnamon Streusel!
More Muffin Recipes to Try
This Apple Cranberry Muffins recipe is packed with oats, fall spices, fresh cranberries, and shredded apples.
Zucchini Apple Spice Muffins are perfect for the transition space between summer and fall. You can use up summer zucchini while savoring the fall spice flavors and a hint of apple.
I think that this recipe for Strawberry Oatmeal Muffins is the best strawberry muffin, and they are the perfect healthy breakfast muffin treat.
These Dried Cherry Muffins are on the healthier side and are packed with cherries, grated zucchini, and topped with a streusel topping.
Get More Recipes via Email
Did you love this recipe for chocolate chocolate chip muffins? Sign up to receive Good Life Eats Email Updates and never miss another recipe!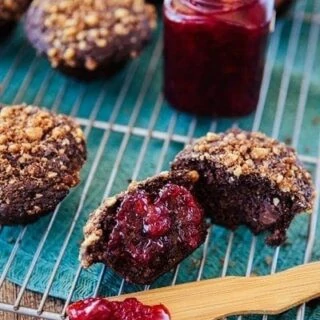 Chocolate Muffins with Cinnamon Streusel
These moist double Chocolate Muffins feature a rich chocolate flavor, chocolate chunks, and a crunchy cinnamon streusel on top of the muffins. This chocolate muffin recipe is freezer-friendly and the muffins can be baked up in different sizes.
Ingredients
For the Cinnamon Streusel
1/4 cup packed Brown Sugar
1 teaspoon Ground Cinnamon
1/2 cup finely Chopped Hazelnuts
1 tablespoon Melted Butter
For the Chocolate Muffins
2 cups All-Purpose Flour
1/3 cup Unsweetened Dark Chocolate Cocoa Powder
2/3 cup Granulated Sugar
1 tablespoon Baking Powder
1/2 teaspoon Baking Soda
1/2 teaspoon Sea Salt
6 tablespoons Unsalted Butter, melted
2.5 ounces Melted Dark Chocolate (60% cacao)
1 1/2 cups Buttermilk
1 Large Egg, beaten
1 teaspoon Vanilla Extract
3 ounces Dark Chocolate Chunks
Instructions
Prepping for this Recipe
Preheat oven to 375 degrees Fahrenheit.
Prepare muffin tin with liners or cooking spray.
Making the Cinnamon Streusel
Prepare streusel by combining the brown sugar, cinnamon, chopped pecans, and melted butter in a small mixing bowl.
Stir to combine, set aside.
Preparing the Chocolate Muffin Batter
In a large bowl, combine the flour, cocoa powder, sugar, baking powder, baking soda, and sea salt.
Stir with a wire whisk until well sifted. Set aside.
In a medium sized mixing bowl, combine the melted butter and melted chocolate. Stir to mix.
Then, add the buttermilk, large egg, and vanilla extract, mixing in between each addition.
Make a well in the center of the dry ingredients. Then, pour the liquids into the center and stir gently to combine. Do not beat.
Add the chocolate chunks and stir until incorporated
Baking the Chocolate Muffins
Divide batter evenly among muffin cups.
Sprinkle the cinnamon streusel evenly over the muffin batter before placing them in the oven.
Bake for about 20 minutes, or until the muffins spring back when pressed lightly.
Cool on wire rack for 5 minutes before removing from pan.
Recommended Products
As an Amazon Associate and member of other affiliate programs, I earn from qualifying purchases.
Nutrition Information
Yield

12
Serving Size

1
Amount Per Serving
Calories

347
Total Fat

16g
Saturated Fat

8g
Trans Fat

0g
Unsaturated Fat

7g
Cholesterol

36mg
Sodium

356mg
Carbohydrates

45g
Fiber

2g
Sugar

25g
Protein

6g
GoodLifeEats.com offers recipe nutritional information as a courtesy and is an estimate only. This information comes from online calculators. Although GoodLifeEats.com makes every effort to provide accurate information, these figures are only estimates.