This Apple Cranberry Muffins Recipe is packed with oats, fall spices, fresh cranberries, and shredded apples. They're the perfect fall or Thanksgiving muffin recipe and are so easy to make! Make a big batch of this simple recipe to store in your freezer and have cranberry muffins on hand for your morning breakfast and afternoon snack ideas.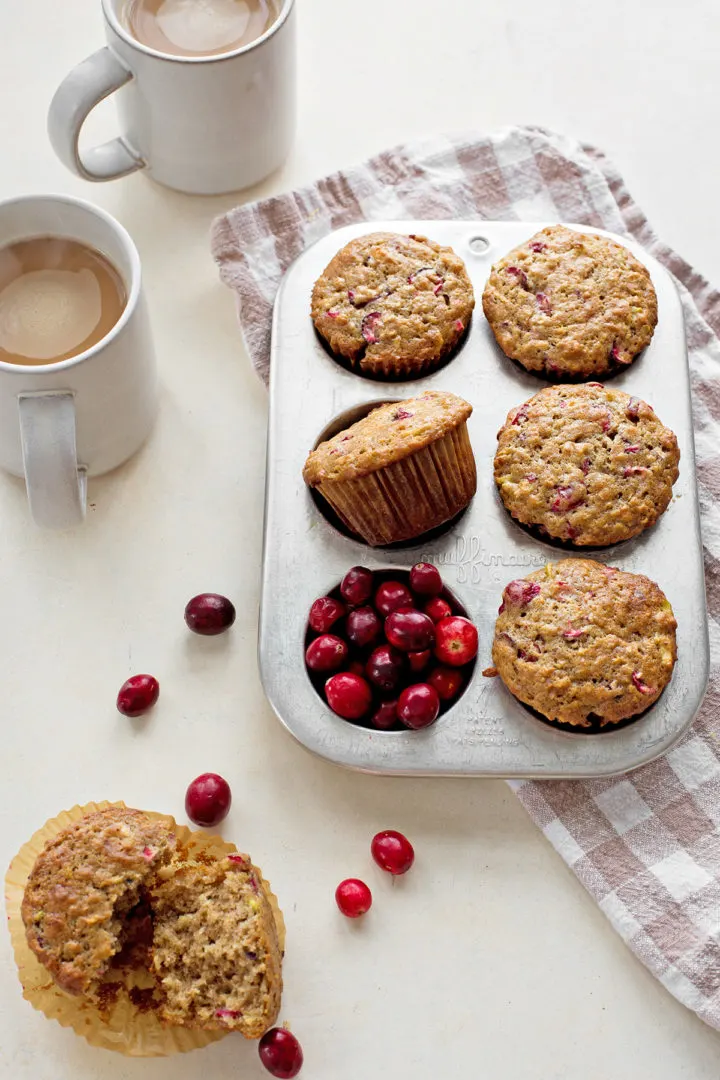 Creating These Apple Cranberry Oatmeal Muffins
On a cold Saturday morning, I had these Apple Cranberry Oatmeal Muffins baking so I could send my husband off to the airport with something tasty and warm to eat.
The delightful smell of apple and cinnamon permeated the entire house. The true test would be if the muffins tasted as good as they smelled.
Lucky for all of us, the apple cranberry muffins were a success. They were a welcome treat reheated the next morning as we awoke to snow.
I think they would be fantastic served with a cup of steaming Spiced Pomegranate Apple Cider!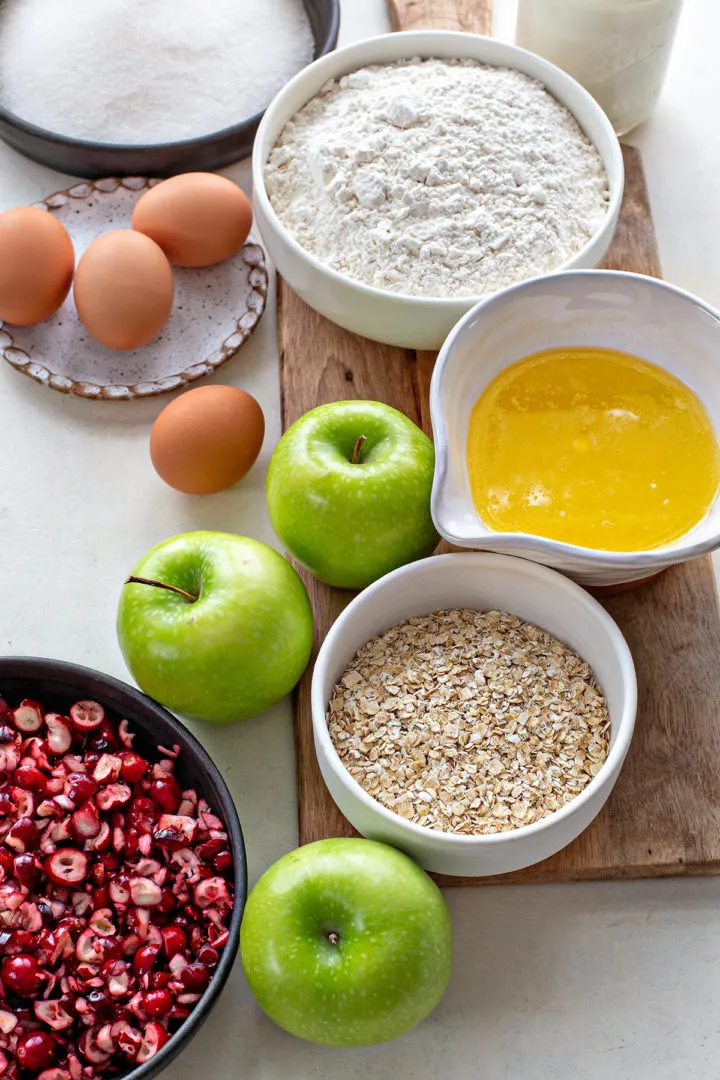 Ingredients in this Apple Cranberry Muffins Recipe
This is such a quick and easy cranberry oatmeal muffins recipe! Here's an overview of the simple ingredients you'll need to make it:
All-purpose flour
Instant oats
Cane sugar
Baking soda and baking powder
Spices
Eggs
Buttermilk
Butter
Green apples
Fresh cranberries
For the complete ingredient list and detailed instructions to make these muffins with juicy cranberries, scroll to the bottom of this post for the FREE printable recipe card.
Can Frozen Cranberries Be Used?
Yes! You can add frozen fresh cranberries straight to the batter, no need to thaw them first. You may need to add an extra minute or two to the total bake time, though.

How to Make Apple Cranberry Muffins
These fresh cranberry muffins were so simple to make, and they were packed with flavor. Here's how I made them:
In a large bowl, combine the flour, quick oats, sugar, baking powder, baking soda, salt, cinnamon, allspice, and cardamom. Set flour mixture aside.
In another bowl, whisk together the eggs. Add the buttermilk, melted butter, and grated apples.
Make a well in the center of the dry ingredients. Add the wet ingredients to the well and stir until moistened.
Once moistened, gently fold in the chopped cranberries.
Divide the batter between the 36 greased muffin cups.
Bake until done and golden on top.
Let muffins cool for 5 minutes in their tins before removing to cook on a wire rack.
The above is simply a quick summary of this recipe. Check out the full recipe in the free printable recipe card at the bottom of this post for all the detailed instructions.
5 Tips for Baking the Best Cranberry Muffins
I haven't always had success with baking muffins. I've had some real busts and some real wins. One time, about 2 years ago, I even left out the butter because I got so distracted. That batch went straight to the trash.
So, through my trials, errors, and successes over the years, I bring you 5 tips for baking great cranberry muffins. These are tips that apply to these fresh cranberry muffins as well as any muffin recipe you would bake at home.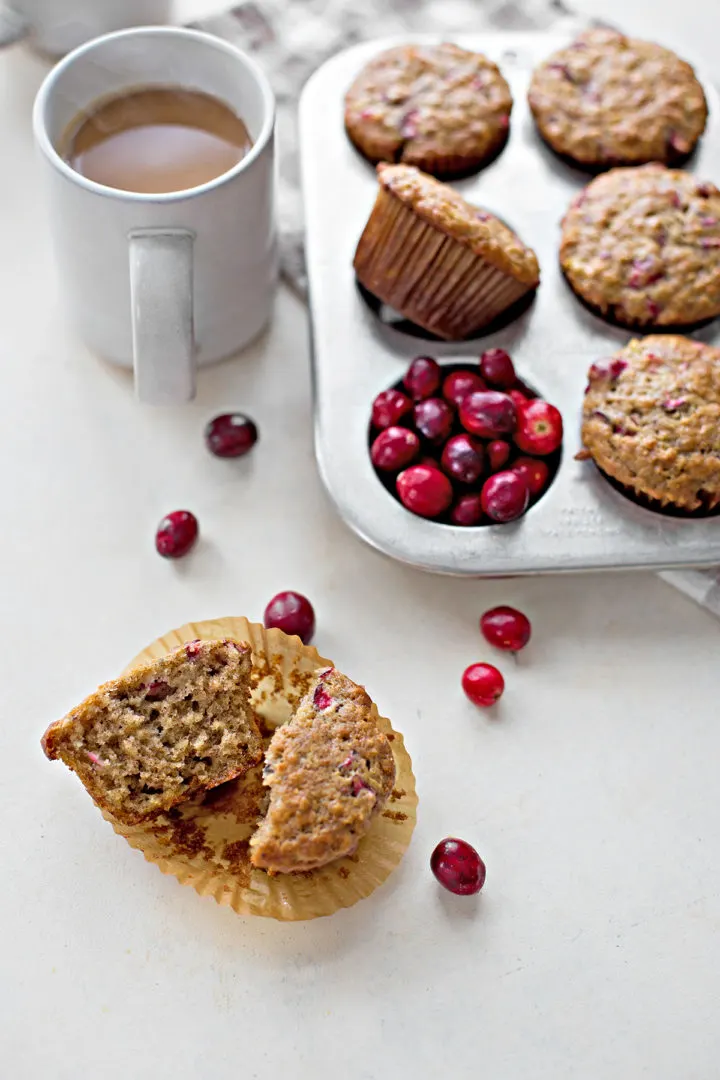 1. Unless specified in the recipe, don't use an electric mixture.
Muffin batter is best mixed by hand with a wooden spoon and should be slightly lumpy. Batter mixed until smooth, like cake batter, will result in tough muffins.
2. Not all muffin pans have the exact same fill capacity.
Your results may produce more or less muffins than listed in the recipe. If you have empty cups, fill them halfway with water to help the keep the heat evenly distributed.
3. If you are baking more than 1 dozen muffins at a time, leave space between the muffin pans.
This will allow the heat to circulate in the oven and produce more evenly browned muffins. Additionally, it is helpful to rotate the pans halfway through baking.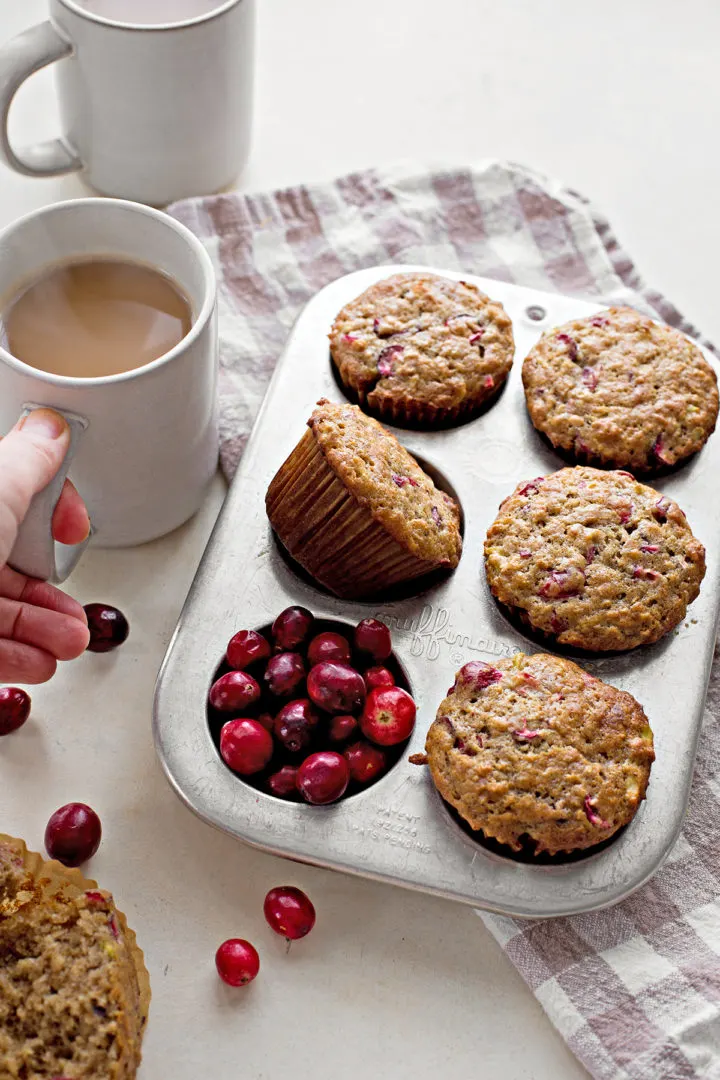 4. For muffins that are easily removed from pans, grease the pans — even if they are nonstick — prior to baking.
Or, use paper liners in your muffin pan. Then allow muffins to rest for 5 minutes in their pans after baking before removing. Alternatively, you can use muffin tin liners.
5. Bonus tip for baking muffins at high altitude.
High altitude baking is more successful when acidic liquids are included in the batter. This gives a better rise and enables the cupcakes set more quickly in the oven rather than rising too high and then collapsing.
Buttermilk, Greek yogurt, sour cream, or added lemon juice are good sources to make the batter more acidic. Don't have buttermilk? Try making your own with these Homemade Buttermilk Substitutes.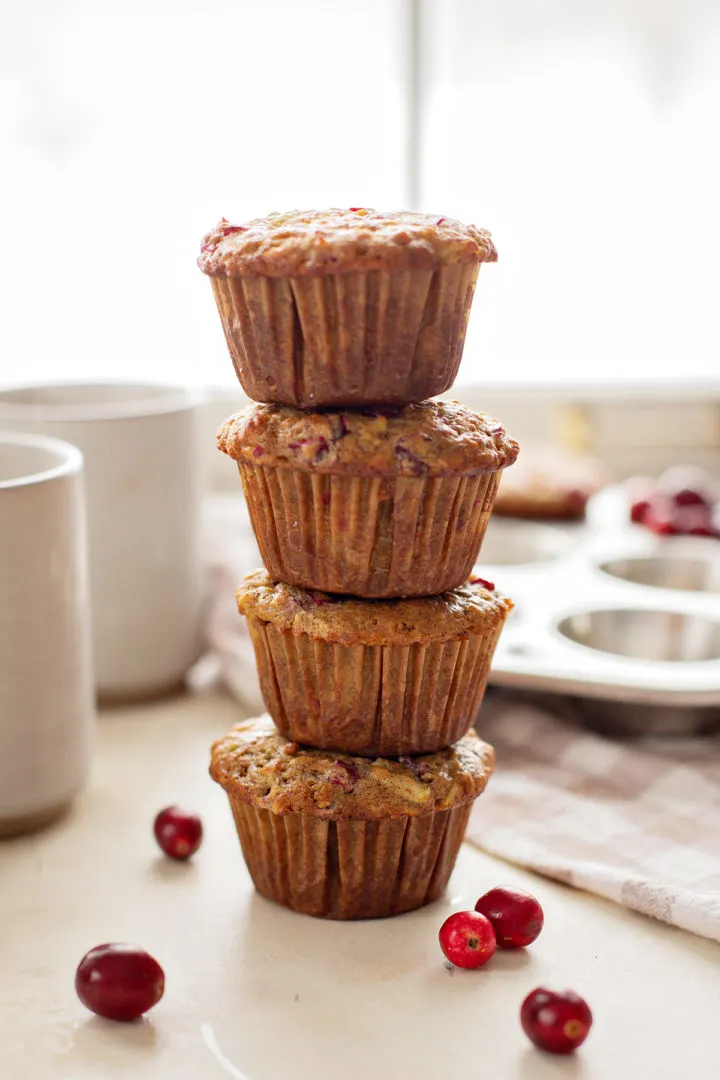 How to Store these Cranberry Muffins
These Apple Cranberry Muffins will last for up to five days stored properly. Here are my muffin storage tips:
STEP ONE: Transfer the cranberry oatmeal muffins to a wire cooling rack and allow them to cool completely. If you store warm muffins, you'll end up with a lot of excess moisture on your muffins due to condensation (and this causes them to go soggy AND mold).
STEP TWO: Place a sheet of paper towels on the bottom of a large, lidded storage container. You can also use gallon sized ziptop bags with a sheet of paper towel inside.
The paper towels will help absorb any excess moisture that is released from the muffins and help prevent them from becoming soggy.
STEP THREE: Transfer muffins to a storage container or zip top plastic bag lined with a paper towel.
STEP FOUR: Place a second paper towel on top of the muffin layer.
Depending on how deep your airtight container is, you may be able to fit more than one layer of muffins. In this case, repeat the process – always end with a paper towel on top of the last layer of muffins. A bag will likely fit only one layer.
STEP FIVE: Place the lid on the container (or zip the bag) and store at room temperature. Refrigerated muffins will dry out.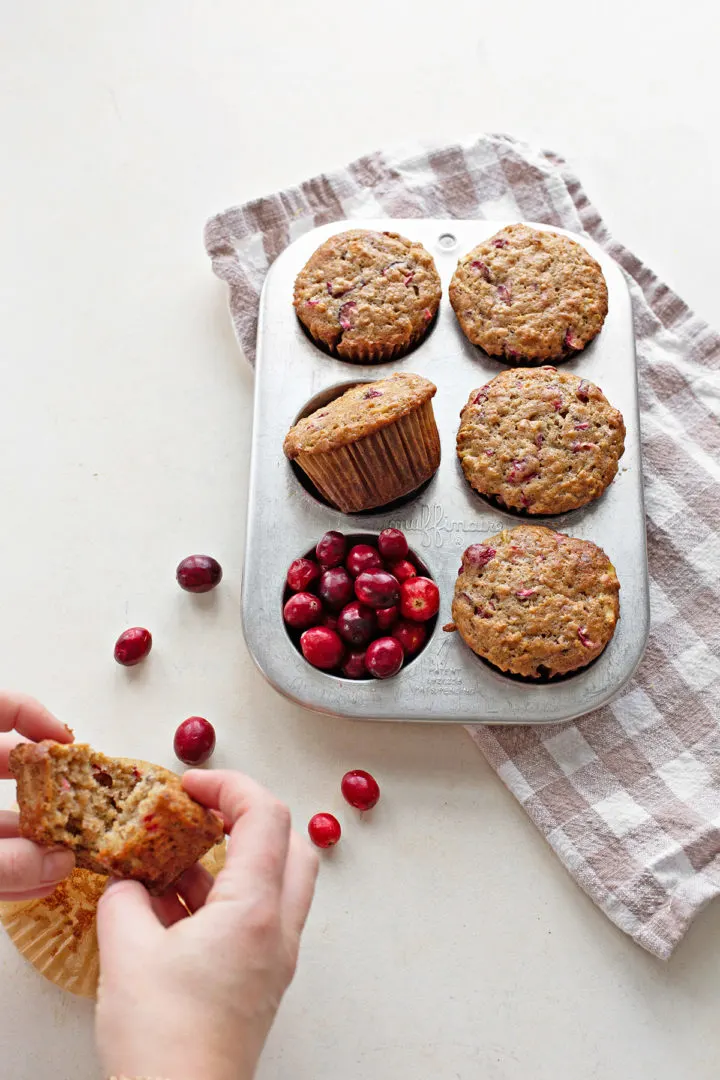 How to Freeze Cranberry Muffins
I love to have muffins on hand in the freezer for a quick breakfast option. These cranberry oatmeal muffins are a great recipe for making a big batch of to store in your freezer! Make sure you use freezer safe containers.
They will last up to 3 months stored in the freezer. I have a whole article on How to Freeze Muffins with all my tips and tricks. Go check it out!
What Readers Are Saying about this Cranberry Muffins Recipe
"I forgot about grating the apples. I had already chopped them up before I remembered. I left the cranberries whole to compensate. Getting a tart bite of Granny Smith along with the whole cranberries was awesome! Best muffins ever!" — Julie E.
"What a fantastic recipe- maybe my favourite muffin recipe to date. I made these yesterday (followed the recipe as posted). Thanks for sharing." — Jesse V.
"They turned out so beautiful. They were yummy!!! My husband and kids loved them. And like you, my kids are picking eaters too. From one mom to another, Thank you so much for your wonderful and delicious recipe." — Stephanie
"I made these with my toddler. Loved them! The only changes we made were to drop the sugar down to 1 cup, and I used 2 cups plain flour and 2 cups whole wheat flour. This was perfect to use up my remaining cranberries!" — Heather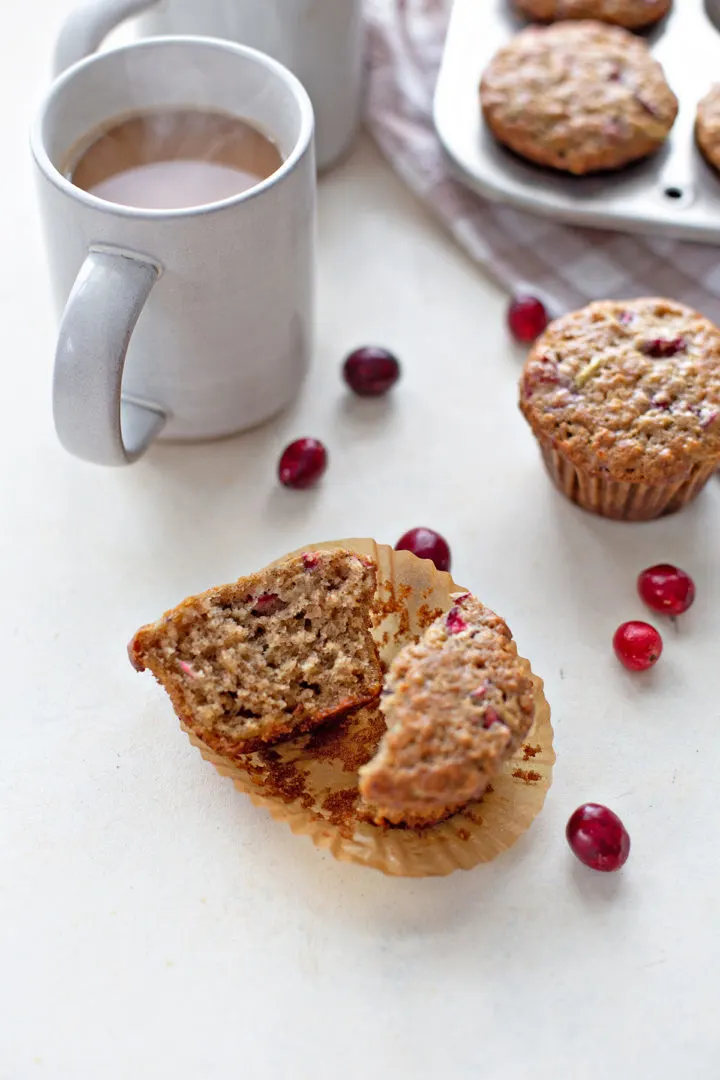 Try this Delicious Cranberry Muffins Recipe!
Apple and cranberry are the perfect combination. Next time you're looking for a delicious muffin recipe with lots of great texture, give this Cranberry Muffins Recipe a try!
Did you think it was the perfect summertime drink? Leave a comment below and give it a review for others to see what you thought of this easy muffin recipe.
On Instagram? Share your photo and tag me with @goodlifeeats and #goodlifeeatsrecipes. I'd love to see your photo of your Apple Cranberry Muffins!
More Fresh Cranberry Recipes:
Pomegranate Walnut Cranberry Bars are the perfect wintery recipe to add to your Christmas Baking list. A crumb crust is layered with sweet and tart cranberries and topped with a crunchy and crumbly walnut topping.
I love this Cranberry Orange Relish for a little something extra special. Cranberry sauce with orange juice is so simple to prepare at home, taking only about 15 minutes from start to finish.
Roasted Cranberry Salsa is a tasty and colorful holiday recipe for gifting and serving at parties. In this recipe, roasted fresh cranberries pair perfectly with the traditional elements of salsa!
These Gingerbread Cranberry Muffins are really easy to whip up on a weekend morning or for a lazy holiday breakfast. The sweetness of the gingerbread pairs really well with the tartness of the cranberries.
This Deep Dish Apple Cranberry Pie with Oatmeal Pecan Crumb Topping is a great fall pie recipe and makes an excellent addition to your Thanksgiving dessert table!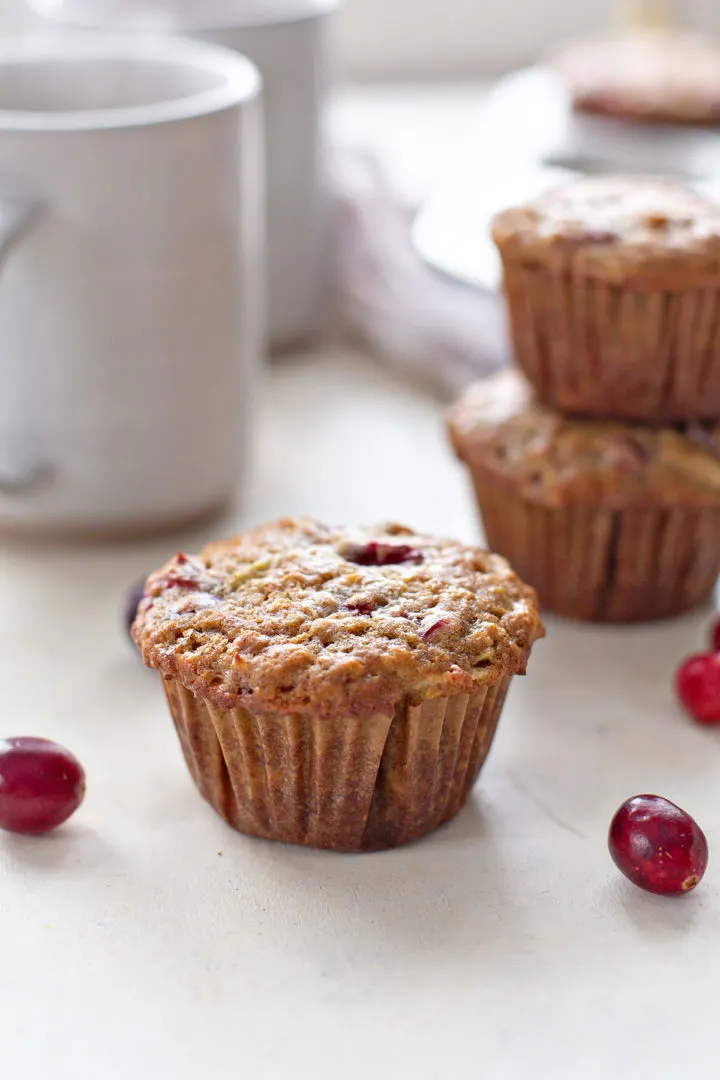 Get New Recipes via Email
Did you love this Cranberry Muffin recipe? Sign up to receive Good Life Eats Email Updates and get delicious recipes delivered straight to your inbox!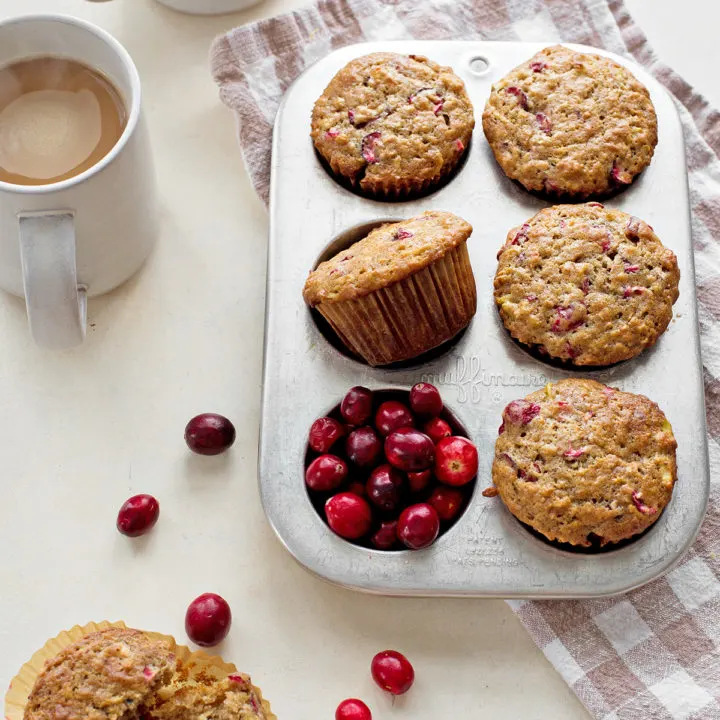 Apple Cranberry Oatmeal Muffins
Apple Cranberry Oatmeal Muffins are the perfect hearty, fall muffin to enjoy on a cold morning.
Ingredients
4 cups flour
1 cup quick oats
1 1/4 cup organic cane sugar
3 teaspoons baking powder
2 teaspoons baking soda
1 teaspoon salt
4 teaspoons cinnamon
1/2 teaspoon allspice
1/4 teaspoon cardamom
4 eggs
2 cups buttermilk
2 sticks (1 cup) butter, melted and cooled
4 large green apples, grated
8 ounces chopped fresh cranberries
Instructions
Grease three standard 12 cup muffin tins. Set aside. Preheat oven to 400 degrees F. Place oven rack in the center position.
In a large bowl, combine flour, quick oats, sugar, baking powder, baking soda, salt, cinnamon, allspice, and cardamom. Whisk until well sifted. Set aside.
In another bowl, whisk the 4 eggs. Add the buttermilk, melted butter, and grated apples. Stir until combined.
Make a well in the center of the dry ingredients. Add the buttermilk mixture to the well and stir until moistened. Do not beat. Batter will be very thick. Once moistened, gently fold in the chopped cranberries.
Divide the batter between the 36 prepared muffin cups. Cups should be 2/3 to 3/4 of the way full. If you aren't able to get a full 3 dozen out of the batter, don't worry. Just fill the empty cups halfway with water.
Bake at 400 degrees F for 15 - 25 minutes (rotating half way through), or until done and golden on top.
Let muffins cool for 5 minutes in their tins before removing to cook on a wire rack.
Notes
Don't have buttermilk? Try making your own with these Homemade Buttermilk Substitutes.
This recipe also makes 2 dozen standard muffins plus 2 miniature bread loaves. Baking time will need to be adjusted for the bread loaves, approximately 20-35 minutes, or until done and golden on top.
Recommended Products
As an Amazon Associate and member of other affiliate programs, I earn from qualifying purchases.
Nutrition Information
Yield

36
Serving Size

1
Amount Per Serving
Calories

115
Total Fat

1g
Saturated Fat

0g
Trans Fat

0g
Unsaturated Fat

1g
Cholesterol

21mg
Sodium

209mg
Carbohydrates

24g
Fiber

2g
Sugar

11g
Protein

3g
GoodLifeEats.com offers recipe nutritional information as a courtesy and is an estimate only. This information comes from online calculators. Although GoodLifeEats.com makes every effort to provide accurate information, these figures are only estimates.