Cranberry Orange Walnut Relish
This Cranberry Orange Walnut Relish is so easy to make and will definitely become a staple at your Thanksgiving table.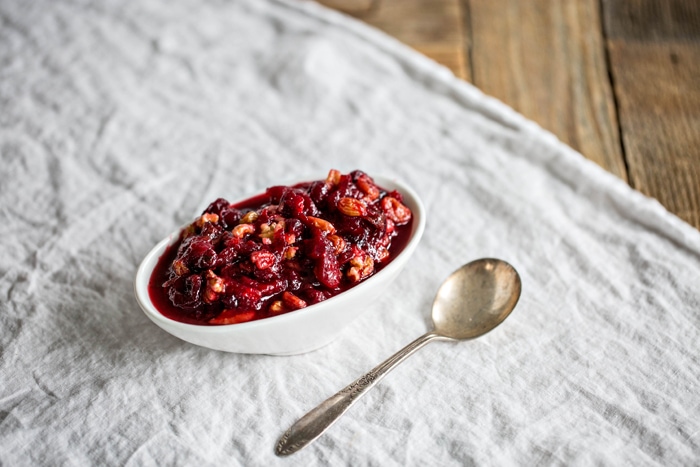 Save this recipe for Cranberry Orange Relish to Pinterest!
Homemade Cranberry Relish Recipe
I can't believe that Thanksgiving is less than 2 weeks away! In my opinion, Thanksgiving dinner isn't complete without a little cranberry sauce on the side. This recipe for cranberry orange relish is one of my sister's favorite recipes, so I thought I'd share it again!
I personally can never decide which I prefer on Thanksgiving: cranberry relish, cranberry sauce or gravy. I love gravy on mashed potatoes and turkey. I like to have cranberry sauce and cranberry relish on turkey and rolls. And I usually have to have a little bit of each.
I love this cranberry orange relish for a little something extra special. Cranberry sauce with orange juice is so simple to prepare at home, taking only about 15 minutes from start to finish. There is really no reason to use the canned stuff, unless of course you happen to really love it. You'll appreciate how much fresher homemade cranberry relish tastes compared with the store-bought canned varieties.
This cranberry orange relish recipe is chunky thanks to golden raisins, walnuts, and of course cooked cranberries. If you prefer a smooth cranberry sauce, you'll want to try this Red Wine Pomegranate Cranberry Sauce.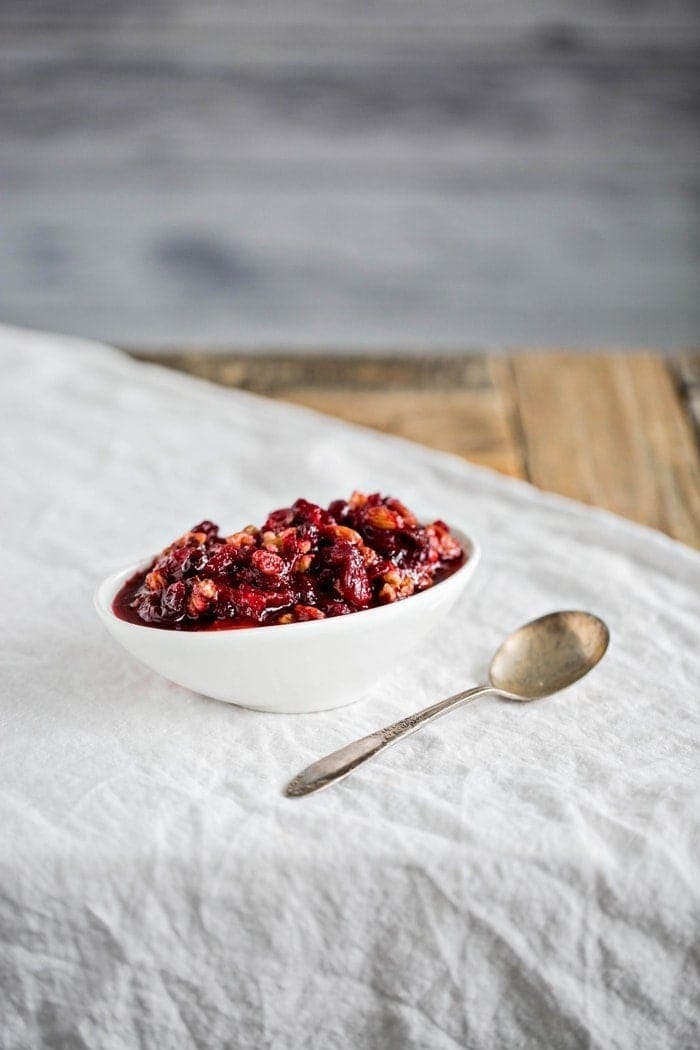 Save this recipe for Cranberry Orange Relish to Pinterest!
Cranberry Orange Relish Ingredients
This cranberry sauce recipe with orange juice uses only a few ingredients. I tried to make this cranberry orange relish recipe as simple as possible, and I think the ingredients list reflects that.
Here's what you'll need to make this homemade cranberry sauce:
Orange juice
Water
Sugar
Real maple syrup
Cinnamon
Nutmeg
Orange zest
Vanilla extract
Salt
Fresh cranberries
Golden raisins
Walnut pieces
How to Make Cranberry Orange Relish
After you gather all of the ingredients, this recipe comes together in 5 super quick and easy steps.
Combine all of the liquids, sweeteners, and seasonings. 
Cook the orange juice mixture to heat it and dissolve the sugar.
Add cranberries and raisins.
Continue to cook until cranberries "pop."
Turn off heat and add the walnut pieces.
You can serve this Cranberry Orange Walnut Relish warmed, just after preparing. Or, you can chill it for 2 hours, or up to 3 days, before serving it on Thanksgiving Day with your meal.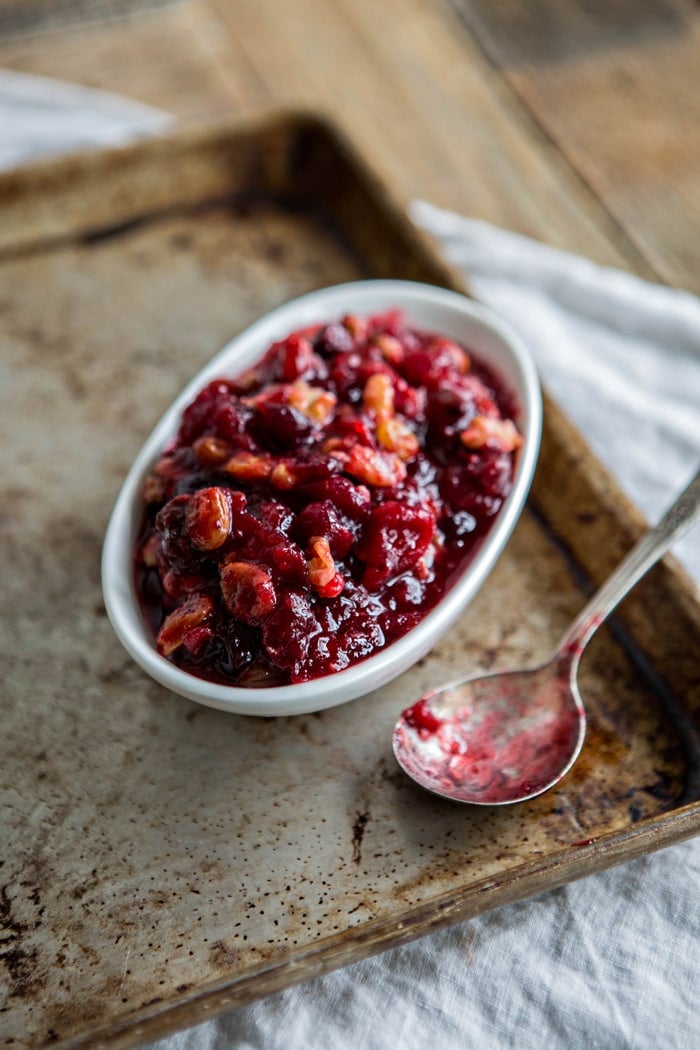 Save this recipe for Cranberry Orange Relish to Pinterest!
Can You Freeze Cranberry Relish?
Yes, most definitely! Let the cranberry orange relish cool completely, then pack it inside freezer bags or freezer-safe containers. When you're ready to eat the frozen cranberry sauce, pop it in the fridge overnight to thaw.
Can I Use Frozen Cranberries Instead of Fresh?
Yes, you probably can use frozen cranberries instead of fresh in this cranberry orange relish recipe. I haven't actually used frozen cranberries in this recipe before, but it should be fine!
Tips for Making the Best Cranberry Relish
I don't recommend adding less sugar than the recipe calls for or substituting a sugar-free sweetener. You need all the sugar to balance out the tartness of the cranberries.
Also, make sure you're using real maple syrup and not pancake syrup in this recipe. Pancake syrup is usually just flavored corn syrup, which isn't what you want.
Once the cranberry orange relish is cool enough, taste it to see if you'd like to add more spices. Every palate is different, so use your best judgement.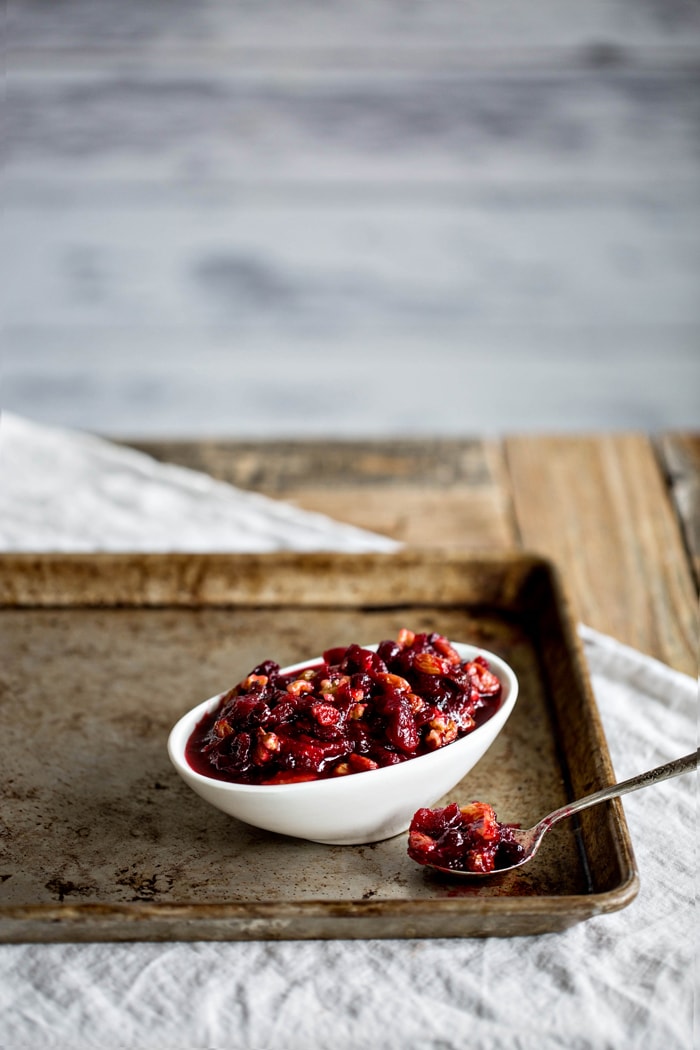 Save this recipe for Cranberry Orange Relish to Pinterest!
More Fresh Cranberry Recipes:
In addition to gracing your Thanksgiving table, there are all sorts of fun recipes you can make using any leftover cranberry orange relish that you have after Thanksgiving. One of the best parts of making homemade cranberry relish is that there is some leftover to make something else yummy with! 
Here are a few fun recipes you can make using any leftover cranberry relish after your Thanksgiving celebrations.
If you polished off all the pie on Thanksgiving Day, but are craving something sweet go to with leftover, make these cute Bite Sized Cranberry Walnut Tarts. Super easy and so cute!
Make this Whipped Cranberry Butter. IT IS SO GOOD. You will want to put it on everything, but I especially love it on a warm roll.
Add it to Leftover Turkey Sandwiches. One of my favorites post-Thanksgiving things to eat!
Instead of using whole, fresh cranberries, add thick cranberry sauce to Deep Dish Apple Cranberry with Oatmeal Pecan Crumb Topping
Stir some of this cranberry sauce with orange juice into maple syrup to make Cranberry Orange Maple Syrup. It will be so good poured over pancakes and waffles for a post-Thanksgiving brunch.
Make a fun Thanksgiving flavored cranberry ice cream by preparing this No Churn Vanilla Frozen Yogurt with Balsamic Roasted Strawberry Rhubarb, but instead of using the balsamic strawberry rhubarb mixture use cranberry sauce or relish.
Make this Apple Crisp with Oatmeal Pecan Crumble Topping and add some throughout.
Do you have to have cranberry sauce on Thanksgiving? Or are you more of a gravy person?
Love this recipe for Cranberry Orange Walnut Relish?
Sign up for Good Life Eats email updates and never miss another recipe!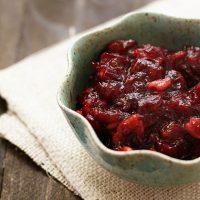 Cranberry Orange Walnut Relish
This Cranberry Orange Walnut Relish is so easy to make and will definitely become a staple at your Thanksgiving table.
Ingredients
3/4 cup orange juice
2 tablespoons water
1/2 cup sugar
4 tablespoons real maple syrup
1/8 teaspoon cinnamon
1/8 teaspoon nutmeg
2 teaspoon orange zest
1/4 teaspoon vanilla extract
1/8 teaspoon salt
12 oz fresh cranberries
1/3 cup Golden raisins
2/3 cup Walnut pieces
Instructions
Combine orange juice, sugar, maple syrup, cinnamon, nutmeg, orange zest, vanilla, and salt in a medium saucepan.
Cook over medium heat, stirring frequently, until the sugar has dissolved.
Stir in the cranberries and golden raisins.
Bring mixture to a boil, reduce heat to a simmer, and cook for 3-5 minutes - or until the cranberries pop.
Remove from heat and stir in the walnut pieces.
Cover and chill 2 hours before serving with turkey.
Notes
Leftovers will last up to 2 days refrigerated in a sealed container.
Recommended Products
As an Amazon Associate and member of other affiliate programs, I earn from qualifying purchases.
Be sure to follow Good Life Eats on Instagram. Tag @goodlifeeats and include the hashtag #goodlifeeatsrecipes so I can see what you're cooking up in YOUR kitchen!
Let me know if you try this recipe and what you think of it by leaving a comment below.
Original image from this recipe's original posting date – November 10, 2011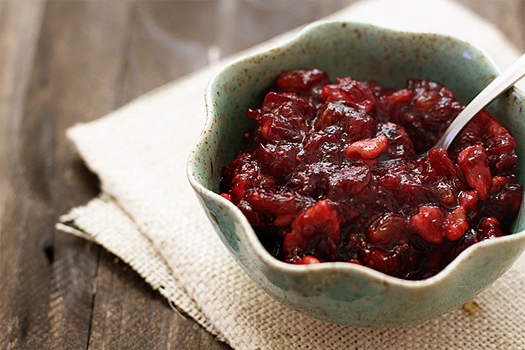 Save this recipe for Cranberry Orange Walnut Relish to Pinterest!