Our family made the switch to using only real maple syrup several years ago for a number of reason, the main one being a solid attempt to avoid HFCS whenever possible. I won't kid you — real maple syrup is certainly a great deal more costly; however, the taste is incomparable and a little goes a long way.
To minimize the hit on our grocery budget, we've started ordering our real maple syrup via Amazon's Subscribe & Save program. By choosing a grade B product and combining it with several other monthly subscriptions, we're able to save over 20% and have it shipped right to our doorstep at no charge.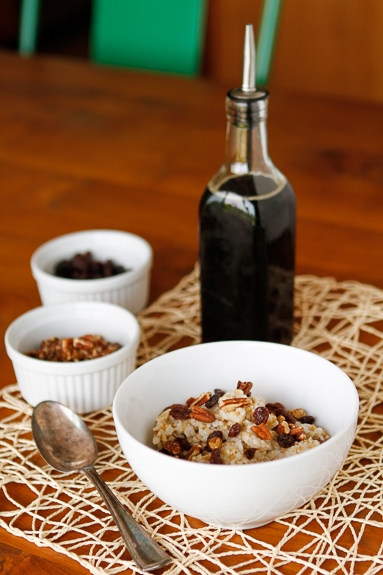 Written by: Tara of Unsophisticook
The downside to these large jugs is that they make it very difficult for young children to pour an appropriate amount of syrup. Real maple syrup has a much thinner consistency than the fake stuff, and my children have been known to use a ridiculous amount in a sitting because they weren't prepared for how quickly it comes gushing out.
We've tried the traditional syrup dispensers, but they're sticky and messy and still pour far too quickly… But then one day, while washing dishes using my DIY etched dish soap bottle, it occurred to me that if an olive oil bottle works for dish soap, it just might be a good solution for my syrup dilemma.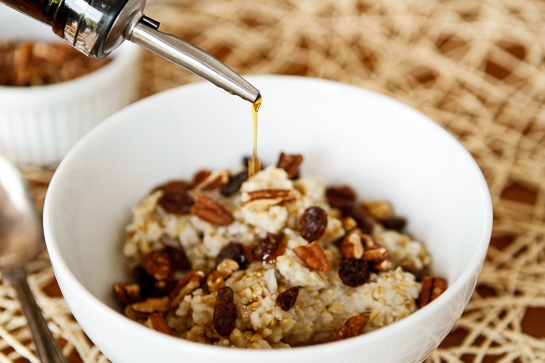 I grabbed an olive oil bottle on my next trip to Walmart, and immediately washed and filled it with syrup upon returning home. It works perfectly for this purpose and allows my children to drizzle syrup on pancakes, waffles, oatmeal, etc. with ease and without the worry of drowning their breakfast. The best part is these bottles are super inexpensive, at just $1.47!
Pure maple syrup is delicious beyond just as a breakfast topping. Katie has a nice selection of recipes that are sweetened with maple syrup, or if you're feeling a little decadent, give this maple-pecan crusted bacon a try!
Do you use real maple syrup in your home? If so, what's your favorite way to use it?