Leftover Turkey Sandwiches on Sweet Potato Rolls
The other day I shared some tips for Recipes for Leftover Turkey: Reducing Thanksgiving Waste (plus a few safety tips for freezing leftover turkey meat), but I couldn't head out to my family Thanksgiving celebrations without sharing one more leftover turkey recipe with you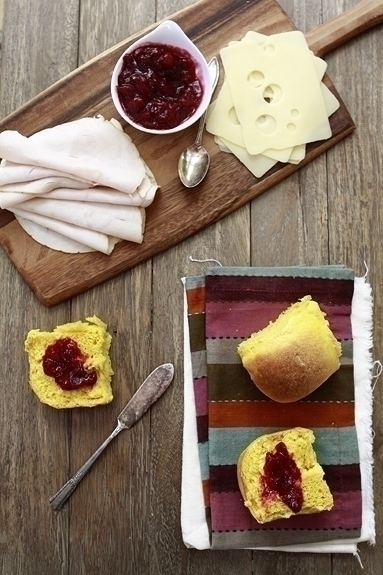 What is Thanksgiving without turkey sandwiches made from the leftover meat?
I love this recipe for turkey sandwiches with Sweet Potato Dinner Rolls as the bread.
Top them with a little Cranberry Orange Walnut Relish and you've got one amazingly delicious and quick sandwich made from your leftovers.
We've made these rolls three times just so we can make the sandwiches again.

Aimee shared the fabulous concept of buying turkey in bulk (ie the whole bird) and serving it in a multitude of ways, stretching that poultry purchase into four meals.
Katie Kimball explores what happens when food philosophies collide at the holidays.
She shares tips for enjoying your Holiday and having a peaceful gathering despite the differing opinions.
Tips for a Budget Friendly Thanksgiving Dinner –
The other day Jessica discussed what the options are when the pocketbook is slim.
It's all fine and good "to splurge" at the holidays, provided you have the cash to do it.
No turkey dinner is worth going into debt.
Allergen-Free Thanksgiving Recipes – If you have a family member or guest with food sensitivities or allergies, be sure to check out Mandi's collection of "traditional" recipes that are also allergen-free.
What a great resource!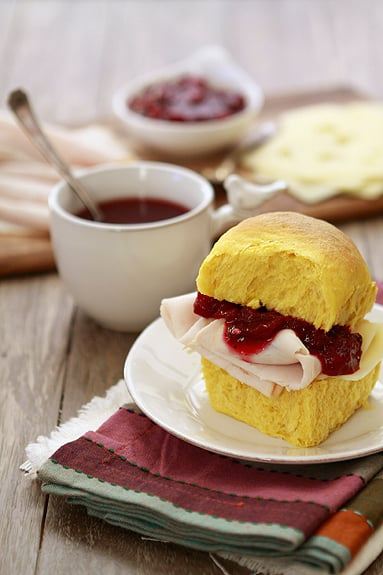 Frugal Holiday Desserts – Desserts can be one of the most expensive pieces of the holiday meal.
Head over to Food for My Family to see how Shaina makes delicious, frugal desserts.
10 Recipes to Make the Most of Turkey Leftovers – Kingdom First Mom offers a great collection of recipes to stretch that bird for future meals.
Tips for a Homemade Make-ahead Thanksgiving Dinner – Save time by following Tammy's guidelines for making your holiday feast ahead of time.
Setting an Elegant Table on the Cheap – Want to set a pretty table without going broke?
Go check our Carrie's great tips.
Leftover Turkey Sandwiches on Sweet Potato Rolls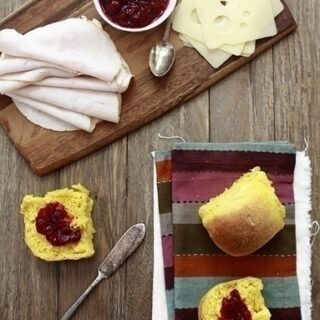 Ingredients:
Directions:
Warm the rolls if they are leftovers. Cut the rolls in half. Add a layer of sliced cheese and turkey to the bottom half of each roll. Top with cranberry sauce. Place the other half of the roll on the top. Enjoy!
This post was written on behalf of Sargento, all opinions are my own.